Now Is The Time For Jeff Flake To STFU And Go Away
News
October 24, 2018 09:25 AM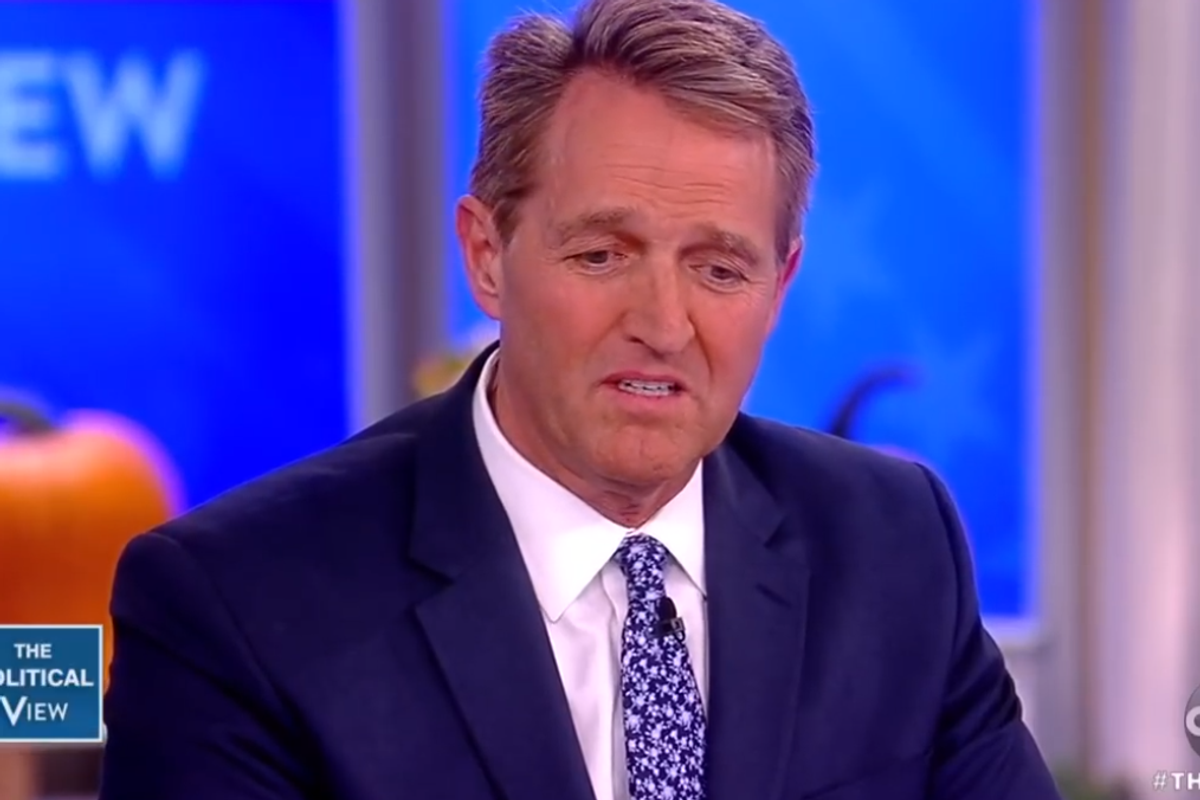 Have you been yearning to hear Jeff Flake offer his post mortem on the confirmation of likely attempted rapist Brett Kavanaugh to the highest court in the land? Are you interested in his feelings? Are you interested in what's going on in that little lame duck head of his?
Nah?
Well fuck you, because that's what this post is about.
---
If you are excited to hear Jeff Flake's #thoughts, you'll be glad to know he was on "The View" Tuesday, and he said this:
Sen. Jeff Flake on viral elevator moment before Kavanaugh votewww.youtube.com
"You know, she was very compelling," Flake said during an interview on ABC's The View, in response to being grilled over his eventual support for Kavanaugh after calling for a week-long delay to allow an FBI investigation into the sexual-misconduct allegations leveled against the judge.

The retiring Arizona senator continued: "[Kavanuagh] was very persuasive. I don't know. I don't know. I wish I had the certitude that some of my colleagues expressed. But I said on the [Senate] floor before that hearing, we're likely to hear the hearing with as much doubt as certainty. And that's how I felt afterwards." [...]

And when View co-host Sunny Hostin asked Flake, point-blank, whether he believed Ford, he delivered a stunning response."I don't know," Flake admitted."I don't know if I believed him either."
And then he voted for Kavanaugh even though he thought maybe Kavanaugh might have tried to rape Christine Blasey Ford back in the day, because if you can't put a white man on the Supreme Court just because of one little tiny SEVERAL CREDIBLE ALLEGATIONS of attempted rape and possible participation in gang rapes and just generally assault-y behavior, then what has this country come to?
We feel the need to say a thing to Jeff Flake:
SHUT THE FUCK UP SHUT THE FUCK UP SHUT THE FUCK UP SHUT THE FUCK UP SHUT THE FUCK UP SHUT THE FUCK UP SHUT THE FUCK UP.
Also?
Shut the fuck up.
Who the hell is he playing to here? Who is Jeff Flake's audience? And for that matter, if we're talking about milquetoast dicks whose mouths write checks their asses can't cash, who is Ben Sasse's audience, with his moralizing about how Donald Trump is bad, while he votes for basically all of Trump's agenda (AND ALSO FOR THE LIKELY ATTEMPTED RAPIST)? Is their audience each other? Because from where we are sitting, they just look like two tubs of mayonnaise 69-ing each other into civility-gasms while the rest of America is forced to watch their gross little show.
That's right.
Two tubs of mayonnaise. Big ones, like from the Costco.
69-ing each other.
With all the jiggling whiteness that implies.
And it's not even good mayonnaise like Duke's, it is totally store brand, and now you are dying of grossness, which means Wonkette's work here is done.
Follow Evan Hurst on Twitter RIGHT NOW, DO IT RIGHT NOW!
Wonkette is the ONLY NEWS ON THE INTERNET. Please give us money RIGHT THERE BELOW if you want us to live FOREVER.
Evan Hurst
Evan Hurst is the managing editor of Wonkette, which means he is the boss of you, unless you are Rebecca, who is boss of him. His dog Lula is judging you right now.
Follow him on Twitter RIGHT HERE.