Now The Vegans Have Infected This Mushroom Barley Soup Recipe!
News
December 03, 2014 12:50 PM
Do you keep barley in your pantry? You should. For uses other than soup, it's a great switcheroo for rice. You can find it at your grocer near the rice or dried beans or maybe near the oatmeal -- who knows? It's what they make beer and whiskey out of, too!
Here's an easy soup to make with barley and mushrooms. You can make it vegan with a few minor adjustments, but I wouldn't recommend it. The mushrooms and barley give the soup a great earthy flavor. That's what people say when they mean it tastes like dirt (in a good way).
You can use any kind of stock you want, but beef is the best way to go. Today, we've got homemade stock made from some lamb bones that were lying around in the freezer.
Mushroom Barley Soup
2 tbsp. butter
1 onion, diced
1-2 stalks celery, diced
2-3 carrots, diced
4-25 (to taste) cloves of garlic, minced
A few sprigs of thyme
A bay leaf
8 oz. any old kind of mushrooms, sliced
2 shots of cognac
1/4 cup of pearled barley
1 quart of stock
Vinegar (whatever kind you like, we're using a cheap white balsamic)
Salt and pepper, as you go, to taste
In your favorite soup-making pot, melt the butter over medium heat and throw in the onion, celery, and carrots. Let that cook for a few minutes. Mirepoix is the word for this stuff; be sure to say it extra nasally.
Stir in the garlic, thyme, and mushrooms. Let that all get acquainted.
Add one of the shots of cognac. Put the other in the promotional snifter which Courvoisier so kindly included with your latest purchase.
Once the cognac (in the soup pan) has cooked all away, add the barley and stir.
Add the bay leaf and stock; bring to a boil, and turn it down to a simmer.
Cook for about 20-30 minutes, until the barley is done to your liking.
Ladle it up, and sprinkle some vinegar in each bowl.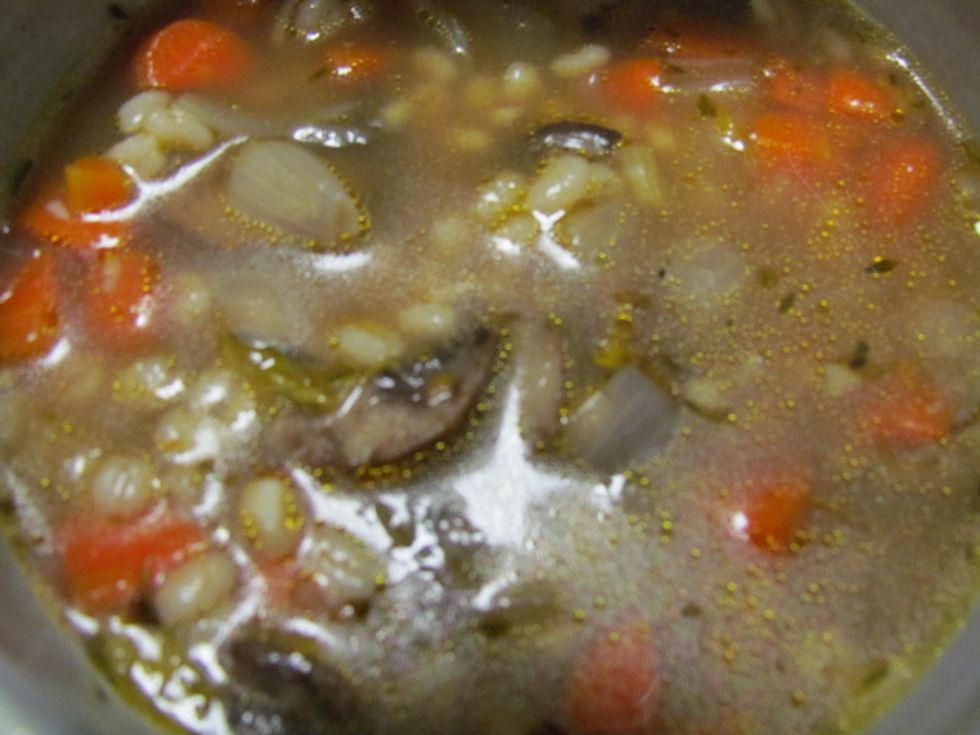 Enjoy!