Obama Builds His Own Damn Wall! Wonkagenda For Monday, November 21, 2016
Elections
November 21, 2016 10:09 AM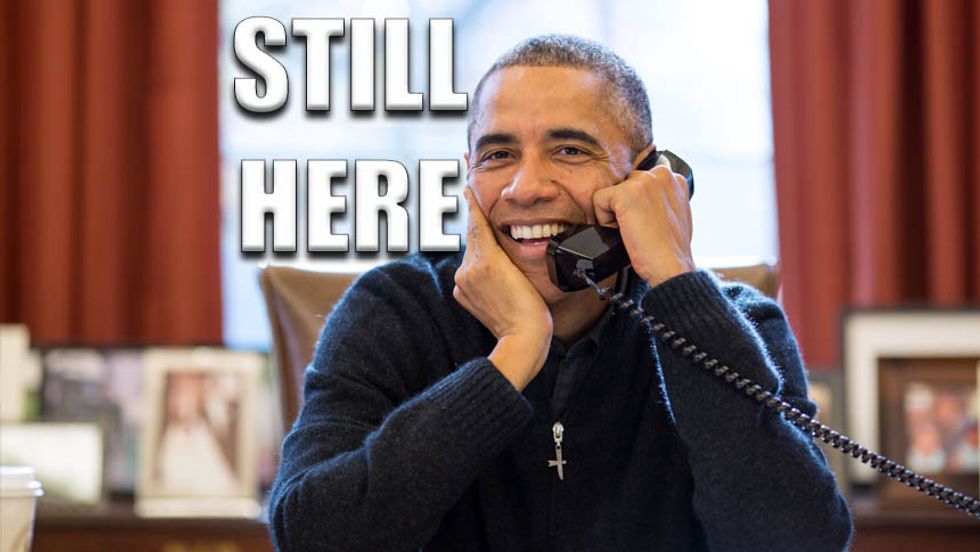 LOL, the lease doesn't end until January!
---
Hey there Wonketariat! Rebecca says to tell you Dok and Evan are off this week, so posting will be light and erratic! (She thinks she is writing four stories a day. Five bucks says that turns into "two.") We're taking some time to actually enjoy drinking heavily and chain smoking, and like most of you, we're going to recharge a little with our friends, our families, and some food and booze. In the meantime, here's some news that we've disguised as clever dick and fart jokes!
Pentagon, national defense and intelligence officials want Barack Obama to boot the head of the NSA for being a lazy and incompetent jackass who has been a complete failure at U.S. cyber security.

Trump's trillion dollar infrastructure upgrade is likely to hit a big damn wall since Republicans are opposed to spending any money to fix anything, and Democrats think IT'S A TRAP (because IT'S A TRAP)!

The wacky racists of the "alt-right" (it means "racist") held a conference in D.C. this weekend to figure just what it is they're going to do next besides behaving like spoiled brats. All except Corey Lewandowski, who was too busy being laughed at in England for suggesting that Trump's going to build his wall.

Speaking of racists, go grab some clean shorts because here's a goddamn creepy profile of Steve Bannon that is troubling, not just because of his proximity to power, but because of his warm embrace of evil.

Tea partying Texas Republican State Senator Konni Burton thinks that Texas transgender pee pee laws are just so gosh darn confusing! Konni Burton introduced a bill that would out LGBT students in public schools to their parents and classmates. God forbid a kid should hide in the closet, we ALL might become traumatized.

A Texas judge wants all new Americans who used to be Not Americans to know that Donald Trump is their fucking president, and if you don't like Donald Trump being your new God Emperor President-Elect you can get the fuck out and go back to Not America!

German Chancellor Angela Merkel will seek a fourth term, hopefully offering a voice of reason amidst a rising tide of crazy, psychotic racists.

Not America doesn't give two sloppy shits about what Trump thinks he might not do; signers of the Paris climate accord met in Marrakesh, Morocco, to discuss limiting carbon emissions, which could include carbon taxes on the U.S.

You may have been asking yourself about what Obama would be doing in Lima, Peru (of all places) last week, but that's because Obama was meeting with Not American leaders for the Asia-Pacific Economic Cooperation conference to discuss how humanity can survive the Age of Trump.

Obama wants to solidify the Iranian nuclear deal with some dirty, LIBERAL swamp tricks as the alternative would potentially be more beneficial for Iranian hardliners.

Trump met with Indian business partners, leading some to suggest that Trump's ethical conflicts are only just beginning. Are you surprised?

If you're in China and you want to look for pictures of Kim Jong Un on the interwebz you'd probably use the search term, "Kim Fat Fat Fat" because China's blocked the previously most popular search term, "Kim Fatty the Third," on the Chinese Not-Googles.

GOOD NEWS EVERYONE! California Rep. Ami Bera won a third term in California 7th District! That makes FOUR Indian-American Congress critters! It's an invasion!

And here's some morning Nice Time! It's SNL's take on Trump's empty cabinet! sigh
Dominic Gwinn
Dominic is a broke journalist in Chicago. You can find him in a dirty bar talking to weirdos, or in a gutter taking photos.