Obama Celebrates Earth Day By Trolling Dumb Florida Republicans
Featured
April 22, 2015 03:28 PM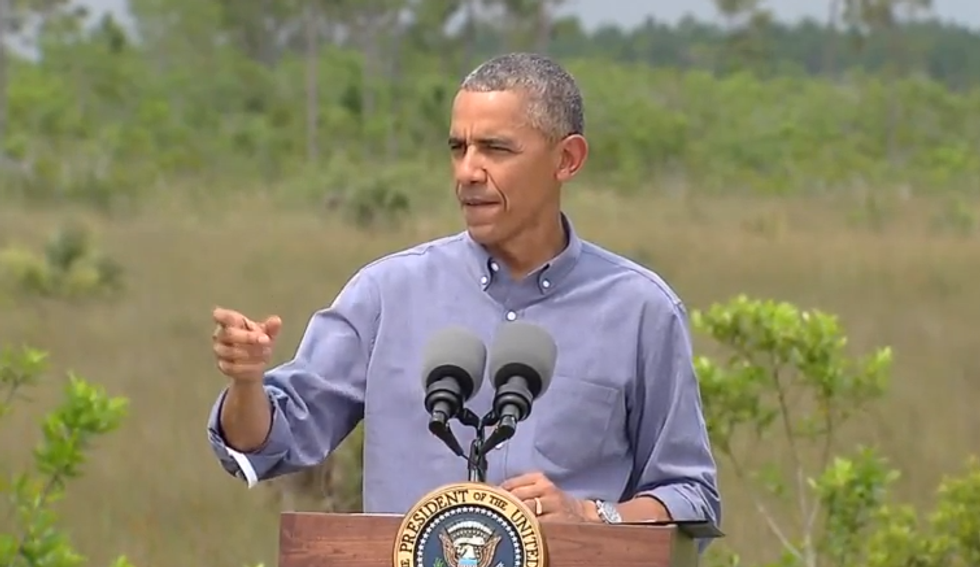 It might be illegal to say "CLIMATE CHANGE" in Florida, but that's not stopping President Obama from going there to say "CLIMATE CHANGE" a whole bunch of times, for Earth Day. Oh, does that make it awkward for you, Florida? And for all you Floridian Republicans -- Gov. Rick Scott, former Gov. Jeb Bush, Sen. Marco Rubio -- who are like, "Meh, Bible says nuh uh, no THOSE WORDS here"? Too bad, so sad, CLIMATE CHANGE.
---
On Saturday, the president used up the public's YouTube airwaves to give his weekly address previewing his Wednesday speech about CLIMATE CHANGE:
Hi everybody. Wednesday is Earth Day, a day to appreciate and protect this precious planet we call home. And today, there's no greater threat to our planet than climate change. [...]

And the fact that the climate is changing has very serious implications for the way we live now. Stronger storms. Deeper droughts. Longer wildfire seasons. The world's top climate scientists are warning us that a changing climate already affects the air our kids breathe. Last week, the Surgeon General and I spoke with public experts about how climate change is already affecting patients across the country. The Pentagon says that climate change poses immediate risks to our national security.

And on Earth Day, I'm going to visit the Florida Everglades to talk about the way that climate change threatens our economy. The Everglades is one of the most special places in our country. But it's also one of the most fragile. Rising sea levels are putting a national treasure – and an economic engine for the South Florida tourism industry – at risk.
He even mentioned God, which he never does but should do but should not do because God, like invoking national security, belongs to Republicans:
It's about protecting our God-given natural wonders, and the good jobs that rely on them.
The White House has a whole fun-filled day of fucking with Republicans, with hashtags and pretty pictures and "what you can do" links and celebrity scientists who really are A Scientist, planned for Earth Day.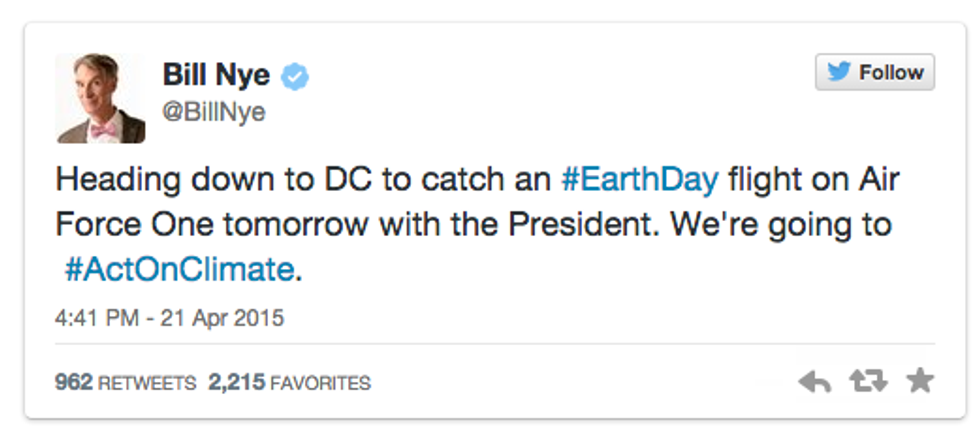 What are Republicans doing for the 36th annual ritual of spending one whole day thinking about how maybe we should try to save our planet before it is all gone? Maybe they're rollin' coal, or throwing snowballs at each other. They're definitely not worrying about CLIMATE CHANGE, which, if not an outright hoax, is certainly God's 6000-year-old plan, so why even bother your beautiful mind about it?
[contextly_sidebar id="Wdm1LKSBm0iqtJAfvXfJjD0yXh5794Cz"]