Obama Would Have Called John Kelly's Son's WIFE, Not His FATHER, Donald Trump, You FUCKING DOLT
Featured
October 17, 2017 03:05 PM
That's right, Trump, Obama just DIDN'T FUCKING CARE. (Image via Pete Souza, who is of coursetrolling Trump over this.)
---
It is beyond fucking ridiculous that we are even discussing this. It's beyond insane that Donald Trump baselessly claimed, like the shitheel that he is, that he is the best at presidenting because he calls all the families of troops killed in action, whereas other presidents didn't, especially not that goddamn Barack Obama. It's beyond gross that the filthy orange squatter in the Oval Office awakened Tuesday morning and decided to keep the controversy over his bullshit lie going by telling Fox News's Brian "The Rapey-Looking One" Kilmeade that maybe we should ask his chief of staff, General John Kelly, whether Obama called him when his son Robert was killed in Afghanistan in late 2010.
Perhaps General Kelly hasn't been able to get a leash on Trump since Monday and thus hasn't been able to put an end to this shit, and we doubt he's in the mood to comment on the record either away about it, considering how fucking disgusting it is. But it's also beyond offensive that a "White House official" is telling journalists ON BACKGROUND that no, Obama didn't call Kelly when his son died, and it's BEYOND JOURNALISTIC MALPRACTICE that these access-hungry journalists are playing Trump's game, publishing this crap without doing a half second worth of research:
A White House official later said that Obama did not call Kelly but did not immediately respond to questions about whether the former president reached out in some other fashion.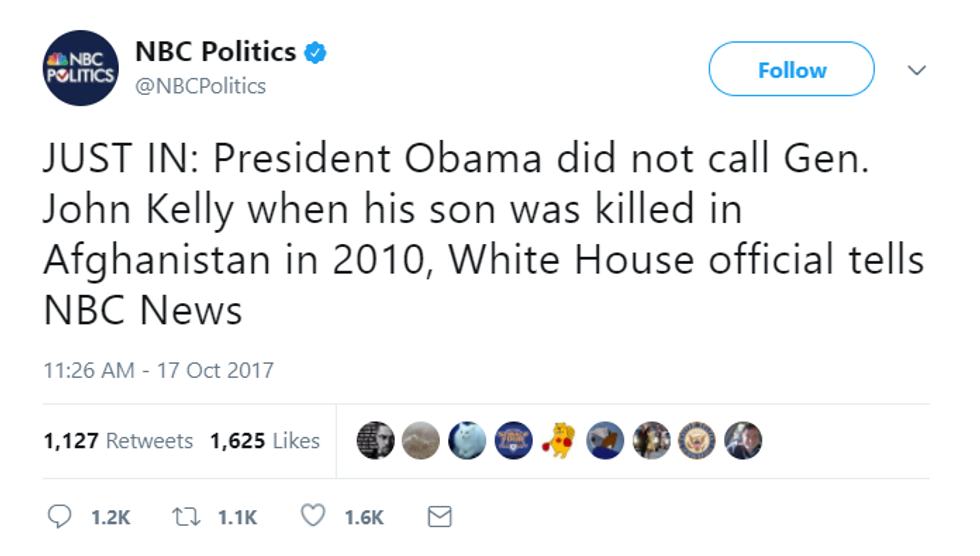 Anything else, NBC? Oh just this?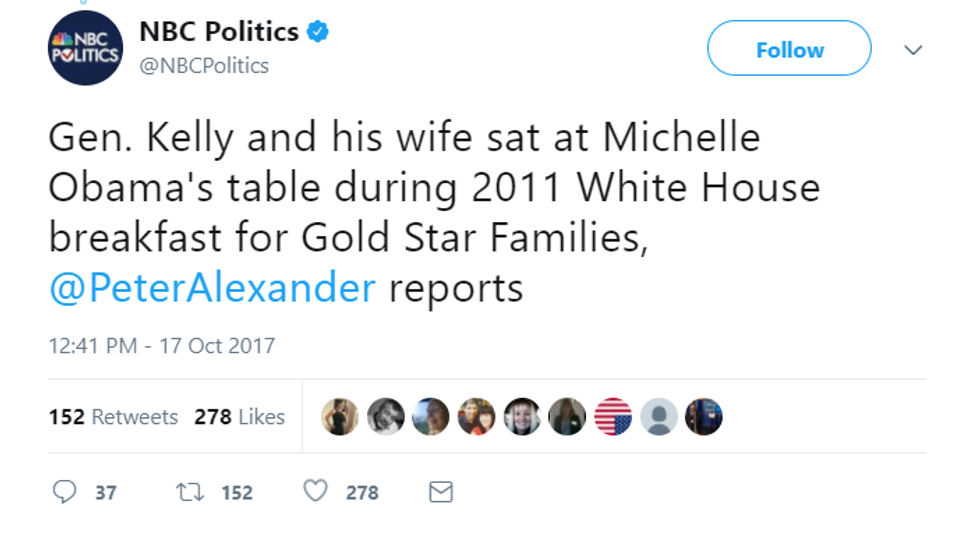 Oh, so Barack Obama DIDN'T just flip John Kelly the bird and run off to gratuitously munch arugula while cackling about American war deaths? Weird!
Of course, the truth is that both presidents Obama and Bush were incredibly compassionate toward the families of American troops who lost their lives fighting our wars, and the fact that Donald Fucking "I Got Out Of Vietnam Because Of An Ingrown Toenail" Trump is making a political issue out of this tells you just what a piece of shit human he really is.
Because honestly, this is one of the sacred things about the office of the president of the United States that should always 100% of the time be above politics.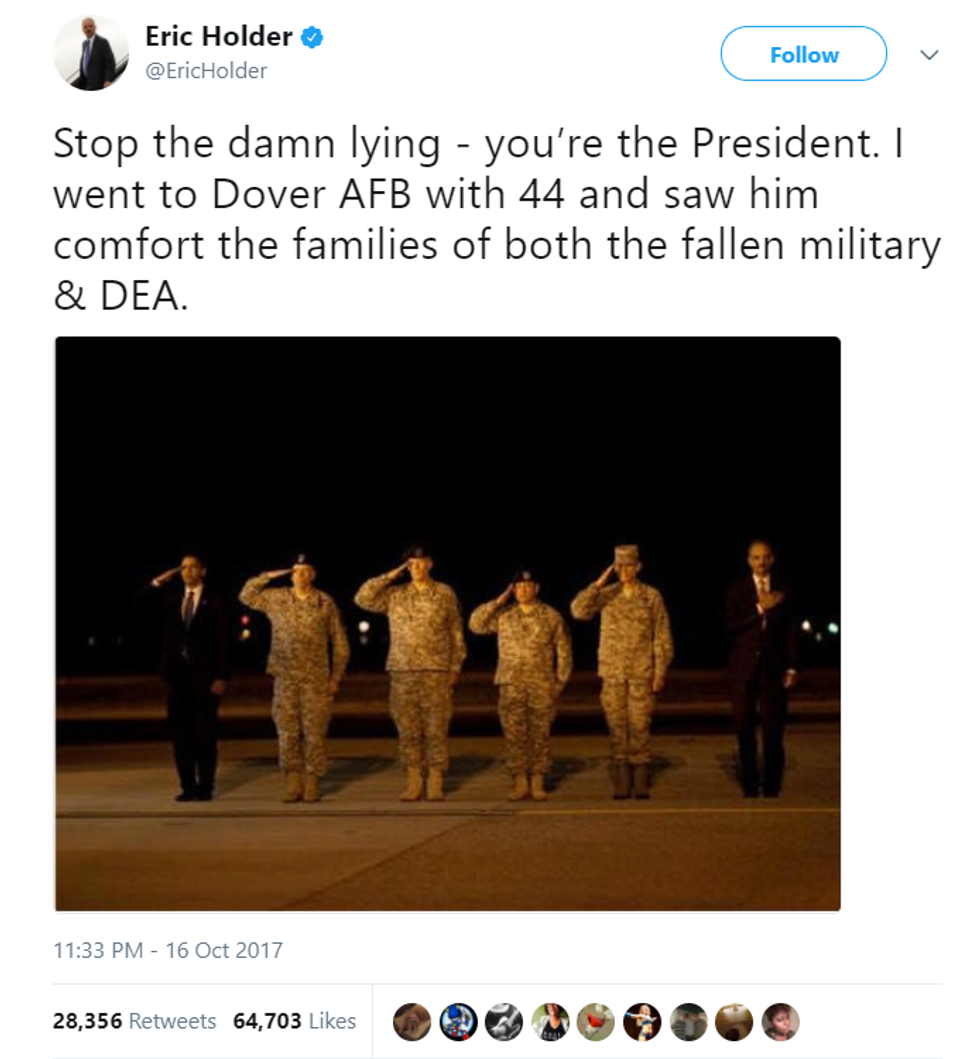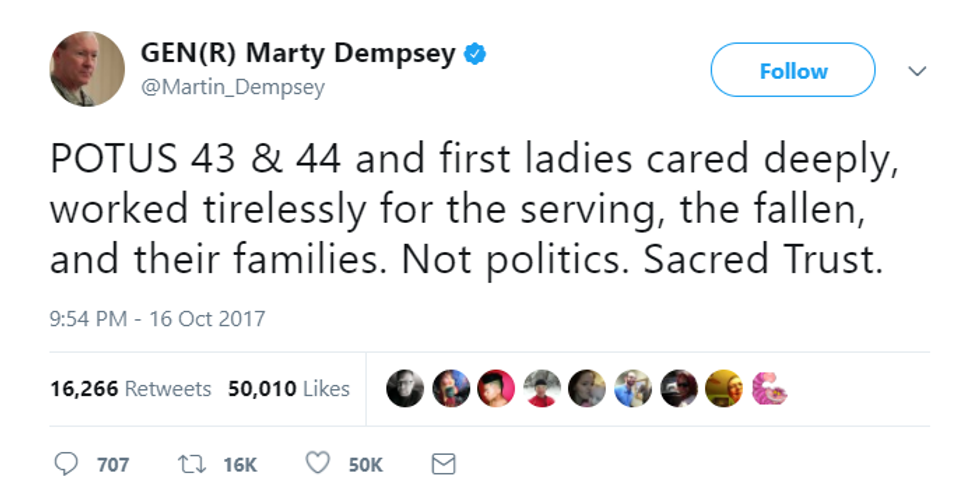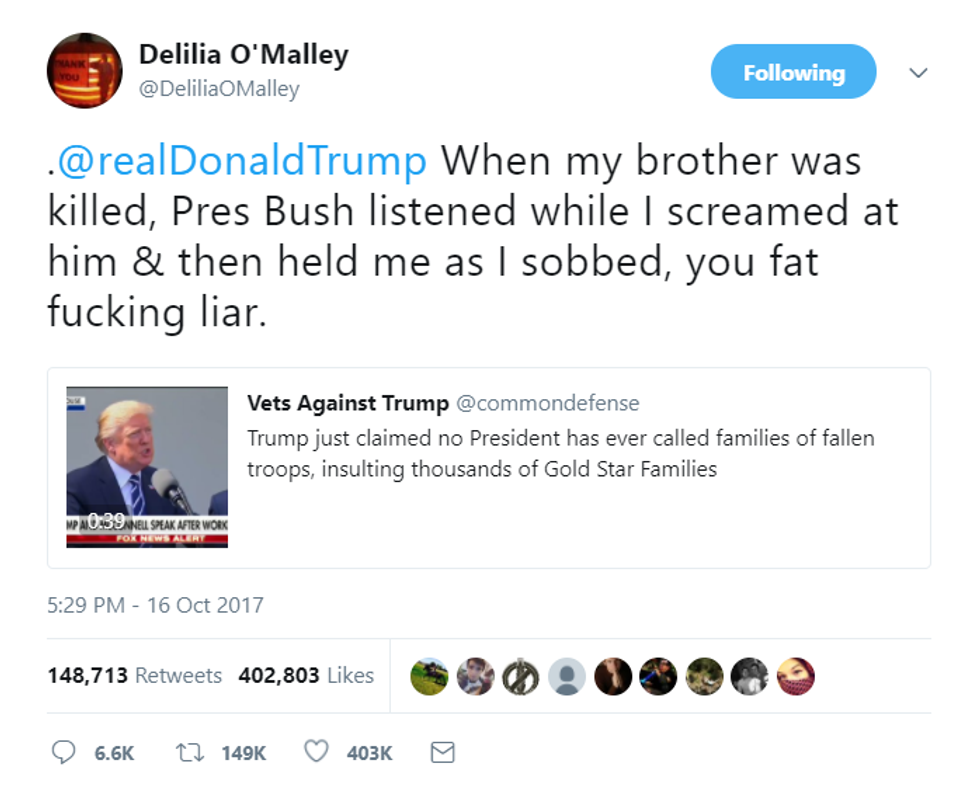 Now, we imagine it's a great comfort to the families of those we lose in war to get a personal phone call from Donald Trump so they can discuss how elegant his fucking Mexico wall is going to be and so he can tell them how Fake News CNN is being fake that day. Obviously. You bet. And if Trump's being really good about making those calls (doubt it if "Fox & Friends" is on the TV), then bully for him.
But there's one thing nobody seems to be paying attention to about this story, and it's that Marine 1st Lt. Robert Kelly was MARRIED, and his wife's name was HEATHER, so if Obama did pick up his Obamaphone and make a phone call upon his death, it would have been to his WIFE and not his DAD, Donald Trump, you FUCKING IDIOT. We imagine HEATHER KELLY would have been horrified if the president had called her FATHER-IN-LAW and NOT HER when her HUSBAND was killed.
As Wonkette writer KillerMartinis, who knows about these things, 'splains to us in the secret chatcave, the protocol is pretty effing simple: if the president calls, they're going to call the next of kin. (Which in this case would be HEATHER KELLY.) Sometimes it happens right away and sometimes that comes later, depending on the mission, the president's schedule and how many died.
In the case of Donald Trump we can also add "whether the Commander in Chief can be fucked to get off the golf course and do his goddamned duty."
We don't know whether Barack Obama ever said something to General Kelly personally, off the record, in the days after his son's death. Considering Kelly's high rank, we have a hard time imagining he DID NOT, especially considering how Kelly was back in Washington at the time, and considering the tweet above about Kelly sitting at Michelle Obama's table at the Gold Star family breakfast in 2011, which would have been mere months after his son's death. Hell, General Kelly was appointed to a high-falutin' position at the Pentagon in early 2011, so it's entirely possible President Obama ran into him IN A HALLWAY and thanked him for his son's service. We don't know, and quite frankly, it's not really our business.
The point is fuck all this stupid noise, fuck this conversation, fuck all the journalists being lazy hacks about this, and most of all, fuck Donald Trump.
The fact that a quirk of the Electoral College has put a person as debased as he in the position to be offering condolences AT ALL when one of our finest is killed is the most offensive thing of all.
Follow Evan Hurst on Twitter RIGHT HERE.
Wonkette salaries, servers, and all of the things are fully funded by readers like you! If you love us, click here to fund us!
Evan Hurst
Evan Hurst is the managing editor of Wonkette, which means he is the boss of you, unless you are Rebecca, who is boss of him. His dog Lula is judging you right now.
Follow him on Twitter RIGHT HERE.