Of Course Trump Loves This Fucking Bonkers NSC Memo Calling For Civil War
POTUS
August 11, 2017 12:14 PM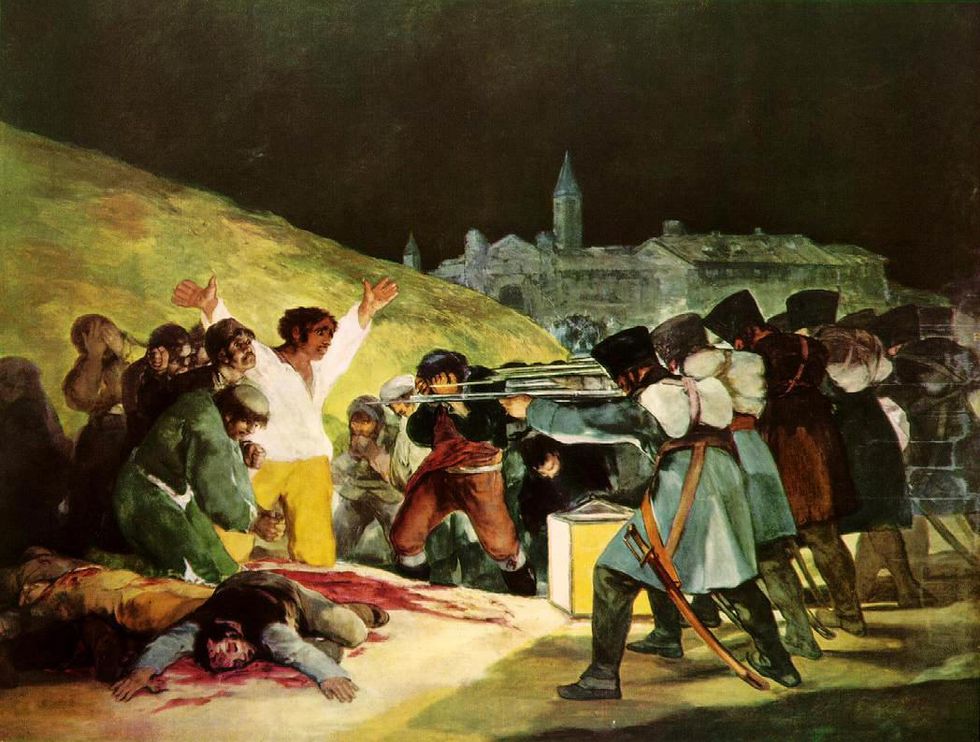 'Meme Warfare' by Francisco de Goya
---
Late in July, director of the National Security Council H.R. McMaster ejected Rich Higgins from his NSC job for writing and circulating a memo that the The Atlanticdescribed as "controversial."
Well,
Foreign Policy
 got the
full text
of the document, and, honestly, it's hard to imagine a more deranged, unhinged memo has ever crossed the desk of a US president. To even call it deranged and unhinged feels grossly inadequate. This is a memo that never had hinges and cannot be ranged. I am not even sure it exists or can exist in our universe, or if it actually is, itself, our universe and we are its physical boundaries. This fucking memo is NUTS.
Its chief object is to argue for the desirability of beginning a civil war within the United States. Obviously it doesn't say: "Trump should do a civil war, that would be good." But, it also totally does!
It declares "cultural Marxists" (which is longhand for "the left" and really means "everyone we hate") to be "engaged in a political warfare effort that seeks the destruction of a sitting president," which, okay, fair! But, it continues:
"In Maoist insurgencies, the formation of a counter-state is essential to seizing state power. Functioning as a hostile, competing state acting within an existing state, it has an alternate infrastructure."
Not too sure why this little primer on Maoist revolutions would be relevant when discussing how the left makes memes, which, oh yes! See, before it even gets into the Maoist insurgent state stuff, it highlights the threat Trump poses... to our MEMES:
"Recognizing in candidate Trump an existential threat to the cultural Marxist memes that dominate the prevailing cultural narrative, those that benefit recognize the threat he poses and seek his destruction."
First of all, that's a really sloppy sentence. It's also insane! And there is so, so much more, like a bulleted list of "those that benefit" from the… cultural Marxist memes? described above, including the Deep State, Democratic Leadership, Republican Leadership... Islamists... The Academy... all of these are doing Maoist Marxist meme insurgencies, and the transgender acceptance, and the political correctness, the population control, infiltration, battlespace, the post-modern notions of tolerance, the natural law, yes, all these words are in this memo and, as I have said, much more is there as well, may we all rest in peace.
Don't let the pure fucking insanity of every single word of this astonishing artifact obscure the fact that its aim is to make a case for war against Trump's domestic political opponents. All of this is a "national security issue," it says. "You know how we deal with national security issues," it winks four hundred times and jabs you in the ribs with a club.
"Political warfare is warfare," it says. The war against Trump, where we say mean things about him on screens, is an actual war -- a national security issue! It concludes that "the defense of President Trump is the defense of America."
Still not convinced? Islamists. Got your attention? Thought so:
"It is through such post-modern constructs that interoperable narratives are established among various left-wing groups as well as between them and Islamist groups at all levels."
So if you don't think it's good to hate fear Muslims, and you say so on Twitter, you are actual Hamas and a Maoist insurgent, and your post-modern contructs are the enemy within.
How much clearer could Higgins be? Sure, he doesn't actually say anyone should be lined up against a wall and shot. He calls for a campaign of "PUBLICITY [...] PROPAGANDA and INFILTRATION/SUBVERSION," but we should not let him get away with doing that thing common on the addled right where they go "This is an actual war against the Republic and the left must be crushed utterly, lest they hack us to pieces in our beds and adorn themselves with our entrails... So let's do memes against them!" No, asshole, own it. You want a fucking war.
Okay. It's very, very worrying that this guy was working at NSC until late July, but it's one guy. Surely he was the only
"The memo maybe reads a little crazy, sure, but it's not wrong and Rich isn't crazy," an administration official said.
[...]
"It's not wrong per se," said another official. "Actually, it's not wrong at all. The not-wrong part is just, well, buried a bit I guess by some of the wackier parts."
O…………… kay. It appears that the universe cracked at some point and another reality leaked in that is somewhat like ours except nobody makes any fucking sense. They all seem to understand each other perfectly, though, which might be the scariest thing of all.
Needless to say, Trump reportedly loves this memo, per Kevin Drum:
"Apparently the memo was circulated widely, and eventually Don Jr. got hold of it. He passed it along to dad, who loved it. When he found out that the author had been fired, Trump was furious. And according to an inside source, 'He is still furious.'"
A third of the country either doesn't know about this, supports it. Oh well, it's fucked o'clock somewhere...
Wonkette is a machine that turns your money into good words, for you to read! Want more? Give money! We are ad-free and reader-supported. Donate below, or at that link!
[ The Atlantic / Foreign Policy / Mother Jones ]