OH GO FUCK YOURSELF, JOHN MCCAIN
Healthcare
July 25, 2017 03:53 PM
GET WELL SOON, WALNUTS. And go fuck yourself.
---
John McCain has brain cancer. We feel bad about that. Fuck cancer, for real.
But regardless of that fact, John McCain really needs to go fuck himself.
The senator hopped, skipped and jumped back to Washington on Tuesday to vote to open debate on letting Mitch McConnell and Donald Trump take healthcare away from millions of people. He was the 50th vote, which meant Vice President Mike Pence could swoop in and break the tie. Fuck McCain right in the gourd for literally walking onto the Senate floor, getting everybody to sign the cast on his face, then receiving standing ovations as he cast his "aye" vote.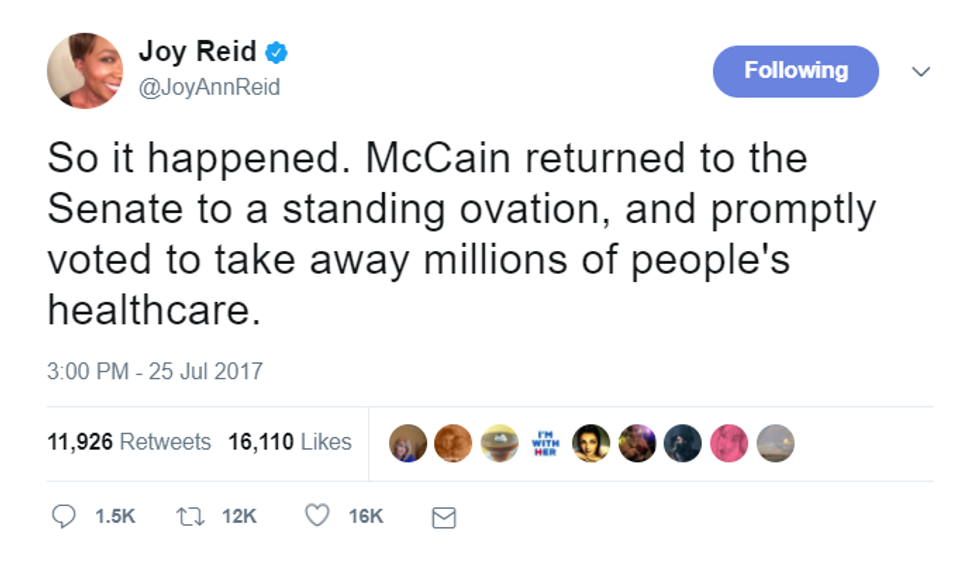 We truly hope he gets better. We have souls, after all. We're not ogres like Arizona Republican Kelli Ward, who just really wants McCain to resign in a puddle of illness so she can put her fanny in his Senate seat. (She only feels that way for the MOST Christian of reasons, of course.)
As McCain began his grandstanding speech on the Senate floor, we thought for a minute he was about to resign. "Holy shit, John McCain is about to make the final vote of his career one to fulfill Mitch McConnell's Turtle Wet Dream Fantasy of literally murdering people with the free market? What a trollop cunt!"
But he didn't. In fact, his speech was kind of good in certain places, like when he literally called McConnell on his shit. So DISCLAIMER: while this is a GO FUCK YOURSELF post, there are also moments of giving credit where credit is due BECAUSE WONKETTE IS FAIR LIKE THAT. This part was OK:
McCain to his Senate colleagues: "We're getting nothing done" pic.twitter.com/0MrLsN8Sui

— POLITICO (@politico) July 25, 2017
We keep trying to find a way to win without help from across the aisle. That's an approach that's been employed by both sides [Oh go fuck yourself, John. - Ed.], mandating legislation from the top down, without any support from the other side, with all the parliamentary maneuvers that requires. We're getting nothing done, my friends, we're getting nothing done! And all we've really done this year is confirm Neil Gorsuch to the Supreme Court.
SPOILER, it is because the GOP sucks at governing.
Both sides have let this happen. Let's leave the history of who shot first to the historians.
Yeah, does it really matter who murdered whom? Not when John McCain has some both-sidesing to do in service of ... whatever the fuck makes John McCain think he is a maverick today. GO FUCK YOURSELF JOHN MCCAIN.
Our healthcare insurance system is a mess. We all know it. Those who support Obamacare and those who oppose it. Something has to be done. We Republicans have looked for a way to end it and replace it with something else without paying a terrible political price. We haven't found it yet. And I'm not sure we will.

All we've managed to do is make more popular a policy that wasn't very popular when we started trying to get rid of it!
TRUE. Weird how the longer Obamacare has been law, the more popular it's gotten. It's like people -- even racists who were intimidated by the black president -- actually LIKE having health insurance that doesn't crap out on them in the middle of their chemo.
McCain didn't say he would rubberstamp the Republican repeal and replace bill. And he actually talked shit about his own Republican leadership's process in pushing this bill through. This part started out OK:
This is a McCain speech to watch. "I will not vote for this bill as it is today. It's a shell of a bill right now." https://t.co/flnnt4jGRk

— Kyle Griffin (@kylegriffin1) July 25, 2017
I will not vote for this bill as it is today. It's a shell of a bill right now. We all know that. [...] We tried to do this by coming up with a proposal behind closed doors, in consultation with the administration, then springing it on skeptical members, trying to convince them that it's better than nothing. That is better than nothing???? Asking us to swallow our doubts and force it past a unified opposition. I don't think that's gonna work in the end, and PROBABLY SHOULDN'T.
Ready for John McCain to fuck a goat and say something stupid? Here he goes:
The administration and congressional Democrats shouldn't have forced through Congress without any opposition support a social and economic change as massive as Obamacare.
A YEAR OF HEARINGS, 147 REPUBLICAN AMENDMENTS INCLUDED IN THE FINAL SENATE BILL, WHICH WAS FIRST PROPOSED BY THE GODDAMN FUCKING HERITAGE FOUNDATION ANYWAY and it's the DEMOCRATS' fault Mitch McConnell had promised no support for anything proposed by the black guy? FUCK YOURSELF, YOU SMARMY CROCODILE TEARS SARAH PALIN-ELEVATING PIECE OF SHIT.
And we shouldn't do the same with ours! Why don't we try the OLD way of legislating in the Senate? The way our rules and customs encourage us to act! If this process ends in failure, which seems likely, then let's return to regular order!
Regular order, huh? Is there a way McCain could have pushed for "regular order" that might have been more effective?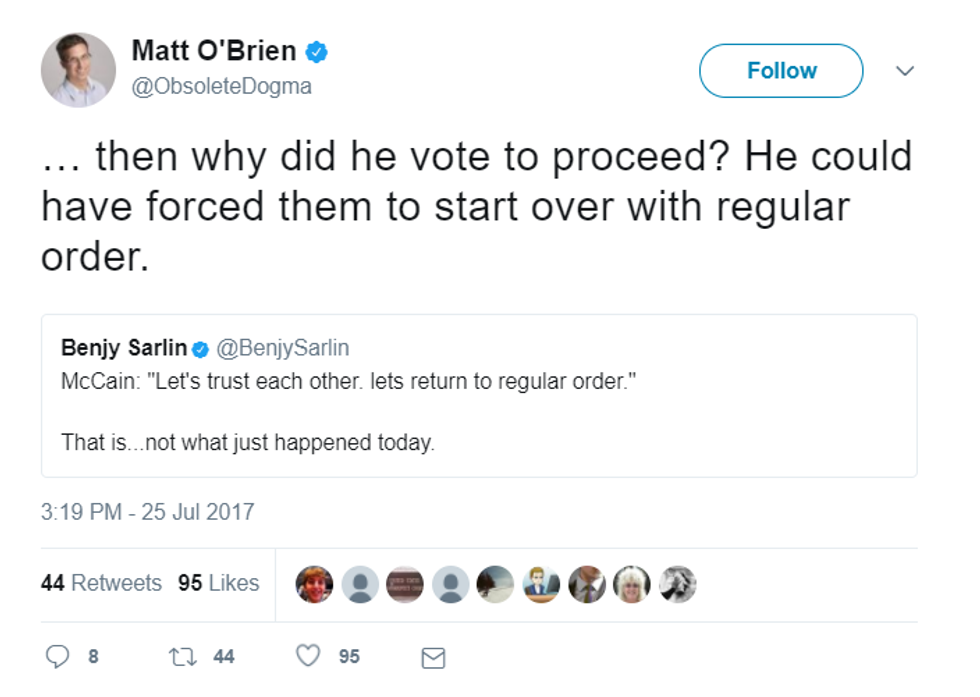 Ayup.
As we said, we TRULY MADLY DEEPLY hope John McCain beats his damn cancer and lives another FIVE AND A HALF YEARS ALAN, or even more! At the same time, we hope that, if McCain's "yes" vote today ultimately leads to the repeal of a healthcare law that's given healthcare to millions and saved countless lives, and if millions of people then lose their healthcare and die because of said repeal, that McCain will take some time once he's all better to literally go fuck himself.
Wonkette salaries are fully paid by loving souls like you! If you love us, click below to pay our salaries!
Evan Hurst
Evan Hurst is the managing editor of Wonkette, which means he is the boss of you, unless you are Rebecca, who is boss of him. His dog Lula is judging you right now.
Follow him on Twitter RIGHT HERE.