Oh Holy Election Night, Here We Go!
News
November 04, 2008 07:08 PM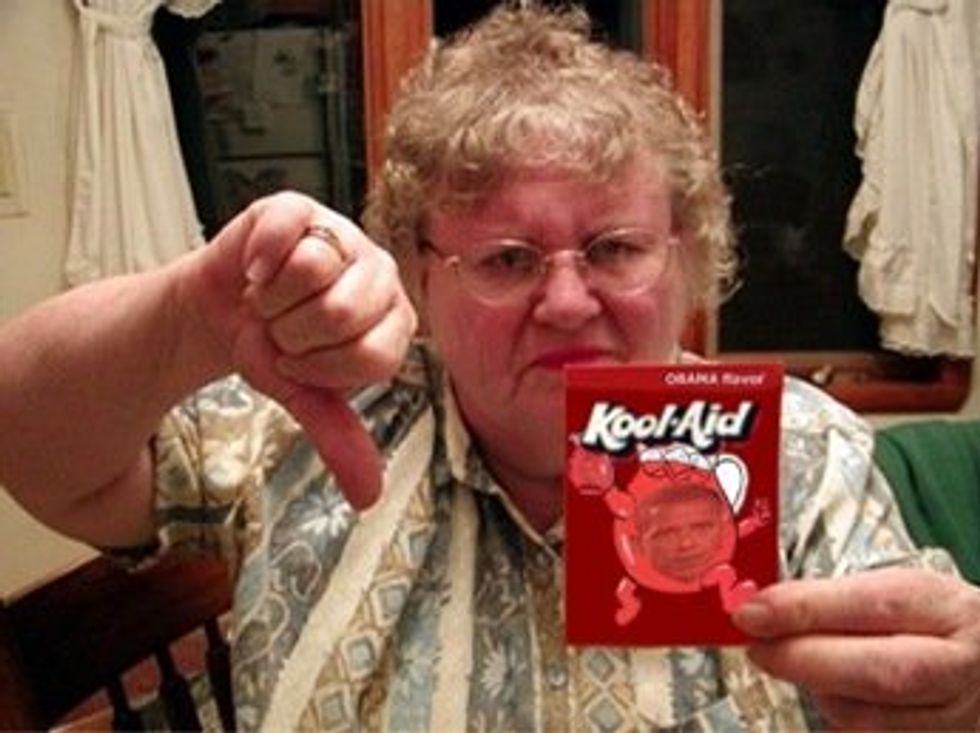 Polls have closed, in some states! Your Wonkette Team, the best team of Wonkette editors on TeeVee, is here, along with serious supplies of wine, champagne and assault rifles. Mark Warner is your new Virginia Senator, yay, and sleazy fartbag Mitch McConnell islosing a bit, right now, in Kentucky. Vermont has gone for what's his name, the King of Man, the Socialist-Terrorist.
---
7:04 PM -- Kentucky is leaning McCain right now, 52%-47% with 10% reporting. Let's liveblog, and hope Saxby Chambliss will soon have to ask Joe the Plumber for a job, giving handjobs down at the rest stop.
7:07 PM -- We cannot even actually believe this is election night, and polls are closing back east. We have been covering this for FIVE AND A HALF two years.
7:09 PM -- Raise a glass to ChristopherConklin at BlogAds/Pressflex, who is working tonight to keep Wonkette online and alive during this time of unprecedented zillions of people reading Wonkette tonight.
7:13 PM -- Obama leading Indiana, 50%-49%, 7% reporting.
7:14 PM -- But Walnuts leads by 10% in Virginia, yikes! (Don't worry, it is 1% reporting.)
7:15 PM -- OH JESUS CHRIST TURN ON CNN, THEY HAVE HOLOGRAPHIC HUMAN TECHNOLOGY AND HAVE EMPEROR PALPATINE "ON THE SET"!
7:17 PM -- Wolf Blitzer: "You know what I like about this hologram ... you're a hologram now, Jessica."
7:17 PM -- This is terrifying pornography.
Jim N.

HAHAH WATCH CNN

Sara S.

Jesus Christ it is like shitty Star Trek

Jim N.

there is a princess leia "help me obi wan kenobi" image talking to wolf blitzer

Sara S.

That is so retarded

Jim N.

this is so horrifying!

Sara S.

Just awful

Ken L.

CNNN WHT THT HTHE FUCK

Ken L.

"Yes, My Master, what is Thy Bidding" ...

Ken L.

She's even flickering like the Emperoro

Ken L.

oh my god

Ken L.

this is awful

Jim N.

god, if they're going to do this, they could at least make it look somewhat professional

Jim N.

i think i am too scared to watch CNN

Ken L.

"you're a hologram now jessica"

Jim N.

it's also like an 80s music video.

Jim N.

HAHAHA

Juli W.

oh she looks like that movie waking life
7:21 PM -- Indiana, too close to call.
7:24 PM -- We have switched to MSNBC, because dear god, the Flickering Witch Monster on CNN is the scariest motherfucking thing we've ever seen.
7:25 PM -- But then we have to go back, to see John King and his wizard's map.
7:26 PM -- John King: "But most of Virginia, as you can see, is very white."
7:27 PM -- Oh he is talking about the blank counties where results aren't coming in yet ... OR IS HE?
7:28 PM -- McConnell tied, 50/50. But CNN calls Kentucky for Walnuts!
7:30 PM -- New thread with your Sara K. Smith, go!