Oh, James Comey, You Sassy Bitch! Wonkagenda For April 16, 2018
Guns
April 16, 2018 08:59 AM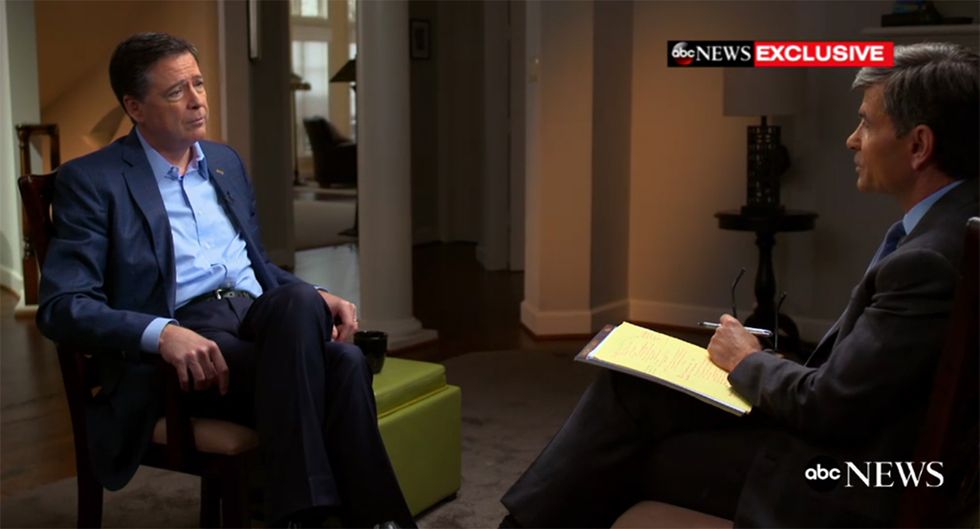 Morning Wonketariat! Here's some of the things we may be talking about today.
---
Former FBI director James Comey sat down with George Stephanopoulos and spilled his guts in a wide-ranging interview last night. Comey said Trump is "morally unfit to be president," and while Christopher Steele was legit, he's not sure if the pee hooker tape is real, though Trump seemed oddly fixated on it. Comey also said he was sorry for making HER EMAILS a big deal. [Transcript]
Michael Cohen is expected in court this morning where he'll bitch about the FBI taking all his stuff. Last night WaPo reported that Trump wants to see the evidence seized by the FBI, and has been whining about white-collar privileges.
Michael Cohen has been killing stories about the misadventures of DJTJ's peener.
Michael Cohen's hush money trail leads to an LLC in Delaware that was involved in deals to shut up Stormy Daniels, and the mother of Elliot Broidy's (aborted!) love child. INTERESTING! [Archive]
There's a full page ad in the LIBERAL New York Times this morning from their editorial board calling for Republicans to respect the rule of law, stand up to Trump, and protect Robert Mueller.
Two congressional Texans are telling Trump's people that they'll need a lot of lawyers if they think they can just march onto private property and build Trump's wall.
Legal advocates are screaming about the backlog of cases in immigration courts, and warning that Trump's attempt to streamline the court system could actually make things worse.
House Republicans can't wait for Paul Ryan to fuck off back to Wisconsin, and they're already starting to eat each other alive in the battle for the gavel. Bunch of savages!
A new report details the extreme level of grift between the Republican party and Donald Trump's campaign. They've been showering Trump with millions in cash by using Trump's airplanes, property since 2015.
FEC filings show that Trump's 2020 re-election campaign has already spent almost $4 million dollars, a hefty chunk of it in legal fees for Trump's laundry list of scandals.
A new ABC News/WaPo poll shows that the Blue Wave is facing a Red Wall as ammosexuals continue clinging to their guns and religion.
Kentucky Republican Gov. Matt Bevin has apologized for saying the kids were smoking dope and sexing each other while teachers were on strike.
Gun fetishists marched in several states over the weekend, spouting ammosexual nonsense and screaming that "black guns matter."
The NAFTA renegotiation talks have effectively stalled as Trump continues to insist on getting better deals.
While Trump has been bitching to top aides about the US being too mean to Putin, the US is set to impose MORE sanctions on Russia for helping Syria obtain chemical weapons, but EU nations are unlikely to sign on this time.
The US envoy to the chemical weapons investigators in Syria says that Russia tried to hide evidence of Syria's chemical weapons stores.
Ukraine wants some of its Russian-controlled territory back, and Ukrainian President Petro Poroshenko has announced plans to draft a bill that would terminate portions of its alliance with Russia.
A server containing congressional sexual harassment complaints was connected to the Internet and housed a third-party server, so ALL the confidential information was vulnerable to hackers. Further, after the the Office of Compliance admitted it had fucked up, it did nothing for months. Just like with legislation to reform sexual harassment complaints for members of Congress and their staff, ultimately nothing happened.
An obscure chat platform has started working with the SPLC to whack Nazis infecting its severs, further proof that Twitter and Facebook are dragging their ass.
Iconic actor and former Marine Corps Staff Sergeant R. Lee Ermey has passed away at 74.
The family of former First Lady Barbara Bush has said that they'll no longer seek additional medical treatment for her failing health, and will instead focus on keep her comfortable.
OMG! Rare pictures of congressional puppers on the Hill! So smol, very politic!
And here's your morning Nice Time! Nice kitties!
Listen to that feeling in the pit of your stomach, and buy us coffee!
Dominic Gwinn
Dominic is a broke journalist in Chicago. You can find him in a dirty bar talking to weirdos, or in a gutter taking photos.