White Woman Looks So Sad She Got Caught Being 'Racially Charged'
Post-Racial America
July 16, 2018 09:36 AM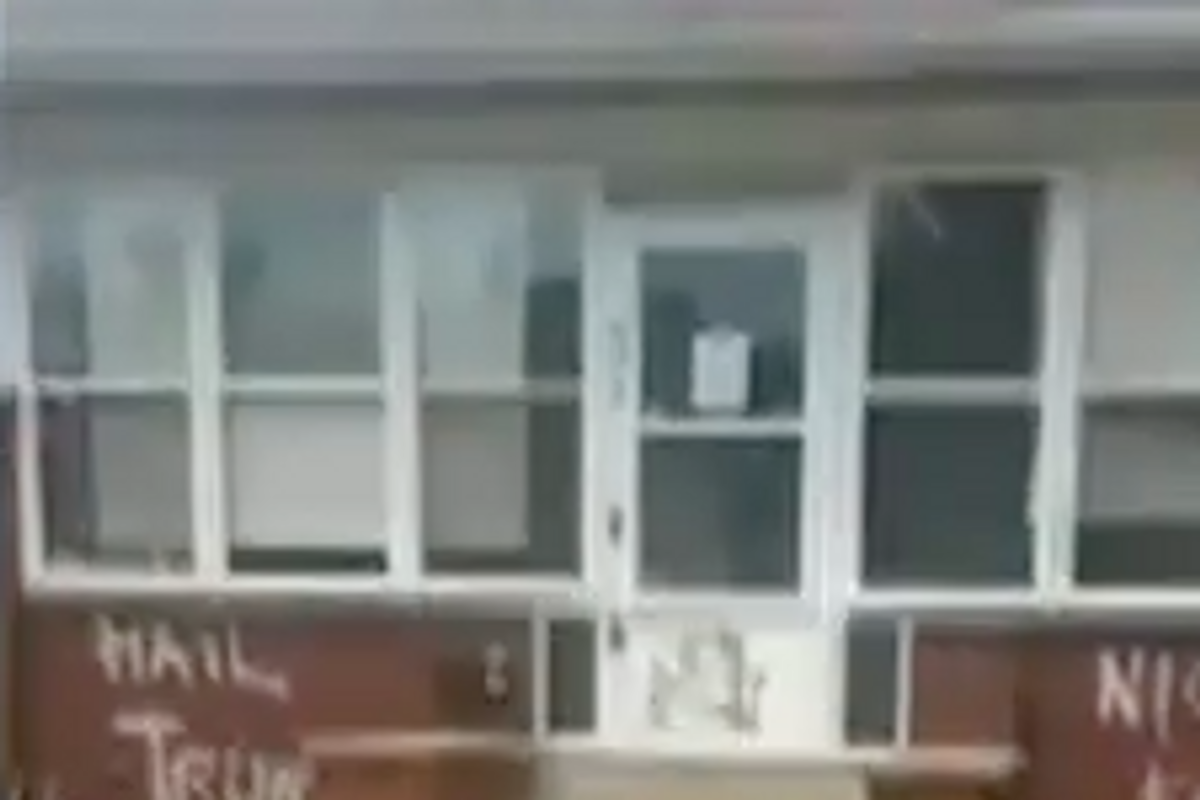 We used to live in economically anxious times. It was why that rock-solid base of support for Donald Trump, the white working class, would occasionally dabble in recreational racism to distract themselves from their meth addictions or unrealistic obsessions with a way of life that had long since vanished (in part because of technology and also because they voted for people like Trump). But all that's over now. Trump fixed everything. We know because he told us, and you should always trust the primary source. So, why are white people still so racist?
Let's take the Wonkejette to Ohio, where the New York Times tells us you can find an endless supply of mainstream American values, so much so that in Toledo, those value were smeared over the front of someone's house.
Toledo police arrested Patricia Edelen for spray painting racial slurs on her neighbor's home Friday night. [...]

The police report lists the charges as "ethnic intimidation by reason of race, color, religion or national origin, criminal mischief, and criminal damaging/endangering property to cause/create substantial risk of physical harm."

The police report says Edelen spray painted "N" (word) stay out" "Hail Trump" and a Swastika on her neighbor's home.


What was Edelen arrested for, local ABC station? Oh, we guess being "racially charged."
---
Vandalizing a home to apparently scare away black people reminds me of a very special episode of "Family Ties," which was set in 1980s Ohio. More than 25 percent of Toledo is black, so the racist lady's a little late. We're heeere. "Hail Trump" also lacks the alliterative appeal of "Heil Hitler," which I suppose it's referencing. "Holy Trump!" might've worked better as an allusion to the city's famous expression, as well as the president's own inflated sense of self-regard. However, no one likes a backseat racist graffiti painter, so I'll move on.
Patricia Edelen, 47, of the 600 block of Ogden Avenue, is charged with criminal mischief, ethnic intimidation, and criminally damaging property, all misdemeanors, court records show.
These are misdemeanors, so I doubt she'll have to worry about appearing before a jury of her racist peers. She might end up sentenced to binge-watching both seasons of "Luke Cage" on Netflix, and a good lawyer could knock it down to a single viewing of "Black Panther" on a plane.
Community members, many of them people of color, came out to clean up Edelen's racist mess, which we hope symbolizes what will happen during this year's midterm elections. Edelen's gross actions aren't unique in Ohio, where hate crimes are more than double the national average. This is distressing to anyone who grew up watching "WKRP in Cincinnati," because Venus Flytrap felt so welcomed.
Cleveland, Ohio, however, one-ups Toledo's racist graffiti artists with openly racist cops. During an unrelated internal investigation, detective John Kraynik and patrolman Aaron Pettit were discovered to have exchanged text messages with more "n-words" than a Quentin Tarantino film.
Kraynik sent the text messages during and after two Ohio State football games in 2016 -- the nationally-televised night game against Wisconsin and the Buckeyes double-overtime win against rival Michigan later in the season.

During the Wisconsin game, a late come-from-behind overtime win by the No. 2 Buckeyes over the No. 8 Badgers, Kraynik texted: "All that 'n----r flash', once again, losing out to good old-fashioned hard-nosed football," the investigative file says.

The former officer responded by saying "Maybe they need to throw some more bananas on the practice field..."

Kraynik's responded, saying: "N----r-flash..." and used another racial slur in referring to the officer.

He texted the former officer twice during the Ohio State-Michigan game, a back-and-forth game that sent the Buckeyes to the College Football Playoff semifinals.

"F-----g n-----s can't play qb," he texted, according to the records. Kraynik did not specifically mention any players by name, but Ohio State's quarterback at the time, J.T. Barrett is black, and Michigan's quarterback for that game, Wilton Speight, is white.
Kraynik, who works in a predominately black area, and Petit received the daintiest of slaps on the wrists and were ordered to take "sensitivity training." I'm not sure how effective that would be unless you strap them into a chair and force them to watch Martin Luther King speeches until they're both "cured, praise God!"
Even this minor reprimand was too much for the Cleveland Police Patrolman's Association, which filed a federal lawsuit claiming the officers' First Amendment rights were violated, and really, why should anyone care about the racist content of personal messages sent by officers when they're off-duty? This is the same scuzzy group that defended the killing of Tamir Rice. I'm surprised they aren't arguing that the officers aren't racist enough.
That's enough for Ohio today, I think. I'll just have some of their weird-assed diarrhea chili before heading back home in the Wonkejette.
You love Wonkette very much, yes? Please DONATE to our snarky cause.
Stephen Robinson
Stephen Robinson is a writer and social kibbitzer based in Portland, Oregon. He writes make believe for Cafe Nordo, an immersive theatre space in Seattle. Once, he wrote a novel called "Mahogany Slade," which you should read or at least buy. He's also on the board of the Portland Playhouse theatre. His son describes him as a "play typer guy."