OK, Wisconsin, Time To Send Judge Janet Protasiewicz To Your Supreme Court!
News
February 22, 2023 09:52 AM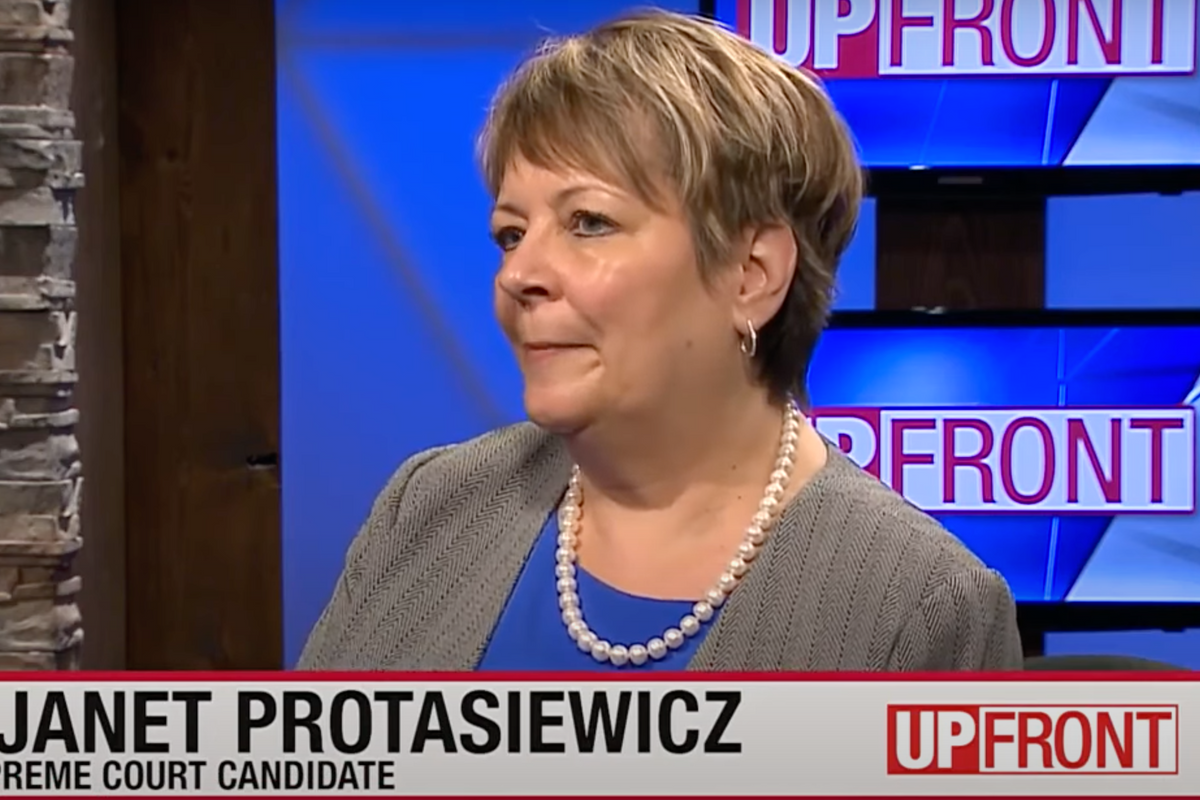 Liberals are inching closer to flipping the Wisconsin Supreme Court. The race to fill conservative Justice Patience Roggensack's seat began in earnest Tuesday, and the top two vote getters were Democratic-aligned Janet Protasiewicz and far-right kook Daniel Kelly. They'll advance to the April 4 election, and the winner, who'll serve a 10-year term, will determine the court's ideological balance. This is a big deal.
Protasiewicz (reportedly pronounced pro-tuh-SAY-witz) easily came in first with 46 percent of the vote. The other Democratic-aligned candidate, Dane County Judge Everett Mitchell, finished dead last with 7.5 percent. This Black man wasn't even named Mandela Barnes and still couldn't break 10 percent.
The Republican-aligned candidates were locked in a fierce and bloody battle for the second position. Kelly, a former Supreme Court justice who lost his seat in 2020, narrowly edged out Waukesha County Circuit Court Judge Jennifer Dorow, 24 to 22 percent.
PREVIOUSLY:
Hey, Wisconsin, Time To Start Flipping Your State Supreme Court!

Can Liberals Claim Wisconsin Supreme Court Majority? God, We Hope So!

What The Hell Is Happening In Wisconsin?
---
Republicans who like winning had hoped Dorow would advance to the general election. They believed she had the advantage of not having lost a Supreme Court race already and not sounding crazy. According to the Milwaukee Journal Sentinel, Kelly, while previously on the court, "wrote a decision that found Madison could not bar guns on its buses, argued the US Supreme Court decision legalizing same-sex marriage undermined democracy, compared abortion to murder, and praised a decision that upheld Act 10, the 2011 law that scaled back collective bargaining for public workers."
Kelly compared affirmative action to slavery, and he's boasted about his endorsements from anti-abortion groups. He's also openly canoodled with election deniers. Despite collectively face-planting in the 2022 midterms, MAGA candidates have only double-downed in their extremism. There's not much evidence that Kelly or Dorow would've ruled dramatically differently, but Dorow kept up the John Roberts pretense of an impartial judge who simply "interpreted the law" and called "balls and strikes." She sounded like a judge, while Kelly sounded like a right-wing talk radio host.
Conservative Charlie Sykes at The Bulwark, who's covered these Wisconsin judicial races for decades, believed Dorow would've proven more competitive in a general election. (Women judicial candidates also seem to do better in general in Wisconsin.) He tweeted Tuesday that if Protasiewicz faced Kelly in April, she'd beat him like a drum. That's music to our ears.
Like a true RINO, Dorow actually conceded the race last night and didn't immediately start filing nuisance lawsuits trying to overturn the results. She said, "I truly believe that the voters in the state of Wisconsin will want someone who's fair and impartial and not someone who'll turn our court into a legislative body. That's just not what our court system is all about."
This is apparently supposed to describe Daniel Kelly, who doesn't even pretend that he's fair and impartial, but Dorow urged her supports to "get behind" Kelly and make sure "we come home with a conservative justice on April 4." That's an overtly partisan argument, and it has nothing to do with Kelly or Protasiewicz's relative qualifications.
The current state Supreme Court is hardly some impartial umpire, but rather an extension of the Republican-controlled legislature. Voters seem to grasp this and want a change. The Democratic-aligned candidates secured 54 percent of the vote to the Republican-aligned candidates' combined 46 percent. That's somewhat unprecedented in the swing state. The party breakdown in the 2020 Supreme Court primary was 50/50.
Ranting about woke drag queen M&Ms just doesn't impress a majority of voters, but we'd never interrupt Republicans while they're making so many mistakes.
Follow Stephen Robinson on Twitter if it still exists.
Did you know SER has his own YouTube Channel? Well, now you do, so go subscribe right now!
Subscribe to the Wonkette YouTube Channel for nifty video content!
Click the widget to keep your Wonkette ad-free and feisty.
Stephen Robinson
Stephen Robinson is a writer and social kibbitzer based in Portland, Oregon. He writes make believe for Cafe Nordo, an immersive theatre space in Seattle. Once, he wrote a novel called "Mahogany Slade," which you should read or at least buy. He's also on the board of the Portland Playhouse theatre. His son describes him as a "play typer guy."