Oprah's Speech Was Amazing, Now Shut Your Fucking Mouth
News
January 08, 2018 09:20 AM
President Oprah? WHO THE FUCK KNOWS.
---
Did you watch the Golden Globes on Sunday night? Of course you did, you are gay as hell. Seth Meyers, the sexxxiest host with the mostest, made a joke at the beginning about how he said in 2011 at the White House Correspondents' Dinner that Donald Trump would never be president, and now look what happened, therefore he needed to tell Oprah Winfrey SHE would never be president of America, OK? You get the joke he was saying?
After the joke, NBC, being silly, which should be obvious to anyone smarter than a stable genius, tweeted this:
Nothing but respect for OUR future president. #GoldenGlobes pic.twitter.com/h4hkjewu0K

— NBC (@nbc) January 8, 2018
Which made one million people lose their shit. Here is one of many tweets on the subject from Drudge: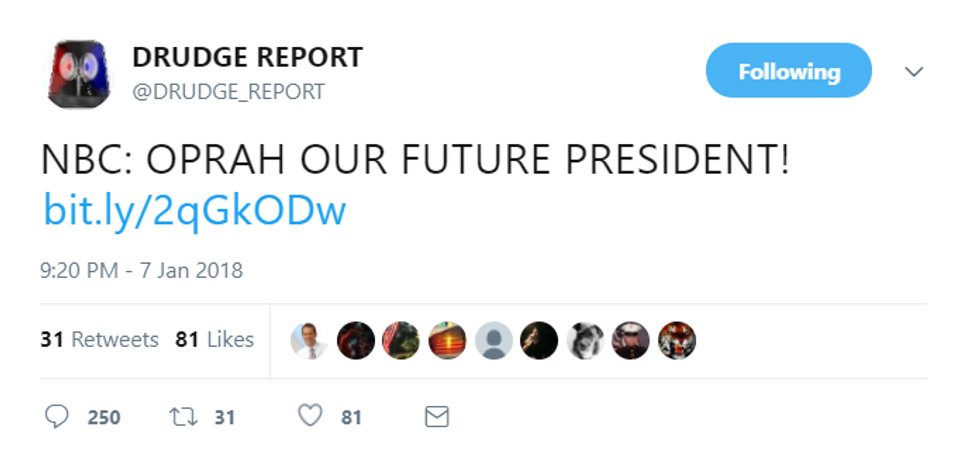 Anyway, later, Winfrey was presented with the Cecil B. DeMille award, and proceeded to give a speech that BROKE THE FUCKING INTERNET. Not only was it beautiful and rousing and inspirational, some found it ... presidential. If you haven't watched it, please do:
"I want all of the girls watching here now to know, that a new day is on the horizon." @Oprah accepts the 2018 Cecil B. de Mille award. #GoldenGlobes pic.twitter.com/hbquC1GBjm

— Golden Globe Awards (@goldenglobes) January 8, 2018
Fabulous, right?
So of course now people are literally spending their time debating the merits of an Oprah candidacy for the 2020 election, and our response is OH PLEASE SHUT UP.
Look, we won't know if Oprah Winfrey wants to run for president. She says she doesn't, but maybe she does secretly want to in her heart, and if she wants to, that's fine, it's a free country (for now). If she does, we'll cross that bridge in 2019 when the primaries get going. THAT IS NEXT YEAR AND WE HAVE MIDTERMS TO WIN FIRST, OK?
And yeah yeah yeah, we've all learned the lesson of having a "businessman" be president, but it was a particularly shitty con-man failure of a businessman, and while we really really really would like NO MORE CELEBRITIES IN THE OVAL OFFICE, and to have a president with actual political experience in 2020, we also trust Oprah Winfrey knows how to read a book and doesn't have such a big ego that she wouldn't surround herself with ACTUAL experts and listen to them if she were to run and/or win. (Coincidentally, this was our primary personal justification for supporting Barack Obama over Hillary Clinton in 2008, despite his inexperience.)
And yeah, if Winfrey ran, we would also have to contend with how she foisted Dr. Phil and Dr. Oz on America, because fuck her anti-science "experts."
But it is JANUARY 8, 2018, and WHAT DID WE JUST SAY ABOUT HOW WE HAVE MIDTERMS TO WIN THIS YEAR?
Can we just let this awesome, beautiful Oprah speech be an awesome, beautiful Oprah speech and let it go at that? YES WE CAN! YES WE CAN!
And that is what Wonkette has to say about that.
Follow Evan Hurst on Twitter RIGHT HERE.
Wonkette is fully paid for by YOU! Please click here to pay Wonkette's salary.
Evan Hurst
Evan Hurst is the managing editor of Wonkette, which means he is the boss of you, unless you are Rebecca, who is boss of him. His dog Lula is judging you right now.
Follow him on Twitter RIGHT HERE.