Oregon School Superintendent Suggests Parents Tell Freedom Lies To Avoid Mask Mandates
coronavirus
August 23, 2021 09:00 AM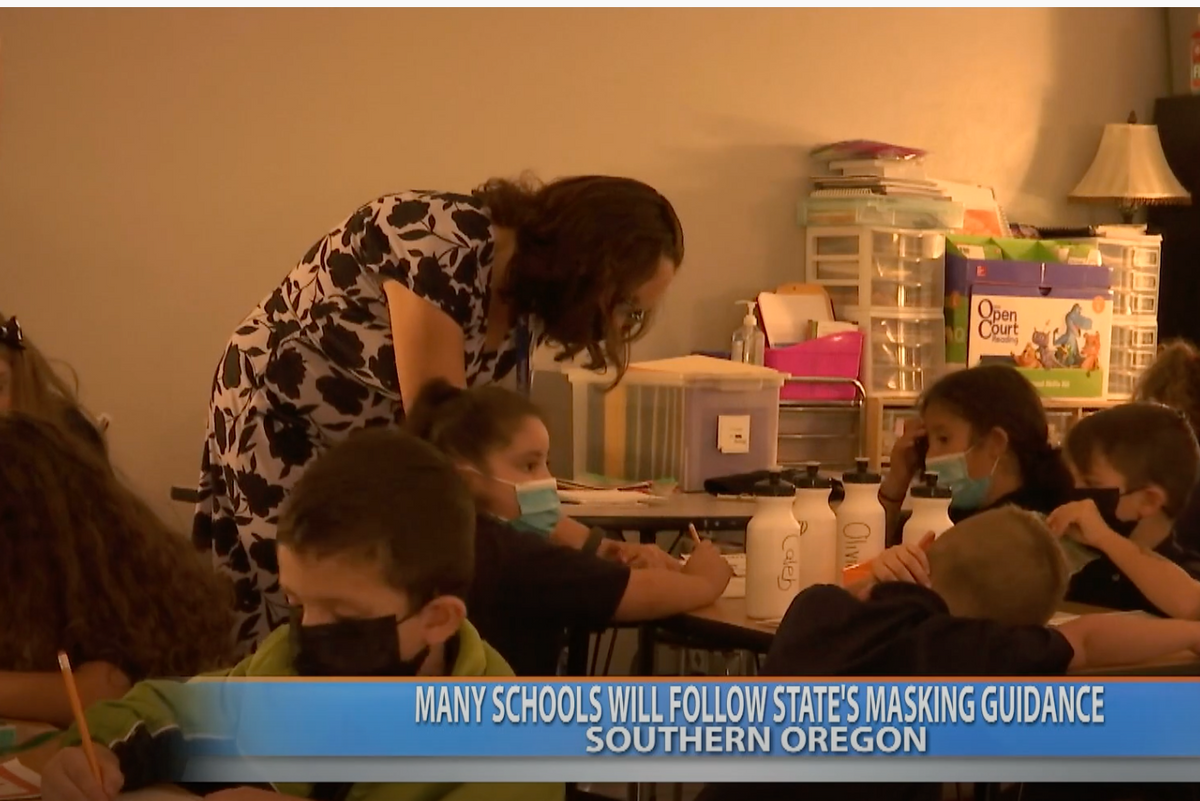 Oregon Governor Kate Brown's school mask mandate is intended to keep students from spreading or catching COVID-19, especially the most vulnerable kids under 12 who aren't eligible for vaccination. However, Superintendent Marc Thielman of the Alsea School District in Oregon, about 80 miles south of Portland, is advising parents on how they can get around the mandate. He believes he's performing a public service.
"The majority of my parents are skeptical and are no longer believing what they're told" about COVID-19, said Thielman, whose district in the state's coastal mountains begins classes Monday. "I've got a majority of my parents saying, 'Are there any options?'"
Alsea is in Benton County, which has a significantly smaller population than Multnomah County, but about as many COVID-19 cases per capita. The parents' skepticism is unwarranted. COVID-19 is real. But Thielman seems to think parents can combat this "hoax" with a hoax of their own. He's advising parents who don't want their kids wearing masks in school to apply for an accommodation under federal disabilities law.
---
Thielman sent the following update to parents and the community on August 13:
On its face, the Governor's order Does Not allow for students to "Elect" to not wear a mask, and the Oregon Department of Education is requiring school staff to enforce this mandate under penalty of fine, investigation, ethics violation, and potential loss of licensure.

As a Superintendent, I work hard to know the law and comply with it, and if possible, make it work for students, parents, staff, and our valued families. This particular mandate is outlined in Rule (executive order law) as OAR 333-019-1015 (full copy of this rule is pasted below this letter). As you will note upon reading this rule, section (6) states: "Nothing in this rule is intended to prohibit a school from complying with the Americans with Disabilities Act (ADA), the Rehabilitation Act, or the Individuals with Disabilities Education Act." Under ADA, anyone may request a section 504 plan accommodation regarding school/workplace requirements. Section 504 is a Federal Law that requires employers and schools to "Accommodate" students and staff who may have a physical, social-emotional, or plenary need that of itself does not qualify as a "disability" under IDEA (Special Education Law).

As an ethical Superintendent, I would be remiss if I did not communicate this federally mandated right to all our parents/guardians, and inform them of their option to request an accommodation regarding the mask mandate for their student.
Yeah, "ethical" is the word we associate with someone who suggests that parents pretend their children have a disability so that they can endanger the lives of other students. Thielman said he's sensitive to claims that masks cause "anxiety and headaches" in children. COVID-19 has turned conservatives into the snowflake parents they once derided. "Oh, no, little Susie gets nervous when she has to wear a mask!" Meanwhile, the COVID-19 delta variant is literally killing kids.
Thielman insists he's not anti-mask, but he's obviously pandering in the worst way to COVID-19 deniers. It should shock no one that the Republican plans to run for governor next year. Brown told educators in a letter last week that she was shocked that Thielman would undermine her policies by "instructing students to lie" about having a disability. It does sound horrific when you write it out like this.
Laurie VanderPloeg, an associate executive director at the Council for Exceptional Children, cautioned that children can't go maskless simply because they asked. If it was that simple, our kid would wear pajamas to school every day. There's a formal process to determine whether a child has a specific physical or mental disability — a medically diagnosed condition — that would warrant an exception
Thielman is not alone in his political opportunism. The Spring Hill school board in Kansas will let parents claim a mask exemption for their kids without a doctor's approval. Board member Ali Seeling said parents should have "the freedom to make health decisions for their own children." But it's not just their own children. Why do they keep missing that rather important point?
Republican Attorney General Jeff Landry in Louisiana has also advised that parents seek a "philosophical or religious exemption" from Democratic Governor John Bel Edwards' mask mandate and a potential vaccine mandate.
"Louisiana is not governed by a dictatorship. The question is: 'who gets to determine the healthcare choices for you and your child?' In a free society, the answer is the citizen — not the state," Landry wrote on Facebook.
What a wise attorney general the sick and dying residents of Louisiana have! They can applaud his brilliance from their hospital beds if they aren't turned out on the streets to die. He's right: Louisiana isn't a dictatorship, neither is Kansas or Oregon. They are democracies where a majority elected Democratic governors who care about public health. You don't live in a dictatorship just because you can't do everything you want regardless of the consequences. Republicans need to stop acting like bratty teenagers, but we fear that day will never come.
[AP]
Follow Stephen Robinson on Twitter.
If you enjoyed this story, please donate what you can to keep Wonkette going forever!
Stephen Robinson
Stephen Robinson is a writer and social kibbitzer based in Portland, Oregon. He writes make believe for Cafe Nordo, an immersive theatre space in Seattle. Once, he wrote a novel called "Mahogany Slade," which you should read or at least buy. He's also on the board of the Portland Playhouse theatre. His son describes him as a "play typer guy."