O'Reilly Grabbed $32 Million Of Pussy, Because When You're A Star, The Murdochs Let You Do It
News
October 23, 2017 12:44 PM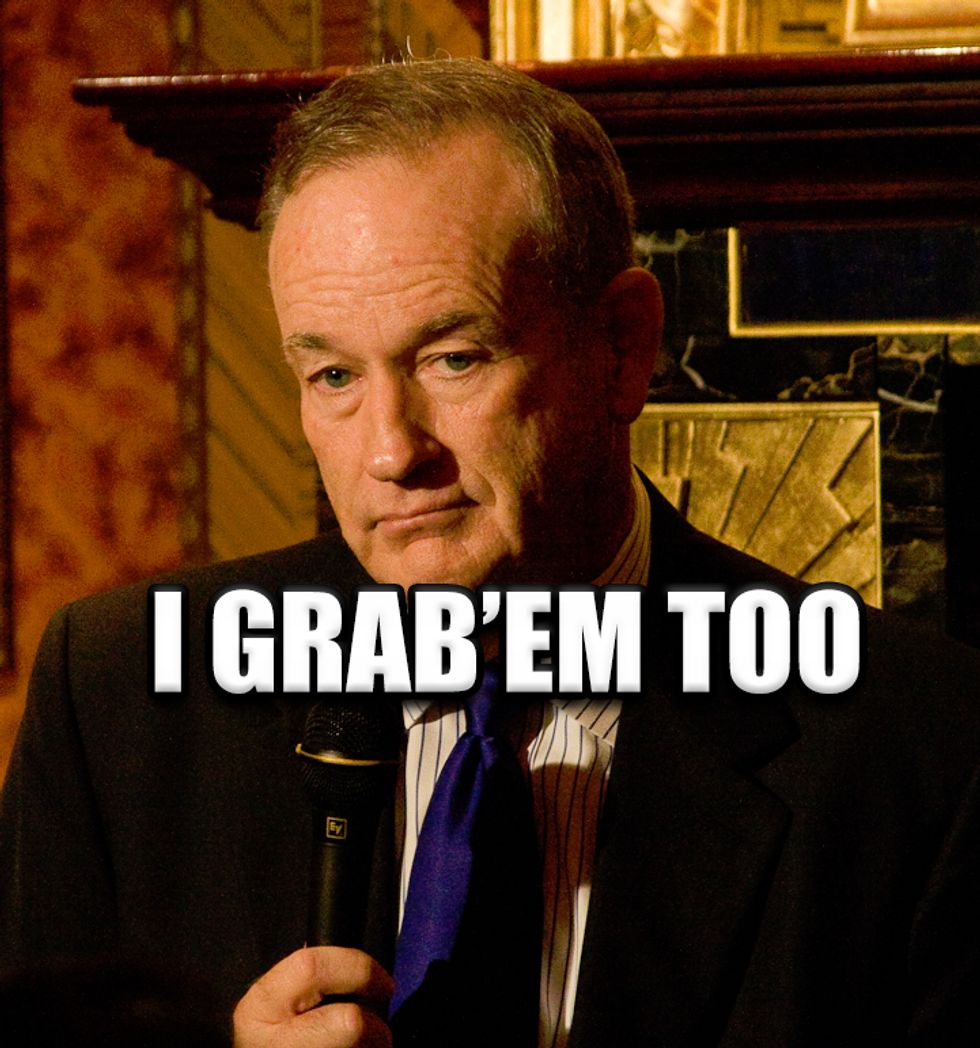 WONKERS, DO NOT SEND PORN TO YOUR LAWYERS!!!!
---
Just a little PSA from your friendly neighborhood Wonkattorney. Bill O'Reilly sent nudes, and look what happened to that Loofahwanker -- he's unemployed and out $32 million. And while we're lawtalking, check out this affidavit that Fox News analyst Lis Wiehl signed after O'Reilly agreed to give her a third of everything he owned.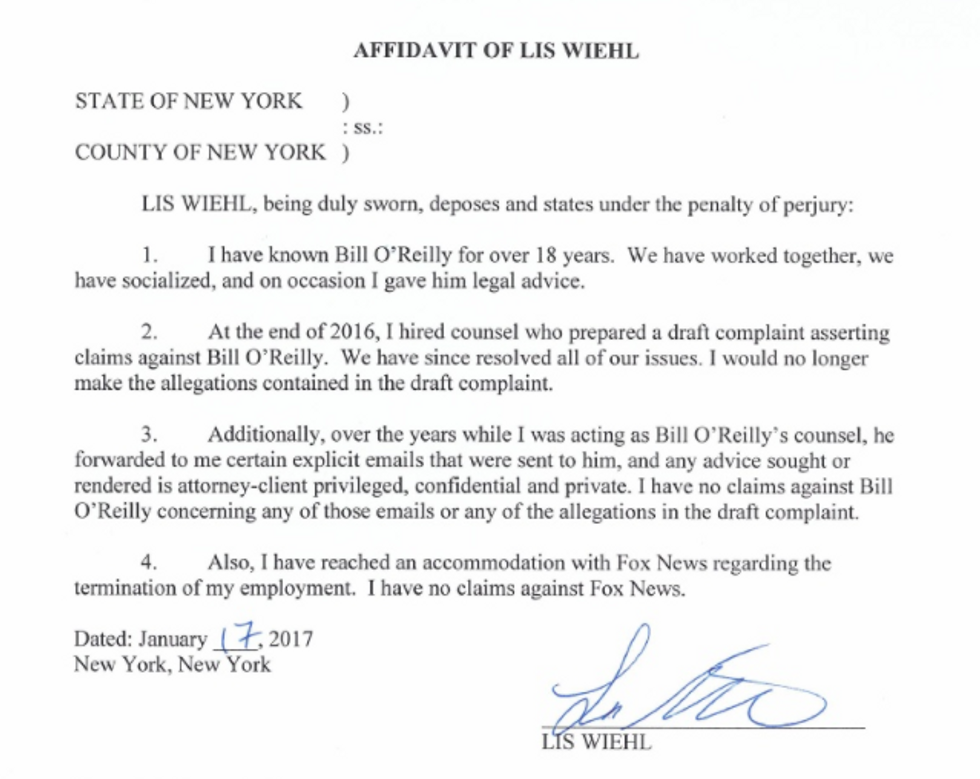 YEAH, WE HAVE QUESTIONS.
1. I have known Bill O'Reilly for 18 years. We have worked together, we have socialized, and on occasion I have given him legal advice.
Wiehl gave him occasional legal advice? Really?
Bill O'Reilly had a whole team of high-priced lawyers, and so did Fox. But as soon as the cameras quit rolling, he just turned to her and started asking about Generation Skipping Transfer Tax?
SOUNDS LEGIT.
2. At the end of 2016, I hired counsel who prepared a draft complaint asserting claims against Bill O'Reilly. We have since resolved all of our issues. I would no longer make the allegations contained in the draft complaint.
So she threatened to sue him, got a third of his money, and promised never to talk about it again. And now O'Reilly's attorney is rageshitting that the Times reported on Weihl's "nonconsensual sexual relationship" with his client. Because if she can't talk about it, it never happened, right?
In its latest diatribe against Bill O'Reilly, the Times printed leaked information provided by anonymous sources that is out of context, false, defamatory and obviously designed to embarrass Bill O'Reilly and keep him from competing in the marketplace.
Well, Buddy, truth is an absolute defense to defamation. But if your guy wants to sit down with the Times's lawyers under oath and tell them what they got wrong, we're sure they'd be delighted to hear it!
3. Additionally, over the years while I was acting as Bill O'Reilly's counsel, he forwarded to me certain explicit emails that were sent to him, and any advice sought or rendered is attorney-client privileged, confidential and private. I have no claims against Bill O'Reilly concerning any of those emails or any of the allegations in the draft complaint.
WAIT, WHAT? He forwarded her porn, but she can't disclose it because of attorney-client privilege?
Exactly what kind of porn was this? Were these pictures of Bill masturbating onto the kneeless dog? Or was this the kind of porn that sends you to jail? Because we have no idea what was in those "explicit emails," but we can't help but notice that THIRTY-TWO MILLION DOLLARS IS A LOT OF MONEY.
4. Also, I have reached an accommodation with Fox News regarding the termination of my employment. I have no claims against Fox News.
Hmmmmmm. What kind of accommodation did Ms. Wiehl reach with Fox News? The network is being investigated by the SEC for hiding sexual harassment payouts from its shareholders, sometimes disguising them as salary increases. But Wiehl was out at Fox, and the only one who got a bump was Bill O'Reilly. In fact, the Murdochs were so grateful to have the Wiehl payout off their side of the ledger that they upped O'Reilly's salary to $25 million, a $7 million increase. And with O'Reilly paying Wiehl out over several years, he'd be able to buy just as many loofahs as he could in 2016. Everybody wins!
EXCEPT, the Feds were still sniffing around, asking all kinds of questions about sexual harassment at Fox. And someone was nice enough to forward an internal email to the Times detailing Fox's OH, SHIT MOMENT when they realized that shifting the Wiehl settlement to O'Reilly's side of the ledger didn't magically transform it into a "personal matter."
"Their legal theory has been that we hid the fact that we had a problem with Roger," Gerson Zweifach, Fox's general counsel, wrote in the email, referring to the prosecutors and Mr. Ailes, "and now it will be applied to O'Reilly, and they will insist on full knowledge of all complaints about O'Reilly's behavior in the workplace, regardless of who settled them."

He warned the Murdochs that they should expect details from the January settlement to become public. Six days later, Mr. O'Reilly was fired.
So anyone who says that Lachlan and James Murdoch are ushering in a new era of respectability at Fox is cordially invited to go fuck themselves. These guys were perfectly willing to underwrite a guy who harassed every woman in the office, as long as he still turned a profit for them.
Also, no, we have no idea what a "nonconsensual sexual relationship" is, but it sure does invite speculation.
[New York Times / Wiehl Affidavit / Fabiani Statement]
Liz Dye
Liz Dye lives in Baltimore with her wonderful husband and a houseful of teenagers. When she isn't being mad about a thing on the internet, she's hiding in plain sight in the carpool line. She's the one wearing yoga pants glaring at her phone.