Discover more from Wonkette
Wonkette is filthy, hilarious, liberal news. YOU CAN HANDLE THE TRUTH!
Over 15,000 subscribers
Ben Carson's Back And There's Gonna Be Trouble! Wonkagenda For Wed., May 22, 2019
IRS lawyers check Trump's privilege, the Pentagon is iffy on Iran, and Ben Carson has a snack attack. Your morning news brief!
Morning Wonketariat! Here's some of the things wemaybe talking about today.
The Washington Post got its hands on a confidential internal memo from the IRS's Office of Chief Counsel that contradicts Treasury Secretary Steve Mnuchin's attempt to hide Trump's tax returns. According to the memo, it's "mandatory" that Mnuchin turn over Trump's tax returns unless Trump cites executive privilege. Which has nothing to do with anything, but what can you do.

The House Judiciary Committee has sent subpoenas to Hope Hicks and Annie Donaldson looking for documents and testimony related to all the criming they ALLEGEDLY witnessed during their time at Trump's White House.
This morning the House Intel Committee announced that it had postponed a possible vote to hold Attorney General Bill Barr in contempt of Congress after the DOJ announced it would give up some of Robert Mueller's Trump-Russia files. 
Democrats want to know just what in the drunken fuck is going on with Kentucky Republicans and Russia. Both Senators Mitch McConnell and Rand Paul have bent over backwards to give insane handouts to Russia's "Ratfucking Oligarch" Oleg Deripaska, apparently in exchange for an aluminum factory. The whole thing stinks to high heaven since it somehow includes disgraced former Republican Sen. David Vitter ( AKA: "Diaper Man" ) of Louisiana who was busted forasking hookers to put diapers on him so he could poop in them, and whose wife, Wendy, was just confirmed to a lifetime judgeship. [Morning Maddow:  Part 1 / Part 2 ]
Yesterday HUD Secretary Ben Carson thought he could be cute and clueless in not answering some basic questions about his job. After freshman Rep. Katie Porter asked Carson if he even know the definition of "REO," Carson responded with "Oreo?" Later, he tried to talk some shit to Rep. Ayanna Pressley, but she was having none of his half-baked stupidity. After the hearing, Carson sent Porter a package of Oreos because he thinks he's funny.

I asked @SecretaryCarson about REOs - a basic term related to foreclosure - at a hearing today. He thought I was re… https: //t.co/zpLnXN4WA3

— Rep. Katie Porter (@Rep. Katie Porter) 1558459971.0 
The Trump administration is getting ready to drop MORE farm bailouts in order to save the asses of farmers being screwed over from Trump's trade war with China. #MAGA

The number of Democrats calling to #IMPEACH in the House is growing, but a number of swing district reps are quietly backing Nancy Pelosi in fear that they could face a strong conservative challenger in 2020, or lose the support of constituents who just want some decent healthcare, roads, schools and bridges. House Judiciary Committee member Rep. Lucy McBath tells Politico, "Specifically, for people like me that are in the kinds of districts that I'm in, impeachment is not something that a lot of people in my district want to talk about. But at the same time, I'm tasked with being on this committee to make sure no one is above the law."
There's a new Quinnipiac poll out this morning that shows Trump's approval numbers at a near record low 38 percent, and the horse race between 2020 Democratic candidates evening out. But the biggest take away here is that we can all point and laugh at New York Mayor Bill de Blasio! He has an astonishing minus-37 net approval number, making him even less popular than Trump. LOLOLOL
A new Politico/Morning Consult poll shows a number of Democrats don't mind 2020 candidates going on Fox News. The best part of this story is all the Fox News lackeys who claim to not "give a shit" when someone like Pete Buttigieg talks shit about the network's garbage monsters in front of a live studio audience. There's some great quotes from anonymous minions weeping for the network's garbage shows, arguing that Buttigieg shouldfight "debate"hosts instead of saying mean things about their race-baiting trash hags. Last nightThe Daily Show's Trevor Noah took aim at all the butthurt from Fox's fan base.

Dems Divided Over Appearing on Fox News | The Daily Show    www.youtube.com 
With his poll numbers crashing, 2020 Democratic candidate Beto O'Rourke did a CNN town hall where he blamed Trump for the rise in hate crimes and called to #IMPEACH. Without standing on any coffee tables, Beto called to rewrite immigration laws to protect immigrants and pledged that his judicial nominees will support Roe v. Wade.

Kentucky AG Andy Beshear will face off against the state's vag-hatin' anti-vax Republican Gov. Matt Bevin after the latter barely survived his own primary challenge.FUN FACT: Bevin is now theleast popular governor in the country according to recent polling.
Yesterday New York state lawmakers passed a measure that would create a rare exception to the state's double jeopardy laws. The law, which passed 90-52, would let prosecutors go after crooks who've received presidential pardons provided they worked in the Trump campaign, transition team, administration, or a business and/or nonprofit based in New York. New York governor Andrew Cuomo has said he'll sign the bill. Following the bill's passage, New York's AG Letitia James tweeted, "Double jeopardy exists to prevent someone from being charged twice for the same crime, not to allow them to evade justice altogether."
Jim Benvie, some wannabe border cop, was running a fake child cancer scam. This is the same asshole who was recently booted off crowdfunding platforms for posting videos to social media that showed him and his goons harassing immigrants.
 North Korea is very angry at Joe Biden for saying mean things about the hermit kingdom. In a new op-ed in a state-run news rag, some faceless official parrots Trump shitposts and guffaws that Biden "dared to blaspheme our Supreme Dignity at a recent campaign event."
In a last minute attempt to maintain what power and dignity she has left in her miserable career in politics, British Prime Minister Theresa May is offering a "new Brexit deal" that looks almost exactly like her old Brexit deal. May's new scheme offers MPs a chance at a second referendum, as well as a pledge to increase workers rights, create a temporary customs relationship with the EU, and carve out some environmental carve outs. May's deal seems destined for its fourth failure as members of her own conservative party plot to stab her in the back (again) with another vote of no confidence.
It would appear that the Pentagon has again told the Trump administration to fuck off and fight its own wars after acting Defense Secretary Pat Shannahan ran around DC telling reporters the US "put on hold the potential for attacks on Americans" by Iran and its proxies. Yesterday Trump officials briefed the House and the Senate on what it assumes are provocations from Iran, and the general consensus was this bullshit smells remarkably familiar. Following the briefing, Shanahan seemed to walk the US back from the brink of yet another unnecessary war in the Middle East, saying the US "doesn't want" its umpteenth oil war.
Shortly after those briefings, Trump's State Department conveniently started screaming about chemical weapons in Syria (again). According to reports, Syrian dictator Bashar al-Assad allegedly used chlorine bombs on civilians in Idlib province with the backing of Russia's Little Green Men.
Democrats are attempting to curb stomp John Bolton's war boner with a defense spending bill that ends US support for Saudi-led war in Yemen, reduces Pentagon spending by billions, and ends 2001 war authorizations after eight months.
Trump has tapped Barbara Barrett to head the Air Force. She's an accomplished pilot and is one of the few civilians to make it through space training, but she's also a longtime Republican donor so I'm personally skeptical about where this goes.
ICYMI: West Point Military Academy is set to graduate a historic number of African American women cadets. With more than 900 cadets, black women constitute only four percent, and this week 34 women are set to graduate. With so many women graduating from West Point this year, it's rumored Mike Pence will have to be more heavily sedated than usual in order to deliver the commencement address.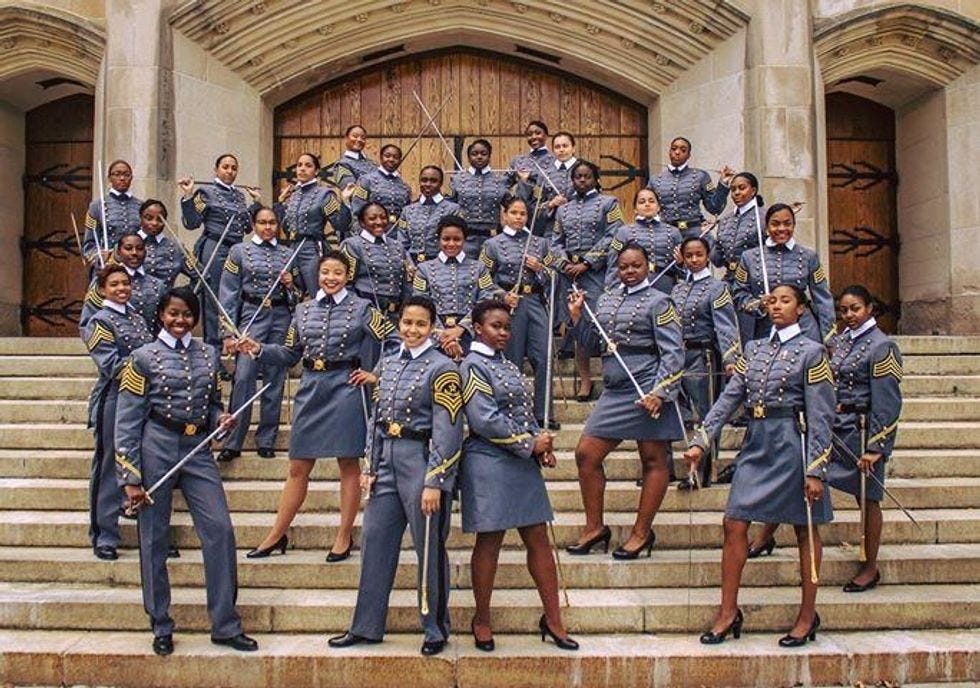 (Photo: US Army photo by Cadet Hallie H. Pound) 
 Colbert pointed out that Mitch McConnell fucked up in denying Obama that third SCOTUS pick because Trump's financial records are now in the hands of Merrick Garland.
Trump's Records Are In Merrick Garland's Hands    www.youtube.com 
And here's your morning Nice Time:  POLAR BEAR CUBS!
 
New Polar Bear Cub! | Toledo Zoo    www.youtube.com 
Follow Dominic on Twitter and Instagram! 
We're 100% ad-free and reader-supported, so consider buying us coffee, or get a subscription!