Discover more from Wonkette
Wonkette is filthy, hilarious, liberal news. YOU CAN HANDLE THE TRUTH!
Over 18,000 subscribers
At Laaastttt. Wonkagenda For Wed., Sept. 25, 2019
It's impeachment-o-clock, everything is all Rudy's fault, and Boris Johnson is afraid of refrigerators. Your morning news brief!
Morning Wonketariat! Here's some of the things wemaybe talking about today.
Yesterday afternoon House Speaker Nancy Pelosi announced the House is initiating impeachment proceedings against Donald Trump for violating the Constitution after reportedly perhaps attempting to blackmail a foreign leader into boosting his chances in 2020. In a short and sweet statement, Pelosi called Trump's actions a "betrayal" to his oath of office, our national security, and the US electoral process, adding "The president must be held accountable. No one is above the law." Shortly after Pelosi announced the House was getting ready to #IMPEACH the motherfucker, the White House channeled the ghost of Richard Nixon and said it would release the transcript of Trump's phone call with the president of Ukraine, and release a redacted version of the whistleblower's complaint. [ Full Pelosi Statement ]

Watch Pelosi's full impeachment inquiry announcement    www.youtube.com 
As expected, Trump is calling everything a "witch hunt," and claiming this is about money Europe refused to give Ukraine to combat Russian fuckery. The Washington Post points out that this isa big, fat fucking lie. Congressional Republicans are already talking shit and raising money off the impeachment inquiry. Senate Majority Leader Mitch McConnell is attempting to whitewash the blackmail allegationsby a government whistleblower by calling it an "impeachment parade." Earlier in the day #MoscowMitch said he had no idea why the White House withheld congressionally approved military aid for Ukraine, and tried to blame everything on Obama. The Washington Post gossips that Trump actually called Pelosi earlier in the day to talk about gun control, but the conversation quickly turned to whether she would #IMPEACH the motherfucker, with Trump asking Pelosi to hold back on impeachment proceedings. Axios gossips further that Trump is full of sads and "hates that this is now part of his eternal narrative." Guess he shouldn't have been a fucking criminal then!

Both Roll Call and Politico point out that the House has been steadily moving towards impeachment since July. While Pelosi's statement is a dramatic shift in messaging, not much has actually changed since tepid Blue Dogs are still whimpering at their re-election chances in 2020 while Rep. Jerry Nadler wields the Judiciary Committee's gavel like the hammer of Thor.
In an appearance on MSNBC, House Intel Committee Chair Rep. Adam Schiff said that the whistleblower had reached out and said they wanted to spill some beans to the committee. [ Chris Hayes ]
Self-described simple country lawyer (from New York City!) Rudy Giuliani has been the driving force behind Ukrainium One, according to the Washington Post. Citing multiple anonymous lackeys in Trump World, Giuliani has been circumventing the State Department in an effort to get revenge for Paul Manafort and dirt on Joe Biden. As one shadowy minion put it, "Rudy -- he did all of this," adding, "this shitshow that we're in -- it's him injecting himself into the process." [ Morning Maddow ]

Trump Ukraine Solicitation Forces Nancy Pelosi's Hand On Impeachment | Rachel Maddow | MSNBC    www.youtube.com 
In response to that bombshell from WaPo, Rudy went on Laura Ingraham's white power hour to slur and stammer his way through a nationally televised meltdown. Rudy blamed Trump's State Department for ALLEGEDLY telling him to make Ukrainium One so fetch because the FBI was full of the DEEP STATE, and this is all some conspiracy paid for by boogeyman du jour GeOrGe SoRoS! Later Giuliani threw a sweaty tantrum when another panelist told the country lawyer (from New York!) that his Ukrainium One shtick would be libelous if Joe Biden weren't a public figure. [ Video ]

If you feel like torturing yourself more, the Daily Beast has a quick rundown of all the conspiracy theories being floated by rightwing crackpots on cable news. Otherwise, here's The Daily Show's Trevor Noah breaking down why this whole thing is totally ridiculous.

Trump Pressures Ukraine to Investigate Biden & Impeachment Looms | The Daily Show    www.youtube.com 
A new report on climate change from the United Nations warns that all the bad things we thought were happening are actually getting worse. Good thing coal is clean!
The EPA is threatening to withhold federal highway funding from California by arguing the state hasn't shown what it's doing to combat air pollution. This effort to threaten California over its air quality comes just days after the administration said California doesn't have the legal authority to combat carbon pollution from cars. [ EPA Letter ]
Local officials across the country are begging the Agriculture Department not to change food stamp eligibility. More than 75,000 comments were submitted before the public commenting period ended Monday, including 70 from mayors, 17 governors, and congressional delegations from multiple states. By the department's own analysis, more than three million people will lose nutrition assistance benefits, and 500,000 children will lose access to free school lunches if the rules go into effect. In addition, school officials worry that the rules would falsely inflate the wealth of schools, jeopardizing other social services. #MAGA
 An actual swamp rat was the focus of a hearing of the House Natural Resources Subcommittee on Water, Oceans, and Wildlife yesterday. California Democratic Rep. Josh Harder testified that the invasive nutria has been invading and disrupting ecosystems from California to Maryland, and asked the committee to to get behind his proposed bill to protect California's wetlands from the aquatic rat.
A new Quinnipiac University poll released this morning shows Sen. Elizabeth Warren continuing to edge out former Vice President Joe Biden, 27 to 25 percent among Democratic and left-leaning independent voters. [ Poll ]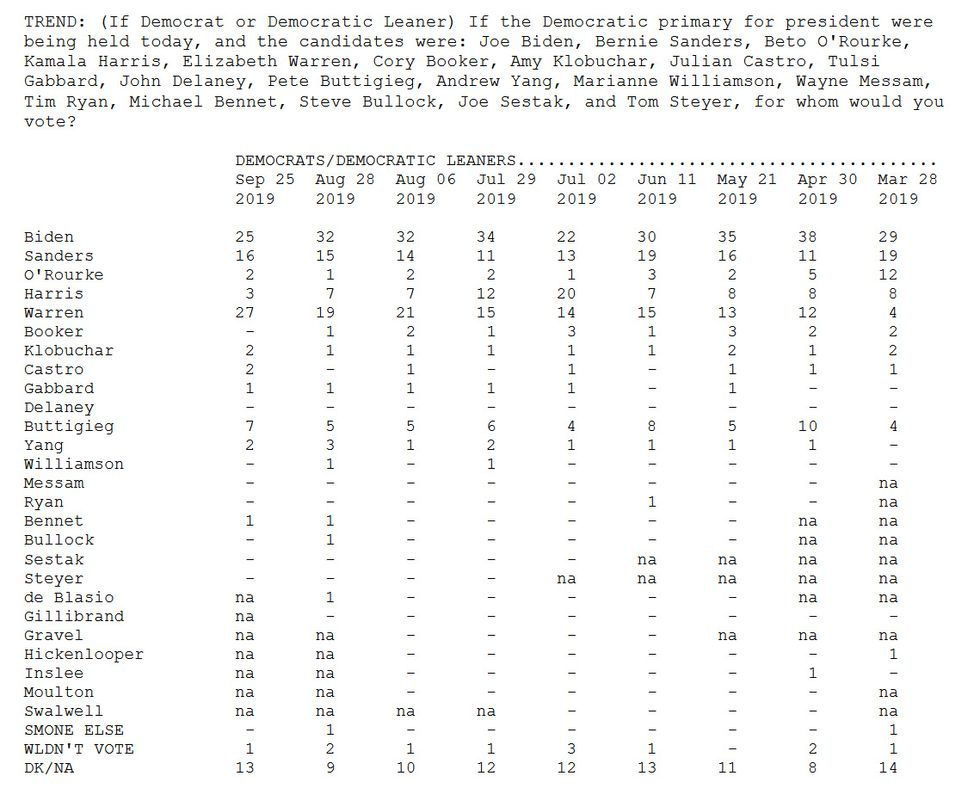 During his speech at the UN General Assembly, child-punching British Prime Minister Boris Johnson delivered a rather insane anti-technology speechthat cautioned against "Pink-eyed Terminators from the future," "terrifying limbless chickens," mattresses that monitor nightmares, and refrigerators that demand more cheese. In a very caffeinated speech against "digital authoritarianism," Johnson cautioned against a "great cloud of data that lours ever more oppressively over the human race."Johnson did complain about anti-vaxxers, saying, "their prejudices are actually endangering the very children they want to protect."

Facebook says it won't remove the posts of politicians who break its rules, but it MIGHT delete them if the posts "lead to real world violence" and harm. In a blog post, Facebook's VP of Global Affairs and Communications Nick Clegg says the shitposts from politicians are fine "if we believe the public interest in seeing it outweighs the risk of harm" because it's newsworthy. Clegg says that Facebook is a "champion of free speech," and it's not going to "censor" political speech, but it will demote "inauthentic" and "previously debunked content" ( like Twitter ). Oh joy, we feel better already.
 Chicago teachers are getting ready to strike, and last night Sen. Bernie Sanders addressed a raucous crowd full of union members, urging them to be strong.

Only a few hundred stoners, shitlords, old people, and cranks showed up in the middle of the desert attempting to "storm" the airbase known as Area 51. Despite concerns for public safety that the event could turn into "Fyrefest 2.0," there were only several reported arrests of yahoos attempting to "see dem aliens." In addition, the DOD has apologized for a tweet by the Defense Visual Information Distribution Service suggesting "millennials" would be bombed if they attempted "Naruto-run" into the heavily guarded military facility.
Former Democratic Virginia Gov. Terry McAuliffe says his car was stolen after he went out for lunch in the two blocks that constitute DC's Chinatown neighborhood; his car was quickly recovered by DC police. Of course, considering high snobriety's long history of assuming they're above DC's traffic laws, it's entirely possible McAuliffe's SUV was simply towed.
The AP reports a vet has prescribed antibiotics to a camel at a Louisiana truck stop after its balls were bitten by an irate Florida woman.
Stephen Colbert got his hands on the audio of Trump's call with the president of Ukraine and ... well ...

Trump's Call With Ukraine Leader Sounds A Lot Like Blackmail    www.youtube.com 
And here's your morning Nice Time: MEERKATS! 

Meerkat Gang vs. Robot Cobra | Spy In The Wild | BBC Earth    www.youtube.com 
Follow Dominic on Twitter and Instagram! 

We're 100% ad-free and reader-supported, so consider buying us coffee, or get a subscription!