Discover more from Wonkette
Wonkette is filthy, hilarious, liberal news. YOU CAN HANDLE THE TRUTH!
Over 18,000 subscribers
'An Exercise In Obfuscation.' Wonkagenda For Mon., Sept., 30, 2019
Trump World implodes under Ukrainium One, some MBS BS on Jamal Khashoggi, and just a little spot of civil war. Your morning news brief!
Morning Wonketariat! Here's some of the things wemaybe talking about today.
Trump World spent the weekend on a full-bore media offensive in an attempt to gaslight people after Ukrainium One blew up in their faces. Trump went nuclear on social media, declaring impeachment "unlawful," demanding House Intel Committee Chair Rep. Adam Schiff be investigated for "treason," and regurgitating Fox News talking heads 22 times saying his impeachment would lead to "civil war." Meanwhile, Republican Sen. Lindsey Graham went on Face the Nation to say he had "zero problems" with Trump's phone fuckery, and Stephen Miller scuttled out of his dungeon to get humiliated on Fox News by Chris Wallace when he dodged a bunch of questions and tried to assert Trump was the REAL whistleblower. Rep. Jim Jordan went on CNN and got fact-checked by Jake Tapper. The actor Jon Voight shitposted a video declaring "war," and last night Trump posted a video whining about fighting for his Front Row Joes. This morning Trump shitposted that Rep. Adam Schiff should be tried for treason for investigating him. 'Cause that's how treason works. [ Face the Nation / Fox News Sunday / State Of The Union ]
For the umpteenth time in a week, very sober Rudy Giuliani went on TV to yell and scream a bunch of nonsense. Rudy continued pointing fingers at Secretary of State Mike Pompeo and former Ukrainian envoy Kurt Volker (who quit-fired himself this weekend!) about his involvement in Ukrainium One. Shortly after the appearance, Joe Biden's campaign sent out a letter to a bunch of reporters and media outlets demanding they stop putting Giuliani on TV to "introduce increasingly unhinged, unfounded and desperate lies into the national conversation." In a related story, on Friday Giuliani canceled a paid gig to Armenia where he was scheduled to speak at a pro-Kremlin conference for the second year in a row AFTER the Washington Post reported the trip. [ Transcript / Video ]

The AP gossips that Bill Barr was "surprised and angry" to learn Trump was throwing him and Rudy Giuliani under the same exploding Ukrainium One bus.
The New York Times writes that Trump was "repeatedly warned by his own staff" that Ukrainium One was "completely debunked," and that Trump is increasingly reliant on crazy people who, like Rudy Giuliani, "feed Trump all kinds of garbage." Tom Bossert, Trump's former Homeland Security advisor, surfaced over the weekend to tell George Stephanopouloshe was "deeply disturbed" Trump ALLEGEDLY tried to blackmail a foreign government for "dirt on a political opponent," later adding he wasn't sure if it was actually an abuse of power. In another rare rebuke, Illinois Republican Rep.Adam Kinzinger tweeted Trump's civil war comment was "beyond repugnant." [ This Week with George Stephanopoulos ]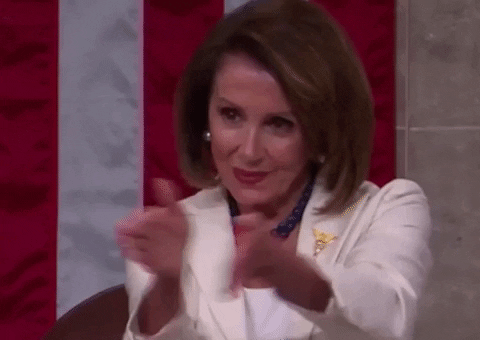 On 60 Minutes, House Speaker Nancy Pelosi said that the administration didn't really give House Democrats much of a choice in launching an impeachment investigation seeing as how he admitted to blackmailing the Ukrainians for congressionally approved foreign aid to fight Russia's invasion of Crimea. As expected, House Minority Leader Republican Rep. Kevin McCarthy responded by vomiting up the White House talking points -- almost verbatim -- and then had the balls to deny that he'd ever seen the talking points the White House accidentally sent out. McCarthy then went on social media to shitpost the talking points he claimed he hadn't seen. Also he lied about everything else. [ 60 Minutes Transcript ]

House Minority Leader Kevin McCarthy said the president did nothing impeachable. "I see two leaders having admirati… https: //t.co/KC7CxA3D6m

— 60 Minutes (@60 Minutes) 1569801713.0 
The AFP has a great infographic laying out the events leading up to the impeachment inquiry, while Buzzfeed has a flow chart showing what could happen next.

Democratic Rep. Gregory Meeks has an open letter to the mystery Trump loyalist who penned that dumbass Dear, #Merica letter last year attempting to reassure the world that there were adults in the Oval Office.
 The USDA can't release a bunch of nearly complete research reports because 80 percent of the employees at the USDA's Economic Research Service have been quit-fired. The Hill notes 141 people have left the agency, and only 16 have opted to follow the agency as it moves to Kansas City, Missouri. Some of the reports include important ag data on food stamps in rural economies, health insurance in farming households, honeybees, and the opioid epidemic.
Elizabeth Warren is going directly for old eyeballs in early primary states with a $4.7 million ad buy. Recent polling shows Warren gaining ground in a number of early primary states like Nevada and South Carolina.

 Ireland has paid Trump €100,000 to feed the local cops forced to protect him while he farts around his Doonbeg golf course.
In an attempt to salvage his image, disgraced former British Prime Minister David Cameron says allowing the Brexit referendum was his greatest failure. In an appearance on Fareed Zakaria GPS, Cameron said he supported Vice President Joe Biden pressuring Ukraine's former president, Petro Poroshenko, to tackle Ukraine's historically corrupt government, adding that Western nations exerted similar pressure on Poreshenko over concerns about Russian fuckery in Crimea. [ Fareed Zakaria GPS ]
 Saudi Crown Prince Mohammad bin Salman emerged from his lavish hidey hole and denied to 60 Minutes that he ordered the murder of political dissidents, including Washington Post journalist Jamal Khashoggi, for saying mean things about his bloody, iron-fisted rule. Coincidentally, a new PBS Frontline documentary 'splains how MBS gaslights and bullshits people into supporting his autocratic schemes. [ Frontline / 60 Minutes Transcript ]

O'Donnell presses MBS: "How could you not know" about the murder?    www.youtube.com 
 Thousands of Russians took to the streets to demand the release of protesters arrested during this summer's Moscow City election protests. The continued public show of force by anti-Putin activists coupled with opposition candidates winning almost half the seats in the Moscow City Council suggests that protesters exploited "a chink in the establishment's armor and [are] achieving [their] goal of becoming a coherent threat" to Putin's regime.
The looming privacy fights in big tech are underway as major retailers race against time to come into compliance with a new California tech privacy law. The landmark law scares the bejesus out of corporate lawyers since it could provide a model for looming debates over a possible federal privacy law. The Washington Post adds that things may get worse for data brokers with the revelation of a new privacy initiative aimed at California's 2020 ballot. 

Rebecca Traister has a piece this morning that looks back at people who came out of the shadows to tell their #MeToo stories, and asks, "Was it worth it?"
You've got ONE DAY left to get your name stenciled on a computer chip that will be placed on the 2020 Mars rover. Over 10 million people have signed up so far, and the US has the third most signatories, behind Turkey and India. USA, USA, USA!
 John Oliver 'splained compounding pharmacies and how mixing and matching meds for specific patients, like wounded warriors or birds, is ridiculously expensive and STUPID dangerous since there really aren't any regulations.

Compounding Pharmacies: Last Week Tonight with John Oliver (HBO)    www.youtube.com 
The 40,000th season premiere of Saturday Night Live had a couple of political sketches, including a Ukrainium One cold open and a few sketches about the impeachment inquiry, a DNC debate sketch, and one mocking TV talking heads. 

Impeachment Cold Open - SNL    www.youtube.com 
And here's your morning Nice Time: IT'S COLE AND MARMALADE! 

Weekly Life… But With CATS    www.youtube.com 
Follow Dominic on Twitter and Instagram! 
We're 100% ad-free and reader-supported, so consider buying us coffee, or get a subscription!