Discover more from Wonkette
Wonkette is filthy, hilarious, liberal news. YOU CAN HANDLE THE TRUTH!
Over 15,000 subscribers
2018 Midterm Madness: Democrats In Texas' 7th Shooting Rockets Up John Culberson's Lazy Ass.
Houston Republicans have a problem: a once reliable Republican suburb full of wealthy white people, the Texas 7th District, is teetering on the edge. The hardcore conservative who's held the seat for almost 20 years, John Culberson, took a ride on the Trump train and forgot to cover his ass. Now he's burning through cash reserves and begging some of the biggest villains in corporate-sponsored politics for more.
Culberson rode into office on the coattails of the Bush family back in 2000 when he ran for Pappy Bush's old House seat. That was also the the same year Bush 43 greased enough palms to slide into the presidency. Culberson's only problem since then has been primary challenges, as he's historically crushed any Democratic opponent by double-digit margins. With such a safe seat, Culberson has been able to plant his ass in some of the most powerful subcommittees in House Appropriations where he can meddle in DHS, the military, and space. All this has made him a dear friend of the military industrial complex.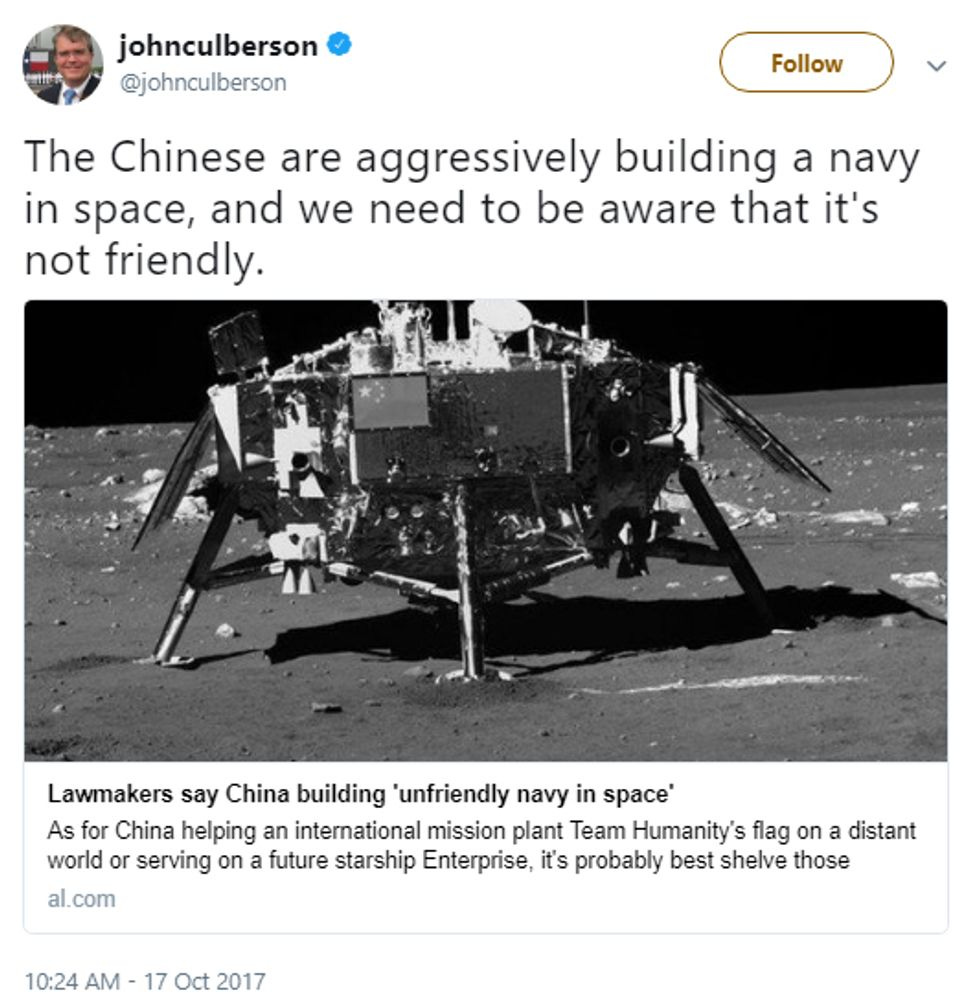 If you take a peek at any of his FEC filings from the few past cycles, you'll find big and/or maxed out donations from all the usual Republican PACs and bundlers, like the NRA, Raytheon, Boeing, Space X, Orbital, and Lockheed Martin. That's because, as Chairman of the Subcommittee on Commerce, Justice, Science, and Related Agencies, he's one of the few guys that signs off on checks to NASA -- an important friend to have if you're in the business of shooting bigass jet fuel-filled bullets into infinity (and beyond). Since friendships work two ways, they're also good friends if you suddenly find yourself as one of the most vulnerable House members.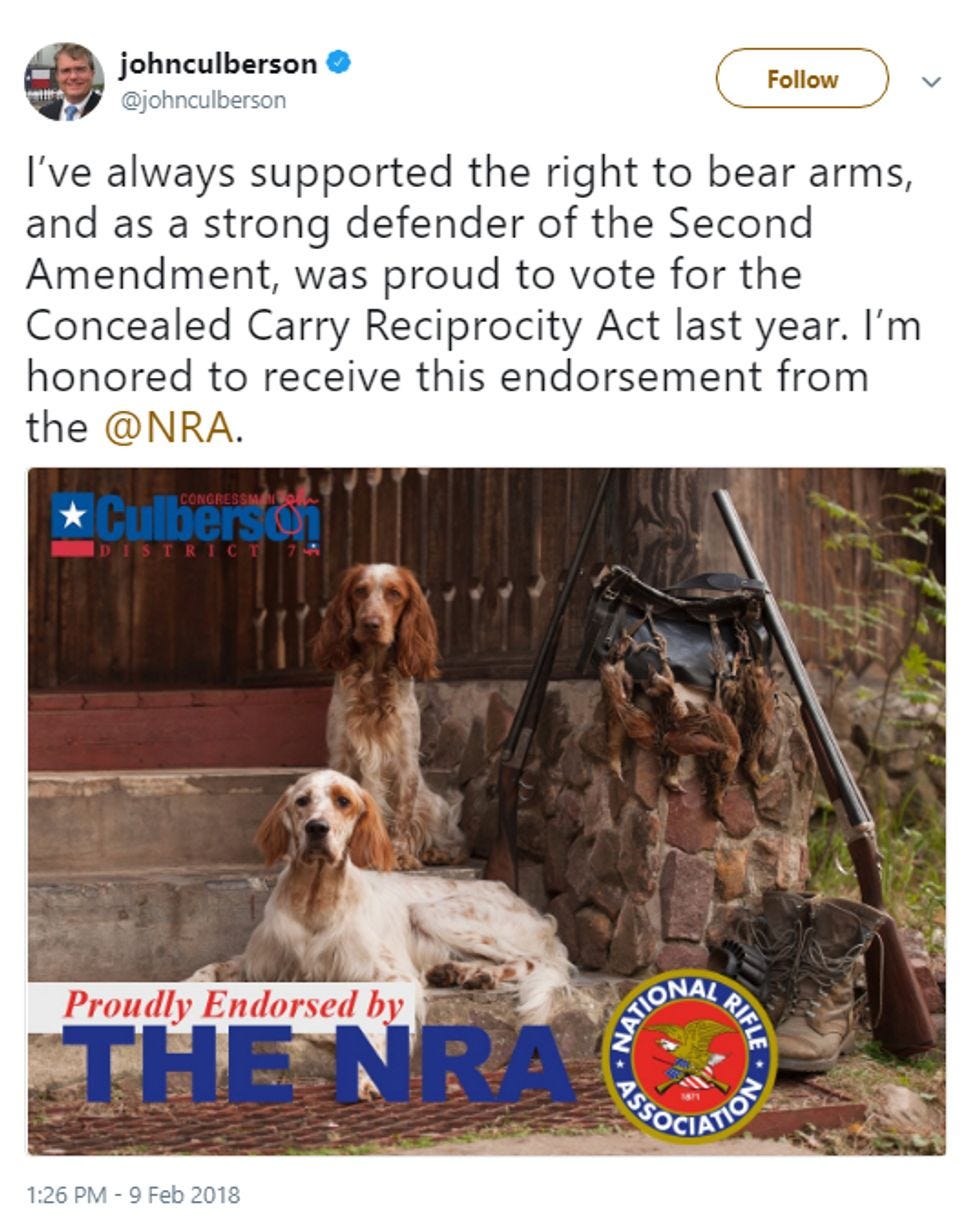 Aside from truck loads of money, the NRA has given Culberson an "A+" rating. He's so proud.
At first glance, it's hard to see why Culberson would have much competition. Once again he crushed his three-time Democratic opponent, James Cargas, by 12 points despite the county swinging for Hillary Clinton. However, if you first look at the most recent census data, you'll notice an uptick in young and Latino voters stealing all the privilege from the the upper middle-class and middle-aged white people. That's bad news for a guy like Culberson who likes to call right-wing radio shows and bitch about Mexicans, sanctuary cities, abortion rights, and wanting to do 9/11 Obamacare. On top of that, a large number of those wealthy white people lost their homes to flooding during and after Hurricane Harvey. Oddly enough, Culberson whined about bailouts under Obama, but his Twitter feed shows him begging like Oliver at a soup kitchen.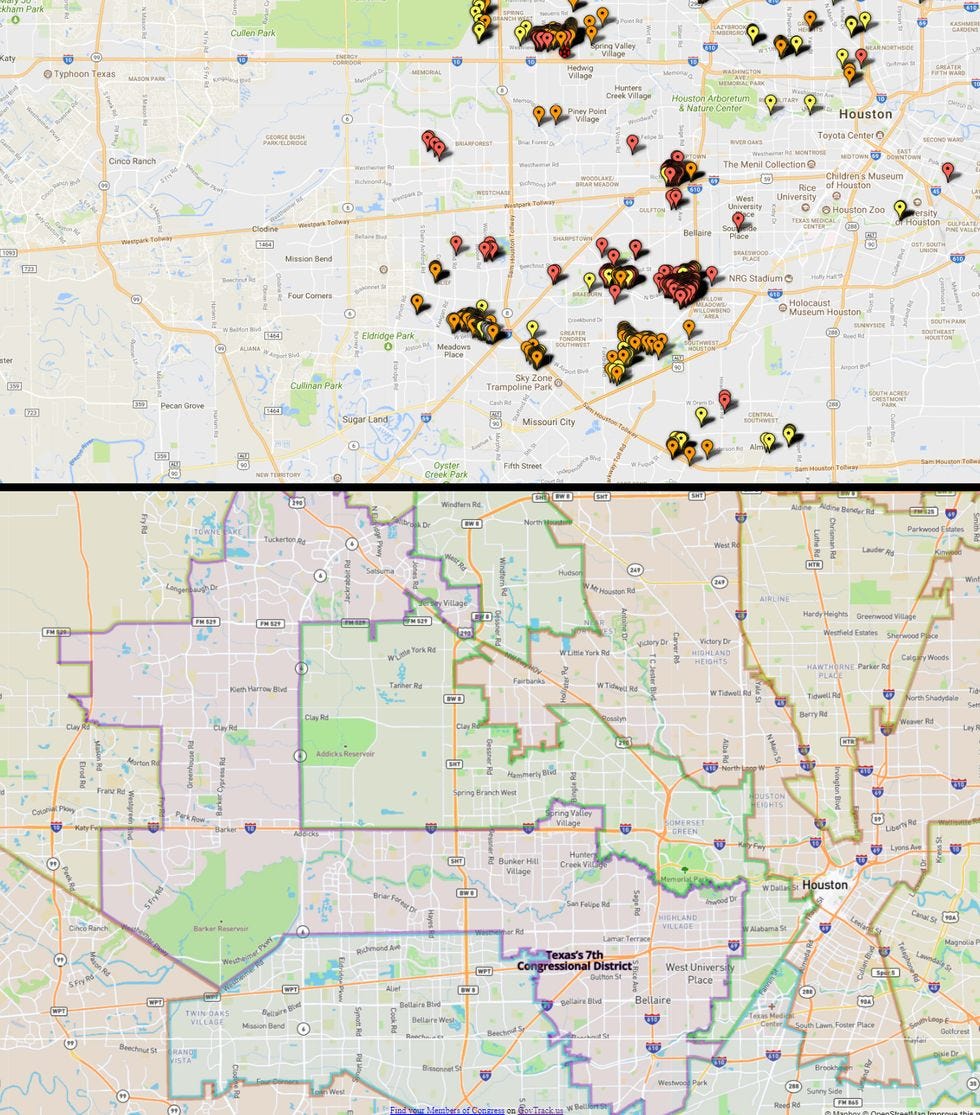 TOP: Flooded homes in Houston.
BOTTOM: The Texas 7th.
Culberson now joins 22 other Republicans on the National Republican Congressional Committee's Patriot Program, a who's-who list of Republicans currently getting their asses kicked. As there's seven Democrats running in the primary, it's good bet that the crowded March primary will force a runoff in May. That being the case, we think that these four candidates stand the best chance.
 Democrats out-raised Culbersonin 2017, netting a total of $2.8 million. At the top of that pack is Alex Triantaphyllis (AKA, "Alex T." ), the "practical progressive" nonprofit executive who hauled in a staggering $925,000. There's alsoLizzie Fletcher, a Planned Parenthood volunteer who secured an endorsement from Emily's List and racked in over $750,000.
On the more "establishment" side is Laura Moser and James Cargas. Moser is writer, #Resistance leader and an Obama-era activist with strong ties to the areas large Jewish community. Cargas, though, will be the name with the most voter recognition. He's battled Culberson several times without any national support, and shown that he can pull in some moderate Republicans.
Strategists are noting the Democrats potential to alienate swing voters by running too far to the left, thus giving Culberson a chance to drag back his waffling base. The problem with that assessment is that it hinges on Culberson getting off his ass. And, if word gets out about his reliance on big donors and Trump PACs , it'll hard for him to criticize "The Swamp;" let alone explain his atrocious voting record. All the blood money in the world won't mean doodly-squat if Culberson is still lost in space come November.
Donate to the candidates here!
 Alex T. / Lizzie Fletcher / Laura Moser / James Cargas 
[ Ballotpedia / ProPublica / GovTrack / FEC / Statistical Atlas / Houston Chronicle / Census Reporter / 538 / Oyez / CQ Roll Call / FEMA / Houston Public Media / CBS / San Antonio Express / Mother Jones / WaPo ]
 Wonkette is fully funded by readers like you! Click here to tip us!