Discover more from Wonkette
Wonkette is filthy, hilarious, liberal news. YOU CAN HANDLE THE TRUTH!
Over 15,000 subscribers
Fox News Pours One Out For Forgotten Victims Of Lower Gas Prices
These people are ridiculous.
Gas prices are high. It's an American tragedy, and Joe Biden's to blame because we guess the president of the United States controls the flow of oil and directly sets the prices. It's all a cruel game to him.
PREVIOUSLY: GOP Pretty Sure Democrats Murdering Americans With High Gas Prices That Are High 
Earlier this summer, right-wing pundits mourned the hit families were expected to take at the pump when fueling up for their spontaneous cross-country road trips after their scheduled flights were canceled. But, hey, there's some good news for once, because gas prices have steadily fallen over the past few weeks.
The average U.S. price of regular-grade gasoline plunged 19 cents over the past two weeks to $4.86 per gallon.

Industry analyst Trilby Lundberg of the Lundberg Survey said Sunday that the continued decline comes as crude oil costs also fall.

"Assuming oil prices do not shoot up from here, motorists may see prices drop another 10-20 cents as the oil price cuts continue making their way to street level," Lundberg said in a statement.

The average price at the pump is down 24 cents over the past month …
This is great news! Biden must've gone out by himself and found some bubbling crude like Jed Clampett. We give Fox News a hard time, but we're sure those fair-and-balanced folks will give Biden his due. LOL, just kidding, no, those hacks found a way to rain on our cheap(er) gas parade.
Monday, " America Reports" anchor John Roberts grudgingly admitted that gas prices are "creeping back down," but his co-anchor Sandra Smith was quick to note the many downsides to not taking out a mortgage to fill your gas tank.
"Wait a minute... Now that sky-high gas costs have been going down for a month, it seems that Fox News is suddenly worried that the dropping prices could hurt "mom-and-pop gas stations.""

— Justin Baragona (@Justin Baragona) 1657564322 
SMITH: The point was made over the weekend, I believe it was theWall Street Journal , that gas prices are actually coming back down historically faster with the price of oil than usual.
Jesus Christ, first gas prices are too high, now they're too low. They're a bunch of fascist Goldilocks over at Fox News.
Shamelessly, Smith went all Steinbeck on the situation: "And it just goes to show you what an incredible risk-reward calculation has to happen on the part of those small — independently owned, most of them — mom-and-pop gas stations. It's a struggle for all of them!"
Oh, yes, your Uncle ARCO and Aunt Chevron are just simple folks trying to get by in the Valley of Ashes. The least we could do is pay a little extra per gallon so they don't have to ration their medication.
Smith alluded to a Wall Street Journal article that claimed the drop in gas prices has created "new headaches for the mom-and-pop entrepreneurs and other independent operators who run roughly half of US gas stations." The poor station owners risk "losing money on every new fuel order."
Here's the photo the WSJ used of a typical station owner that we assume is not at all manipulative. (Fair use because we are specifically commenting on and criticizing all of this , from the Murdoch-owned Fox News to the Murdoch-owned Wall Street Journal they're citing.)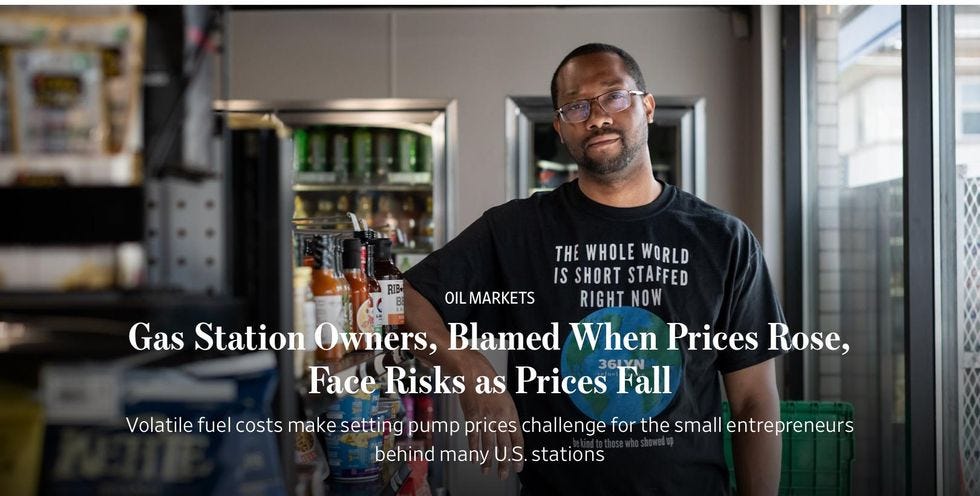 Wall Street Journal, Caroline Yang 
TheWSJ'sheadline reads, "Gas Station Owners, Blamed When Prices Rose, Face Risk As Prices Fall." This is straight-up bullshit. No one blamed the people running the local Circle K for skyrocketing gas prices. Biden specifically called out profiteering oil companies. Individual gas stations don't set the price of crude oil. You can't even blame them for the inevitable result when you eat their sushi. That's your own damn fault.

Roberts glumly noted that "we're still a long way from $3.55 a gallon." He sounded like this was way back during the peak Spice Girls era, but gas was $3.39 a gallon last November. We can imagine Fox News would really hate it if gas prices kept falling in time for midterms, and Americans could prioritize voting against forced-birth Republicans. It looks like this manufactured crisis isn't a MAGA team player.
 Follow Stephen Robinson on  Twitter.  
 Do your Amazon shopping through this link, because reasons .
Yr Wonkette is 100 percent ad-free! Please subscribe, donate, and otherwise help keep us alive and kicking!