Discover more from Wonkette
Wonkette is filthy, hilarious, liberal news. YOU CAN HANDLE THE TRUTH!
Over 15,000 subscribers
Welcome To Wonkette Happy Hour, We're Making Limoncello And A Bumblebee!
Ah another peaceful day.
Greetings, Wonketeers! I'm Hooper, your bartender. Summer's departing soon, so let's bottle up the best of these warm nights and celebrate summer flavors while we have them. Let's make some Limoncello, and drink a Bumblebee cocktail while we do it. Here are both recipes.
Limoncello
6 lemons, preferably organic
4 Meyer lemons
1 full bottle 151 proof spirits (Everclear or similar)
3 cups sugar
4 cups water
Peel the lemons and Meyer lemons and place them in a pitcher. Add the Everclear to the pitcher and wrap tightly in plastic wrap. Store in a cool dark place for at least four weeks; longer is preferable, up to eight weeks. Shake the pitcher occasionally — at least once a week, preferably once daily.
Heat the sugar and water over low heat until clear. Let the simple syrup cool. Strain the lemon infusion into the simple syrup. Pour the limoncello into bottles. Seal or stopper the bottles and place in the freezer for one to two weeks minimum. Serve ice cold.
Bumblebee
2 oz Citadelle Jardin D'Ete Gin
1 oz Meyer lemon juice
1 oz honey
2-3 fresh basil leaves
Fevertree tonic water
In a small glass or graduated cylinder, stir the honey and lemon juice together. Add to a cocktail shaker with gin and basil leaves. Shake well and pour into an iced highball glass. Top with tonic water. Garnish with a basil sprig and a Meyer lemon section.
This is a lot to do all at once. Feel free to skip the cocktail and make the limoncello, or the other way around. You will have a lot of denuded lemons after making the limoncello. The peeled fruit will keep in the fridge for no longer than a week. Waste not, want not.
  Limoncello was trademarked as a consumer product in 1988. There are myths about medieval monks brewing it in their cellars, or Italian families crafting it at the turn of the century. Good stories, but I'm skeptical. It's a delicious summer treat, and that's enough for me.
The accompanying cocktail is similar to what I've been pouring for my friends all week on vacation. When you're outdoors all day, gin and tonics become very appealing. If you've got some fresh basil on hand, even better. Lemon and honey round it all out. The end result is somewhere in between a Bee's Knees and a gin and tonic, with a basil kicker. Basil, lemon, and honey might be the ultimate summer combination. Let's enjoy it while it lasts.
Let's talk about ingredients and preparation. There's a lot to cover here.
Limoncello
Everclear: You can use 100 proof vodka, or even 80 proof, if you'd prefer. If you do, extend the infusion time. A friend of mine makes her limoncello with Tito's. She lets the infusion sit for at least eight weeks before adding syrup. Don't use anything stronger than 151 proof. You won't speed up the infusion time and the end result will be harsh.
Lemons: I'm using some Meyer lemons because they add a deeper color and a softer, more floral end product. Feel free to use regular lemons if you'd prefer. If you can't get organic lemons, scrub your lemons roughly with hot water and a kitchen towel before infusing. You need to remove any preservative wax before soaking the peels in liquor.
Simple syrup: Nothing too surprising here, but keep in mind that we'll be adding 32 oz. of fluid to the final product. You'll end up making at least two bottles of limoncello. Make sure you've got enough containers for the yield.
Preparation: Patience is a virtue with limoncello. I cannot stress this enough. The longer you let the lemons infuse in the liquor, the stronger the lemon flavor, the deeper the color, and the mellower the taste. Let the infusion do its thing for at least two weeks. I plan to let mine go for six. Likewise, let the limoncello sit in the fridge for at least two weeks before tasting. It won't freeze and it won't go bad. The longer it sits, the smoother it gets. Enjoy this come October, when summer is a fading memory.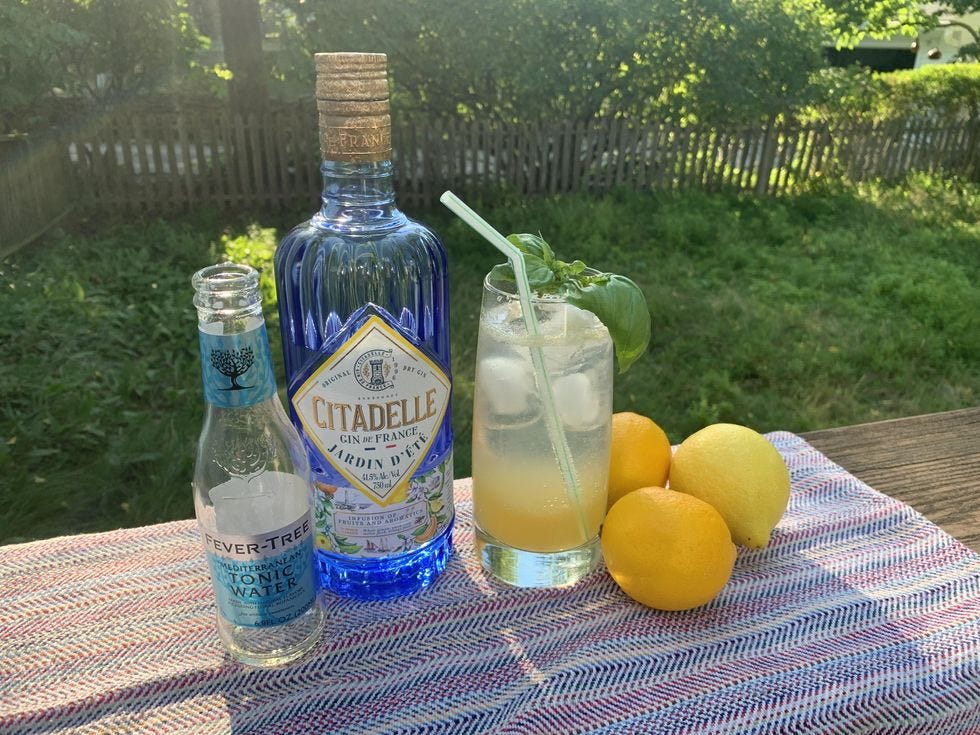 Bumblebee Cocktail
Citadelle Jardin D'ete: I've been looking for an affordable citrus gin for a bit, and Citadelle is a favorite brand of mine. Feel free to use Hendricks or Tanqueray Rangpur Lime instead. Avoid a London Dry gin like Beefeater if possible.
Meyer lemon juice: Use conventional fresh lemon juice if you don't have Meyer lemons. I'm only using Meyer lemons because they're left over from the limoncello.
Honey: At a commercial bar, I'd mix the honey with equal parts water to make it pourable. At home, there's no reason not to stir the lemon juice and straight honey together and avoid unneeded dilution.
Basil: Only use fresh. A friend of ours gifted us with a massive basil plant after vacation. Use it while it lasts.

Tonic water: Fevertree is my absolute favorite. Schweppes is acceptable, but only barely. Splurge on the best. Summer isn't forever.
In summary and conclusion, drink well, drink often, and tip your bartender — donate to Wonkette at the link below! And if you'd like to buy some bar gear or books from Amazon, please click here! 
OPEN THREAD!