Discover more from Wonkette
Wonkette is filthy, hilarious, liberal news. YOU CAN HANDLE THE TRUTH!
Over 18,000 subscribers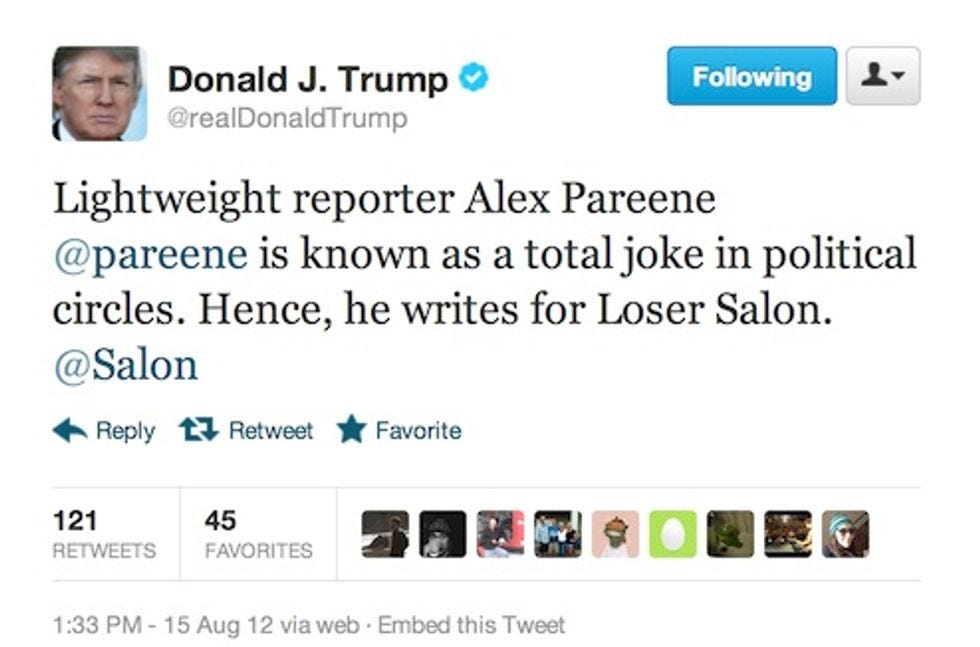 What happens to our former scribes when they leave the fairest pastures of Your Wonkette for the "real world"? Some of them go toTime, some start cults in the desert, some come back to Wonkette for additional "funnin' on the Internet." Everyone else just gets yelled at by Donald Trump after writing funny insults about him. It turns out that instead of closing Big Deals all day, Trump mostly just reads people making fun of him on the Internet and has his assistants "fire back" by drafting a letter, or a tweet. Most recently, Salon's Alex Pareene, who edited Wonkette in the 1950s or so, joined the rest of the Internet in making fun of Trump's secret plans for the Republican National Convention yesterday, earning himself the hilarious tweeted response you see up top. Who else has transgressed our nation's greatest vulgar fathead businessman in such a way as to merit a petty response?
The wars between Vanity Fair 's Juli Weiner, née "Wonkette Intern Juli," and Trump have been the most bombastic over the past couple of years, with Trump taking his lingering 1980s grudge with formerSpyeditor and currentVanity Faireditor Graydon Carter out on the comical Ms. Weiner. (Carter'sSpy,famously, used to call Trump a "short-fingered vulgarian.") First was the "BAD WRITER!" incident of 2011:
A year later, and he was too scared to call her by name:
Trump also went full-printout onBoston Globereporter and beloved former Wonketteer Garrett "Token Paultard" Quinn. We hadn't known about this until about half an hour ago, when Quinn described the attack in an exclusive Wonkette gchat interview.
Garrett: So Trump printed out this blog post on his dealings in AC

Wrote in something like "THIS IS UNFAIR. SHE SHOULD HAVE SOLD HER HOUSE WHEN SHE HAD THE CHANCE. NO SHOT NOW! HA!" - DONALD TRUMP

Scanned it

And emailed it to me

me: haha. he sent one like that to juli weiner once. I'm doing a post on it.

Garrett: His letter to me wasn't because of something I wrote on Wonkette but still, I was taken aback when I got it

me: yeah he is insane

Garrett: Let me find it. Hold on

It was the lamest thing too because it was a post on eminent domain abuse
Here is the note: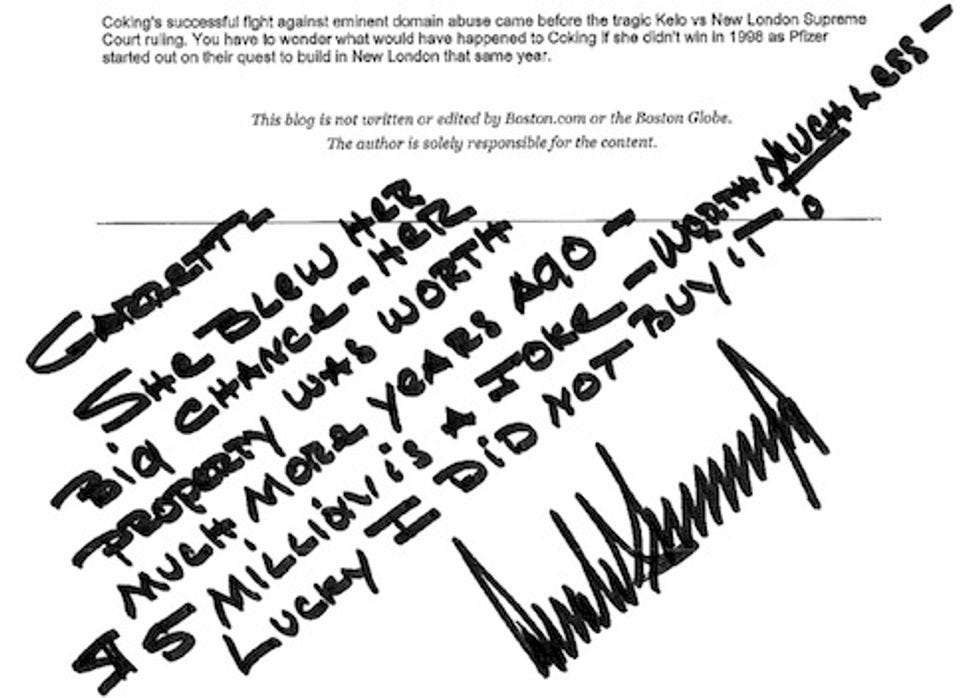 Who is next?