Discover more from Wonkette
Wonkette is filthy, hilarious, liberal news. YOU CAN HANDLE THE TRUTH!
Over 15,000 subscribers
A Children's Treasury of Last-Minute Father's Day Gifts
 
 Father's Day is this Sunday -- how can you make sure that your gift to Dad wins the morning? As luck would have it, many legal Creative-Americans have beautiful shirts, stickers, and other items that will totally please your Pops. Your Wonkette found many such treasures at our favorite old retail haunt, CafePress . Let's look at them together, shall we?
Arizona's immigration policy is a very popular gift theme this Father's Day, because of the new anti-Taco People law. If your dad supports los Tacos Muncheros , or is one himself, then consider getting him this KKK-inspired T-shirt: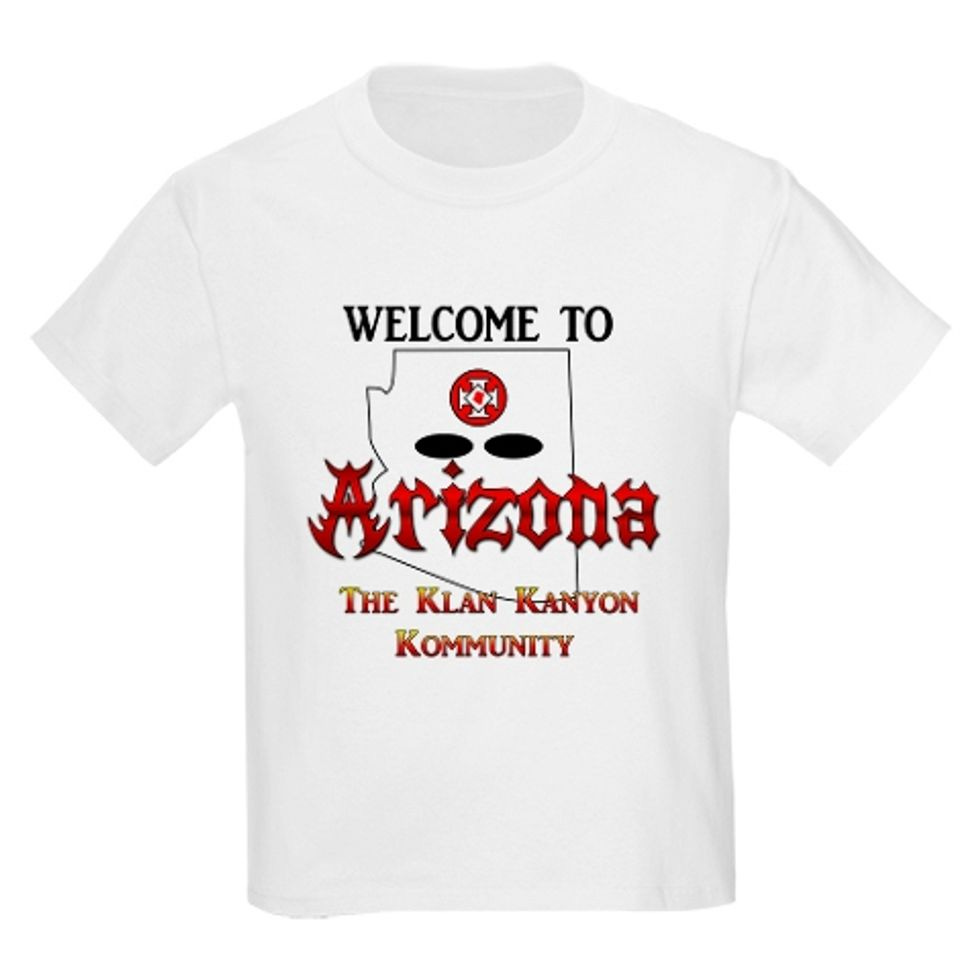 The KKK shirt was the only pro-immigrant garment your Wonkette saw at CafePress that had any chutzpah. The most visceral and expressive designs are all anti-immigrant -- racist anger seems to foster boldness and innovation. If Dad is driven by hate, he's in luck!
For example, Dads who oppose both Obama and giant sombreros (immigrants often hide under them while they cross the border) can drink their morning cuppajoe in this Obam-igration mug, whose message will help him start his day seething with rage. Ole!: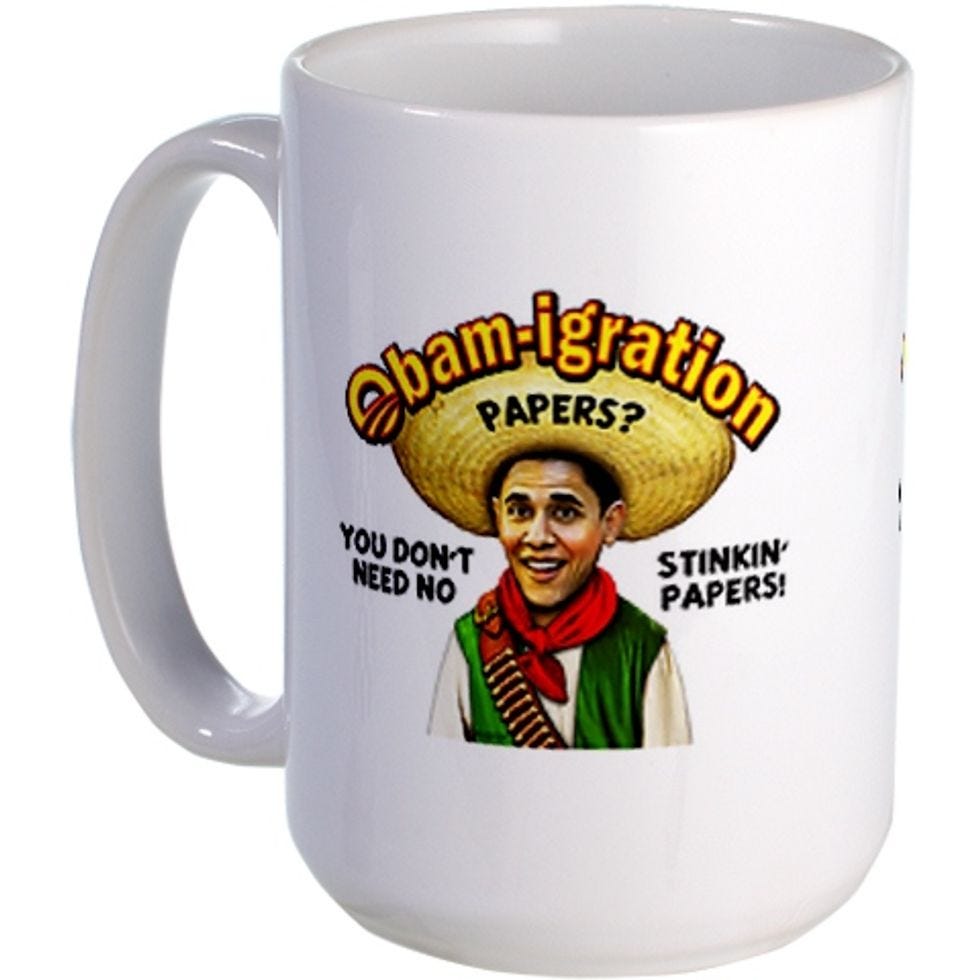 If Dad hates illegals like he worships his gun, he can make both sentiments known with this eyecatching tee: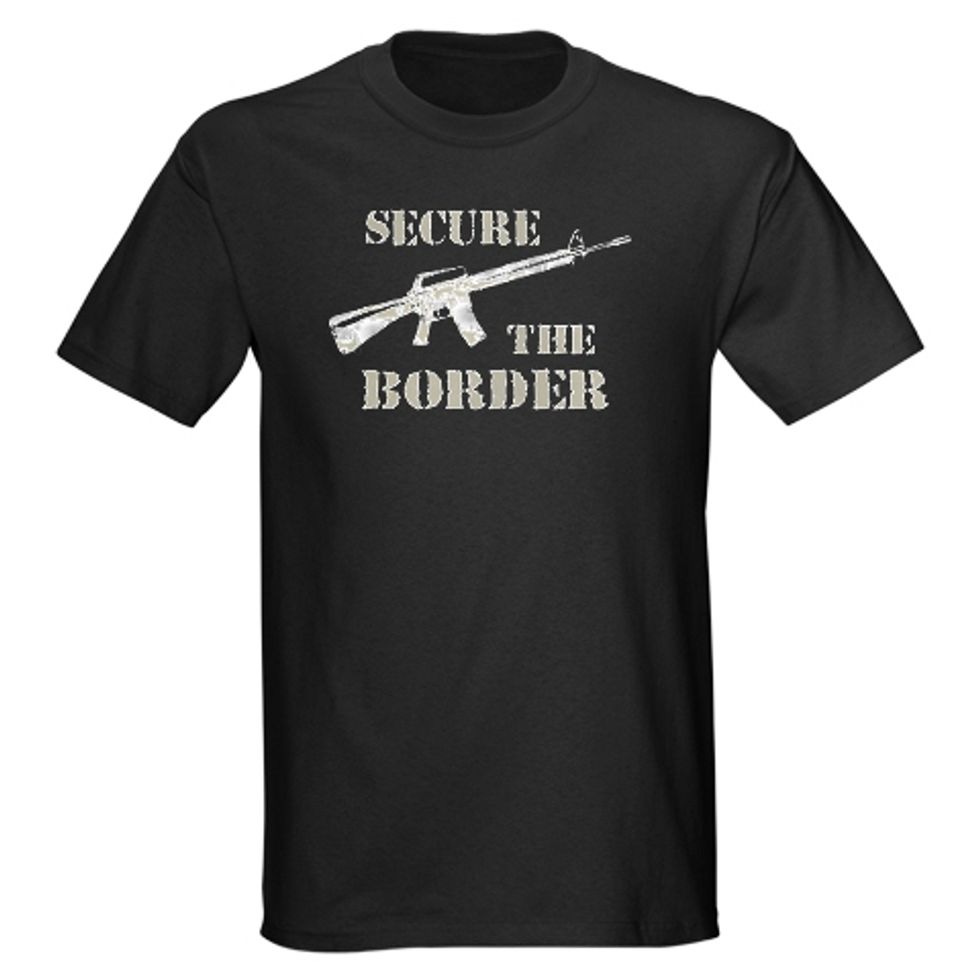 If your dad's firearms aren't enough to keep the illegals away, Sombrero Sam and his friends Arab El-Stereotype and Mustachio Jose will help him protect the Italian (?) flag with this bumper sticker: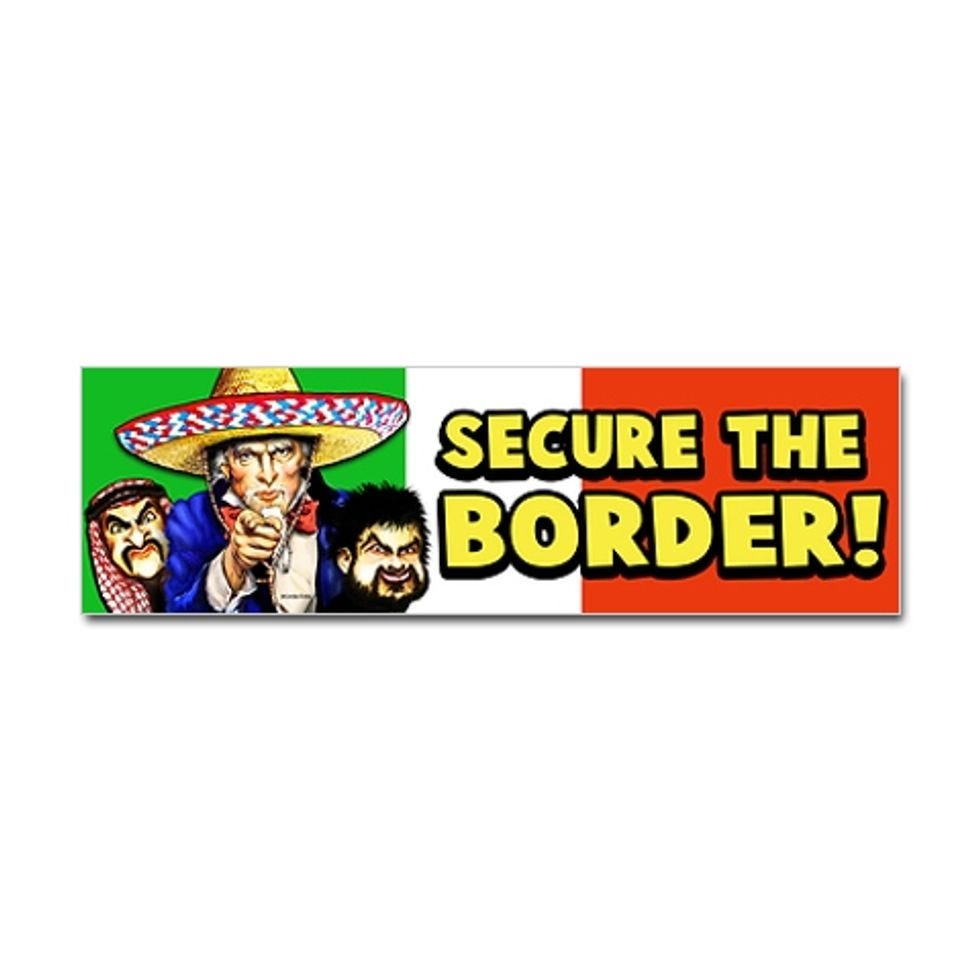 Speaking of Italy, apparently the country's been overrun by clumsy men in Mexi-hats, as this sticker suggests: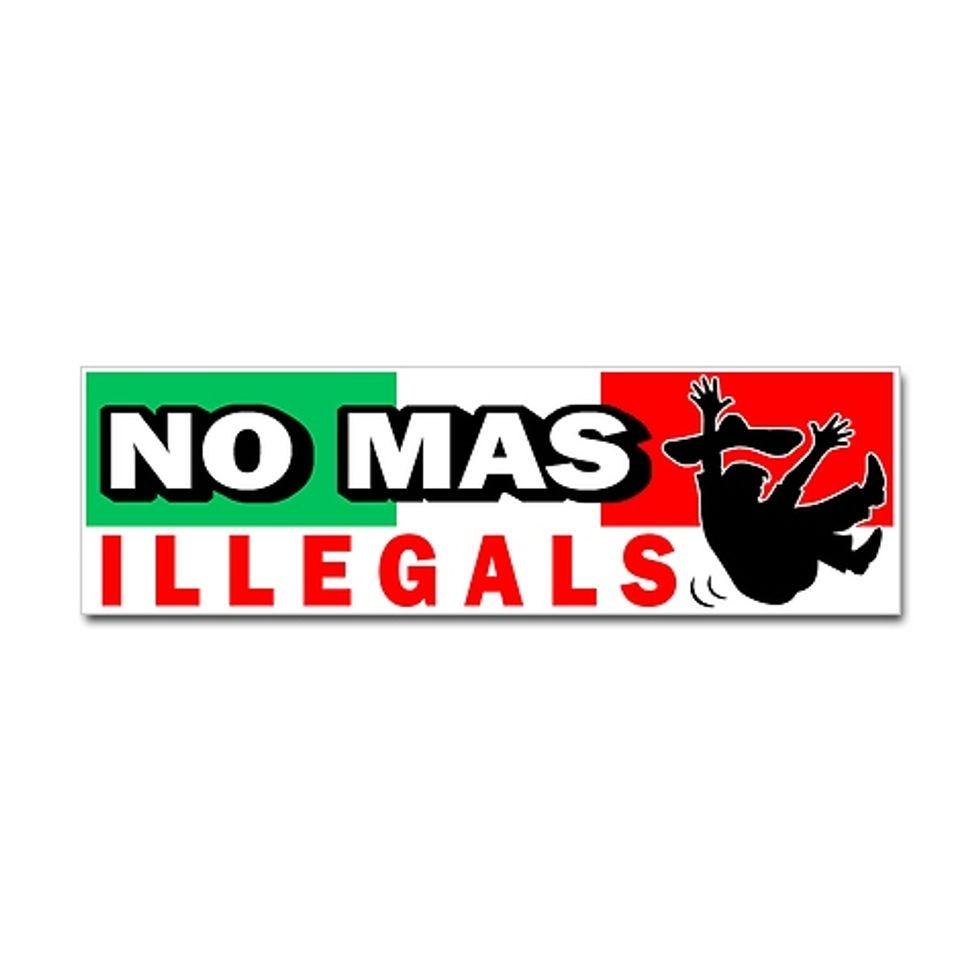 Seriously, stay the fuck out, Poncho Villa: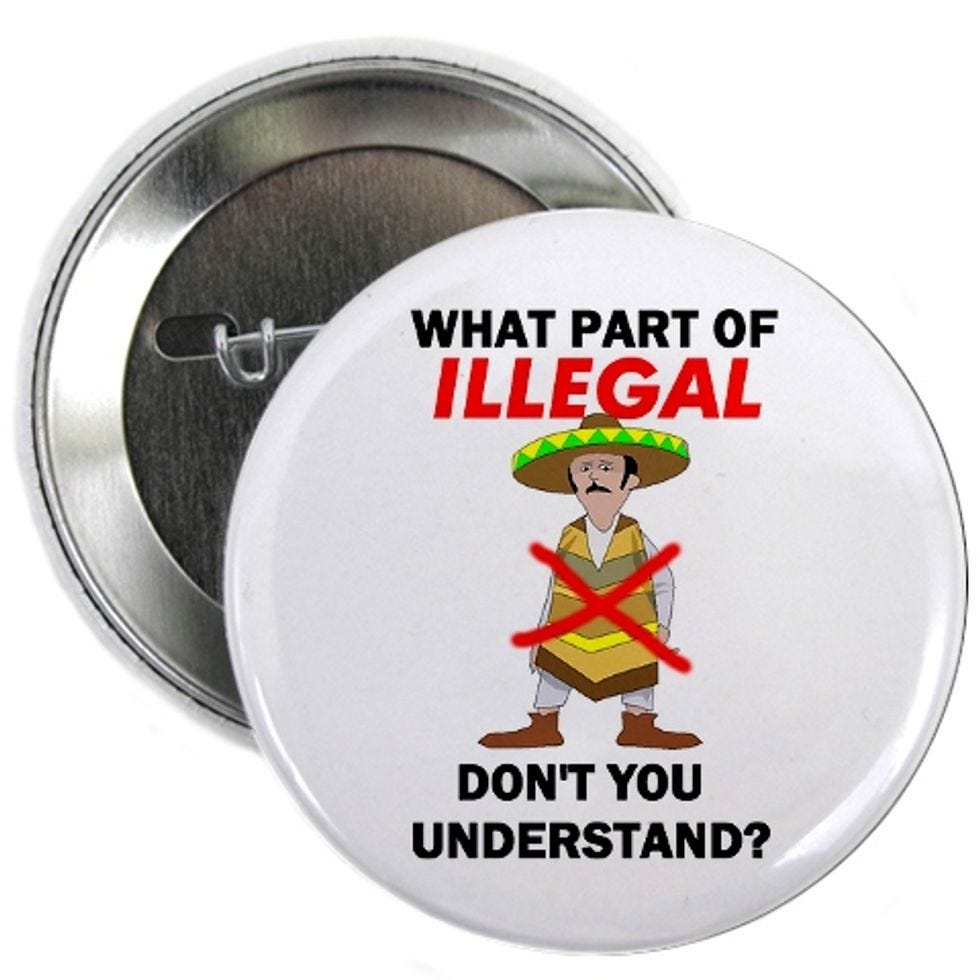 Is your dad Tim James? Then you know how excited he is about English. Get him this bumper sticker. English: it makes sense to me: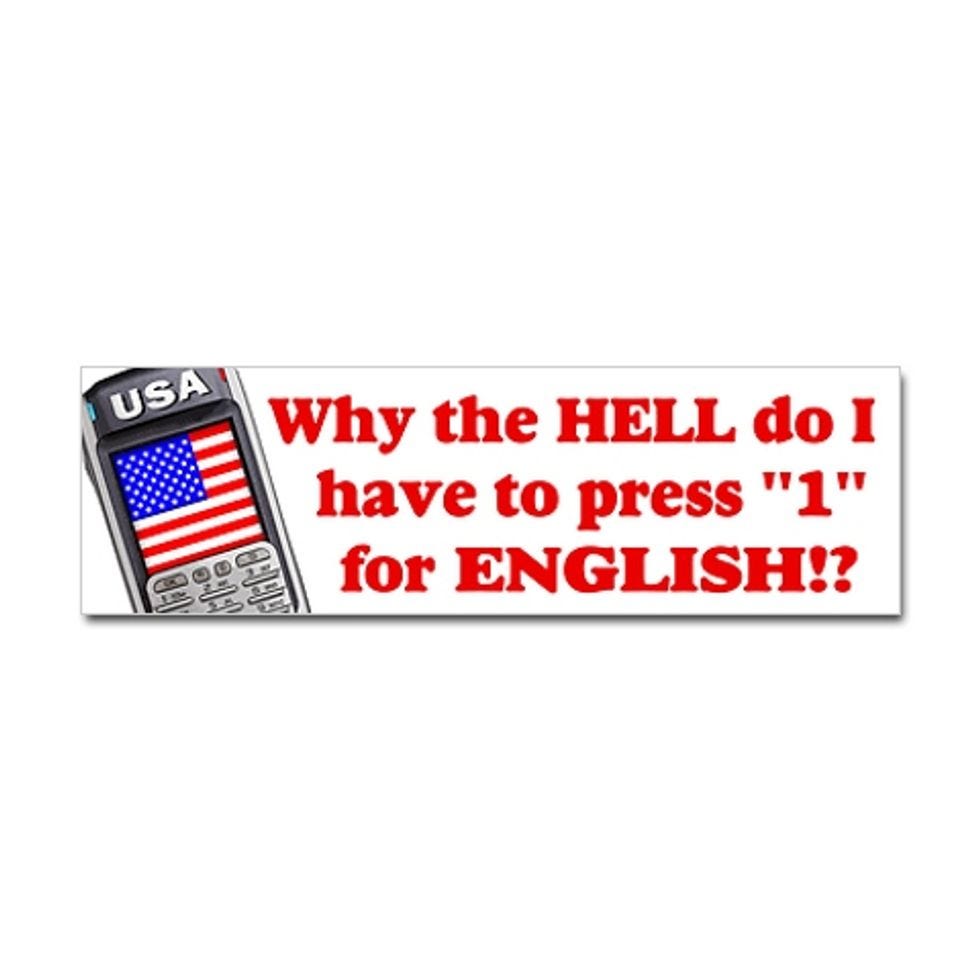 And Dad can really tell those illegals where they belong with this wearable map, drawn up by George Washington et al.: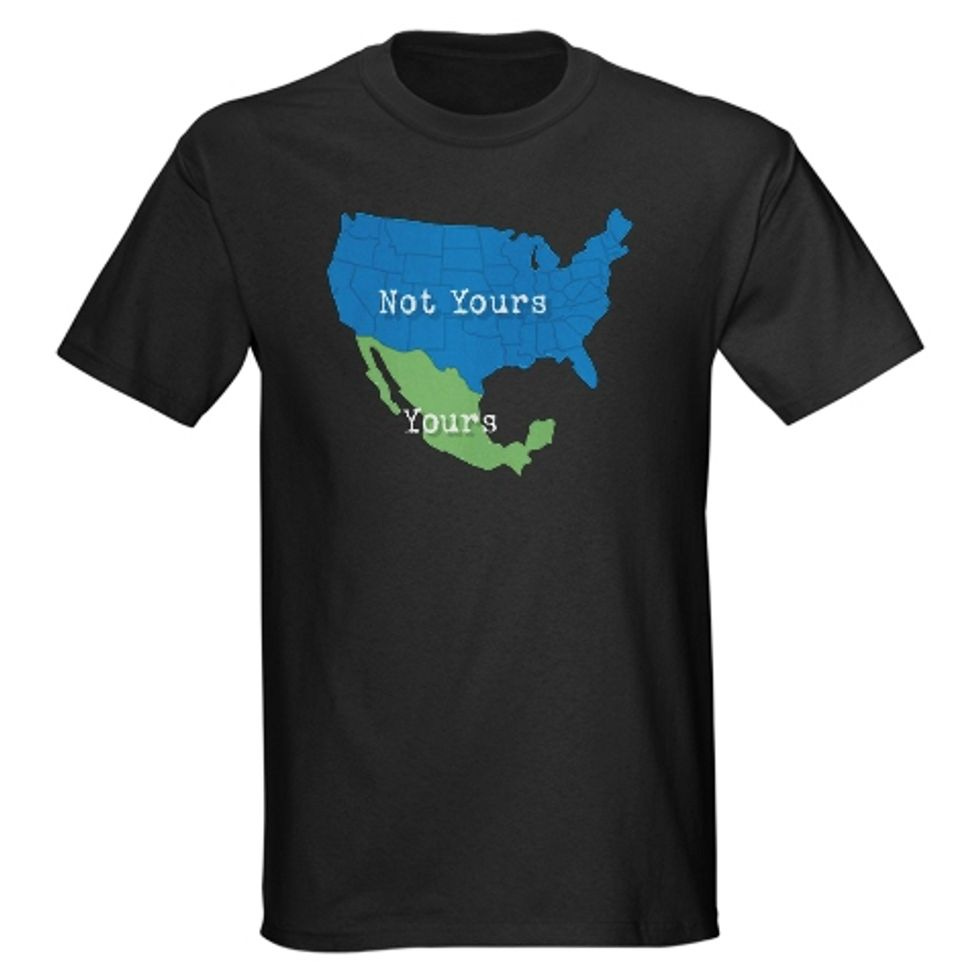 OK, that's enough with the ethnic hatred. Let's talk about love. Who does Dad love? Is it Sarah Palin? Unless your dad is Todd Palin (it's possible, he's quite virile), he just can't fulfill his dream of waking up every morning with Real America's favorite Real Doll in his bed. But he can have his morning coffee with her image, with this Boobgate-y travel mug: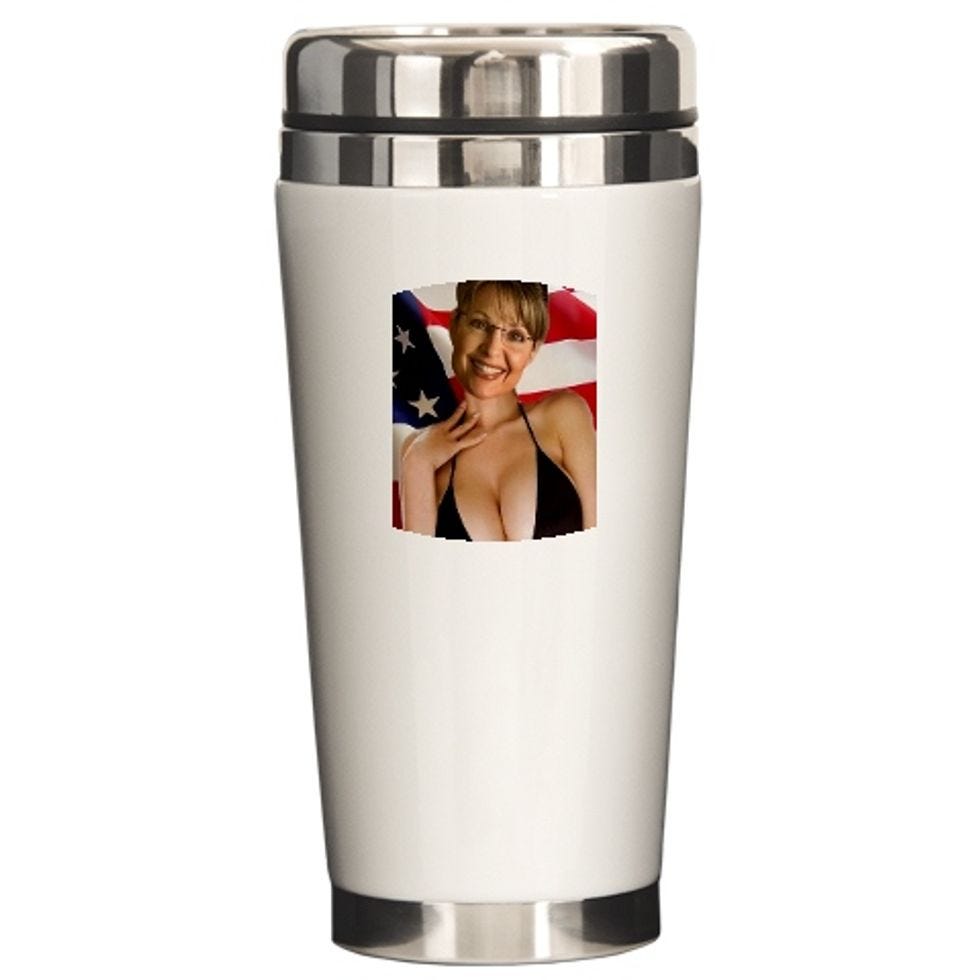 Is Dad a bit of a sissy? Then he will enjoy this pretty-in-pink "Palin Power" T-shirt, which doesn't even have to do with breast cancer or anything, it's just fey as the dickens: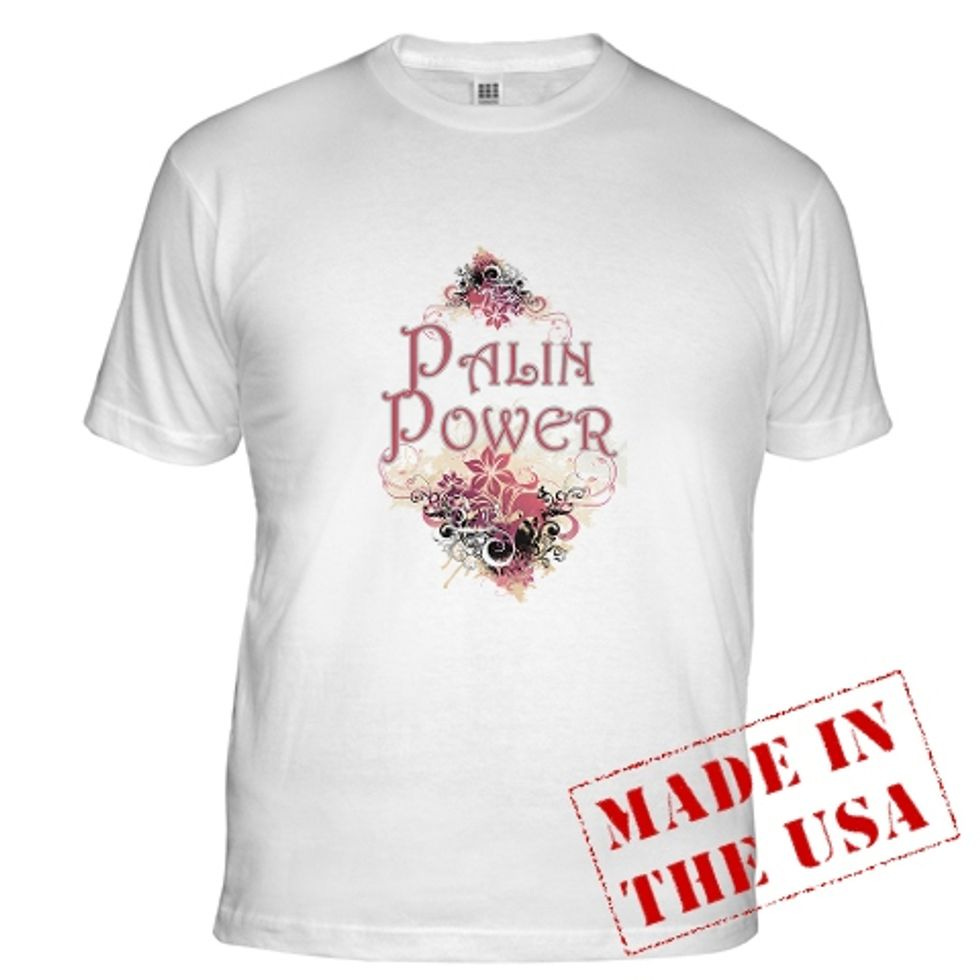 This Tea Party Palin pin is perfect for Dads who are reformed hippies, or just into patriotic psychedelic art: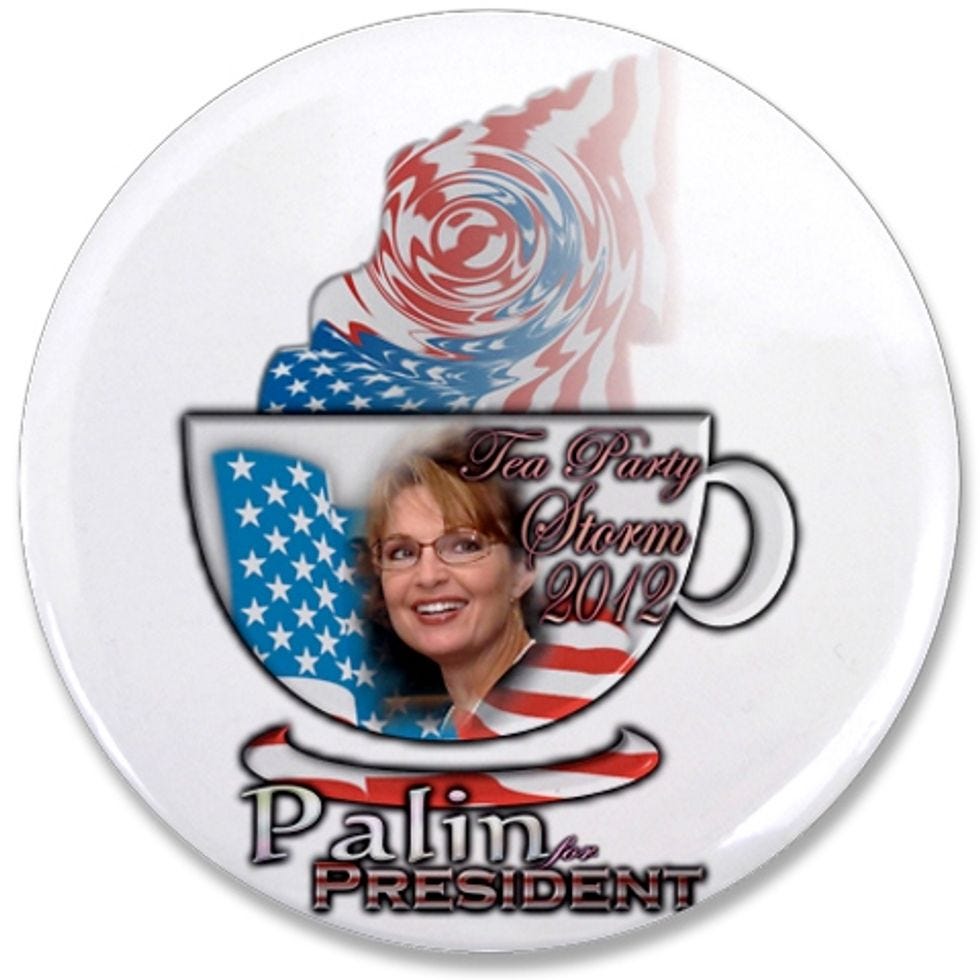 Wh duznt @ChuckGrassley? Dad shurl-E doez, w/T-shrt: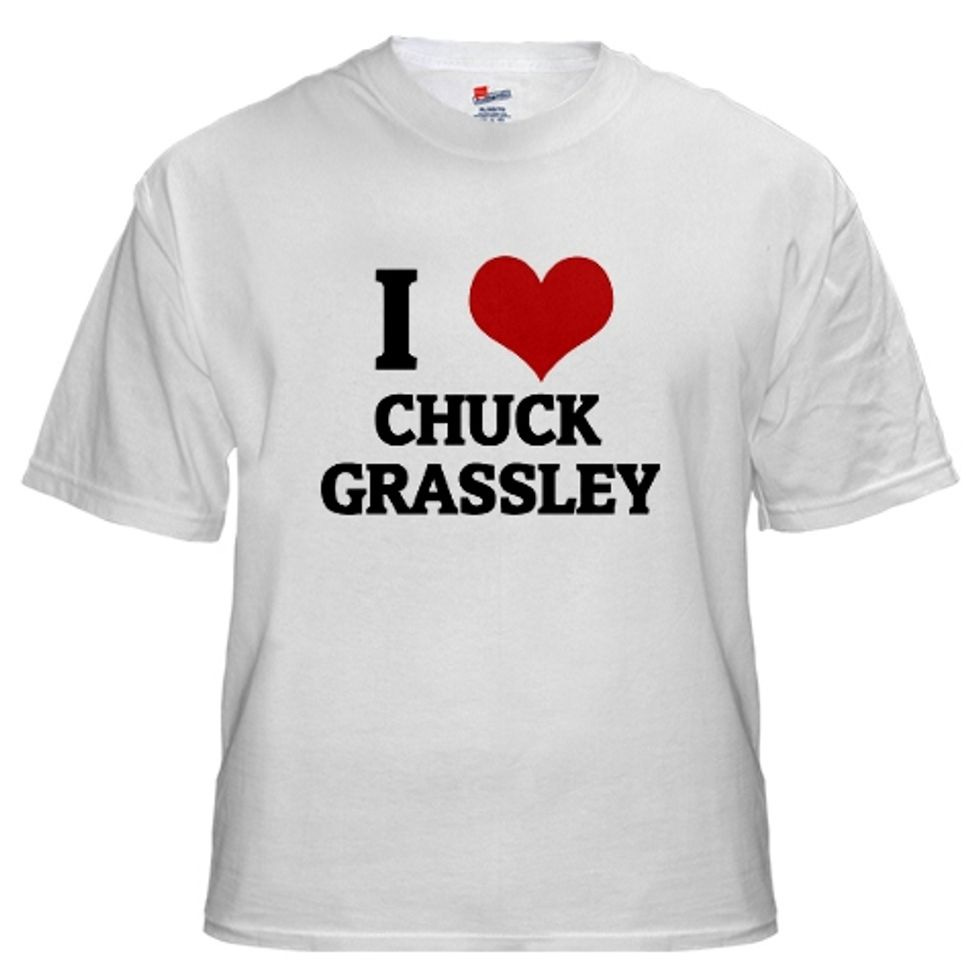 Or maybe Dad loves Sen. Lindsey Graham more, because they store things in the same closet: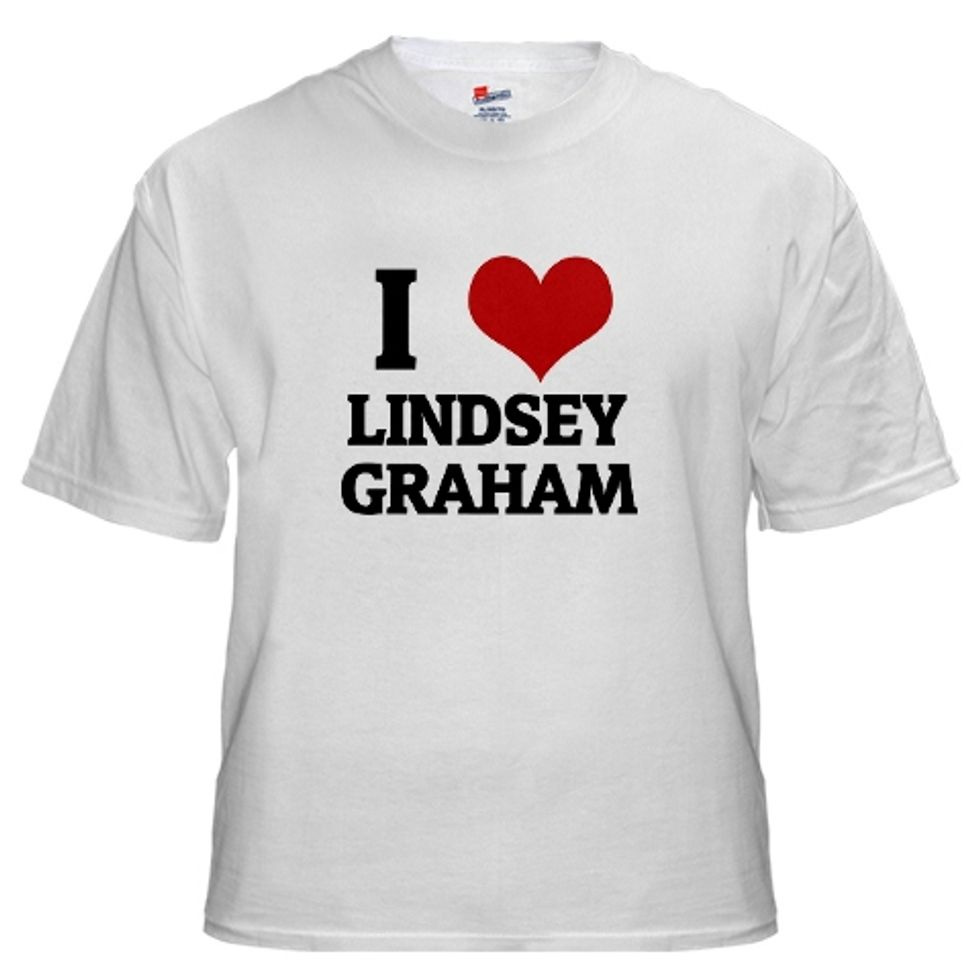 Maybe Dad has actually opened the doors of his closet and let a little bit of light in, in which case this bumper sticker might give him memories of good times: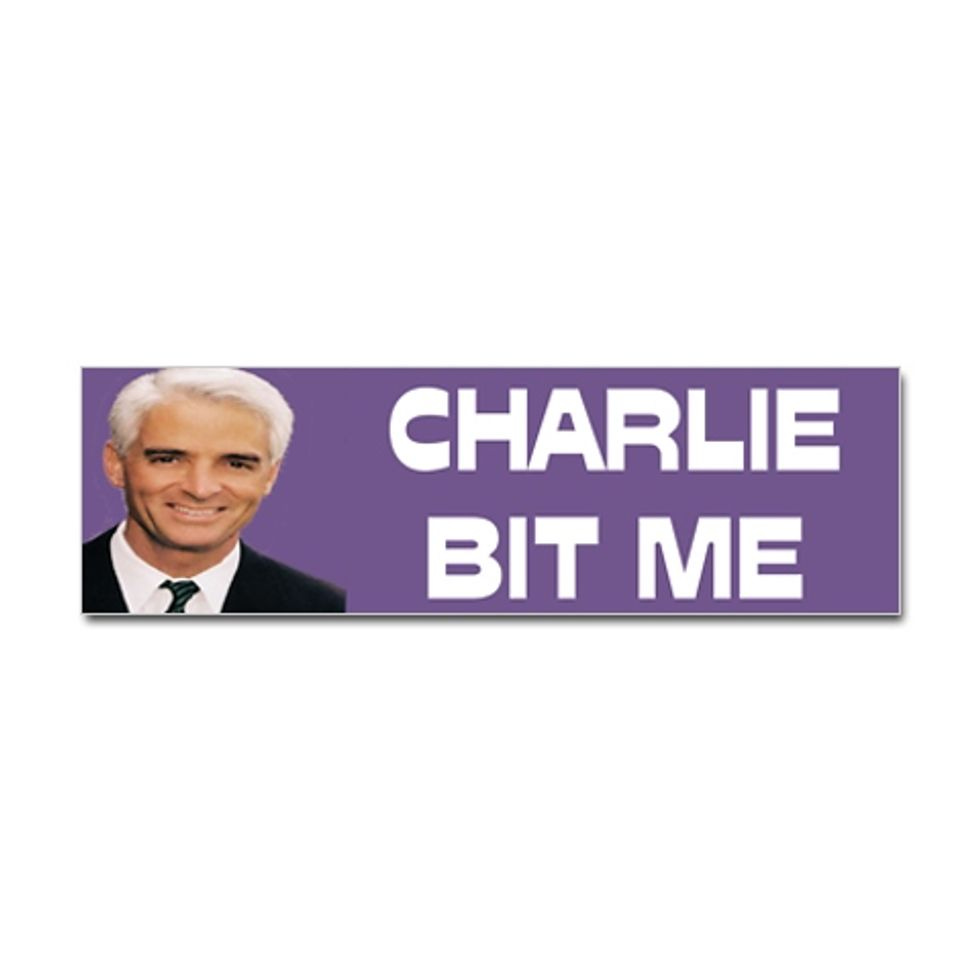 Tom Campbell might have been Fiorina'ed out of the California U.S. Senate race, but even Dad knows that the spirit of the Demon Sheep lives on (religious gift):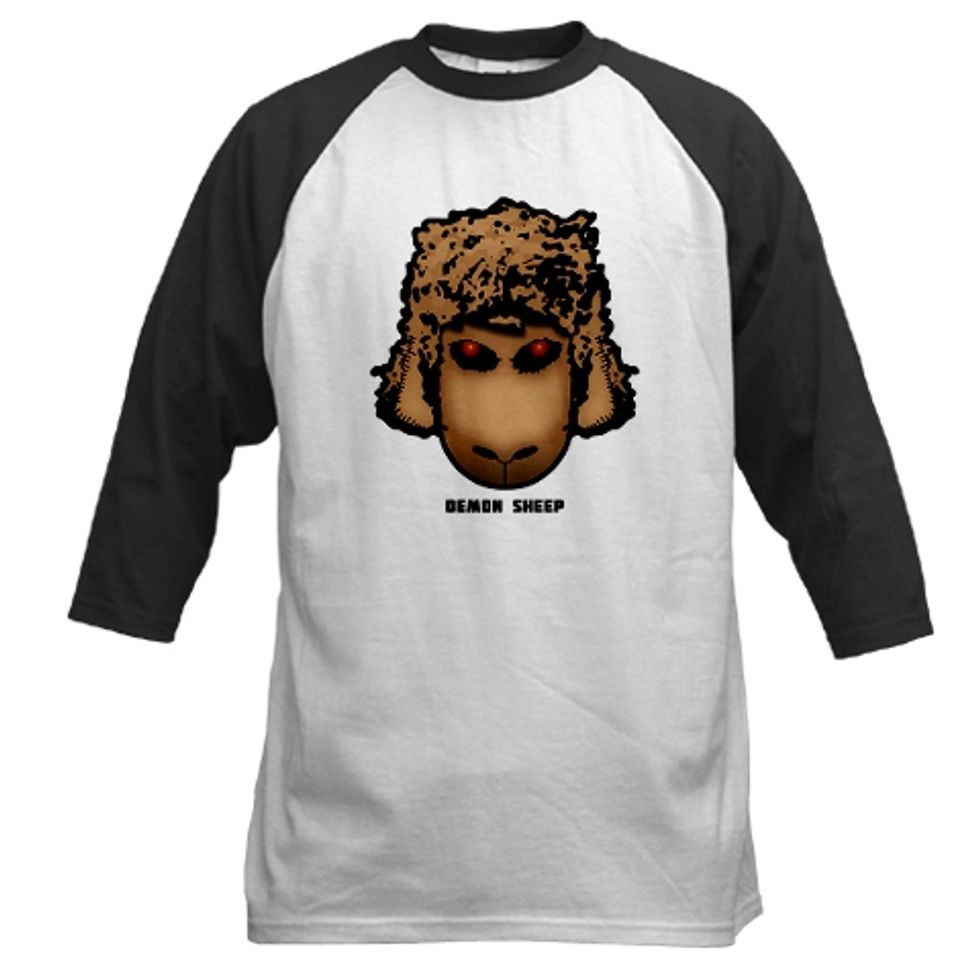 Remember when America had a "real" president who was not a Bush, but an angel nonetheless? Your dad remembers those days -- maybe he lost his job during them, which gave him more time to read celebrity gossip websites. Dad can help others remember how great the Reagan years were by putting this bumper sticker somewhere prominent: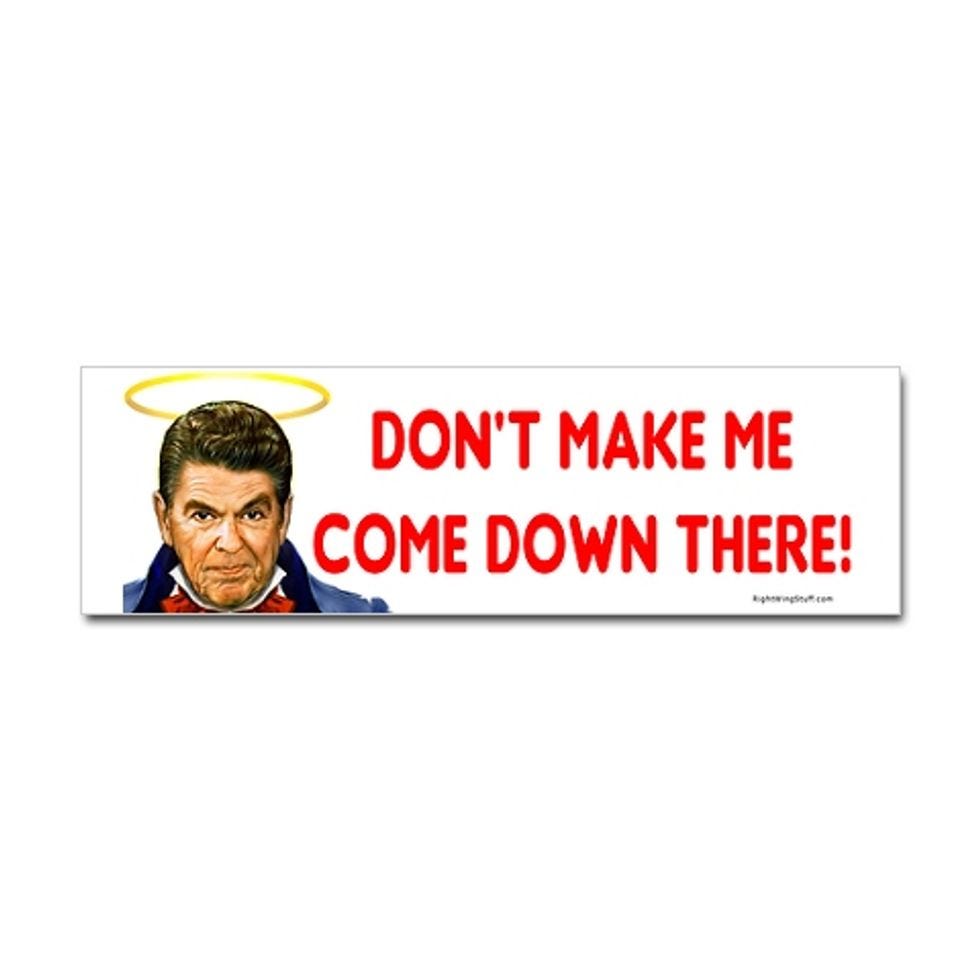 Our last gift celebrates President of the Future Alvin Greene, who apparently is running on a "no problems" platform that in some ways is no less demented than Angel Reagan's (not a Mexican name):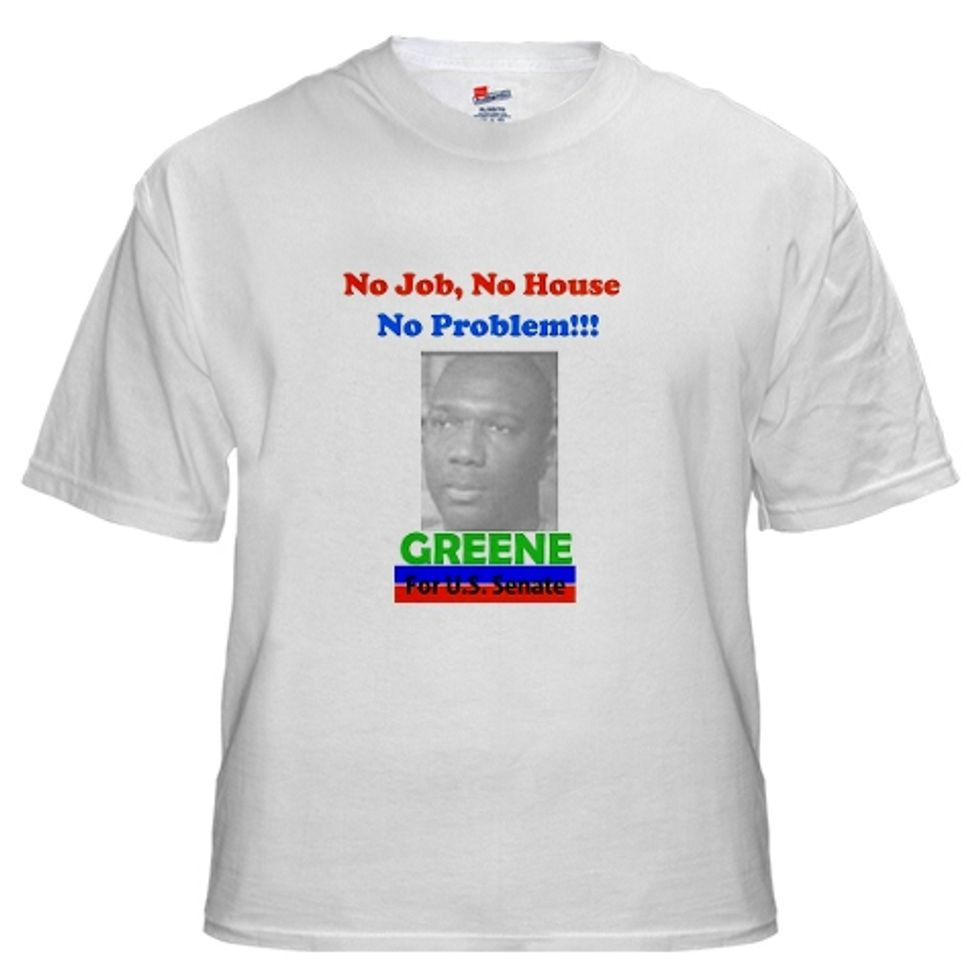 Hope Dad likes his cool new presents that arrive a day or three after Father's Day! (You will probably buy him every one, if you even know who your dad was.)