Discover more from Wonkette
Wonkette is filthy, hilarious, liberal news. YOU CAN HANDLE THE TRUTH!
Over 18,000 subscribers
A Children's Treasury Of Stupid BlackBerry & Polaroid Photos From Correspondents' Dinner-Related Parties
There was no news this weekend. The only thing that happened was that a local trade association held its annual banquet, which, for some reason (shameless prostitution) the entire American media establishment had to attend. Jay Leno, also. And even your Wonkette was invited to a couple of parties, pre- and post-dinner, and we are nothing if not whores. Now let's look at some crappy photos, for it's your Wonkette's annual White House Trade Association Photo Tour! We'll explain the above wiggered-out Rush Limbaugh-y thing with the purple ladies and orange furry in due time.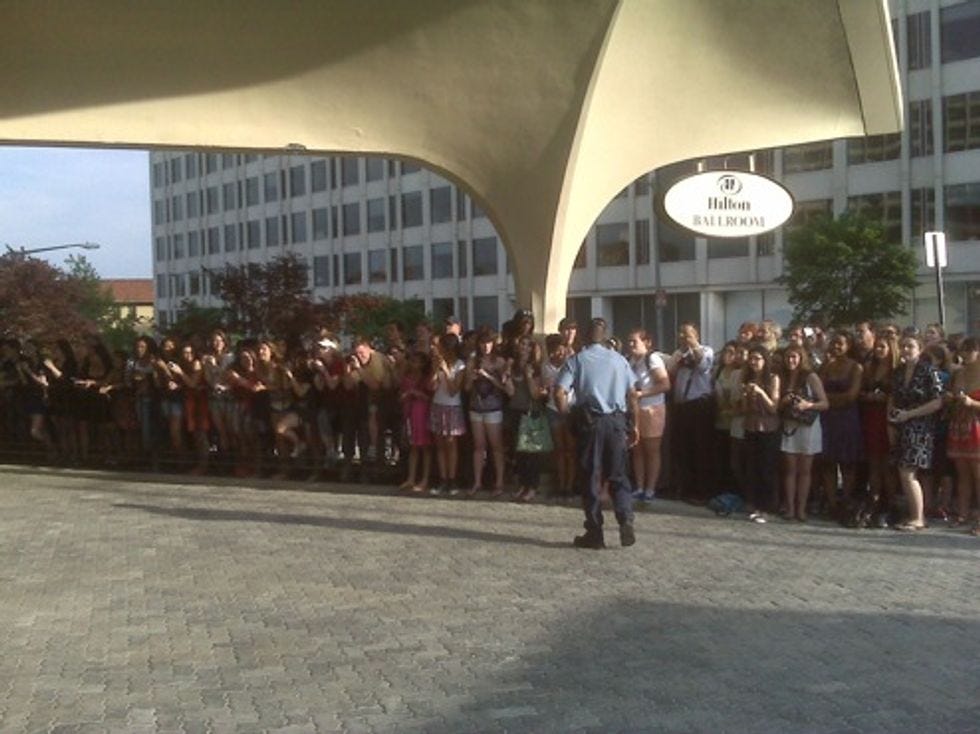 Your editor and Wonkette's Moonie videographer, Liz Glover, arrived at the Washington Hilton hotel to the usual scene: hundreds of tweens, jostling for position, screaming our names and fainting. One girl had traveled 2,300 miles by tricycle just to catch a glimpse of Wonkette editor Ken Layne on the red carpet. She had to be taken to the hospital fordyingafter realizing that Ken wasn't there.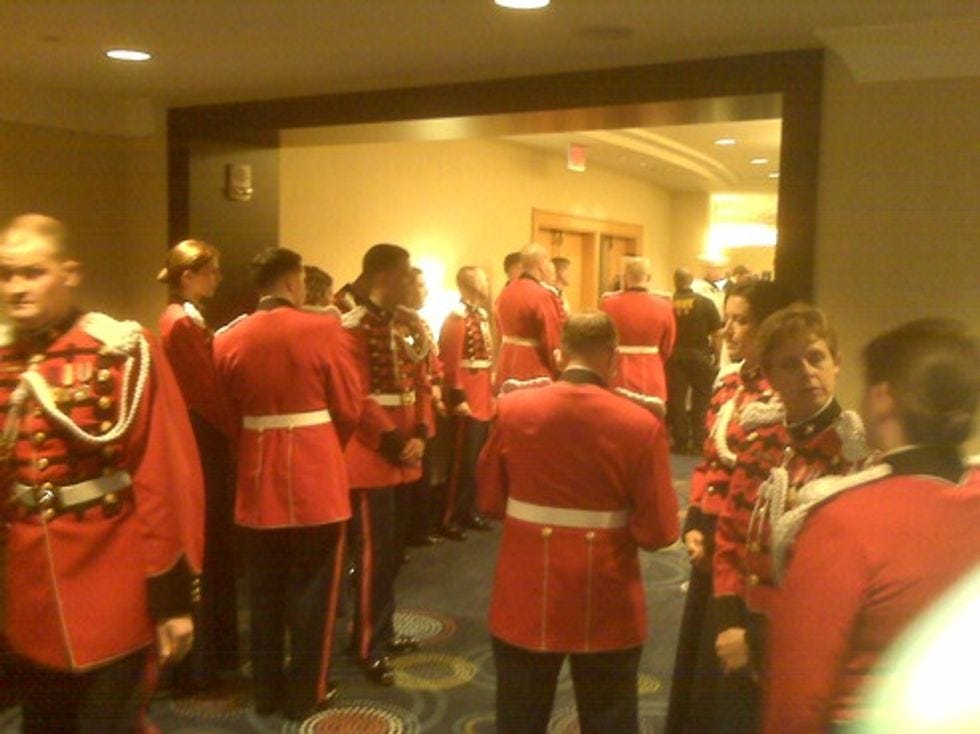 Joining all the elite newspaper reporters, television pundits, Hollywood celebrities and sweat-soaked liberal bloggers was this Fifth Race, a beta-version army of Michael Jackson clones. Hmm, could this have been a "viral marketing" thing, like they're the key puzzle piece toLost? Again: Michael Jackson clones are the key puzzle piece toLost?
Anyway. We went to an ATLANTIC/NATIONAL JOURNAL PARTY! No, not this Atlantic party at David Bradley's house -- the one "underwritten" by major oil and pharmaceutical companies, yikes -- but the other one, the one organized in a temporary space partitioned by curtains on the bottom floor of the Hilton, where folks go to get loaded before supper. The savviest pre-partiers timed their drunkenness with such precision that later in the night, they passed outmere secondsbefore Jay Leno would begin reading his first notecard ("I just flew in from Vegas, boy are my...").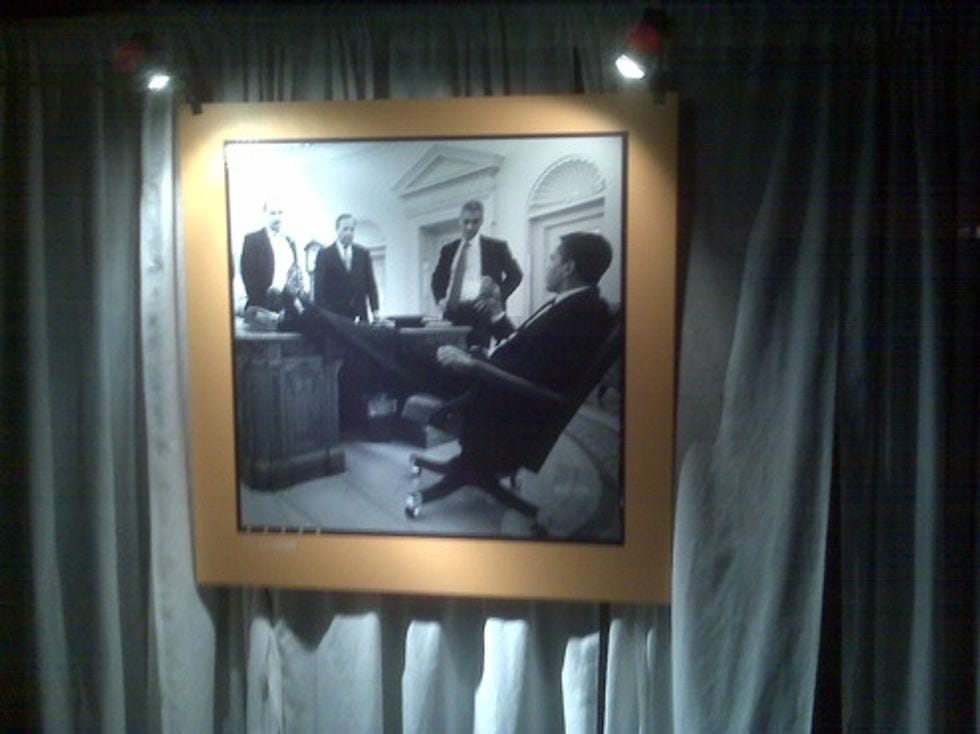 The curtain walls inside the Atlantic party featured a collection of beautiful art-photos as well THIS ONE PIECE OF INSULTING ANTI-AMERICAN SMUT. You know this "photograph." It's that one of the local African resting his wretched feet on the British Queen'sWoode-De∫ke . Hasn't the Atlantic's party planner gotten that forwarded e-mail about how offensive this photo is? [Sigh.] To the white grandmother of the Atlantic's party planner: you clearly have not been meeting your monthly chain e-mail forwarding quota, leaving the Council no choice but to consider expulsion.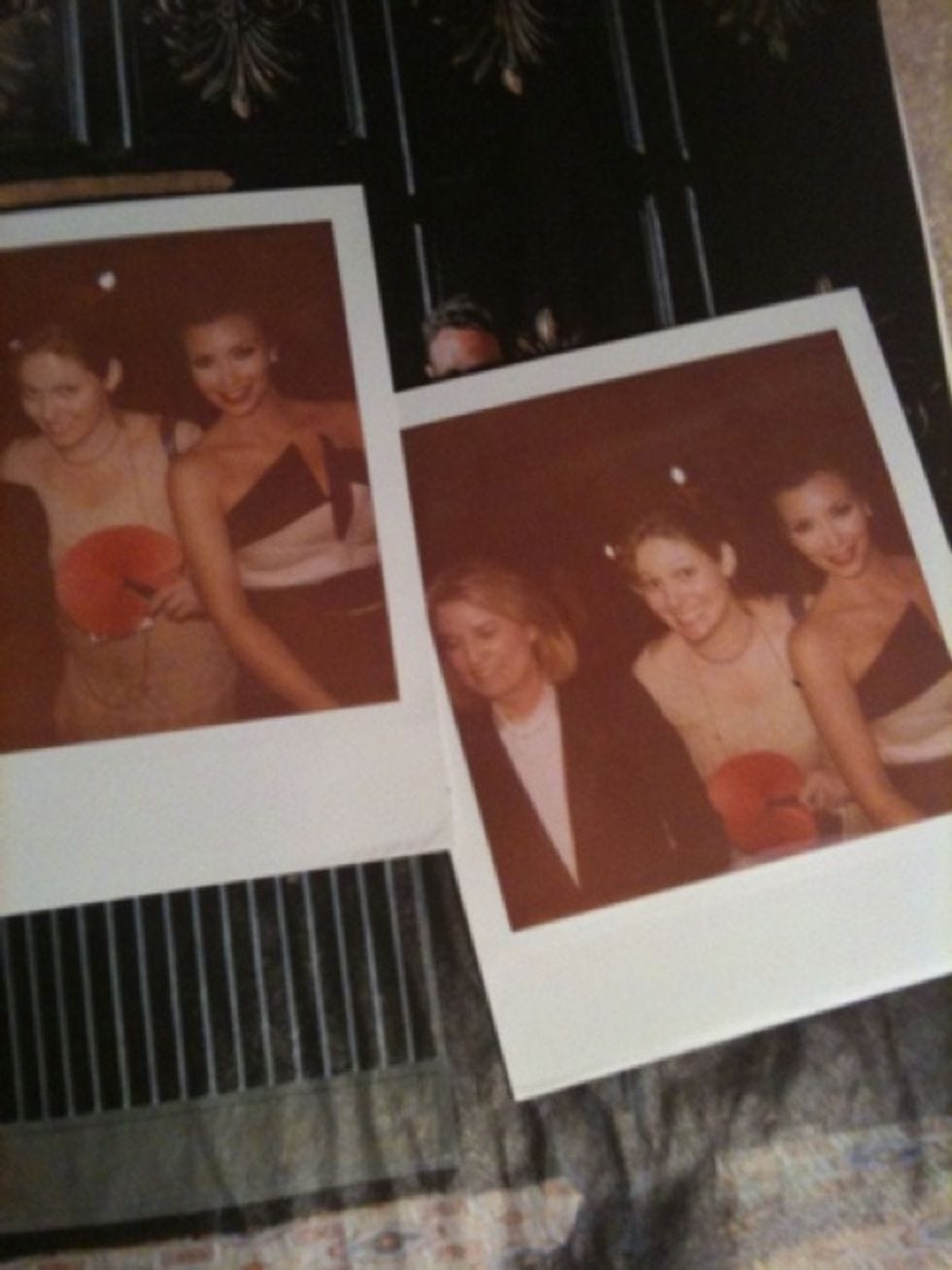 As much as you've been enjoying all of this inane bullshit so far, we should probably tell you about some of the party's guests. No? Well, it's happening.
We briefly saw Timmy Geithner walk in but lost him shortly thereafter. He probably got nervous and hid behind the curtains, panicking, practicing his small talk. ("'How do YOU do?' No that's all wrong... 'How DO you...' no, that's just worse!... 'I am Timothy h-h-HOW does'... GODDAMNIT I CAN'T DO THIS!")
Otherwise: Jessica Alba and Michael Calderone (dating??). Sen. Jay Rockefeller, a very tall, confident-looking figure, thanks to four generations of carefully-managed wealthy robberbaron inter-breeding. John McLaughlin, who gave Liz one of his famous incoherent barks when she asked for a photo, just like he does on television. Kal Penn, the Muslim, and his brother, Mark Penn. Hmm... well there were others, too, but who can remember these things. Oh right, the people in the photo! That's Liz with Greta van Susteren, wearing her one outfit, and one of those Kardashian ladies from the Twitter or whatever. And no, your editor does not know why there was a strange 10-inch-tall human peeking his head above the Polaroid on the right when Liz took this photo. Geithner? Is that Geithner?
Anyway, thank you to the Atlantic/National Journalfolks for inviting us to the open bar. We're big "Clive Crook" fans over here, but you probably get that all the time!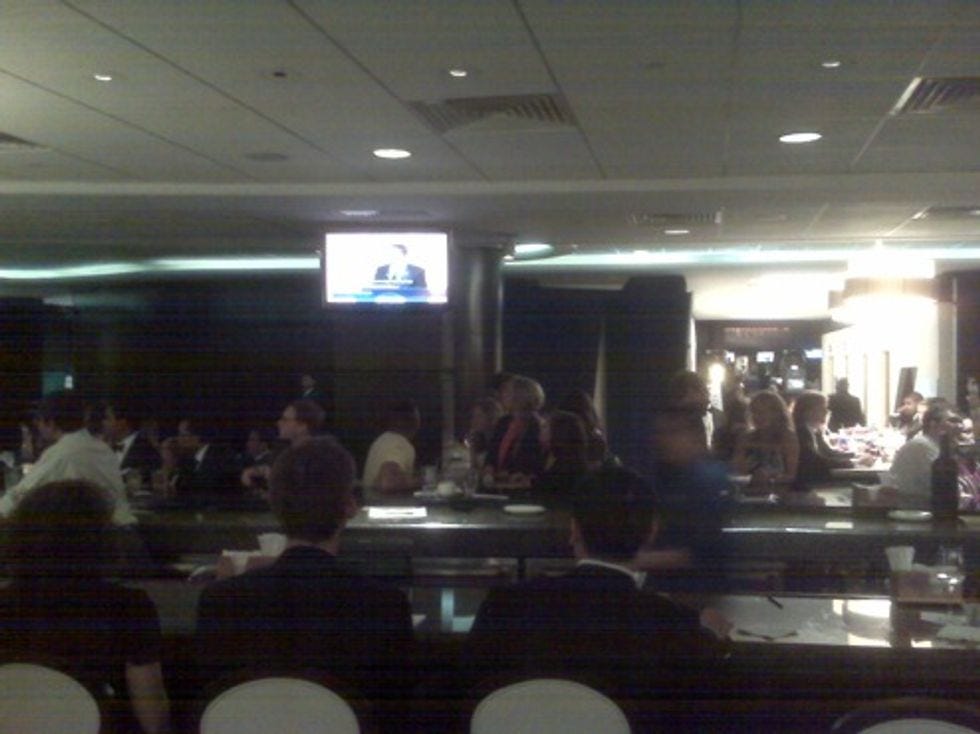 Let's speed this post up... after all the fancy people with banquet tickets went inside the banquet hall for the actual banquet, your Wonkette went to the bar upstairs, where everyone went silent to watch Barack Obama make some funny jokes. Those who didn't pass out at the start of Jay Leno's monologue just left instead. Onward.
***
Liz was feeling sick and had to go home, regrettably. She's doing alright now, so don't worry.
Your editor stumbled on, then, to the first-ever MSNBC After Party. Which leads us to the first 100% true thing we've written in this entire post: IT WAS SO FUN. MSNBC just went to the Fun Store and bought a whole bunch of great shit. It's the most fun your Wonkette has had at a party since we stopped going to Washington parties a year or two ago out of ethical despair. (Laziness, also.)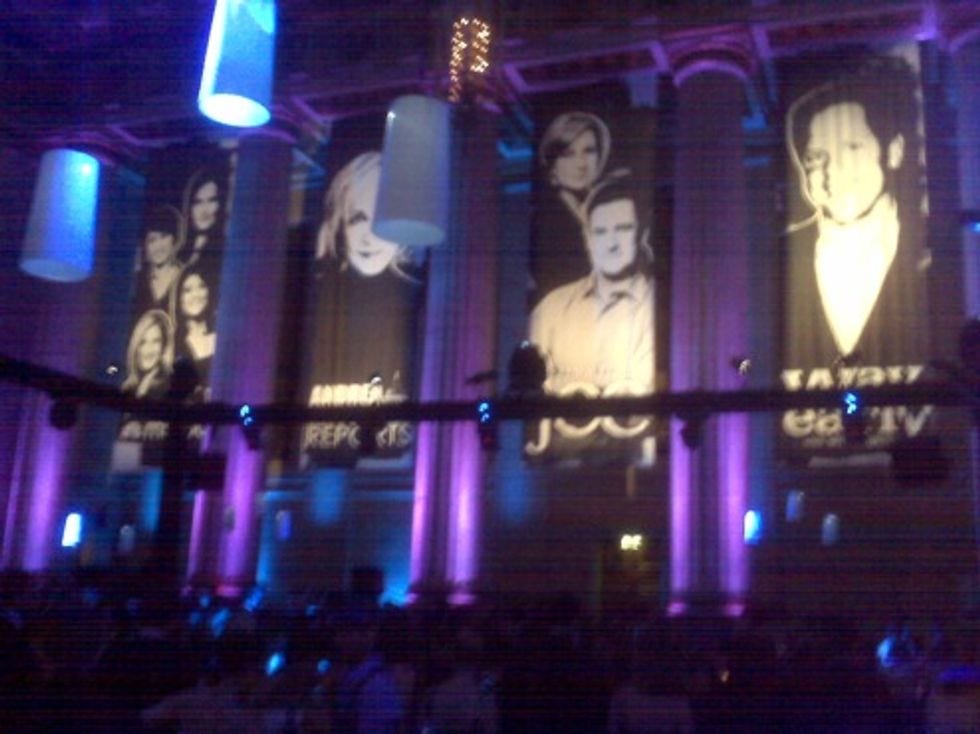 The party was held at Mellon Auditorium, which is like a big ol' Ancient Roman temple type thing. Each large banner hanging from the ceiling featured the visage of a different David Shuster intern.
There was just so much food and alcohol at this party. About ten fully-stocked barsin additionto dozens of waiters walking around with drink trays, trying to give you fancy drinks all the time. A so-called "diner" in the back of the auditorium serving hamburgers and cheeseburgers and chicken fingers and bacon hamburgers and... milkshakes too, maybe? Other waiters walking around withfoodtrays, trying to give you fancy foods all the time, like mini apple pies and ice cream sandwiches and sushi and "cheesesteak bites" and cookies andbags of donuts.A second-story smokin' balcony with two open-fire s'mores bars, as well as another full alcohol bar and those drink-tray folks giving you all the drinks, still. A third-floor cockfighting ring with Cuban cigars and professional bookies, and cocks, fighting. (We made up that last one. On the other hand, we never checked out the third floor, so who knows?)
Are we forgetting something...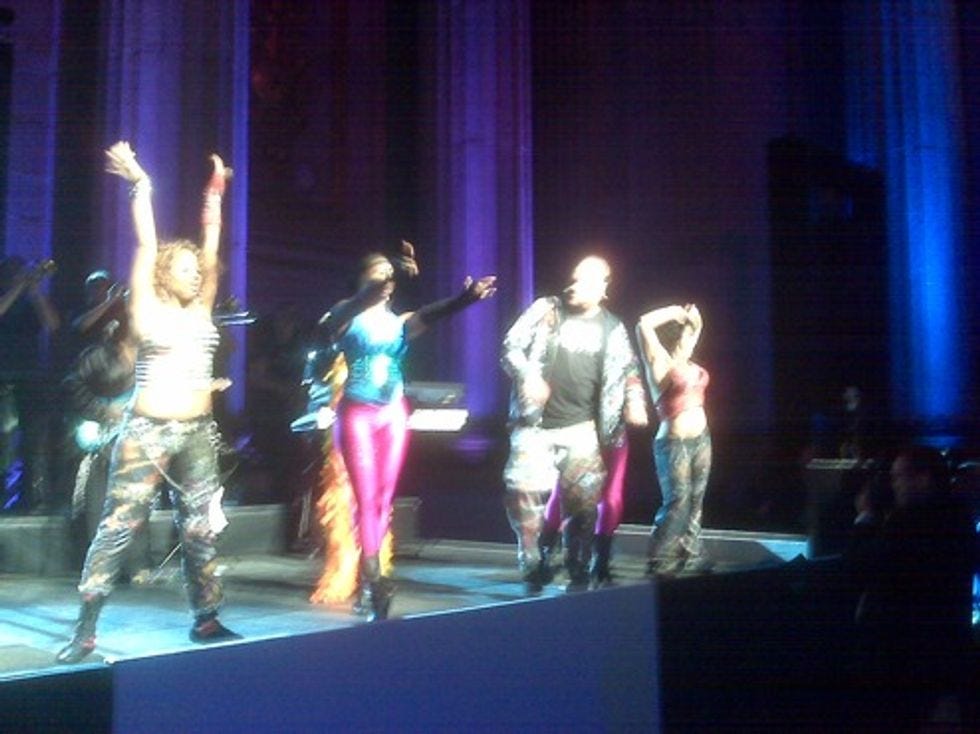 OH RIGHT, AND THEN KC AND THE SUNSHINE BAND PERFORMED FOR SOME REASON. It was funny and lots of old folks were dancing. Scott Brown was standing off to the side, though, sipping his drink alone, like a wallflower. No, seriously, he was. That's the second 100% true fact in this post.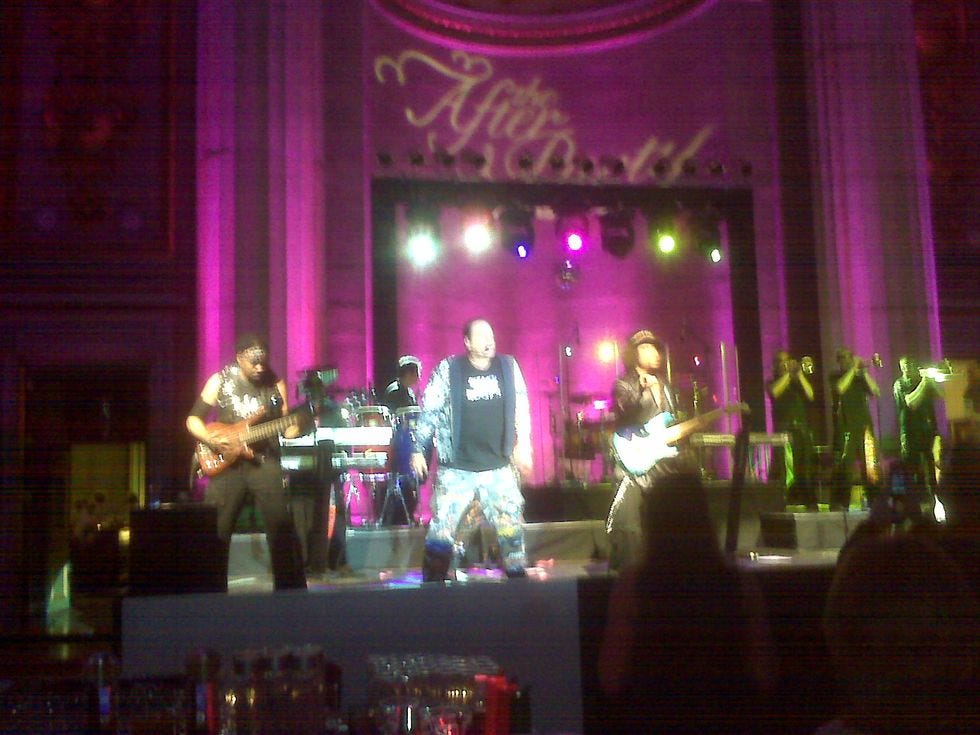 Can we just reiterate that KC AND THE SUNSHINE BAND PLAYED AND APPARENTLY ARE NOT DEAD? Far from it, actually: they are, appropriately, the #1 most sought-out entertainment act in Washington. A Republican person we met and were talking to said she sees them all the time playing gigs at various Republican fundraisers, dinners, events, etc. Republicans love KC and the Sunshine Band "almost as much as they love ABBA."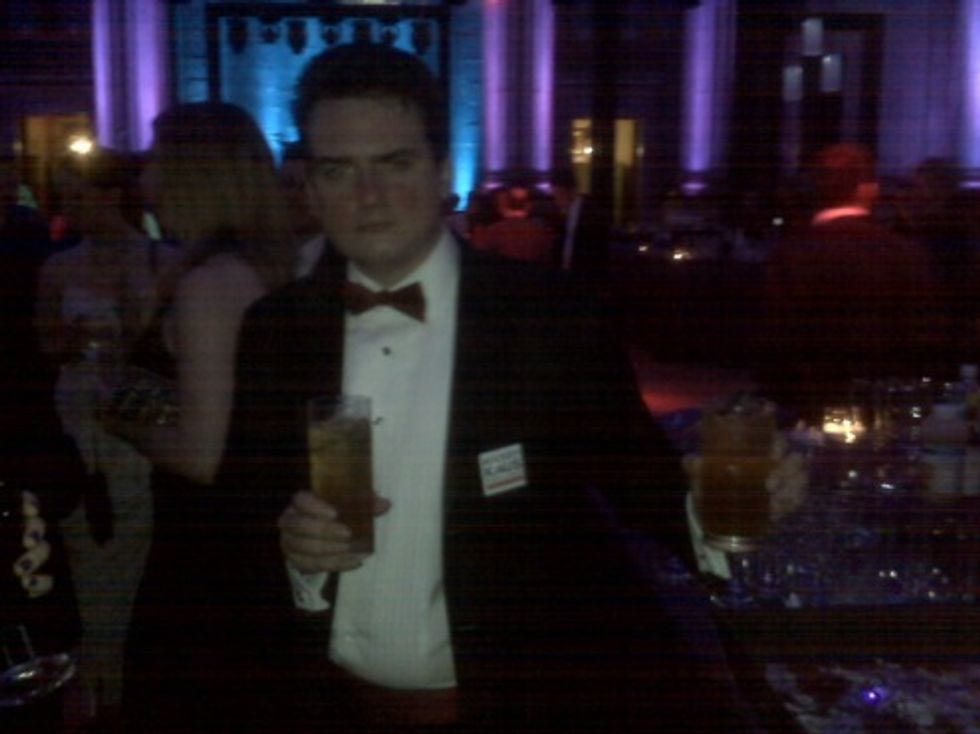 The biggest celebrity at MSNBC's after party was probably Dave Weigel, who interns for Richard Cohen at theWashington Post.Look at this slob, double-fisting drinks! Scandal! Spank him, Richard Cohen, spank him! (Granted Dave was only double-fisting because we asked him to hold our drink and pose for a photo of him double-fisting. But still,) Why does Dave Weigel have such a horrible, horrible drinking problem, double-fisting cocktails like this?
Other attendees included Andrew Breitbart and Mickey Kaus and some other people BLAH BLAH BLAH.
THAT'S IT. So look. Your editor had the only fun night at WHCD-related events he's had in three years and won't apologize for it, okay?
If anyone's still reading, one last thing, the third and final 100% true fact in this post: MSNBC's friendly publicist was kind enough to introduce us to Rachel Maddow, who was bartending all night. She loves your Wonkette and said she does "dramatic readings" of Wonkette posts in staff meetings. Who knew? (We just read it for the comments.) So you all should watch her show all the time and say nice things to her, in return, at "the next Wonkette party," on 9/11.