Discover more from Wonkette
Wonkette is filthy, hilarious, liberal news. YOU CAN HANDLE THE TRUTH!
Over 15,000 subscribers
Airlines Suddenly Flush, Will Now Master Industry Practice Of Screwing Over Employees, Also Customers!
Great news for the airline industry! In addition to record profits that many big airlines enjoyed in 2014, low fuel prices are expected to increase profits by as much as 26 percent in 2015. But as the industry motto goes, "First they get your money. Then they get your leg room. Then they get your dignity." So are we expecting this windfall to be passed along to traveling plebes, much less to the grunts who move the 40-lb. bag you packed for a two day trip to San Diego? No, of course not. Is it even possible these employees can at least keep their jobs, and air travel can be slightly less of a soul-crushing clusterfuck? [contextly_sidebar id="wzGnTsIlNLtd6JwKvWK9mcwE2lVOdFx3"]
 Let's check in with our fifth busiest airport -- Denver International.
United Airlines is suffering a baggage handling problem that's creating headaches for customers flying through its hub in Denver.

The problems began in early December and have persisted into the first week of January, Denver's KUSA Channel 9 reports. A large number of United passengers appear to have had problems claiming their checked luggage, especially during the past two weeks. Bags are being delivered late by between several hours and several days, according to ABC 7 News of Denver.
Why o' why is it so hard to fly?
In September, United Airlines announced its contract with SkyWest Airlines for the majority of its United Express below-wing ground baggage handling at DIA would end, resulting in a job loss for about 650 Denver workers.

SkyWest, which held the contract for nine years, was replaced effective Dec. 4 by Simplicity Ground, a subsidiary of United Kingdom-based Menzies.
So who could've foreseen this?!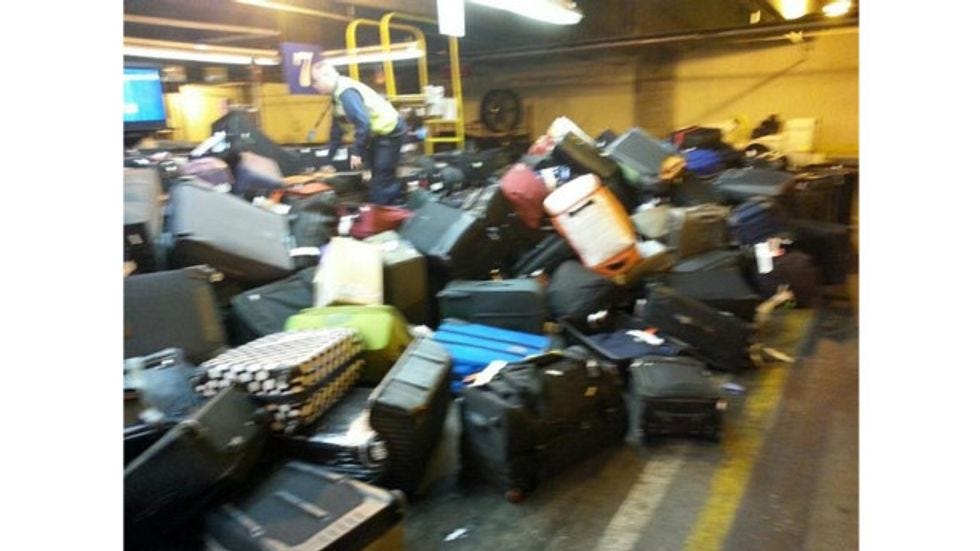 It's not worth blaming these poor, overwhelmed saps probably making like $8.50 an hour. Obviously, any investment in training them would siphon resources from the carefree shareholders of foreign corporation Menzies Aviation, who's the real victim here. Do you expect them to adhere to all tenets of their three-year plan like some Bizarro Stalin? It's obvious the second two "goals" are just included to make the PowerPoint look better.
We have set ourselves, through our Three Year Plan process, the following goals:

- deliver sustainable shareholder value growth…

- from a team that wants to work for us…

- for customers getting a great, safe & secure service.
Despite record profits and even greater projected profits, United, feeling the pressure to keep up with the low-paying, conniving jagoffs at taxpayer-backed Delta , is in the midst ofunion-bustingcost-cutting measures proposed back in 2013 (translation:  terminating experienced employees for the just cause of being loyal and making too much in wages and benefits). So why stop now?
Most of the jobs under review are held by workers who were employed before April 2006, whose union contracts prevent them from being furloughed, the source said.
America 2015! Where your work experience is a detriment to your continued employability. All hail the unbridled race to the bottom.