Discover more from Wonkette
Wonkette is filthy, hilarious, liberal news. YOU CAN HANDLE THE TRUTH!
Over 18,000 subscribers
PLEASE BUY ALAN DERSHOWITZ'S BOOK 'I LOVE TRUMP' WHICH IS NOT ABOUT ALAN DERSHOWITZ LOVING TRUMP YOU GODDAMN MCCARTHYITE
MELTDOWN.
HAVE YOU READ THE FOLLOWING BOOK BY ALAN DERSHOWITZ,  THE CASE AGAINST IMPEACHING TRUMP,   BY ALAN DERSHOWITZ, THE MOST FAMOUS AND IMPORTANT LAWYER IN THE WORLD?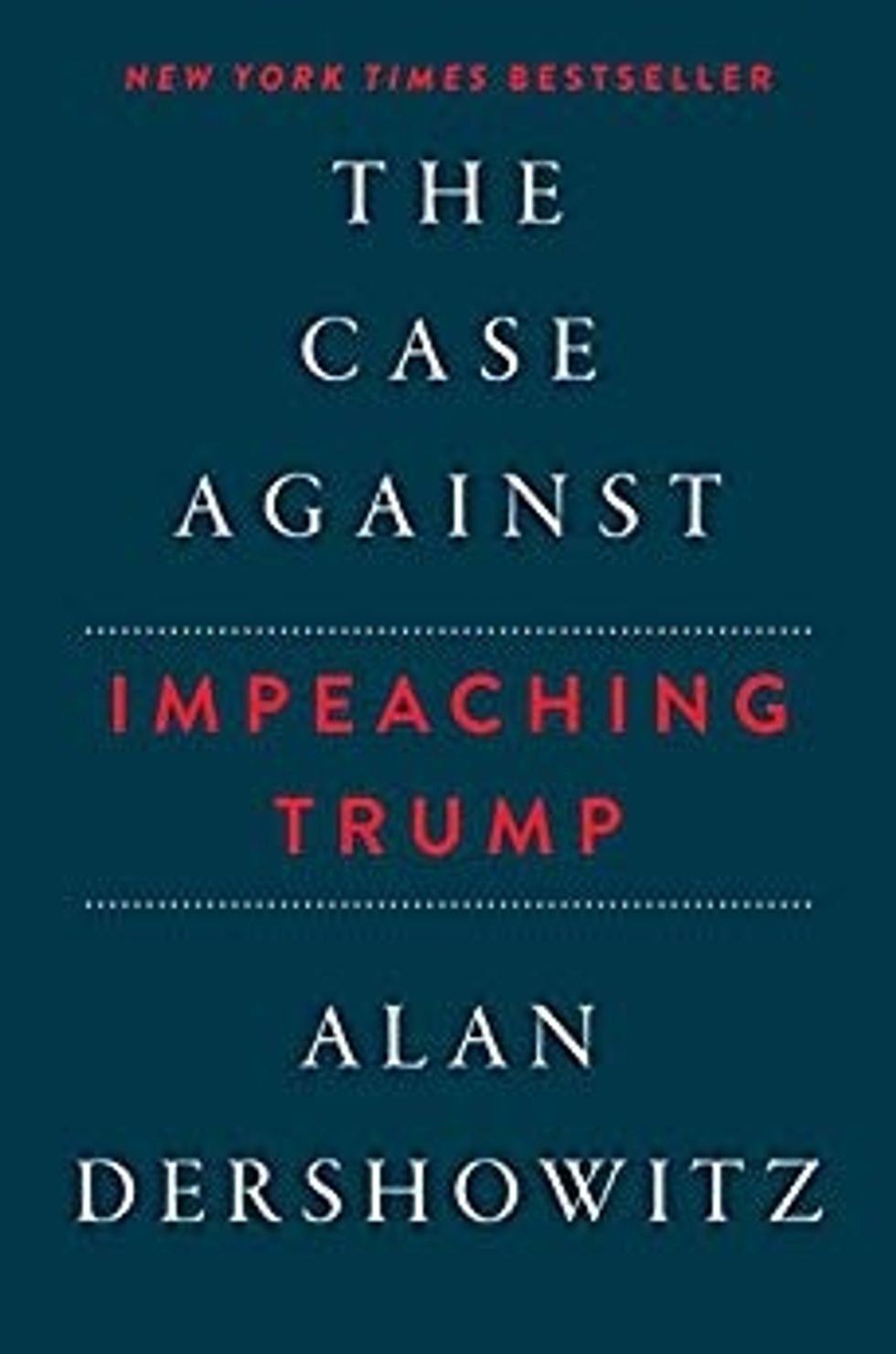 THE CASE AGAINST IMPEACHING TRUMP IS THE BEST BOOK OF THE ENTIRE YEAR AND IT IS NOT ABOUT THE CASE AGAINST IMPEACHING DONALD TRUMP, DESPITE WHAT THE COVER SAYS, OR WHAT THE TABLE OF CONTENTS SAY, OR WHAT THE WORDS IN THE BOOK SAY. ALAN DERSHOWITZ IS OFFENDED AT YOU RIGHT NOW!
ALAN DERSHOWITZ, ATTORNEY-AT-LAW, WHO IS NOT ALLOWED TO EAT BRUNCH AT MARTHA'S VINEYARD -- A CLEAR VIOLATION OF HIS CIVIL LIBERTIES -- PARTICIPATED IN THE MSNBC PROGRAM "KASIE DC" ON SUNDAY, WHERE DEEP STATE NEWS REPORTER KASIE HUNT AND ALL HER GUESTS GANGED UP ON ALAN DERSHOWITZ AND DID MCCARTHYISM TO ALAN DERSHOWITZ AND ATE BRUNCH WITHOUT ALAN DERSHOWITZ, WHICH MEETS THE LEGAL DEFINITION OF LIBEL, ACCORDING TO ALAN DERSHOWITZ, WHO IS 100% SANE THESE DAYS.
HERE IS A FUCKING VIDEO OF THIS:
DEEP STATE KASIE HUNT AND FORMER FEDERAL PROSECUTOR MIMI ROCAH SAID LIES ABOUT HOW ALAN DERSHOWITZ IS DEFENDING DONALD TRUMP, WHICH IS WRONG BECAUSE ALAN DERSHOWITZ IS ONLY DEFENDING CIVIL LIBERTARIANS EVERYWHERE, AND IF DONALD TRUMP HAPPENS TO MURDER SOMEBODY IN THE MIDDLE OF FIFTH AVENUE WITH A GUN PURCHASED BY VLADIMIR PUTIN, THAT'S NOT ILLEGAL, BECAUSE IF THE PRESIDENT DOES IT, THAT MEANS IT'S NOT ILLEGAL.

YOU ARE IMPLYING IN A KIND OF MCCARTHYITE WAY THAT I AM SOMEHOW DEFENDING TRUMP AND THAT I AM MAKING HIS CASE. SHAME ON YOU! I AM MAKING A CIVIL LIBERTIES CASE! I AM NOT PART OF THE TRUMP DEFENSE TEAM AND DON'T YOU DARE ACCUSE ME OF DOING THAT!
ALAN DERSHOWITZ DID NOT ACTUALLY TRAVEL TO THE MSNBC STUDIOS FOR THIS INTERVIEW BECAUSE FOR SOME REASON HE HAS SOME SORT OF DEAL WHERE HE'S ALLOWED TO DO TV INTERVIEWS AT HOME IN FRONT OF HIS PRECIOUS MOMENTS FIGURINES AND MAYBE HE'S NOT EVEN WEARING PANTS BECAUSE OF HOW HE IS A NUDIST AND MAYBE THE REAL REASON THE BRUNCH INVITATIONS DRIED UP IS BECAUSE ALAN DERSHOWITZ PUT HIS OLD BALLS IN ALL THE HOLLANDAISE SAUCE ON MARTHA'S VINEYARD, BUT DON'T QUOTE US ON THAT.
I AM THE ONLY PERSON ON THIS SHOW WHO IS TRYING TO DEFEND CIVIL LIBERTIES! DON'T ACCUSE ME OF MAKING A CASE FOR SOMEBODY I AM NOT MAKING A CASE FOR!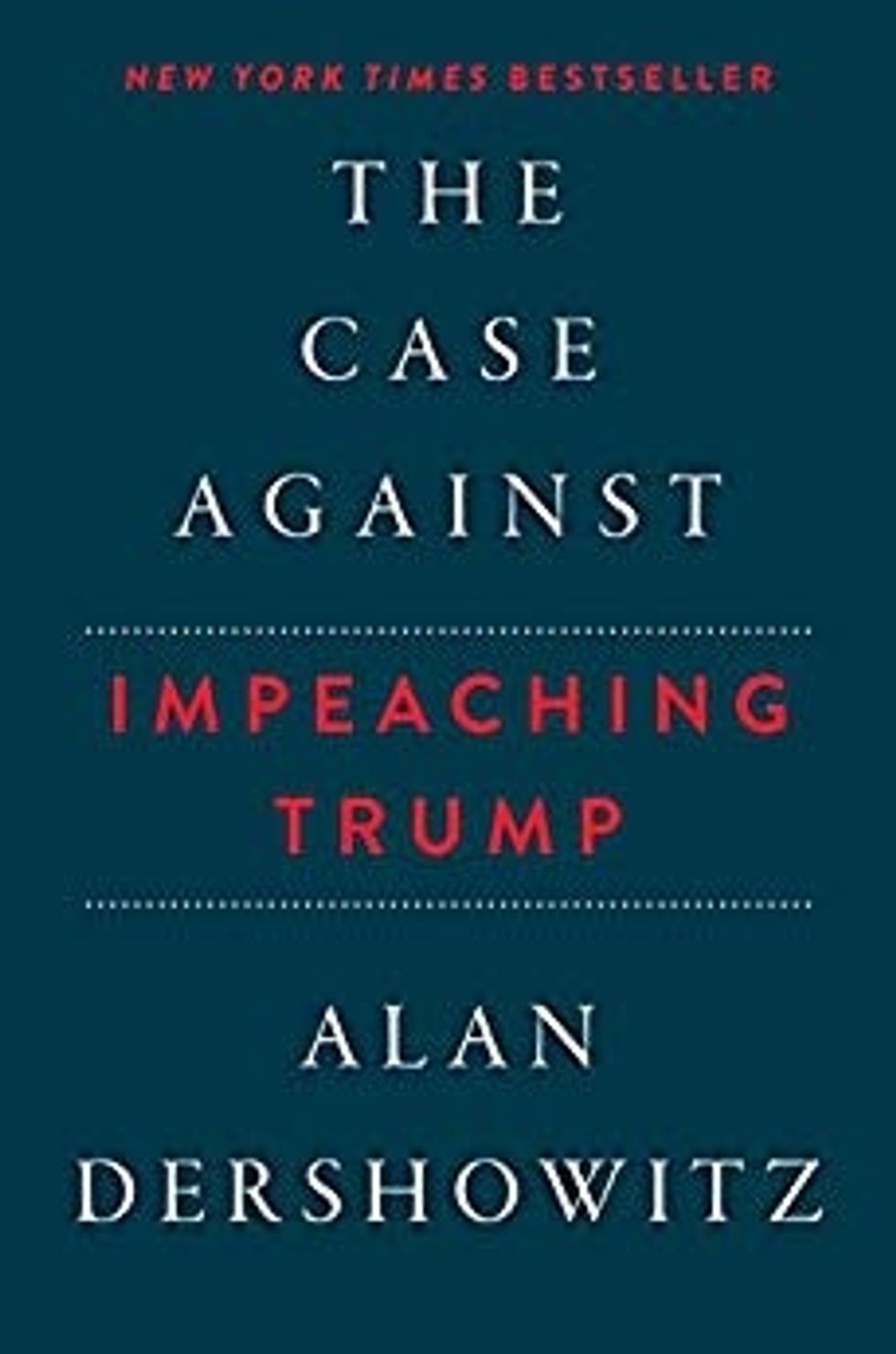 ALAN DERSHOWITZ, ATTORNEY-AT-NAKED, IS VERY ANGRY RIGHT NOW. ARE THESE ALL CAPS BOTHERING YOU YET? MAYBE YOU JUST CAN'T HANDLE ALAN DERSHOWITZ, WHO IS THE LIVING ESSENCE OF ALL CAPS.
ALAN DERSHOWITZ IS GOING TO WRITE A BOOK CALLED "THE CASE AGAINST KASIE HUNT," AND IT IS GOING TO BE THE BEST SELLING BOOK OF ALL, AND ALAN DERSHOWITZ WILL BECOME THE BRUNCH KING OF THE MARTHA'S VINEYARD NAKEDS BECAUSE EVERYBODY WILL FINALLY SEE HOW CORRECT ALAN DERSHOWITZ IS ABOUT ALL THE THINGS AND THEN HE WILL FINALLY BE FREE TO PUT HIS OLD BALLS IN THE HOLLANDAISE AGAIN, ALLEGEDLY, THE END.
WHAT OPEN THREAD? THIS ONE! TALK TALK TALK, DO THE TALKING!
 Follow Evan Hurst on Twitter RIGHT NOW, DO IT RIGHT NOW! 
 
  Help Wonkette LIVE FOREVER! Seriously, if you can, please help, by making a donation of MONEY.