Discover more from Wonkette
Wonkette is filthy, hilarious, liberal news. YOU CAN HANDLE THE TRUTH!
Over 18,000 subscribers
IMPORTANT BREAKING NEWS FOR ANYONE WHO HAS EVER WONDERED WHAT TYPE OF GOLDFISH DONALD TRUMP'S PENIS LOOKS LIKE.
Stormy Daniels has written a book! It is called  Full Disclosure  , and we imagine it is a lot like Bob Woodward's book, in that it features horrifically embarrassing tales about what a loser the barely elected tiny-handed American president is, but it's not like Bob Woodward's book, in that it features actual sex stories about said president, which Bob Woodward coulda included in his book but he didn't because guess he's not that committed to journalism.
Here is some information about the Trenis (it's like Clenis but for Trump, please don't make Wonkette explain our jokes) that you never knew you needed to know:
She describes Trump's penis as "smaller than average" but "not freakishly small".

"He knows he has an unusual penis," Daniels writes. "It has a huge mushroom head. Like a toadstool…

"I lay there, annoyed that I was getting fucked by a guy with Yeti pubes and a dick like the mushroom character in Mario Kart...

"It may have been the least impressive sex I'd ever had, but clearly, he didn't share that opinion."
WHAT? It's one of those flower stem penises that has a disproportionately sized knob at the top? In other words, it's like Brett Kavanaugh's entire body in penis form? EW!
Also: YETI PUBES? Is it like a full bouffant of YETI PUBES? Is it the same pube hairstyle as the hair plugs on the president's own head? Or is it more like ...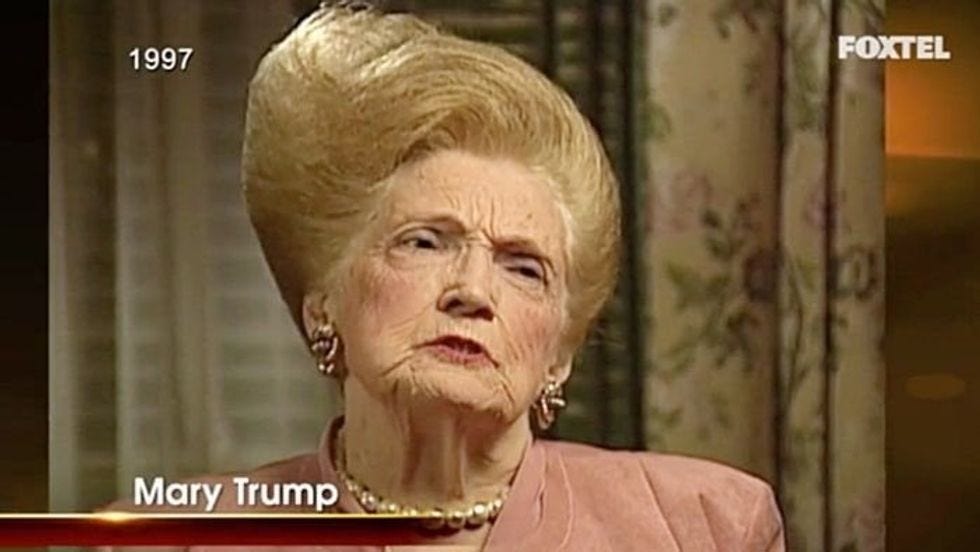 Is Donald Trump packing his mom's hairdo in his underpants? Is he GESTATING his yeti pubes in his pants, like his mom Mary used to GESTATE the turkey in her Down Theres, allegedly? Dunno why but we feel like he would do that.
And about that Mario Kart mushroom character, hey look, we found a NSFW picture of Trump's penis!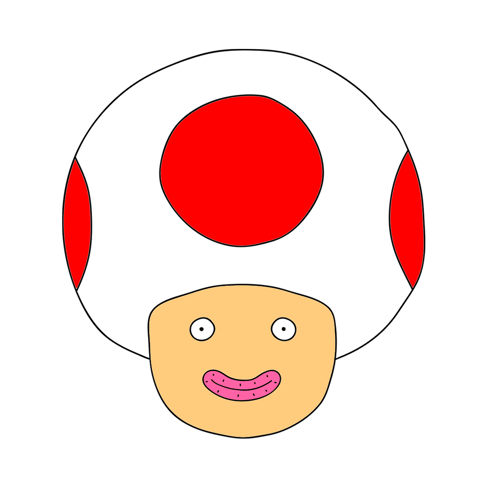 Sorry about that mental image, but if we have to have it, you have to have it.
Among other details revealed in the Guardian 's blurb, Daniels, whose real name is Stephanie Clifford, says that after she had sex with Trump, he promised to put her on his dumb reality show "The Celebrity Apprentice," and he even said he would rig the show so she was sure to last at least a few episodes. "He was going to have me cheat, and it was 100 percent his idea," she writes. (Wonder if cheating with the Russians to "win" the election was 100% his idea too.)
What's cool, though, is that it sounds like this book is way more than just "Trump is gross and Jesus God what is that weird dick that looks like a poison mushroom?" More from the Guardian :
Beginning with Daniels' youth as a girl named Stephanie Clifford growing up in Baton Rouge, Louisiana, Full Disclosure tells a vivid story of childhood poverty, neglect and abuse, including sexual abuse by a middle-aged man beginning when Daniels was nine years old. The stories are intercut with light moments such as her time with a beloved pet horse and a crush on Patrick Swayze so intense she kissed a hole in her Dirty Dancing poster.
Or as Daniels's lawyer Michael Ave-Hottie put it on Twitter:
The most important thing about @stormydaniels book is not the description of her sex with Mr. Trump. It is instead… https: //t.co/fKeH1vMIlu

— Michael Avenatti (@Michael Avenatti) 1537281824.0 
WONKETTE BOOK REVIEW OF BOOK WE HAVE NOT READ YET: ELEVENTY STARS!

Well, we have column inches (haw haw "inches," but no YETI PUBES) left in this very important news story about how President Bing Bong is a sucky lay with a weird penis and Mary Trump's entire bouffant hiding inside his very bad pants, news that we are sure won't bother Donald Trump one slightly smaller than average bit. So we will tell you about a thing that we want to put on your radar that involves Stormy Daniels, and also Ourself!
You may or may not be aware that Wonkette pal Lizz Winstead has a badass nonprofit called the Lady Parts Justice League that uses the power of comedy and good old fashioned elbow grease to assist abortion clinics and other reproductive health outfits around the country that are endangered, and to bring awareness to the people about what religious right fuckwits are doing to reproductive rights in this country. This is even more crucial with Judge Rape Van still inexplicably in the process of being confirmed to the Supreme Court.
Like Wonkette, Lady Parts Justice League doesn't mind a good joke about dicks, or about vaginas, or really whatever they want to make jokes about, because you are not the boss of them.
Well! Next month, on October 20, Lady Parts Justice League is throwing its semi-annual "Golden Probes" award show (replete with red carpet but not YETI PUBES because gross), to be taped October 20 at The Town Hall in Manhattan. It's just like the Golden Globes, except for it is "sexism's most glamorous night" and it honors excellence in misogynistic asshole politicians who live to fuck with women's rights. The host? Margaret Cho. One of the very special-est guests? STORMY FUCKIN' DANIELS. Some of the other special guests? Oh just some of the cast of "Orange Is The New Black" and stuff and all these other badass people too. The Wonkette senior editor who gets to fly up and help them write naughty jokes for it and make best friends with Stormy Daniels, because that is what will probably happen obviously? MYSELF.
Here's the promo video for the Golden Probes:
And here's Stormy Daniels, talkin' about the Golden Probes:
OH HEY STORMY, SEE YOU NEXT MONTH AND MAYBE WE WILL BE BEST OF FRIENDS OR MAYBE YOU'LL THINK I AM A LOSER MCNOFRIENDS AND THAT'S OK TOO, WHATEVER, I HAVE A CRUSH ON YOUR LAWYER A LITTLE BIT BUT DON'T TELL HIM OK BYE.

Anyway, stay tuned to yr Wonkette for details about Golden Probes watch parties and the like, and also stay tuned to Wonkette for news on whenever Donald Trump has a real melt down over how now everybody knows he's Mr. Weird Dick with the YETI PUBES.
[ The Guardian ]
 Follow Evan Hurst on Twitter RIGHT NOW, DO IT RIGHT NOW!  
 Wonkette is the ONLY NEWS ON THE INTERNET. Click if you want us to live FOREVER.