Discover more from Wonkette
Wonkette is filthy, hilarious, liberal news. YOU CAN HANDLE THE TRUTH!
Over 18,000 subscribers
Time for another episode of HAPPY NICETIMES POLLING! Would you like another story of the GOP shitting its collective pants? Of course you would, because you're just nasty like that. And so are we! 
Texas Senate
But how can you tell if stinky Ted Cruz made a pantload? Well, for one thing, he's broadcasting his panic loud and clear, telling the Texas Tribune, "It's clear we have a real and contested race where the margin is far too close for comfort." Cook Political just moved the race from Likely to Leans Republican, and a new poll puts Beto O'Rourke just two points behind the Lizard Man. Most polls give Cruz a more comfortable margin of about five percent -- this is Texas after all -- but in aggregate it's clear that the gap is closing. Which is why Cruz has finally agreed to debate O'Rourke, albeit only on Friday nights when Texans will be busy with FRIDAY NIGHT LIGHTS.
Despite refusing to take PAC money, O'Rourke has outraised Cruz in four consecutive quarters and has more cash on hand. Time for Cruz to finish him off with another awesome ad!
OH. MY. GOD.
Governors Races: Wisconsin, Michigan
Can it really be true? Is it possible that beady-eyed little badgerfucker Scott Walker might actually lose?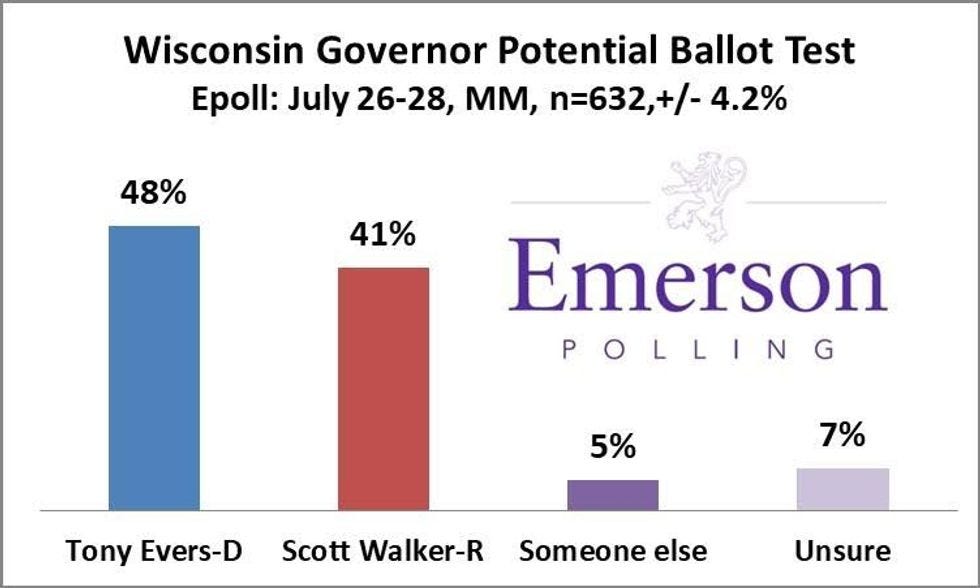 Oh, Wisconsin! We take back like half the nasty shit we said about you. If you replace Walker with Education Superintendent Tony Evers, we will all eat a block of cheddar and cheer for the Packers in your honor. Looks like Evers is holding a 5 percent lead in the polling averages so far. GO BADGERS!
And while we're up there in the midwest, looks like Democrats have a good chance to take back the statehouse in Michigan, too.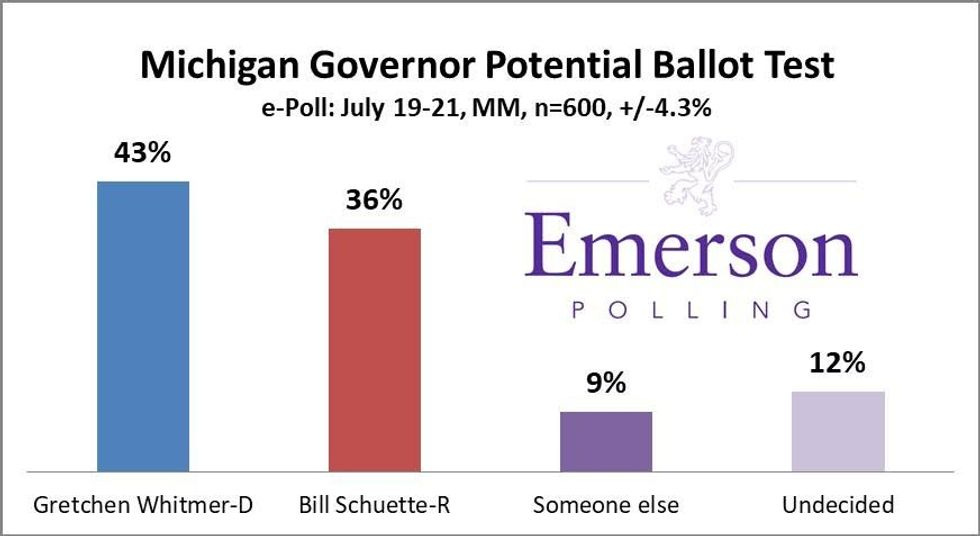 Yes, we know that Alexandria Ocasio-Cortez is stumping for Abu El-Sayed in the Democratic primary (tomorrow!). But polling shows former Michigan House Democratic leader Gretchen Whitmer is 20 points ahead. It's Whitmer who, as minority leader, pushed through the expanded Medicaid that literally kept the editrix's little brother alive when he had a ball cancer, so the editrix is hijacking this space to tell him that if El-Sayed doesn't win, THAT'S OKAY and he has to VOTE ANYWAY. For real. She's serious, JOHN.
Governors Races: Kansas and Georgia
Remember when we told you about the Republican governors begging Trump to stay out of contested primaries so the local GOP could choose the least-insane candidate for the general election? Trump promised to sit on his thumbs, so of course the governors knew they were well and truly fucked.
Whackadoodle Brian Kemp beat the GOP's preferred candidate Casey Cagle in the Georgia gubernatorial primary after Trump tweeted out his endorsement of Kemp. And now he's running neck and neck with Democrat Stacey Abrams, who would be the first African American female governor if elected.

Via RCP  
Which stands to reason, since Brain Kemp is batshit insane, and Stacey Abrams is KICKASS! Sorry, GOP, you saddle up to ride President Crazybullshit, you gonna wind up gettin' thrown!
And just this morning Donald Trump worked his magic on the Kansas Republican primary set for tomorrow. Lieutenant Governor Jeff Colyer succeeded tax-cutting loon Sam Brownback in the governorship after Trump made Brownback Ambassador of Protecting Persecuted Christians. Votefucking charlatan Kris Kobach has been mounting a challenge to Colyer, the preferred candidate of the Kansas GOP. Kobach's got more skeletons in his closet than the Bates Motel, so naturally Donald Trump loves him.
Colyer and Kobach are currently running neck-and-neck for tomorrow's primary, and polling shows Kobach significantly more vulnerable to a Democratic challenge from state Senator Laura Kelly. (And we note that polling was done before news of Kobach's Legal Defense Insurance scam came out last week.) To make it even more fun, Libertarian Greg Orman is running a strong third-party campaign.
All of which puts Yr Wonkette in the very odd position of rooting for Kris Goddamn Kobach! Thank God that will be over tomorrow!
Ohio 12th Congressional District Special Election
On January 15, Ohio Congressman Pat Tiberi left the House of Representatives todo literally anything else in the world, scrubbing toilets would be better than this hellholelead the Ohio Business Roundtable. Tomorrow's special election to fill out Tiberi's term pits state Senator Troy Balderson against Danny O'Connor, a 31-year-old unknown county recorder. Democrats should not be competitive in this race for the Columbus suburbs, where Tiberi took two-thirds of the vote in 2016, and Trump beat Clinton by 8 points. And yet ...

Via RCP  
HFS! Look, we would dearly LOVE to take this seat and will stay up until all the votes are counted. But the GOP just dumped $3.7 million into a race that will put a rep in Congress for five lousy months! So either way, we're counting this one as a W. Plus these sumbitches are shit scared, and we are here for it!
 Show me what a blue wave looks like! THIS IS WHAT A BLUE WAVE LOOKS LIKE.

Now get up in it, it's your OPEN THREAD!
 Follow your FDF on Twitter! 
  Please hit the tip jar below, or click here for a monthly donation for your Wonkette! YOU are our sugarmama, mama! (And dads.)