Discover more from Wonkette
Wonkette is filthy, hilarious, liberal news. YOU CAN HANDLE THE TRUTH!
Over 18,000 subscribers
But How Are The Wingnuts Reacting To Trump's INDICTMENT, They're Fine Right?
Man, they are going to hate the gulag.
It's possible you might have heard about this already, but Donald Trump has been indicted and is expected to turn himself in for arraignment on Tuesday. News broke late yesterday afternoon that the Manhattan grand jury had indicted Trump, although the exact charges haven't been released. Needless to say, TrumpWorld was not pleased — starting with the Great Man himself, who was so upset that he went straight to his fake Twitter knockoff to memorialize the occasion with a historic typo, proclaiming that "These Thugs and Radical Left Monsters have just INDICATED the 45th President of the United States of America, and the leading Republican Candidate, by far, for the 2024 Nomination for President."
"All-time Trump typo here, where he says the radical left has just "indicated" him"

— Ursula Perano (@Ursula Perano) 1680216230 
Trump went on to explain, as calmly as possible in all caps, that the USA is over, because how on earth could any real country accuse a former president of doing crimes, just for doing crimes?
THIS IS AN ATTACK ON OUR COUNTRY THE LIKES OF WHICH HAS NEVER BEEN SEEN BEFORE. IT IS LIKEWISE A CONTINUING ATTACK ON OUR ONCE FREE AND FAIR ELECTIONS. THE USA IS NOW A THIRD WORLD NATION, A NATION IN SERIOUS DECLINE. SO SAD!
And here we thought the US was already a third world nation when he ran for president, and when he talked about "American carnage" at his inauguration, and when he tried to strongarm the president of another country to "investigate" his likely rival, or when he incited a coup attempt. But this time for sure!
We don't generally watch the Sean Hannity Grievance and Lies Hour, so we honestly don't know if this is new, but last night's edition included a small studio audience who cheered and clapped and shouted YEAHHHH!!! every time a guest talked tough about how this atrocity would never stand and would also get Trump reelected.
Here's Leo Terrell, a radio talker guy who is a big deal with Fox audiences because he used to be a Democrat and is now a Trumper — hence the red "Leo 2.0" hat — explaining that as a civil rights attorney, he will bring a "civil rights lawsuit" against Manhattan District Attorney Alvin Bragg, for "malicious prosecution." Yr. Doktor Zoom is not a lawyer, but we don't think that's actually a thing?
"Here is the correct clip"

— Acyn (@Acyn) 1680228119 
The quick pan of the small audience is ... something: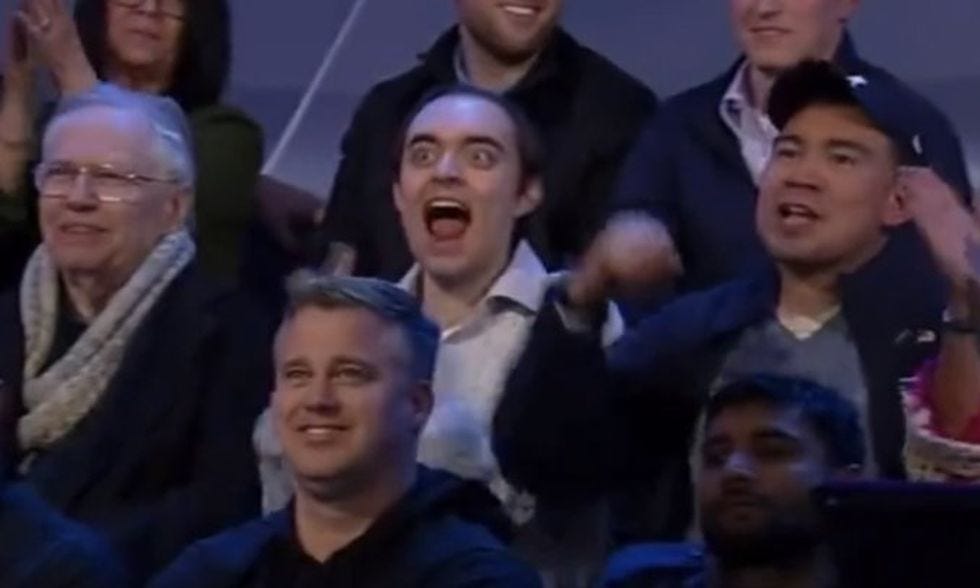 Laura Ingraham had very serous thoughts, too, explaining that now that a US court has brought criminal charges against a former president, well by golly, now we have no credibility when we accuse nations like China and Russia of human rights abuses. After all, you don't see those countries holding political leaders responsible for crimes, do you you?
"Ingraham says we won't be taken seriously when we speak out against human rights abuses in Russia or China because of Trump's indictment"

— Acyn (@Acyn) 1680228672 
Conservative-but-not-Trumpy Atlantic writer Tom Nichols speculated on Twitter that, considering the recent revelations in the Dominion lawsuit , Ingraham might have been texting to Hannity and to Tucker Carlson during the commercial break, "What a relief that Trump's indicted, but in the meantime, we better make sure the proles stay fired up."
Speaking of Tucker, his show went old school, bringing on Glenn Beck to explain that the Apocalypse is nigh and that America is about to become a police state, because already the "Bill of Rights is gone" — just like the apocalypse was right around the corner every three days during the Obama administration.
"Glenn Beck on Tucker Carlson... He says by 2025... 1. We will be at war 2. There will be a currency collapse 3. We will live in a virtual police state "The bill of rights is gone," he adds."

— Yashar Ali 🐘 یاشار (@Yashar Ali 🐘 یاشار) 1680225033 
Beck went on to say, "I know that might sound crazy to a lot of people. It's not. far. off." Nonetheless, he also predicted that his predictions of chaos might not come true after all, because this will "help Donald Trump," but he was a bit unclear on why The Hidden Powers That Run Everything would indict him, since that's actually so good for him. In fact, "they're doing this so people will strike out," Beck said. He didn't explicitly discourage striking out, but did call on people to "turn to God" and pray for peace, while they also "put on the full armor of God" for the coming tribulation.
Beck then went on to explain that They   simply don't understand that Trump is no mere man. No, he is a "symbol of the average everyday guy that keeps getting screwed every single time," who sees all sorts of injustice, but is powerless against all the elite hypocrisy. Donald Trump has suffered again and again for America, and that's why he is up there on that cross to redeem us, or to lead us on the Day of Purification. Then Beck dramatically put on a MAGA hat and said 100 million Americans will surely be willing to "walk on broken glass and through fire to vote for someone other than this corrupt, banana republic administration!" Joke's on him though, since the election will be rigged.
"Glenn Beck on Tucker Carlson... "Donald Trump is not even a person anymore. He is a symbol of the average everyday guy that keeps getting screwed. This guy has been taking the bullets for the average person for years." Tucker responds with "I think that's exactly right.""

— Yashar Ali 🐘 یاشار (@Yashar Ali 🐘 یاشار) 1680225033 
We liked the part where Tucker said, "I think that's exactly right. Wow. I'm going to be processing that for a couple days" — by which we assume, post Dominion filings, that he'll be sending an email to his staff asking why the hell they keep booking this dipshit Beck, who's been recycling exactly the same Howard Beale schtick since 2009. (Not that we can really complain ourselves, since we've been using the old Star Wars (1977) "We're all fine down here. How are you?" joke our entire time at Wonkette.)
Let's also not forget that Glenn Beck, way back in 2010, probably was the guy most responsible for mainstreaming the extremist, antisemitic conspiracy theory that George Soros is the secret "puppet master" who's behind every bad thing that might be associated with the Left. That's become one of Trump's favorite slurs against Alvin Bragg, and oh lordy were the wingnuts going all out to blame Soros — as a stand-in for The Jews — for Trump's troubles.
Florida Gov. Ron DeSantis managed to squeeze the line "Soros-backed Manhattan prosecutor" twice  into his brief Twitter vow not to extradite Trump. He wasn't alone. Media Matters pointed out that Fox guests invoked Soros 21 times in just six and a half hours last night — including a callback to Beck's "puppet master" slur. Also too, Rep. Matt Gaetz (R Florida Man) went on Ingraham's show to complain that the indictment was due to the "Sorosification" of the US justice system . Yes really:
"Matt Gaetz blames Trump indictment on "the Sorosification of the criminal justice system""

— Andrew Lawrence (@Andrew Lawrence) 1680231102 
So that's going to be interesting as we go forward.

Yr Wonkette is funded entirely by reader donations. If you can, please give $5 or $10 a month so we can keep you up to date, because George Soros has never once come through for us.
 Do your Amazon shopping through this link, because reasons .