Discover more from Wonkette
Wonkette is filthy, hilarious, liberal news. YOU CAN HANDLE THE TRUTH!
Over 18,000 subscribers
Chris Wray Says ACTUALLY Sarah Huckabee Sanders And John Kelly Are Total Fucking Liars Who Lie
Wray is all "ACTUALLY" ...
On Monday, Sarah Huckabee Sanders opened her mouth and said once the White House learned "the extent" of former White House staff secretary Rob Porter's constant wife-beating last Tuesday night, it was handled and the beater was out the door within 24 hours. She added that Donald Trump wishes everyone well, even the wife-beaters and the rapists, but not the Mexican rapists, those are stinky. (Perhaps not an exact quote.)
Last week, we were supposed to believe Chief of Staff John Kelly had NO IDEA Rob Porter was a big wife beater who beats wives until the Daily Mail reported on it, and that when he found out, he handled it decisively within 40 minutes, as opposed to 50 minutes, which would be unacceptable.
Sanders also seemed on Monday to say any problems that might have occurred in deciding whether Porter (who in his position as staff secretary saw all the classified information Trump saw) would get a full security clearance are the FBI's fault and not the White House's. Of course, an FBI official Politico spoke to says that's bullshit:
"The FBI conducts background investigations on behalf of specific agencies, but we do not grant or deny or otherwise adjudicate security clearances on behalf of these agencies, and we don't make security clearance recommendations," the official said.

Rather, the FBI conducts a background check and presents its findings to the agency at issue. "They decide whether or not to grant or deny the clearance," the official said.
Oh.
It's pretty inconvenient for the White House that FBI Director Chris Wray testified for the Senate Intelligence Committee this morning and Democratic Senator Ron Wyden asked about this very issue. Specifically, Wyden asked, "Was the FBI aware of allegations related to Rob Porter and domestic abuse, and if so, was the White House informed this could affect his security clearance? When were they informed, and who at the White House was informed?" Wray couldn't answer every single question, because #FBIReasons, but he did say this:
What I can tell you is that the FBI submitted a partial report on the investigation in question in March, and then a completed background investigation in late July, and then soon thereafter we received request for follow-up, inquiry, and we did the follow-up and provided that information in November, [and] we administratively closed the file in January. And then earlier this month, we received some additional information and we passed that on as well.
Well! So much for acting decisively within either 24 hours or 40 minutes last week! They sure didn't act decisively within 24 hours or 40 minutes LAST MARCH, when they first heard about it.
Former DOJ spox Matthew Miller makes an important point about that interim report LAST MARCH:
Like wife-beating. They were saying "HELLO, HERE IS THE WIFE-BEATING."
Former DOJ spox Matthew Miller also has a #JOKE: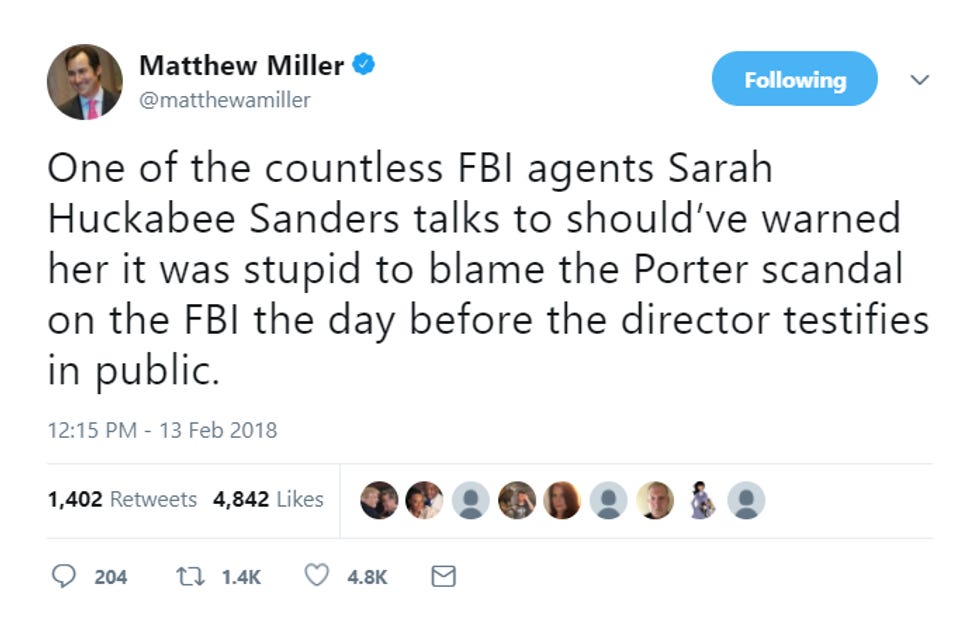 LOL! It's funny because after Trump fired James Comey in order to obstruct justice into the FBI investigation into Trump and Russia, Sarah Huckabee Sanders said she had talked to "countless" FBI agents and they were all thrilled Trump fired Comey, because they hated that big lummox SO BAD. Fuckin' FBI agents, just hitting Shuckabee up on the videophone 24/7, can't stop won't stop, you betcha, SHS is BFFs with the whole FBI 4 EVER.
Former CIA dude Ned Price brings up another important point about Wray's timeline, specifically the part where the White House asked for "follow-up" after it finished its background investigation:
 Riiiiiiiight . NO WIFE-BEATER! NO WIFE-BEATER! SEND US NEW REPORT THAT SAYS ROB PORTER IS NOT WIFE-BEATER!
Wray's testimony isn't new information, but rather confirms reporting last week from the Washington Post . White House counsel Don McGahn learned about the allegations last January . John Kelly learned about them at least as long ago as last fall. It's just that the White House REALLY REALLY REALLY wanted to keep working with the wife-beater, because he was so good as his job when he wasn't busy wife-beating.
Besides, Donald Trump just loved Sexxxxy Rob! Of course, the president did remind us last week to #NeverForget that bitches often be lyin'.
And golly, we guess Sarah Huckabee Sanders loves Old Rob too, because according to Politico, once pictures of his ex-wives with black eyes started to come out, she "hastily" put together a little off-the-record chat with Porter and a few reporters, like the New York Times 's Maggie Haberman, so he could politely explain that, you know, bitches who are his ex-wives often be lyin'.
Point is, the White House definitely handled this as soon astheythe media found out about it and there are no more wife-beaters in the White House, unless there are, but don't worry, they'll be fired as soon as the media finds out.
Until then, we're guessing Kellyanne Conway probably wouldn't mind setting them all up on dates with Hope Hicks. 
 Follow Evan Hurst on Twitter RIGHT HERE.  
 Wonkette salaries and servers are fully paid for by YOU! Please pay our salaries, so we NEVER DIE.