Discover more from Wonkette
Wonkette is filthy, hilarious, liberal news. YOU CAN HANDLE THE TRUTH!
Over 15,000 subscribers
You just wait til 2020. I'm building me some Santorum-mentum!
Welp, less than a month into his new job as a "Senior Political Commentator" on CNN, and failed Senator and twice-failed presidential candidate Rick Santorum is already saying exactly the sort of incomprehensibly dumb things we came to love/loathe (loathve?) him for when he was a practicing politician. Good luck overcoming your legacy as the guy whose name is still most widely associated with anold-timey internet prank by Dan Savage, Mr. Santorum! With performances like these, you aren't likely to break free of the adjective "frothy" any time soon. First off, there's this peculiar bit of logic from Wednesday, when Santorum explained it's really perfectly OK that Donald Trump lies about murder rates in America, because Trump feels really emotional about crime.
While speaking to a bunch of sheriffs Tuesday, Trump insisted America's murder rate is "the highest it's been in 47 years." Which isn't even remotely true -- it wasn't true when Trump said it, and it wasn't true when Kellyanne Conway refused to give Jake Tapper a straight answer about it the next day. In mere reality, murder rates are down precipitously since the 1990s: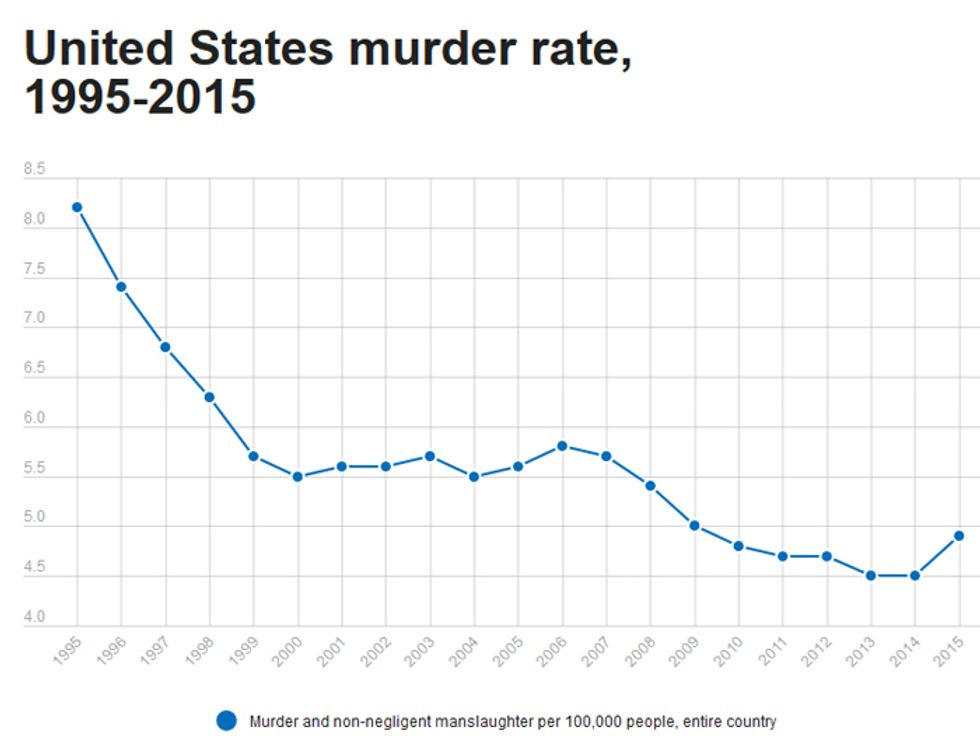 So does it matter that the president of the United States can't master a fairly simple fact like that (and then complained that the media isn't covering it)? Heck no, Santorum cheerfully explained to Poppy Harlow, because everyone surely agrees that crime is a bad thing, right?
Sure, sure, crime may be down -- thanks mostly to Rudy Giuliani, Santorum burbled. "But you can't ignore the horrible violence that we're seeing in our major cities." So maybe it's not record crime. But it still exists, right? Harlow asked if maybe Trump was somehow doing "a disservice to the American people" -- and to the cause of fighting crime -- by stating something that's "just absolutely not true" as if it were a fact. Not really that big a problem, Santorum explained with a chuckle and a shake of his head, because, boy, you know how it is with Trump and "facts":
I'm not going to defend Donald Trump's recitation of the facts on a lot of things. I think Trump speaks more from emotional and how he's feeling about certain things than he does necessarily being bound by all the facts.
Well, isn't that a problem, maybe, when the president of the freaking United States reels off made-up crime statistics to law enforcement officers? (Not Harlow's exact question, but kind of the point.) Oh, heavens, he does have his moments, Santorum admits, but is accuracy really all that important when we're talking about saving American Lives from all the criming?
That's one of his characteristics. It's not a strong one, it's not one that helps him in the debate. But I think his point [is] that we're seeing a lot of violence and we're seeing cities out of control, and you look at a city like Chicago and you see violence markedly up [...] I think that's what he's referring to.
Well put, Mr. Frothy! It doesn't matter what reality may be, but it feels like murder is way up, because Donald Trump keeps saying murder is at record highs, so who are we to question it? Are you trying to say murder is GOOD, CNN lady? Are you OK with all the murders?
On Thursday, Santorum defended Trump's Twitter silence about the January 29 murders of six worshipers at a mosque in Quebec, explaining that the president isn't obliged to mention crimes that don't fit his narrative. You know, just like that Barack Obama fellow:
It should not be a shock to anybody that presidents -- anybody -- is not gonna tweet out things that don't necessarily fit with the narrative that the administration is trying to put forward. The previous president -- when there were attacks by anybody who shot someone black, the president would be out there with some sort of statement to talk about it. If it was the reverse, you never heard anything. So there is a narrative that the White House tries to drive on issues that they care about.
How true this is! Remember when Barack Obama never said a word about the Sandy Hook massacre, because none of the 26 victims were black? And how he didn't say anything about the Tucson Massacre, since there were no black victims there, either? If only he'd mentioned them, even once. America would not be so divided. Or Rick Santorum's brain might work right or something.
Jim Sciutto tried to point out that Obama had certainly said plenty about Sandy Hook, but Santorum dismissed that example, since it was only a mass school shooting, and that's not what he was talking about anyway:
You know as well as I do, Jim, when there was white-on-black crime, the president was all over it, and when it was a black-on-white crime, that was simply not the case, and so this is not something new.
Santorum went on to explain that since President Trump is really worried about all the Radical Islamic Terror out there, he really can't be expected to mention some incident where a white supremacist shoots a bunch of Muslims, now can he? You have to pick and choose the human lives you care about, and it's certainly not Donald Trump's fault that Barack Obama set such a poor example for future presidents to follow.
Rick Santorum may actually defy the laws of physics. After all these years of spewing complete bullshit, he's still miraculously full of the stuff. Modern science should definitely investigate this phenomenon.
[ Politifact / RawStory / Mediaite / John Harwood on Twitter]