Discover more from Wonkette
Wonkette is filthy, hilarious, liberal news. YOU CAN HANDLE THE TRUTH!
Over 18,000 subscribers
It Was Never 'Litterboxes,' Colorado GOP Gov Nom Lady Just Mad Little Kids Wearing Cat Ears, See!
Yeah naw, she was absolutely trying to make 'litterboxes' happen.
Tuesday, Evan let you know about Heidi Ganahl, a very smart lady who is the actual Republican nominee for Colorado governor, seeking to replace Democratic Gov. Jared Polis. Ms. Ganahl is genuinely concerned about all the transgender people taking over everywhere, and also believes that there are many many children in Colorado schools who "identify as cats" and have been indulged by schools, where teachers and administrators just let them go around in cat costumes all day. It's a variant of that weird claim earlier this year by a Nebraska state senator who saidschools are even providing these cat-children with large litter boxes that they use instead of restrooms for their pooping and peeing needs. He later acknowledged that was not the case.
Now, the rest of America knows this is a crazy rumor that has been debunked again and again, as if you actually needed to "debunk" something that's so prima facie insane. But Ganahl is not backing down from her insistence that schools are allowing such "woke ideology, ideological stuff" in the schools, because isn't it obvious that liberals who think trans people have rights would also indulge children who demand to be treated as household pets? See, the point here is that liberals are just that gullible, mmm-hmm.
No Litter Boxes, But Kids Are Definitely Identifying As Animals
We should probably note here that the Denver Post, in a story Tuesday checking whether schools had problems with kids "identifying as cats," clarified that while Ganahl is dead certain that children are being encouraged in their belief they're cats, "Ganahl has not claimed that Colorado schools are employing litter boxes," which does at least take away the most obviously catshit insane element of the still-fake rumor. Hilariously, the schoolsalso universally denied that any students were being provided with litter boxes.
But Ganahl also issued a statement to the Post saying that schools are allowing kids to come to school in cat costumes on the regular, and parents are sick of it .
"As a candidate for governor, but more than anything as a parent, my concern is that distractions like children dressing up in costumes at school detract from the reality that 60% of our kids are not performing at grade level," she said. "It's tragic that we are failing our children. We need to make them our priority."
Why, why will no one stand up for the children and make them take their cat ears off?
So this is where we will immediately call bullshit. Nobody is mad little kids wear cat ears, and if they were it wouldn't rise to a state-level crisis; Ganahl was absolutely trying to promote the "litterboxes" delusion, because that's what rabid rightwingers absolutely believe lately. If she managed to steer clear of saying litterboxes, she was certainly flicking all around it with a nifty laser pointer.
The Indisputable Proof, Which You Can't See
Wednesday, Ganahl appeared on a rightwing Denver radio talk show to discuss all the evidence she has of these very real kids who identify as cats, as well as the crazy liberal educators who encourage such delusions. After some chat with host George Brauchler about her desire to cut taxes and give more money to the police, Ganahl explained that the cat thing is absolutely true, explaining she's received "hundreds of emails" from parents who are outraged about "kids dressing up in costumes" at school, which — even without the litter boxes! — is apparently a major reason kids aren't learning, and also wokeism is taking over.
She said she has proof, too, and will share it with the media! (we haven't seen this proof, sorry). Transcript, via Colorado Pols:  
GANAHL: So, we provided a list of 30 schools [in which] parents and students have told us this is happening. We've provided pictures, but we've blurred out the faces. We do not want kids and parents doxxed. That's why I'm taking the heat, because the media will go after them. Three parents give their names and speak up in Matt Connelly's Campfire articles — he already put that out.

And, honestly, it's crazy that they're trying to say it's not happening. And parents and students are reaching out nonstop right now. We're going to keep telling them to send their comments to the media. The media won't cover it. They don't want to. They want to distract from the nonsense that's happening in the classrooms that's keeping kids from learning how to read, write, and do math.
Those photos don't appear to have surfaced in the media, however, and Denver reporter Kyle Clark — who earlier this year revealed another GOP candidate was a massive bigot — pointed out on Twitter that it's not at all clear "how the Ganahl campaign is confirming that the individual children in the photos they are distributing identify as animals (as opposed to simply dressing up in cat ears or other type of animal costumes)."
Teens Told Their Parents It's Absolutely True!
We also checked the "Campfire" article Ganahl mentioned, which does indeed include comments from people claiming there's a huge furry problem in Colorado schools — at least, second-hand stories from two parents whose kids told them kids are in high school classes all the time "leading other kids around on leashes and students that growl, howl and hiss at each other," and also ""Yeah, it's happening. Ears, tails, spiked dog collars, and leashes!"

Lindsay Datko, head of a Jefferson County group calling itself "Jeffco Kids First," said in a statement that
"secondary students across Jeffco refer to peers dressed in animal accessories as furries. These student furries often hiss, bark, spit, chase, and claw at students in hallways, bathrooms, and classrooms. Sometimes they are attached to leashes."
Proof? Well, all the parents say it's happening, or their kids said so, so obviously a huge issue. Datko added that indulging all this "self-expression" has resulted in "bullying and intense academic distraction," so schools need to impose some boundaries — which, you know, they also need to do with those horrible trans kids, which of course is what these people are really mad about. The alleged cat children are simply a fuzzy plush proxy for people who won't conform to gender roles, damn it.
On Twitter, Clark added that when his station asked last week for proof of all these kids in animal costumes in classrooms, "a Ganahl spokeswoman provided a screenshot of a photo of someone in a furry costume which appeared to be from a conservative parents FB group." Here's your "proof" — a random photo of a furry from the internet.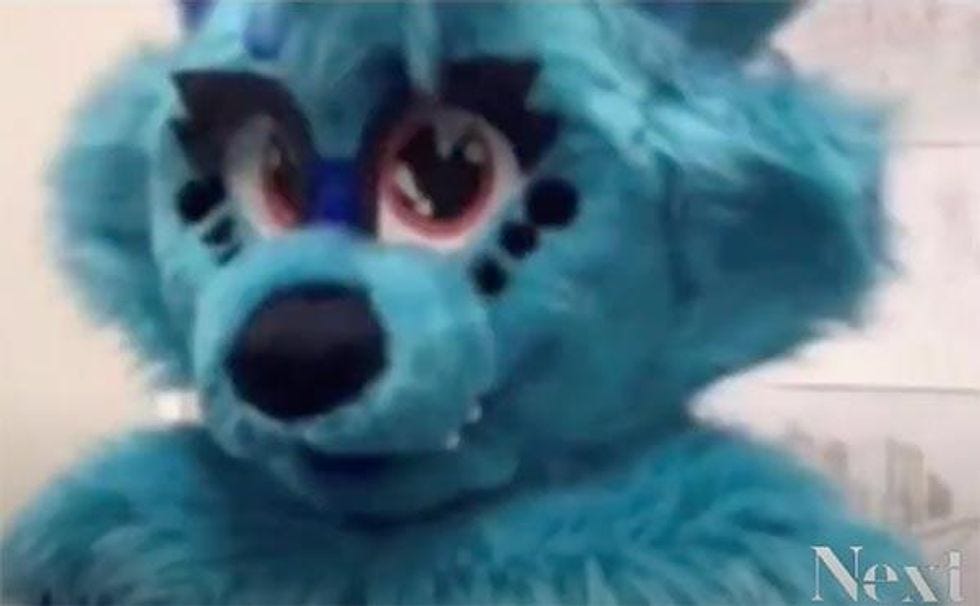 That is definite proof that there's a vast problem in the schools, which apparently stopped teaching critical thinking whenever Ganahl and her allies were in school.
Serious Investigative Journalism
As we say, the Denver Post ran a story Tuesday in which multiple Colorado school districts explained that no, they had not in fact had any issues with students "identifying as cats or other animals," in response to that list of 30 schools Ganahl has been circulating — which offered only the vaguest of claims; one school in Douglas County, the list claimed had had to "ban dog collars," but a spokesperson said that was not true.

Callie Berkson, a spokesperson for Mesa County Valley School District in Grand Junction, helpfully explained that some kids like to wear headbands with cat ears on them, is that what you were talking about? She said that the cat-ear headbands might be
"indicative of a trend which has commonly been referred to as 'furries.'" But she said it has been present in schools, and in Colorado, for years and is not an issue in the district.
Well shoot, no kids "identifying as cats" there — she says . And not even any hissing!
Asked about the Denver Post story, Ganahl told Brauchler simply that "the school districts are not being truthful," and that she has "provided evidence, over and over again," and also the real problem is that the media doesn't want to talk about how the schools are failing utterly, because they keep focusing on this furry thing — that Ganahl brought up in the first place. 
Again, this is all a really stupid proxy for the war on transgender kids anyway and Heidi Ganahl will not be elected, so the hell with it.
Hey, I just remembered that time in high school where I bought a sample sized box of dry cat food for a quarter and munched on the kibble for the sake of grossing out my friends. I must have been one of those mixed up kids Ganahl is so worried about! I never even thought to demand a litter box, though. Missed my chance to be a trendsetter.
[ Denver Post / Reuters / Colorado Pols / Image before photoshoop:  Pasco County Schools, Creative Commons license 2.0 ]

Yr Wonkette is funded entirely by reader donations. If you can, please give $5 or $10 a month to help us keep you up to date on the latest threats to life as we know it, and what fursuit it might be wearing.
 Do your Amazon shopping through this link, because reasons .