Discover more from Wonkette
Wonkette is filthy, hilarious, liberal news. YOU CAN HANDLE THE TRUTH!
Over 15,000 subscribers
That Creep Who Keeps Running Against Maxine Waters Arrested For Stalking :/
When you've lost the Gateway Pundit...
Omar Navarro, the minor (but aren't they all?) Trumpworld celebrity who made a name for himself by running for Congress against Maxine Waters, was arrested in the wee hours Sunday and charged with multiple felonies after he was seen lurking outside the San Francisco apartment building where his former girlfriend lives. Navarro was charged with three felonies (stalking, criminal threats, and attempted extortion) and a misdemeanor charge for violating a protective order against him. Navarro's target, DeAnna Lorraine Tesoriero, had applied for the five-year protective order earlier this year after months of harassment and death threats -- including some threats that allegedly came from a phone number connected to yet another TrumpWorld hanger-on, Jacob Wohl. Thankfully, that's the last of Wohl you'll hear in this story, so count your blessings, you.
Tesoriero told the Daily Beast that after she spotted Navarro creeping around outside,
she then received a text from an unknown number with the message, "Bitch, I came to see you."

"Clearly, he has a lot of screws loose," Tesoriero told The Daily Beast. "I think a lot of this power has gotten into his head. He has a lot of money now from campaign donations."
She also said Navarro had "offered her money to marry him, t  hreatened to leak her relatives' addresses to left-wing antifascist "antifa" activists, and even threatened her pets, telling her he "would have stolen my cats."
Tesoriero told the right-leaning  California Globe  of other efforts Navarro had made to patch up their relationship:
Navarro  threatened to pay $25,000 to have me killed if I don't get back together with him, sleep with him or at the very least drop the civil court restraining order against him.
She also said that even after Navarro was released on $75,000 bail Sunday afternoon, she continued to receive harassing texts, which she reported to police Monday:
"He is still threatening me. The latest texts are that he and his team will apparently be posting some damaging videos of me," said Lorraine. The police, however, cannot arrest Navarro again, said Lorraine. "Unfortunately, because he posted bail yesterday, the police said they are unable to arrest him unless he is physically in front of me. [...]

"I feel very unsafe with him being on the loose right now, even more angry and retaliatory."
For his part, Navarro is being exactly the kind of Serious Conservative Gentleman you'd expect:

Navarro denied Tesoriero's allegations and the charges against him, although he acknowledged to The Daily Beast that he was near Tesoriero's apartment on Saturday night.

"Men in this country get treated unjustly, too, you have to acknowledge that," Navarro said. "Just because a woman says something doesn't mean it's true."
Isn't he a peach? Also, Navarro insisted that the real offense here was Tesoriero tattling on him, because when one Republican criticizes another, that makes Ronald Reagan sad: "Obviously she's not honoring the 11th Commandment from Ronald Reagan."
It's worth noting that Ms. Tesoriero is herself trying to make it big on the right as a "MAGA relationship advice" maven (there's a niche for everything) and by launching a Very Serious Political Campaign against Nancy Pelosi. For the campaign, she's dropped her scary foreign-sounding last name and is running as "Deanna Lorraine." Her campaign homepage is pretty subtle about her rightwing leanings, and her platform hits all the Fox News points: guns, WALL, and the need to make sure children are raised by "loving parents in the home -- not by Planned Parenthood or radical Leftist 'teachers.'"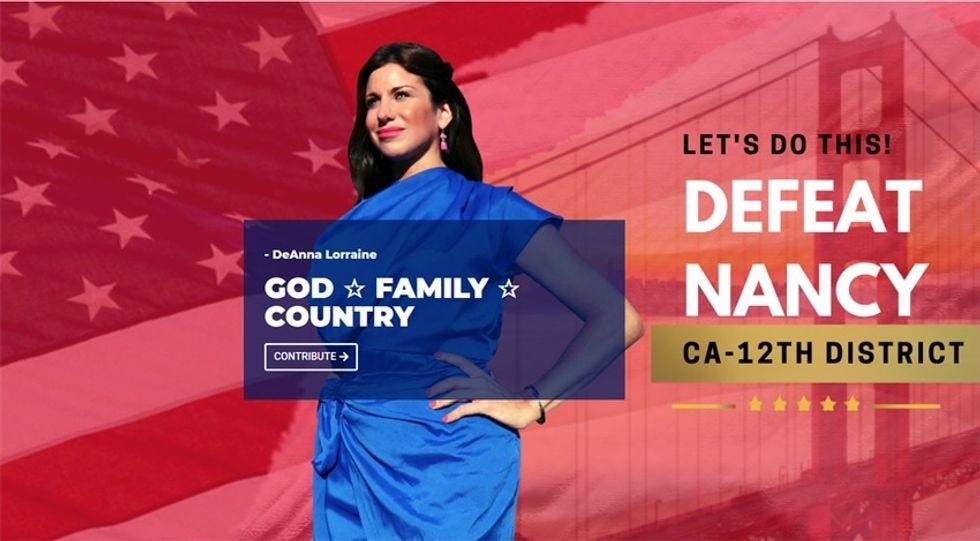 Even if Navarro and Tesoriero are both MAGA chud wingnuts, nobody should ever have to put up with the kind of behavior Navarro is accused of. And it's even a little encouraging that point is starting to become clear to some in the wingnuttosphere. The loons at Gateway Pundit even urged MAGA people to drop Navarro as damaged goods -- if only for political expediency, mind you. How's this for a strong condemnation of his stalking and threats, huh?
The MAGA and America First movement is constantly under attack from the media and deranged Democrats. The last thing we need is behavior like this from our candidates. Mainstream media outlets will surely use this to smear President Trump and the movement as a whole. Several conservatives supported Omar Navarro, but this latest news demonstrates that he is no longer an effective messenger for the GOP or President Trump.
We like the part where they say nothing to actually condemn his alleged behavior, but yeah, shame on the liberal media for suggesting that misogyny is a thing on the far right. Or that Trumpers cynically treat everything as a transaction.
The comments, of course, include a lot of speculation that it's all a Deep State/Liberal Media hit job, or that Tesoriero is obviously a Democrat plant, so Navarro should be able to count on continued support from folks convinced that all women lie. Saturday, a few hours before he was arrested, Navarro's next run against Maxine Waters hit a probably minor snag when the LA Republican Party endorsed another candidate, Joe Collins, to run against Waters, who has beaten Navarro by 50 points twice    now.
Not that losing, criminal charges, and general disgrace ever dissuaded a rightwing true believer. There's still campaign money to be grifted, and Fox News to appear on, so Navarro will get by, the poor lad.
 [Daily Beast / California Globe / Gateway Pundit ]
Yr Wonkette is supported solely by reader donations. Please send us money to keep the servers humming, the writers paid, and to get Dok some eyeball bleach to wash off the Gateway Pundit that got on him while writing this story.