Discover more from Wonkette
Wonkette is filthy, hilarious, liberal news. YOU CAN HANDLE THE TRUTH!
Over 18,000 subscribers
Daily Mail Called Melania A Hooker, And Now She Can't Sell Us First Lady Fragrances! Lawsuit!
Melania Trump is SUING. She is suing the Daily Mail for $150 million, because of an article they wrote that she believes suggested that she was maybe a hooker at one point.
Now! If Melania did not work for an escort agency, and the Daily Mail asserted that she did while knowing it was false, for malicious purposes, to hurt her reputation, then yes! She can and should sue! Because that's bad and you're not supposed to do that. #JOURNALISM.
That's the standard established in New York Times, Co. v. Sullivan. It is a fair standard and a good one, which protects free speech about public figures while discouraging outright lies and defamation.
But that is not quite what happened in this situation. Rather, the Daily Mail reported that some books alleging that Melania's former modeling agency was also an escort agency happened to exist . Stating the existence of a thing does not in any way mean that you are suggesting that thing is true.
However -- that is not the news here today! The real news-time-funsies is that, in the lawsuit, Melania's lawyers allege that the article has caused her to lose her chance to establish "multimillion dollar business relationships" during the time when she would be "the most photographed woman in the world."
The lawsuit suggests that Melania had plans to profit off the "once in a lifetime opportunity" of being First Lady, in order to sell even more of her crap on the Home Shopping Network. Which somehow still exists, despite the internet also existing.
"These product categories would have included, among other things, apparel accessories, shoes, jewelry, cosmetics, hair care, skin care and fragrance."
Now! Let's be honest here, Melania. I don't think there is a single person out there who has thought to themselves "Oh gee! You know, I would totally buy "Totally Classy Just Like How Jackie O Was Classy, OK? By Melania," if only I had not read that article in the Daily Mail about how some books reported that she was maybe an escort at one time." I do not believe that is a thing, nor would any reasonable person. I'm gonna say that if anyone is impeding the public's thirst for Melania Trump products, it is her husband. Also possibly her, as she is also terrible.
There's really no way to prove that the article made it harder for Melania to sell anything to anybody, nor any way to prove that there are people who would have bought her wares if the article had never come out. I don't even remember that article coming out, frankly, and I still was not going to buy any of her crap. I mean, I'm sorry, but this costume ring is not cute.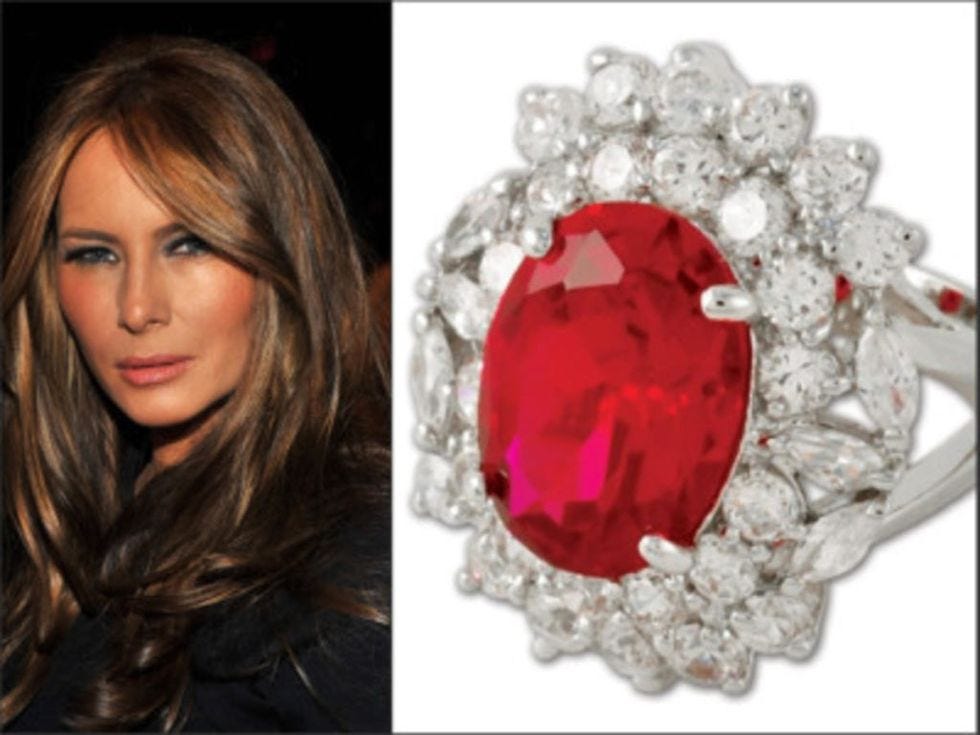 And neither is literally anything that her husband does. If she's suing anyone, it should be her own husband. Also the people who design her jewelry.
I was also not going to buy Ivanka Trump's crap -- and didn't before this, either, because oh man, I have seen that shit in Marshall's and it is tacky as hell. 
The other issue here is that the lawsuit makes it pretty obvious that the Trump family has no qualms about profiting off the presidency. I'm not saying Melania can't have a job, but to explicitly state that an article made it more difficult for her to profit off of a thing that she shouldn't be profiting from in the first place? That is a little sketchy!
Especially when you consider the fact that we, the taxpayers, are also paying for Eric Trump's hotel stays during his business trips. And that Donald Trump has not actually divested from his business interests. The Trump plan, it seems, is to roll around in sweet, sweet, emoluments for the next four years.
The lawsuit also states that the article "impugned her fitness to perform her duties as First Lady of the United States." Which is weird, because she doesn't appear to be planning on doing any of that anyway, given the fact that instead of moving to the White House, she's staying in Trump Tower until Barron finishes school and costing NYC taxpayers a million dollars a day to do so, and she still hasn't hired a staff.
But hey! We'll see how this turns out. There may end up being a Daily Mail sponsored QVC hour for Melania yet!
[ Washington Post ]