Discover more from Wonkette
Wonkette is filthy, hilarious, liberal news. YOU CAN HANDLE THE TRUTH!
Over 15,000 subscribers
Dear Military: Please Stop Sexually Assaulting Ladies At Legal Conferences On Sexual Assault, And Everywhere Else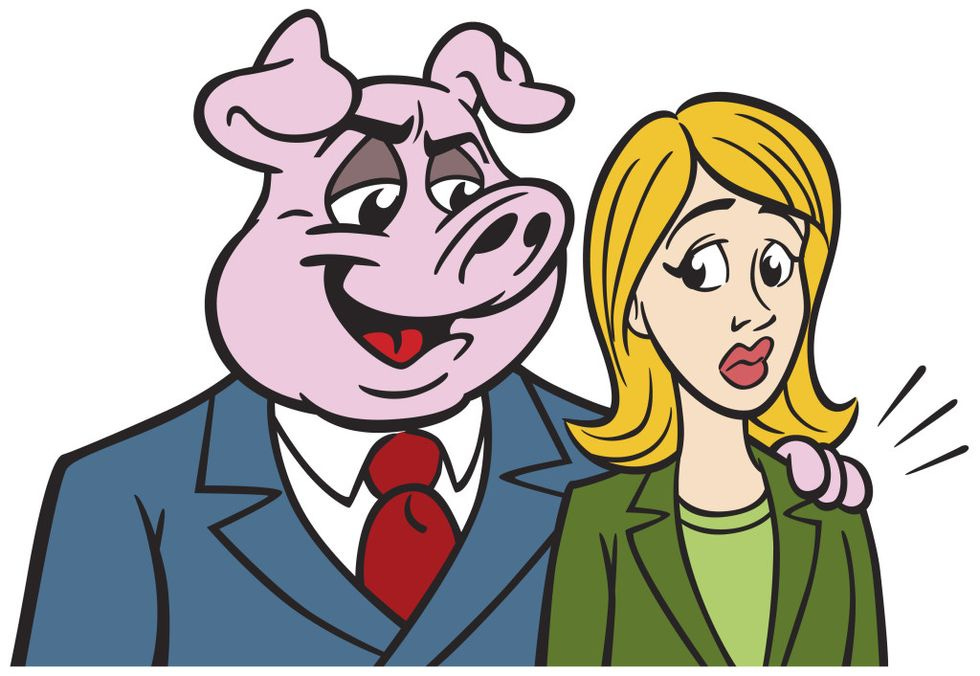 So we want to applaud folks like Senator Kirsten Gillibrand (D-NY) who are fighting the good fight to stop all the sexual assaulting in our military. What's the big deal, though? Can chicks just not handle a little afternoon raping? Don't they know that boys will be boys, and that boobs wouldn't be groped if God had not made boobs so perky and grope-able? Totally the Big Guy's fault.
Well, at least the military is having more training about sexual assault, and it's not like the Army top sexual assault prosecutor would go to a training on sexual assault and grope a lady, because that would be ALL THE FUCKED UP, KATIE. Per Stars and Stripes:  
The top Army prosecutor for sexual assault cases has been suspended after a lawyer who worked for him recently reported he'd groped her and tried to kiss her at a sexual-assault legal conference more than two years ago.
For serious, Army? Of all the people you have to choose from to deal with this issue, how come you can't find someone who will at least wait until the sexual assault legal conference is over before sexually assaulting a woman? Allegedly.
What exactly happened?
Sources told Stars and Stripes that the female Army lawyer alleged that Morse attempted to kiss and grope her against her will. The alleged assault reportedly took place in a hotel room at a 2011 sexual assault legal conference attended by special victims prosecutors in Alexandria, Va.
Well, since this happened almost 3 years ago, surely charges have been filed and this is moving along quickly, because these are relatively serious allegations against a relatively high-ranking Army guy.
To date, no charges have been filed in the case.
Oh for fuck's sake. Well, justice delayed isjustice deniedpar for the course because why not take your cues from the Catholic Church when it comes to issues of sexual assault, because it worked so well for them. At least there is this:
"We can confirm that this matter is currently under investigation and that the individual in question has been suspended from duties pending the outcome of the investigation," the official said. "Given that this is still an open case, we are precluded from providing any additional information at this point."
We know -- this guy is innocent until proven gropey. But COME THE FUCK ON! Accused of sexually assaulting someone at a sexual assault legal conference?!?! Let's hope ghost-Audrey Hepburn never gets in his back seat.
Seriously, how many 'top sexual assault' folks in the military are going to be suspendedor firedbecause they are literally assaulting fellow soldiers?
Last year we saw two separate army sexual assault prevention officers accused of being sexual assault nonpreventers. And not to be outdone, some Marines decided to threaten a Congresslady and accuse female marines of sleeping their way to the top.
Maybe the military can save time and just investigate all the sexual assault and rape prevention officers BEFORE giving them the job of preventing these types of things?
Will Georgia Senator and priggish super-prick Saxby Chambliss run to defend Our Boys once again, claiming that "the hormone level created by nature sets in place the possibility for these types of things to occur"?
Probably not. But the Senate is set to vote on a couple of military sexual assault bills TODAY. Let's hope that the Senate moves this forward. Then again, the House will likely not do a damn thing unless they're allowed to attach a rider starting a war with Syria.
[ Stars and Stripes / The Hill ]
 Follow DDM on Twitter ( @Wonksplainer ), because he would do anything for love, but he won't do that.