Discover more from Wonkette
Wonkette is filthy, hilarious, liberal news. YOU CAN HANDLE THE TRUTH!
Over 15,000 subscribers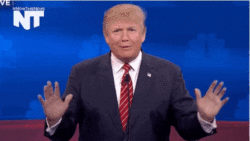 YE GODS! The vaunted Trump Organization has dropped from 3rd place to 40th in Crain's list of privately held companies in New York. Do Real Muricans not flock to Trump hotels when they visit the sodomites in the Big Apple? Does no one want President Pussgrab as their landlord any more?
The average price per square foot for a Trump Tower apartment has fallen by 23% since 2015, according to The Wall Street Journal, while prices have held steady at other Midtown towers, excluding new developments. At the Trump International Hotel and Tower on Central Park West, the average price per square foot is down 24%.
Apparently not. But could there be some other reason for the Trump Organization's precipitous decline?
Last year's $9.5 billion in revenue reported by the organization looks preposterous in light of federal filings made by the president in the past year. Those indicate the Trump Organization generates between $600 million and $700 million in annual revenue.
Ohhhhhhh. So the Crain's braintrust just took the Trumpsters at their word every other year, and they inflated earnings by 1,400%? Fetch me my smelling salts! 
Did we not just write the exact same story about Commerce Secretary Wilbur Ross lying about his wealth to get himself onto the Forbes 400 list for the past decade, only to get caught when he had to fill out government financial disclosures? WE DID. Golly, if we didn't know better, we'd say that this administration is packed with charlatans and scammers who lie like breathing and couldn't survive an audit by a first-year accounting student.
The company protests that it has plans, THE BEST PLANS in fact, to Make Trump Org Great Again.
The Trump Organization's hotel division in January announced plans for the company's first New York project since Trump SoHo started rising in 2006. The firm said it had signed a letter of intent with an unidentified party to develop a new Scion hotel here—a less upscale brand than typical Trump hotels.
Oh, a letter! Well! Of course this letter, which totally actually really exists, was "signed" in January. Since then there's been no further action, and a Trump Hotels spokesperson told Crain's, "I don't believe New York is currently a priority for those brands."
Wait, the Trump SoHo? You mean those fake condos that almost got DJ and Ivanka indicted until their lawyer wrote a fat check to District Attorney Cyrus Vance? That place is in receivership, since they never sold more than a third of the units.
It's almost like Trump isn't a real estate developer at all! WHAT IF his actual business is money laundering for corrupt oligarchs, and he had to take it overseas once America passed Know Your Customer banking laws after 9/11???
That might explain Azerbaijan . And Georgia . And Panama . And if you're not convinced, check out this Slate's Trumpcast pod .
But now poor Donald can't even launder money, what with all those nosy reporters up in his grill. Which probably explains his all-KFC diet and suits from Men's Wearhouse. Guess Melania will just have to get used to buying her stilettos at Steinmart. Maybe this tax scam won't benefit him after all!
WHOA IF TRUE!
[ Crain's / Slate's Trumpcast ]
 Please send money! Covering the Trump administration is killing us dead!