Discover more from Wonkette
Wonkette is filthy, hilarious, liberal news. YOU CAN HANDLE THE TRUTH!
Over 15,000 subscribers
E Jean Carroll Is Not F*cking Around
What makes this Trump-rape-denial-defamation suit different from all other Trump-rape-denial-defamation suits? LAWSPLAINER.
In June, writer E. Jean Carroll went public with her story of being raped by Donald Trump in a department store dressing room in the mid-1990s. Trump, being Trump, responded with personal attacks about Carroll's character and looks. Now, Carroll is suing Trump for defamation and WE ARE HERE FOR IT!

Trump's response to Carroll coming forward with her story was typical, disgusting, and unacceptable. He insulted her appearance, called her a liar, and attacked her credibility. And he very well may have also defamed her in the process.
Of course, this is far from the first time Trump has lied and defamed the reputation of a woman who accused him of sexual abuse. As the complaint notes:
These lies were familiar to Trump. He had used them before, when other women stated that he had grabbed, groped, or raped them.
In response to Carroll's suit, White House Press Secretary Stephanie Grisham basically asked to be added as a defendant herself, saying :
I guess since the book did not make any money she's trying to get paid another way. The story she used to try and sell her trash book never happened, period. Her version of events is not even feasible if you've ever tried on clothing in a dressing room of a crowded department store. The lawsuit is frivolous and the story is a fraud — just like the author.
Here are the facts
E. Jean Carroll is a well-known advice columnist and journalist. Her column, Ask E. Jean in Ellemagazine, is the longest active advice column in the United States, according to the complaint [about which Miss Manners and the Dear Abby/Ann Landers cabal might have a thing or five to SLAP -- Editrix]. Last summer, she published her account of being raped by Trump .
In response to Carroll's allegations, Trump reverted to his default setting -- lie, lie, lie . Although the memoir and excerpt published by New York Magazine both contained a photo of Carroll with Trump in 1987, Trump said in response that he had never met Carroll. Trump accused Carroll of lying to sell books and asked for the public to provide information that Carroll was working with the Democratic Party. His official statement ended with a veiled threat, saying "people should pay dearly for such false accusations."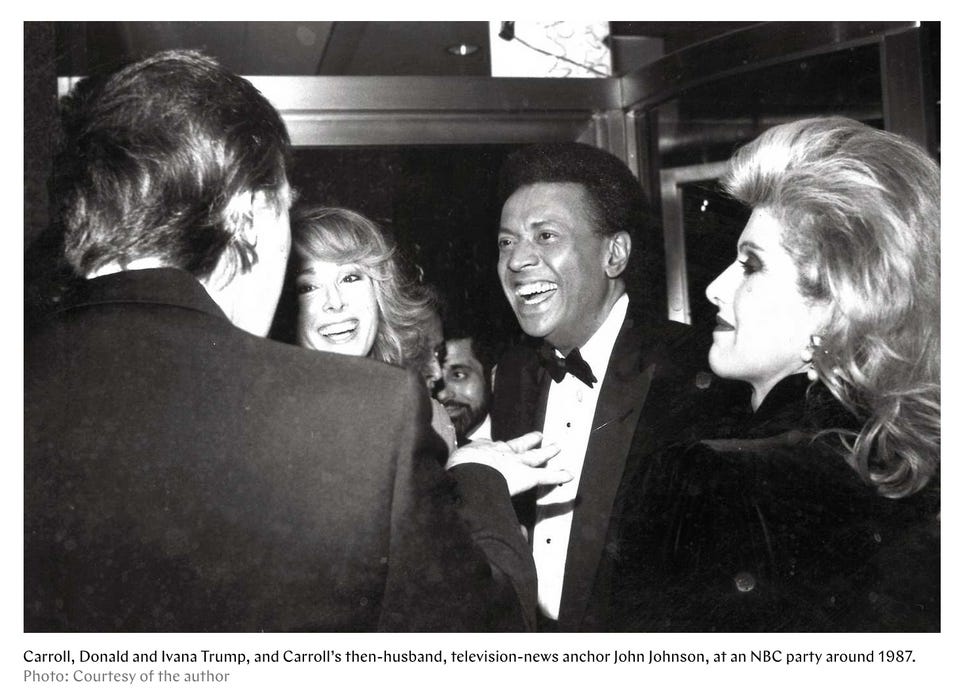 Trump also felt the need to say Carroll was "not [his] type," which is disgusting on several levels.
I'll say it with great respect: Number one, she's not my type. Number two, it never happened. It never happened, okay?
If there's a grosser response to being accused of rape than to attack the victim's looks, we don't know what it is. (Also, she is clearly very much his type, being practically a Hollywood body double for any number of his wives.) 
As the suit describes,
When Carroll's account was published, Trump lashed out with a series of false and defamatory statements. He denied the rape, But there was more: he also denied ever having met Carroll or even knowing who she was. Through express statements and deliberate implications, he accused Carroll of lying about the rape in order to increase book sales, carry out a political agenda, advance a conspiracy with the Democratic Party, and make money. He also deliberately implied that she had falsely accused other men of rape. For good measure, he insulted her physical appearance. [...]

Trump knew that these statements were false; at a bare minimum, he acted with reckless disregard for their truth or falsity. Trump had recognized Carroll on sight at Bergdorf Goodman. He knew who she was when he raped her, and he knew who she was in 2019. He certainly knew that she was telling the truth. After he lied about attacking her, he surrounded that central lie with a swarm of related lies in an effort to explain why she would invent an accusation of rape. To do so, he smeared her integrity, honesty, and dignity -- all in the national press.
The suit, filed Monday in New York County, accuses Trump of defaming Carroll with attacks on her character, hurting her professionally and damaging her reputation as a writer.
The complaint starts off strong, saying:

Nobody in this nation is above the law. Nobody is entitled to conceal acts of sexual assault behind a wall of defamatory falsehoods and deflections. The rape of a woman is a violent crime; compounding that crime with acts of malicious libel is abhorrent. Yet that is what Defendant Donald J. Trump did to Plaintiff E. Jean Carroll.
The complaint recounts the rape that Carroll described in detail for the world in her book. She ran into Trump at Bergdorf Goodman on Fifth Avenue. The two chatted. Carroll agreed to help Trump shop for a gift for "a girl." Trump said he wanted to buy lingerie and grabbed a see-through bodysuit. The two joked about which one of them should try it on. Then Trump led Carroll into the fitting room, where he immediately attacked her, pushing her against the wall. Trump pulled down Carroll's tights and forced himself inside of her. Then she escaped and ran out of the store. The entire attack lasted two to three minutes. Just after the rape, Carroll told friends about what had happened.
On the advice of one of the friends she confided in, Carroll decided to keep the rape to herself. "She knew how brutal and dangerous Trump could be." And she also understood the no-win situation she was in -- a situation that far too many women know all too well.
Carroll knew then that sexual assault was pervasive. She also knew that men have been assaulting women and getting away with it since before she was born. And she knew that while a woman who accused any man of rape was rarely believed, a woman who accused a rich, famous, violent man of rape would probably lose everything. She therefore reasonably concluded that if she accused Donald Trump of rape he would bury her in threats and lawsuits, and she would probably lose her reputation, not to mention everything she had worked for and achieved.
Carroll well knew the sad truth, that sexual assault survivors who come forward are attacked, mocked, and not believed.
Carroll was also afraid of being dragged through the mud if she reported the rape. She was convinced that nobody would believe her if she came forward. And like so many other survivors of sexual assault, Carroll also blamed herself. She called herself "stupid." she told herself that she "deserved it" for agreeing to go lingerie shopping with Trump. She struggled with guilt that, somehow, though she had fought to protect herself form his attack, it was her fault that Trump had raped her because she had entered that Bergdorf dressing room.
Like many survivors, Carroll chose to remain silent about her rape.
Carroll did not mention the rape again for over twenty years. She did not want to be seen -- or to see herself -- as a victim of sexual assault.
But she was. And Carroll hasn't had sex with anyone since the day Trump raped her.
Carroll describes her decision not to come forward prior to the 2016 election. Her mother was dying of cancer and she didn't want to ruin her mother's last days on the planet.
The complaint also notes Carroll's very real fear that a credible claim of rape might actually help, not hurt, Trump's popularity.
Indeed, Carroll worried that she might make Trump more popular [...] by revealing the rape, since his electoral fortunes had steadily improved despite credible allegations of sexual abuse. To Carroll, it appeared that some of Trump's political supporters actually admired the fact that Trump was rich enough, macho enough, and powerful enough to be sued by -- and to pay off -- all these women he had groped and penetrated (especially porn stars and Playboy models).

Disgusting but true.
Carroll argues that she has "suffered professional harm" because of Trump's lies.
Carroll's professional success is inextricably bound up with her Ask E. Jean advice column, where readers look to her for wisdom, wit, honesty, integrity, and courage. By attacking Carroll, Trump has injured the reputation on which she makes her livelihood and attracts readers.
The complaint says that from July through September 2019, Carroll received 50 percent fewer letters than she had during the same months in 2018.
Carroll requests a jury trial and an undetermined amount of damages. She is represented by Roberta Kaplan, Matthew Craig, and Martha Fitzgerald of Kaplan Hecker & Fink LLP.
Lawsplainin'!
The First Amendment puts some extra limits on defamation cases. Because Carroll herself is a public figure, to win she'll have to show that Trump made the false and defamatory statements about her with "actual malice."
It's a high bar, but it's not impossible to clear. Carroll can win if she can show that Trump knew the statements were lies when he made them. The complaint alleges that Trump did just that:
Trump's series of false, insulting, and defamatory statements about Carroll -- and his actual malice in making those statements -- are fully consistent with his tried-and-true playbook for responding to credible public reports that he sexually assaulted women.
That Trump is (unfortunately for us all) the sitting President could also throw a wrench into things. Trump is probably going to argue that the suit should be stayed until he's out of office. However, in 1994, the Supreme Court told Bill Clinton that he had no immunity during his term from being sued in federal court for sexual harassment.
This isn't the only suit filed against Trump by one of the women he (allegedly!) sexually harassed. "Apprentice" contestant Summer Zervos filed a defamation suit against Trump in 2017 -- and an appellate court in New York recently held the case could go forward.
The Power of #MeToo
Carroll's suit is also a reminder that she is far from alone in coming forward with sexual assault allegations against a powerful man only to have the powers that be decide that it really doesn't matter.
As the complaint reminds us, Carroll is not even the only woman to come forward with allegations against Trump.
In addition to Carroll, Trump has been accused publicly by over a dozen women of forcibly kissing them, groping them above or below the waist, or attempting to rape them -- often upon meeting him for the very first time. Those women include Jill Harth, Jessica Leeds, Cathy Heller, Temple Taggart McDowell, Karena Virginia, Bridget Sullivan, Tasha Dixon, Mindy McGillivray, Rachel Crooks, Natasha Stoynoff, Summer Zervos, and Cassandra Searles. Trump has responded to their accusations in a manner eerily similar to the statements he made about Carroll in June 2019.
The complaint also describes the personal response Carroll felt to the #MeToo movement and brave women coming forward to name their accusers -- and how that helped her make the decision to come forward.

For Carroll, that project grew more urgent -- and more personal -- as the #MeToo era prompted a flood of new letters to her advice column seeking her counsel about how to respond to sexual assault and abuse. In her column, Carroll encourages her readers to be brave, to think clearly, and to seek justice. When readers overcome with doubt and anxiety have turned to her seeking advice, Carroll has always advised taking action. But she never confessed her own experiences. She never revealed that she, too, had been a victim of sexual assault. Over time, as described below, the contradiction between Carroll's words and her actions became increasingly untenable.
Like many women and sexual assault survivors, Carroll was inspired by the #MeToo movement.
As the Weinstein scandal persisted, Carroll saw society respond to the accusations with a seriousness and depth of self-reflection that she had never seen before; all too often, and as recently as the 2016 election, many Americans had brushed aside or marginalized accusations of sexual misconduct by powerful men. Carroll also saw other women suddenly feel emboldened to come forward with their own reports of harassment, exploitation, abuse, violence, and rape.

Carroll was moved by this experience. The walls that she had erected in her mind -- the fear that Trump would emerge unscathed, the wariness of allowing him and his allies to come after her, the doubt that speaking up would actually matter, and the nagging anxiety that she was somehow to blame for being raped -- began to crumble. Decades of deflection, diversion, and denial dissolved, resurfacing memories and feelings that she had hidden away.
The way we treat survivors of sexual violence in this country is abhorrent and unacceptable -- as is the way we pander to perpetrators. The goal of a suit like Carroll's isn't just money -- it's justice. Because truth is an absolute defense to a claim of defamation, the parties will collect evidence on the truth of whether the assault occurred. And while a court case can never undo the damage of a sexual assault, it can give victims a chance to have a court of law say it believes them.


Wonkette is funded ENTIRELY by YOU. Please help us pay the writers, if you are at all able!