Discover more from Wonkette
Wonkette is filthy, hilarious, liberal news. YOU CAN HANDLE THE TRUTH!
Over 18,000 subscribers
Republicans, Nazis THRILLED To Bring Racial Slurs And Snake Oil Back To Twitter!
But we repeat ourselves.
For the last several years, the American Right have been sobbing their faces off about how they have been so cruelly censored by social media, how these big tech companies have supposedly taken their free speech rights away. In this alternate universe they have created for themselves, Elon Musk has become their savior. He bought Twitter and is now supposedly restoring all of the free speech rights they were cruelly denied for so long.
Last night, at 11: 49pm Eastern he tweeted "the bird is freed." 
"the bird is freed"

— Elon Musk (@Elon Musk) 1666928951 
And this morning, that tweet was quote tweeted thousands of times with people excitedly exercising their new, thrilling free speech rights to ... use the n-word. Like a lot.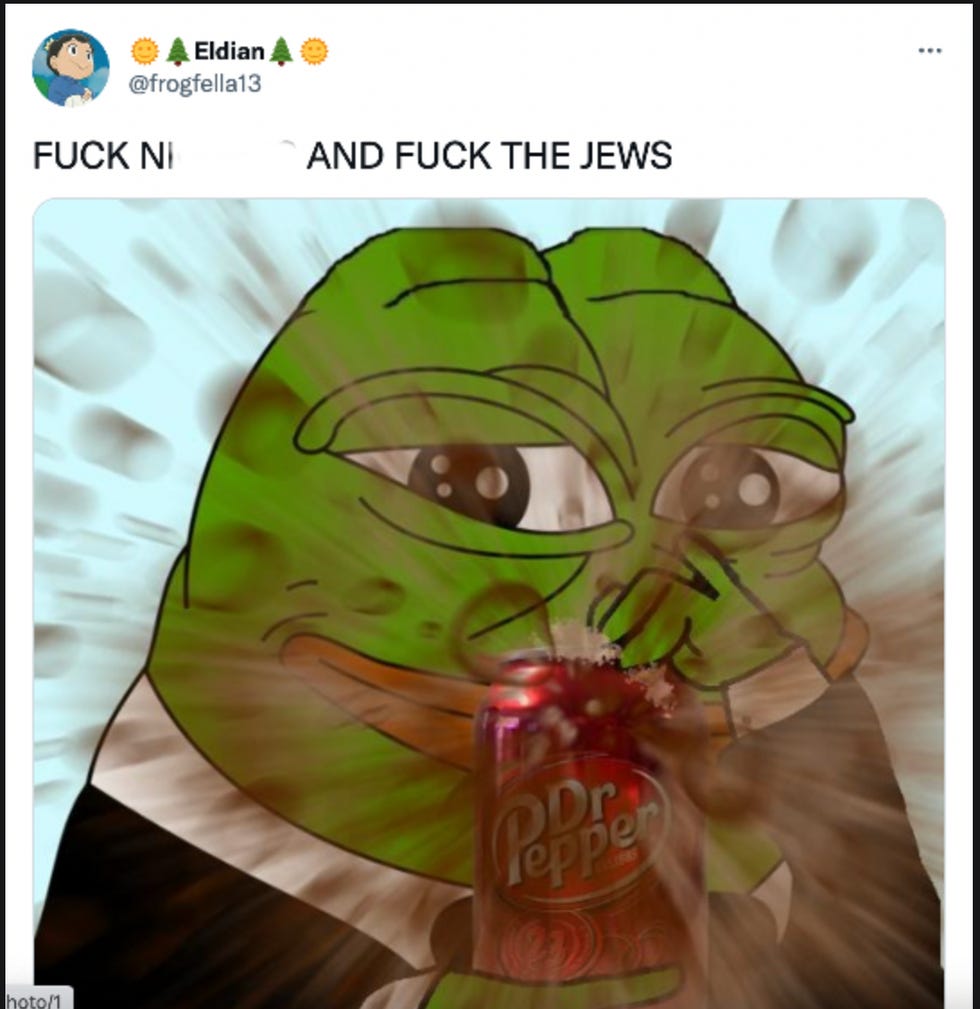 Yes. This is the glorious free speech they were so excited about all along. Most of them anyway. To be fair, many of them were very excited to harass trans people and spread misinformation about COVID and January 6.

Notably, most of these things are things people were free to say on Twitter prior to yesterday. Literally no one has advocated for "porn" in school libraries — it's really just that there are a lot of creeps out there who think things that are not porn are porn. Like they think books for children that acknowledge the existence of anyone who is not heterosexual and cisgender are porn.
"Death penalty for pedophiles" was a very popular thing to shout from the rooftops. Let me assure you — as someone who tweets about the death penalty nearly as often as Sister Helen Prejean — there is no shortage of people calling for the death penalty on Twitter for practically any offense. No one has been banned from Twitter for saying they want the death penalty for child molesters, they're just trying to make it look like a thing because they want to pretend that everyone they hate is a child molester and that the reason people think they are assholes is because they are fighting child molestation, not because they are gross bigots who just desperately want to feel the power of getting to be horrible to people with no repercussions.

Ivermectin has also been trending for several hours, with many users just tweeting the word as if they haven't been able to do that all along.

Here, for the record, is a person tweeting stupid things about Ivermectin eight days ago.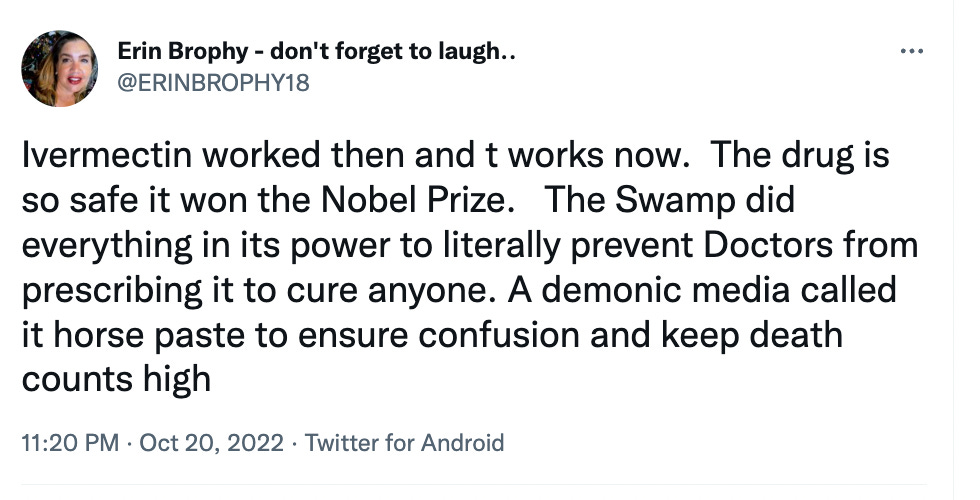 The fact is, pretty much all of the things people are saying "now that they are free" were being said prior to Musk taking over Twitter, including the racial, ethnic and homophobic slurs and anti-trans nonsense. They've been promoting The Big Lie and other election misinformation all along. Matt Walsh, Ben Shapiro, and Dinesh D'Souza have been on this platform all along. There have been TERFs on this platform all along. The only real difference now is that these people will now be able to troll other users of the site and target them for harassment slightly more freely than they were previously able to do.
The Right frequently likes to insist that Twitter is "the new town square" and that this means that they should be able to say anything they want there without any repercussions. You know, like how they are able to go stand on a bustling thoroughfare in any major city and just scream racial slurs to their heart's content without anyone having a single problem with that. It makes sense as a comparison because usually when people are expressing themselves in the "town square" they are harassing other people who don't want to interact with them — like Chicago's State Street preacher Samuel Chambers, who stands around all day every day telling people that they are Jezebel whores who are going to hell.
Of course, most of these people rarely actually pick up a soap box and head on over to their own town square to share their thoughts. It's almost as if they think standing in the middle of town screaming racial slurs might end poorly for them in one way or another.
The thing is, even being terrible on Twitter is not going to give them what they so desperately crave — legitimacy and acceptance. What they want is for their terrible opinions to not be seen as terrible but as entirely reasonable, which is why they go around trying to claim that they are being censored for not wanting kindergarten classes to watch Debbie Does Dallas . They want their behavior to be seen as socially acceptable — indeed, this was a large part of the reason they elected Trump. They thought if the president acted the way they did, harassed people the way they did, that people would stop judging them for being assholes.
There is an incredible amount of social power in being able to be an absolute jackass and have people put up with your shit anyway — in getting to be the most popular kid in school by bullying other kids, in getting to be the person about whom people say "Oh, he acts like a jerk, but once you get to know him he's super cool," in snapping fingers at waitstaff or barking orders at retail workers, and in, yes, grabbing women by the pussy and having them "just let you" because of who you are. There is power in being so terrible that people are afraid to speak up for themselves or be themselves or otherwise come out of the closet. There is power in being able to say terrible things and face no repercussions — and even more when others face repercussions from not taking your shit. This is the power they crave.
But as horrible as it is that Elon Musk is taking over Twitter — and to be sure, it's probably gonna be a big ol' dumpster fire, especially given his plans to turn it into an app that does literally everything, including payment processing and ridesharing, and it's going to make life a whole lot less safe for a whole lot of people — he can't give them that power. He can't give them what they want. Sure! They can go crazy using racial slurs, but being able to post them on Twitter doesn't actually mean that it won't make them social pariahs otherwise. They can post about Ivermectin or magic bleach or black salve, but that doesn't mean they're going to be taken seriously.
At the end of the day, they don't really win until they are able to intimidate us, and that isn't something Elon Musk can ever give them.
 Do your Amazon shopping through this link, because reasons .
Wonkette is independent and fully funded by readers like you. Click below to tip us!