Discover more from Wonkette
Wonkette is filthy, hilarious, liberal news. YOU CAN HANDLE THE TRUTH!
Over 15,000 subscribers
Nobody here is a very good investigator
The story of the 2016 murder of DNC staffer Seth Rich -- or more accurately, how Fox News brought a lot of alternate facts to its coverage of the story -- has taken another strange, strange turn. Now Rod Wheeler, a Fox News commenter and private investigator hired by a Texas billionaire to investigate whether Rich was bumped off by Hillary Clinton's murder squads, has filed a lawsuit alleging that Fox News was pushed by the White House and his billionaire patron to create a fake narrative about Rich's murder, supposedly to throw everyone's attention off the Trump-Russia investigation. Yeah, we're still trying to wrap our heads around that one.
First off, let's review the parts that aren't rightwing fever-swamp conspiracy bullshit: In July 2016, Seth Rich, a staffer at the DNC, was shot in the back in the wee small hours of the morning; Washington DC police believe the killing involved a botched street robbery. No suspect was ever identified, but online conspiracy nuts decided that since Rich worked at the DNC, and because his money and watch weren't taken, the robbery hypothesis has to be a FALSE FLAG to cover up Rich's assassination by Hillary Clinton or DNC operatives, since obviously Rich was the source of the DNC documents released later last summer by Wikileaks. If Rich were the source of the leaked documents, then obviously all the US intelligence agencies were lying about Russia having hacked the DNC, and the Trump-Russia collusion story vanishes in a puff of smoke.
In May of this year, Fox News and its DC affiliate ran stories claiming Wheeler had uncovered evidence that before his death, Rich had been in email communication with Julian Assange, according to an unidentified FBI source who had accessed Rich's laptop. Unfortunately, the story fell apart within hours as Wheeler told CNN and other sources he'd never seen the computer, and that a Fox News reporter told him the FBI had found the supposed Rich-Assange connection. In reality, the DC Police and the FBI say Rich's computer was never given to the FBI, and the FBI has no involvement in the case.
Sean Hannity nonetheless continued to push the story, even after Fox News pulled its own story from the internet, saying it didn't meet their reporting standards (talk about a low bar). After a week of ranting, Hannity, too, decided to STFU out of "respect" for the Rich family.
Which brings us to the lawsuit filed today by Wheeler against Fox News, Fox investigative reporter Malia Zimmerman, and Wheeler's financial backer, Ed Butowsky -- who, just like Wheeler himself, also has been a commentator on Fox. Wheeler alleges that Zimmerman and Fox attributed false statements to him about his having had knowledge of Rich's supposed communications with Wikileaks, and of the FBI's analysis of the computer -- neither of which he says he actually said. Further, says Wheeler, Butowsky and the White House coordinated to bring the story out on Fox, to take attention away from the Russia investigation. The whole thing has more rabbit holes than Watership Down, but is less amenable to an easy summary. Congratulations to NPR media reporter David Folkenflik for untangling the mess.
The lawsuit, which presents verbatim quotes from emails, text messages, and recordings of conversations, says Butowsky and Wheeler met with Sean Spicer in April to discuss the Rich story, and that Butowsky told Wheeler Donald Trump himself had approved of the story and wanted it to run:
On May 14, about 36 hours before Fox News' story appeared, Butowsky left a voicemail for Wheeler, saying, "We have the full, uh, attention of the White House on this. And tomorrow, let's close this deal, whatever we've got to do."

Butowsky also texted Wheeler: "Not to add any more pressure but the president just read the article. He wants the article out immediately. It's now all up to you."
Sean Spicer says he did meet with Butowsky and Wheeler, but said the stuff about the president pushing the story was bunk:
"Ed's been a longtime supporter of the president and asked to meet to catch up," Spicer told NPR on Monday night. "I didn't know who Rod Wheeler was. Once we got into my office, [Butowsky] said, 'I'm sure you recognize Rod Wheeler from Fox News.'"
Spicer says as far as he knows, Butowsky was never in contact with Trump; he says the two advised him of the coming Fox News story, but insisted he certainly never brought the story to the president. The Washington Post's Dave Weigel points out Spicer later said in a presser that he was wholly unaware of Fox's reporting on the Rich story. Even though he'd met with Butowsky and Wheeler on April 20, Spicer said in a May 16 press gaggle,
I don't — I'm not aware of — generally, I don't get updates on DNC — former DNC staffers [...] I'm not aware of that.
Oh Spicey. Even after you've been quit-fired, we're still learning you couldn't keep your stories straight.
Butowsky told Folkenflik that he'd never actually given any drafts of the story to the White House. Instead, he says, he was just joking around with Wheeler about Trump's involvement.
Oh, and also, Wheeler claims Fox discriminated against him because he's black, and he wasn't allowed to advance in his career at the network.
For his part, Butowsky says he just wanted to "help" the Rich family by finding the real murderer of their son, because it had to be the Democrats, and he only wants the truth to come out. He claimed in his introductory text message to Wheeler that he's a real mover and shaker:

Hey, who wouldn't want to work for the guy who revealed most of what we know about Benghazi? At least Folkenflik's reporting on the lawsuit clarifies one part of the bogus story about Seth Rich's laptop supposedly being analyzed by the FBI:
Butowsky says he became convinced that the FBI had a report concluding that Seth Rich's laptop showed he had had contacts with WikiLeaks after speaking to the legendary reporter Seymour Hersh, who was also investigating Rich's death. According to the transcripts in the lawsuit, Butowsky said Hersh had an FBI source who confirmed the report.
Hersh, on the other hand, told Folkenflik that Butowsky may have gotten carried away playing amateur detective:
"I hear gossip," Hersh told NPR on Monday. "[Butowsky] took two and two and made forty-five out of it."
That's a good line and we're going to be sure to hijack it.
According to the lawsuit's timeline, Fox was in a hurry to publish the Rich story after Donald Trump fired FBI director James Comey on May 9. The next day, Butowsky and Zimmerman, the Fox News reporter, called Wheeler to say an FBI source confirmed Seth Rich had been emailing WikiLeaks, although Wheeler never saw the evidence or learned the FBI person's identity. He isn't even sure whether the FBI source was fabricated or something Butowsky learned about (or thought he did) from talking to Hersh.
Wheeler says the first version of Malia Zimmerman's story contained no quotes from him, but that the published version (later removed by Fox but saved here on the Internet Archive's Wayback Machine) added two quotations he never actually said:
The first: "My investigation up to this point shows there was some degree of email exchange between Seth Rich and WikiLeaks."

The second: "My investigation shows someone within the D.C. government, Democratic National Committee or Clinton team is blocking the murder investigation from going forward. That is unfortunate. Seth Rich's murder is unsolved as a result of that."
To prepare Fox News for on-air discussions of the story, Butowsky sent these instructions to "various Fox News producers and on air talent," according to the suit, explaining how to frame "Wheeler's" investigation:
 
 [Image from lawsuit edited to remove page break]
Butowsky also coached Wheeler on how he should talk about "his" findings, telling him in a text message,
 [T]he narrative in the interviews you might use is that you and Malia's work prove that the Russians didn't hack into the DNC and steal the emails and impact our elections. 
On May 16, even though he had already told CNN that Fox and its DC affiliate had put words in his mouth, Wheeler dutifully went on "Hannity" and helped push the big news about how maybe there was no hacking at all, and that Seth Rich could have been bumped off, we just don't know, but the investigation must continue to get to the bottom of all this. Wheeler said he hadn't seen the laptop himself, but that a "very credible" federal source said they had. His expert opinion as an expert investigator, he said, was that
When you look at that with the totality of everything else that I found in this case it's very consistent for a person with my experience to begin to think well perhaps there were some e-mail communications between Seth and WikiLeaks
Blockbuster stuff, there.
Fox News issued a statement today denying that it had colluded with the White House, no way: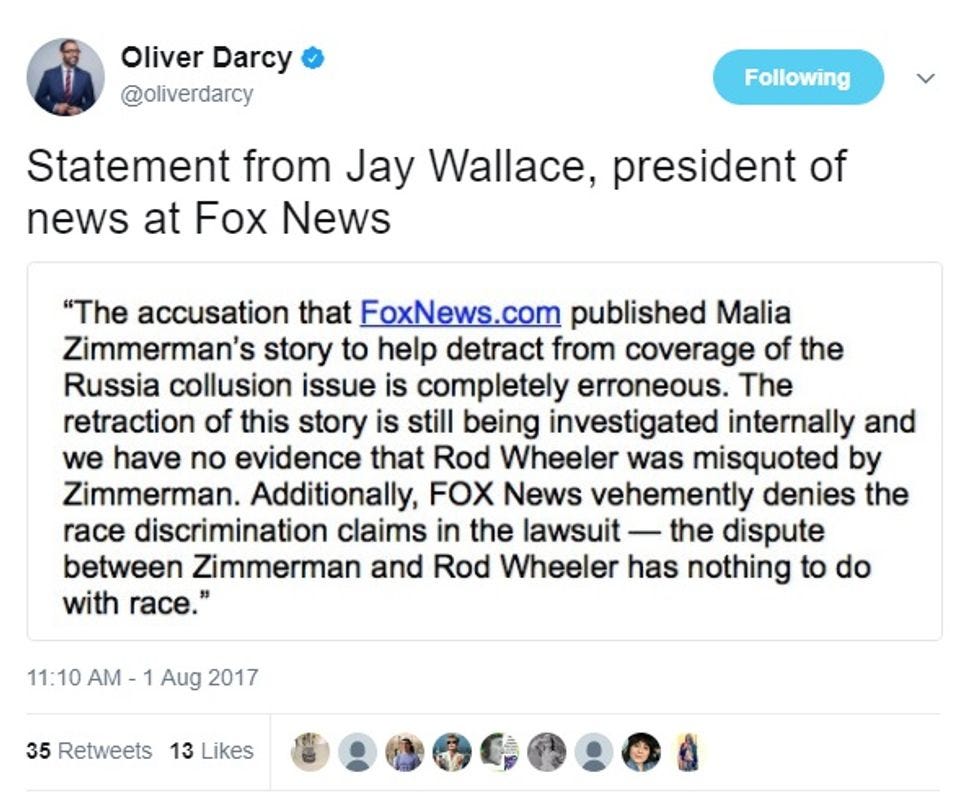 By late June, Butowsky and Wheeler had fallen out, and Wheeler advised Fox and Butowsky he might sue them for destroying whatever credibility he had as an investigator -- which might be a challenge, given that Wheeler was the genius behind a 2007 investigation of a "national underground network" of lesbian gangs who forced young men and women to turn gay, holding them at gunpoint. With pink guns. After being advised Wheeler was no longer on his side, Butowsky tweeted, "Fox News story was pulled b/c Rod Wheeler said [he] didn't say a quote ... How much did DNC pay him?" and also "This shows Rod Wheeler has a major battle with the truth."
Hmmm. Could be that applies to a lot of people in this whole mess.
Honestly, while we doubt Wheeler's lawsuit has much of a chance, his story of how Ed Butowsky pushed the "investigation" -- largely the product of Butowsky's certainty that the DNC had to be dirty -- seems fairly well-documented, although the White House connection seems to rely solely on the word of an apparent fabulist: Ed Butowsky himself. If nothing else, it's a hell of a look inside the production of a fake news story. The Rich family issued a statement today saying "we are hopeful that this brings an end to what has been the most emotionally difficult time in our lives and an end to conspiracy theories surrounding our beloved Seth." Not that the basket of deplorables will be convinced, but it certainly doesn't make Fox or its network of inside sources look any more reputable.
Update/Correction: Article originally misspelled Ed Butowsky's name throughout. Yr Wonkette regrets the error, and will write "Butowsky" on the chalkboard 100 times.
Yr Wonkette is supported by reader donations. Please click the "Donate" clicky so we can write more 1700 word stories saying Fox News is bullshit.
[ NPR / Wheeler v. Fox et al / WaPo ]