Discover more from Wonkette
Wonkette is filthy, hilarious, liberal news. YOU CAN HANDLE THE TRUTH!
Over 15,000 subscribers
In a super-neato sting operation today, the FBI totally intercepted a Muslim Terrorist wearing a suicide bomb vest en route to the Capitol, to blow it up. Sucker! Caught you! Go eat an Abortionplex-sized bag of dicks, guy! (But really, thank you for taking all of the pretend bombs our agents gave you and going with them on field trips to test explosives and all the other things we tricked you into doing so we could arrest you.)
The FBI is masterful when it comes to thwarting their own baroque terrorist plots in dramatic fashion at the very last minute, just as their scripts instruct them to do. The Feds found today's lucky arrestee, a 29-year-old Moroccan, about a year ago and thought, Sure, this one looks Muslim enough to me, he'll do... now let's start brainstorming a plot and getting him all the fake bombs and training and support he needs so we can arrest him in a year. 
(WASHINGTON) — A 29-year-old Moroccan man was arrested Friday near the U.S. Capitol as he was planning to detonate what he thought was a suicide vest, given to him by FBI undercover operatives, said police and government officials.

Amine El Khalifi of Alexandria, Va., was taken into custody with an inoperable gun and inert explosives, according to a counterterrorism official.

El Khalifi expressed interest in killing at least 30 people and considered targeting a building in Alexandria and a restaurant, synagogue and a place where military personnel gather in Washington before he settled on the Capitol after canvassing that area a couple of times, the counterterrorism official said. During the investigation, the official said,El Khalifi went with undercover operatives to a quarry in the Washington area to detonate explosives.

El Khalifi came to the U.S. when he was 16 years old and is unemployed and not believed to be associated with al-Qaeda. He had been under investigation for about a year and had overstayed his visitor visa for years, according to the counterterrorism official and a government official briefed on the matter who spoke on a condition of anonymity because the investigation is ongoing.

Two people briefed on the matter told The Associated Press he was not arrested on the Capitol grounds, and the FBI has had him under surveillance around the clock for several weeks.
TheWashington Post  has an especially chilling anecdote indicating nothing, from the Terrorist's ex-landlord:
He said he evicted Khalifi about a year ago.

"He was suspicious," said Dynda. "He was getting mysterious packages labeled "book," but I didn't think there were books in them."
Savvy eye, Dynda. There weren't any books in there. Those packages were filled with all of the cool terrorist presents that the FBI kept sending him.
All in all, another magnificent production -- four stars. Will this be the year that the FBI *finally* wins that Best Director statuette it's coveted for so long? Ugh, let's not get into studio politics...
Uh oh! Is the fake terrorist scaring you, teevee flaphead?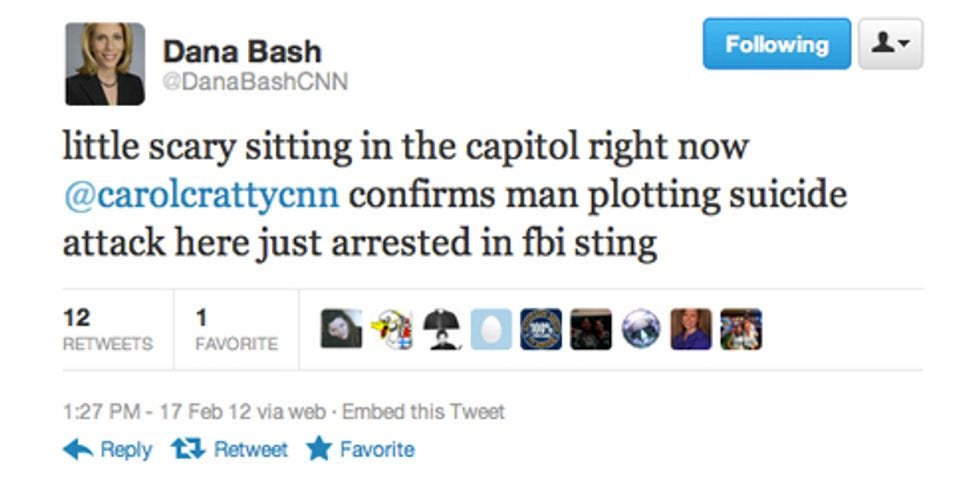 Children are so impressionable.
[ AP ]