Discover more from Wonkette
Wonkette is filthy, hilarious, liberal news. YOU CAN HANDLE THE TRUTH!
Over 18,000 subscribers
Ghouls On Florida's Medical Board Voted Yes On Cruelty To Trans Kids
Gender-affirming medical care is now illegal in the state.
As of Friday, transgender people under the age of 18 in the state of Florida will no longer be able to receive gender-affirming medical care such as surgeries and hormones or the far-more-common puberty blockers. At the urging of Governor Ron DeSantis, the state's medical board has voted to ban these options, regardless of what anyone besides Ron DeSantis — such as the child, the child's parents or the child's actual doctor — think would be the best course of action.
None of this has anything to do with medical safety — the American Medical Association has called these bans "a dangerous intrusion into the practice of medicine." It is that Ron DeSantis and his cohorts want to send a message to all not just trans children but all transgender people that they think it is not a real thing and do not believe they are who they say they are.
"Today's vote from the Boards of Medicine and Osteopathic Medicine will protect our children from irreversible surgeries and highly experimental treatments." Florida Surgeon General Joseph Ladapo said in a statement. I appreciate the integrity of the Boards for ruling in the best interest of children in Florida despite facing tremendous pressure to permit these unproven and risky treatments. Children deserve to learn how to navigate this world without harmful pressure, and Florida will continue to fight for kids to be kids."
The subtext here is as clear as it is stupid — he is trying to say that kids are being pressured ( probably by the "woke mob") to identify as transgender and that he believes it is a sexual fetish. If he actually did want "kids to be kids" he would care whether or not they were miserable.
Trans teens are 7.6 times more likely to commit suicide than are cis teens. Study after study has shown that gender-affirming care drastically reduces suicidality in trans teens.
Via HCPLive:  
By the end of the 12 month follow-up study, 69 individuals (66.3%) received PBs, GAHs, or both. 35 youths hadn't received either intervention (33.7%). While there was no association found between these interventions and anxiety, [...] investigators found promising results.

With an adjustment for temporal trends and potential cofounders, individuals were 60% less likely to experience depression [...] and 73% less likely to experience suicidality [...] when compared to youths who did not received gender-affirming interventions.
Ron DeSantis, Joseph Ladapo and those on the state's medical board do not give a flying fuck about children or teenagers. They prefer these kids killing themselves to living in a world where they are expected to not be assholes to trans people and feel socially rejected should they insist upon doing so. That is what this is about.
Earlier this year, DeSantis and Ladapo together decided to make Florida the first state to recommend against the COVID-19 vaccine for children, despite the fact that both the American Academy of Pediatrics and the Centers for Disease Control and Prevention specifically recommend the vaccine for kids 5 and up. This is just another way of using children as a way to push their own agenda.
Who knows what will be next for Team DeSantis when it comes to medical care. Perhaps next, in the spirit of his law allowing veterans without college degrees to teach in their schools, he will shore up the state's doctor shortage by bringing back barber-surgeons and giving out medical licenses to all of the state's hair stylists.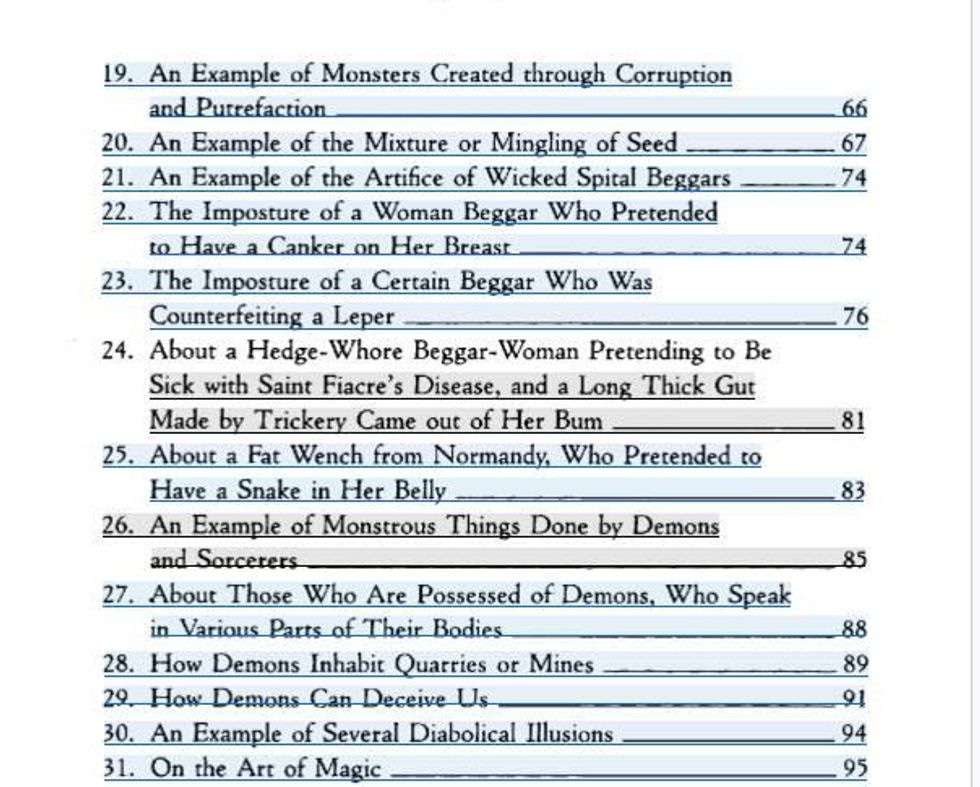 The table of contents from 'Of Monsters and Marvels' by 16th century barber-surgeon Ambroise Paré. Yes, I own a copy. What? 
Perhaps then he will take on feminism by demanding that gynecologists start treating us all for wandering wombs.
Clearly DeSantis, Ladapo and the doctors on this medical board care not for modern healthcare or the recommendations of actual experts when those things get in the way of owning the libs, so it's hard to put anything past them
 Do your Amazon shopping through this link, because reasons .
Wonkette is independent and fully funded by readers like you. Click below to tip us!