Discover more from Wonkette
Wonkette is filthy, hilarious, liberal news. YOU CAN HANDLE THE TRUTH!
Over 18,000 subscribers
Grown-Up Chicken SO GOOD SO TASTY SO YOU MAKE IT RIGHT NOW.
OK, so: President Bannon, fascist dictatorship, Constitutional crisis, WTF did he just tweet? Pissed off allies, Putin puppet, marriage equality LOL, RESISTANCE! PROTESTS! *Yawn*
Typical week under the Trump regime, right? And the Real Writers here at Wonkette have already covered it in enough depth to have us all tearing our hair out, haven't they?
Do you really want me doing it, also too, with FAR worser grammer and speeling? No? No! We all know my role in the Wonkette universe: I'm not here to do the serious stuff, I'm here to make you goSQUEEEEEEE!!!over foods. And I have got something "Squee"-worthy for y'all today!
This may be a perfect recipe. Enough ingredients, which most of us have in our cupboards, to be interesting, but not enough to be intimidating. Techniques a 6th grader can master. Short cooking time. And results worthy of a formal dinner with awe inspiring guests. Seriously. Michelle & Barry will give you a rave review. Flavorful, tender, juicy chicken, with an awesomesauce sauce. Today's recipe is:
CHICKEN PIERRE!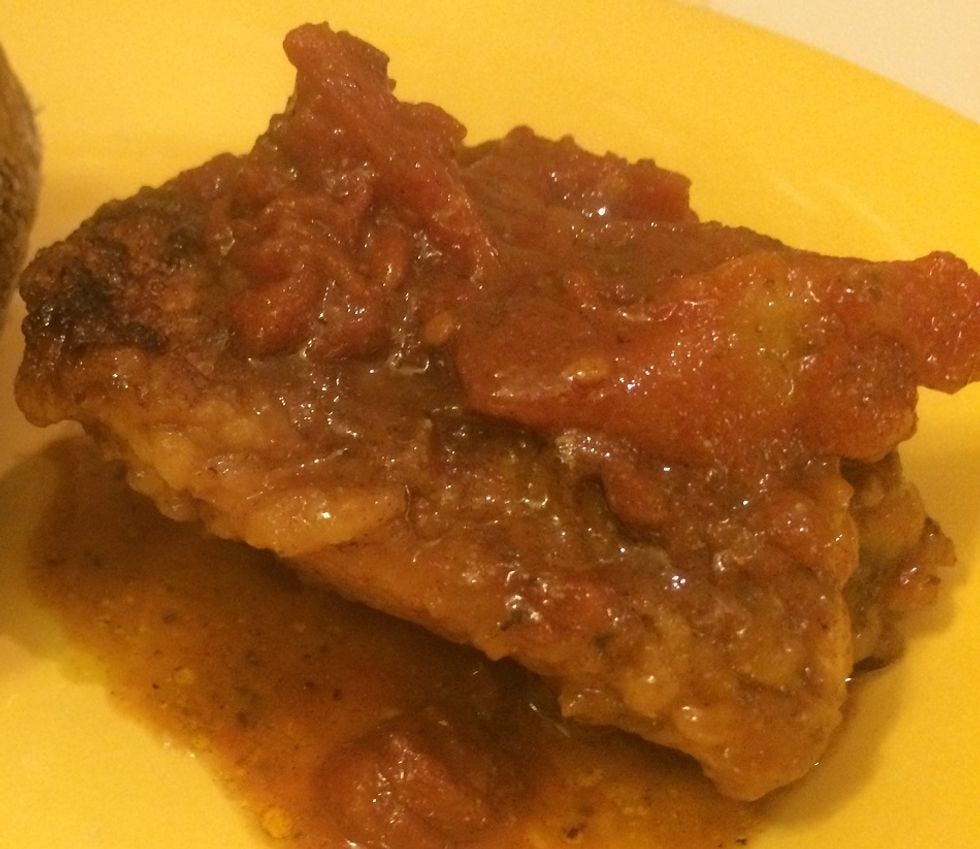 This . . . looks much better in person.
Make it. MAKE IT NOW!
Drunkage: Minimal. You can make this stumbledrunk, but you won't be able to appreciate it.
Difficulty level: Are you smarter than a 5th grader?
Time: 10 minutes prep, 50 minutes working. 1 hour total
Serves 4 - 6.
WHAT YOU NEED!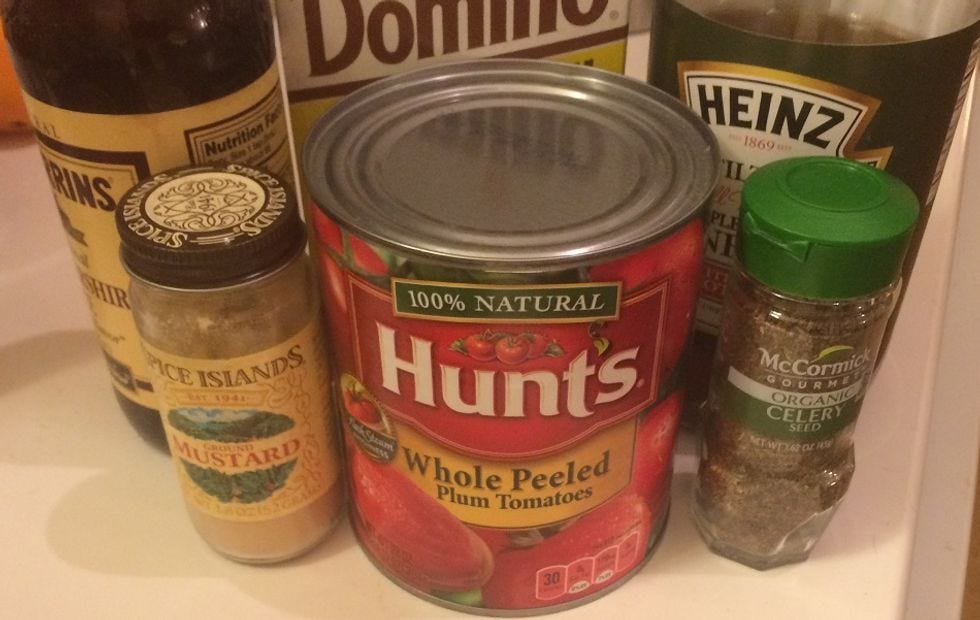 Ingredientses. Some of them, anyway!
1⁄4 cup flour

1⁄2 teaspoon salt

1 dash pepper

8 chicken drumsticks or 6 chicken thighs. Bone in, skin on.

3 tablespoons butter

1⁄2 cup red wine

1 (14 1/2 ounce) can tomatoes, diced or crushed

2 tablespoons brown sugar

2 tablespoons vinegar*

2 tablespoons Worcestershire sauce

1 teaspoon salt

1 teaspoon chili powder

1 teaspoon dry mustard

1⁄2 teaspoon celery seed

1 garlic clove, minced

3 -5 drops hot pepper sauce
WHAT TO DO WITH WHAT YOU NEED!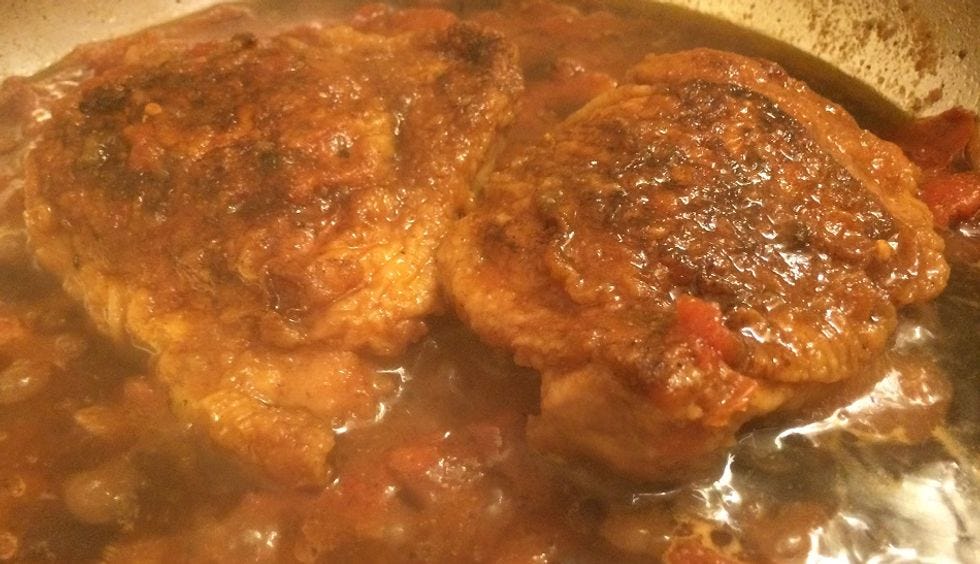 Pure flavor.
Combine flour, salt, and pepper.

Dust the chicken with the seasoned flour.

Melt the butter in a skillet with a lid.

Brown the chicken over medium heat on all sides.

Remove the chicken from the pan and drain on absorbent paper.

Deglaze the pan with the red wine. Reduce by half.

Combine the tomatoes, brown sugar, vinegar, Worchestershire sauce, tsp salt, chili powder, mustard, celery seed, garlic and hot sauce (say that 3 times fast!) in the same pan: bring to a boil.

Reduce the heat and return the chicken to the pan.

Cover and simmer about 45 minutes, turning two or three times.

Gently place on plates.

Lovingly spoon the tomato sauce, liberally, over the chicken.
This is a grown-up meal, so treat it respectfully. Maybe have a nice salad with it. A baked potato and maybe some roasted Brussels would work well. And red wine. Yes, red wine. With chicken. HERESY!
And use the dining room for a change, instead of the couch in front of the TV. They'll just be talking about D. Trump, anyway.
* I R dumb, and used Apple Cider vinegar, which worked. Use Balsamic vinegar instead to punch it up another notch or two.