Discover more from Wonkette
Wonkette is filthy, hilarious, liberal news. YOU CAN HANDLE THE TRUTH!
Over 15,000 subscribers
Today is November 6. Christmas is over a month away, and yet  some people insist on starting their celebrations the day after Halloween ends, before Starbucks even comes out with the Peppermint Mocha (That would be the day after the day after Halloween ends). Some of those people (not me) work here, and some of them are Gwyneth Paltrow.
Paltrow busted out her Goop Gift Guide this week, full of things you might get from the crunchy Howard Hughes in your life. If you have one. I do not. But we can look anyway!
As advertised, you can get a literal pile of shit for $75.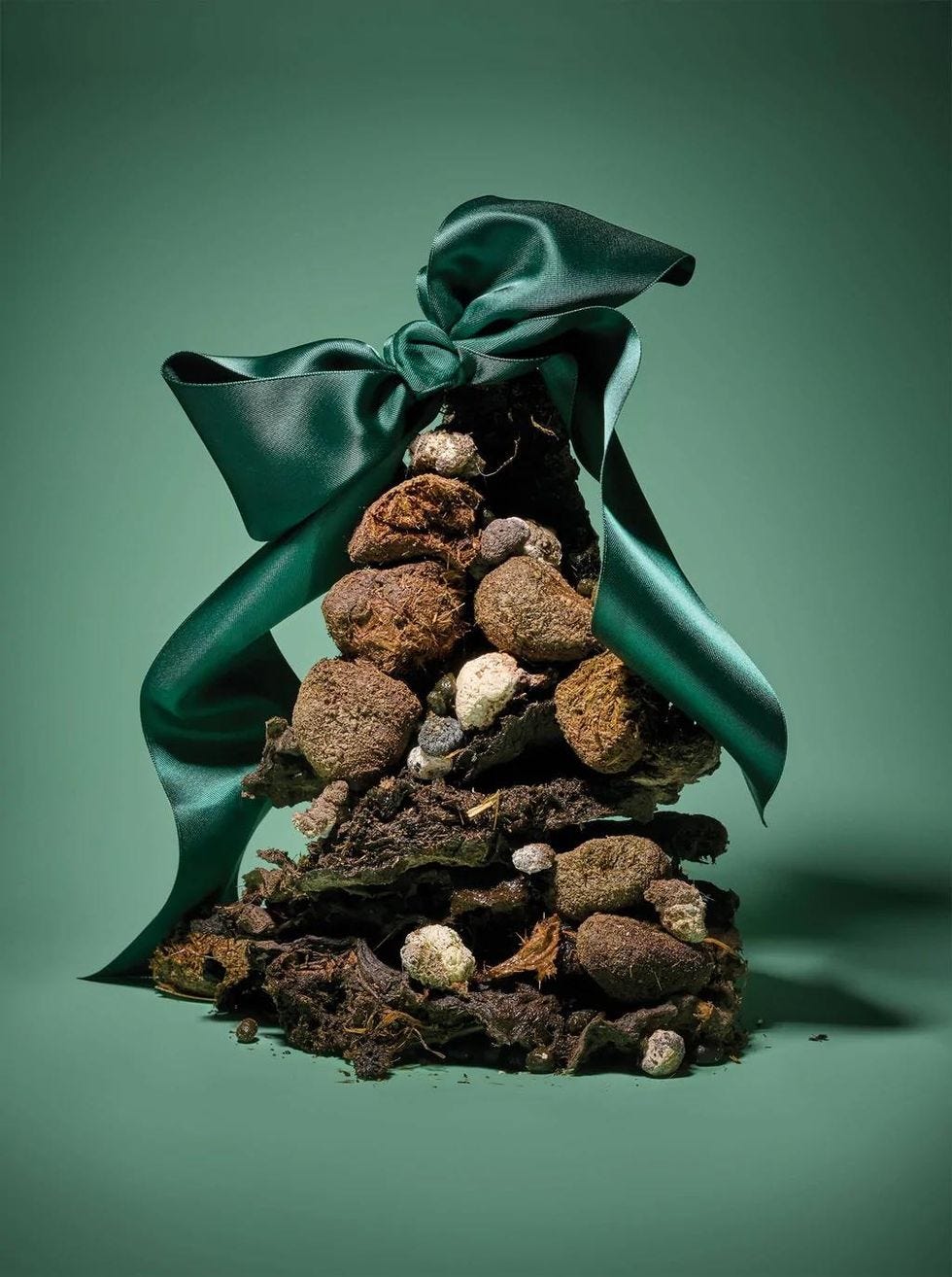 It's 9 pounds of extra fancy fertilizer is what it is.
Via Flamingo Estate:  
It's a blend of free-range goat, horse, chicken, and cow manure, lovingly tended by our gardeners at Flamingo Estate. Our chickens and goats are on a nutritious regenerative diet, snacking occassionally[sic] on the tastiest food from the kitchen. It's teeming with beneficial microbes and nutrients, guaranteed to make any plant grow strong and vibrant. This potent, precious poop will bring new life to your soil. Roses love it, too!
I have no idea about these things, and oddly enough the Value of Animal Waste calculator is of no help whatsoever, but it seems you can get a 40 pound bag of cow manure from Home Depot, so I think $75 might be a little much. Unless it is bat guano, in which case I have just learned will cost you about $25 a pound.

Also please don't buy anyone poop for Christmas. Even if there is a bow on it.
Just $1200 for a ... this thing!
This is a box to put your dog's toys in, but it's $1200 because it's from Hermés.
Look. A Birkin bag? I think they're ugly boring grandma purses and not in a cute way, but at least it's an investment . It's something. Scarves you can wear and they're pretty and you could get 2-3 very pretty ones at Hermés for the same amount as this weird, unattractive box.
Why do people want to spend so much money on boxes? 
$3,900 Worth Of Tiny Bags of Snacks
THIS IS A PUNISHMENT.
I love snacks. Snacks are great! I do not need 275 (that's how much!) snacks piled up in the kitchen, haunting me, being all "Someone paid $3900 for me, better eat me before I get stale!" The guilt, the pressure would be terrible and also who has a kitchen that big? Like, besides Paltrow?
$299 For A Satin Baguette Bag
Now, we all know we look super cute walking down the street carrying a shopping bag with a baguette sticking out of it, knowing that everyone who sees us is like "Is she French? She must have very chic dinner plans that definitely do not include eating a whole baguette by herself in bed while watching The Real Housewives of Potomac !" Even cuter if it is in a bag on the front of a bicycle.
This not cute! It will not make you look like Amelié at all , plus it's $300.
A 12 Minute Song You Have To Pretend To Like — For Only $225
"A 12-minute piano composition inspired by the planetary alignment during their birth."
First of all, no one will ever be able to tell if it is really inspired by the planetary alignment during their birth or not, even if they were totally woo-y like that. What? Are they gonna be like "Sounds real Jupiter-y right here — not sure this is correct!" Second, what kind of monster makes someone sit and listen to a 12 minute song? You'd have to do so much nodding, like "Oh wow this is really great, very much feeling the Mercury!" for 12 whole minutes.
Then again, very much not a jam band person. Maybe this would be a super good present for a very bougie hippie or something. I don't know.
To be fair, Paltrow also has an "Under $100" section in which you can buy ...
A Plate. A Single Plate. For $48.

What a beautiful and still weirdly expensive way to tell someone you think they're going to die alone.
OPEN THREAD!
 Do your Amazon shopping through this link, because reasons .
Wonkette is independent and fully funded by readers like you. Click below to tip us!