Discover more from Wonkette
Wonkette is filthy, hilarious, liberal news. YOU CAN HANDLE THE TRUTH!
Over 18,000 subscribers
Haven't Put Horseradish And Mushrooms On Your Baked Potato? What Are You, An Idiot?
Consider the stuffed baked potato. Can you see it? Reconsider the vulgarities of hot potato buffets and imagine your potato fully realized, with the addition of creamy horseradish sauce and wine-drenched mushrooms. Now have a wealth of sides.
Sautéed mushrooms improve everything. I weep for the mushroom phobic, and I wish I could introduce them to my cousin, a mushroom whisperer. She knows how to find edible mushrooms outside, growing wild, for free. All I ever do is pay a cashier for a mix of whatever, because I have no idea how to pick a mushroom that won't kill me. My cousin is so cool.
With her mad skills in mind, I got started.
Baked Potatoes
4 potatoes, suitable for baking
dabs of oil
kosher salt
I like to roll potatoes in a little oil and kosher salt after I pierce the skin and before I wrap them in foil. Find the potato leader in your collection and give it foil horns. Bake at 425º for about an hour and fifteen minutes.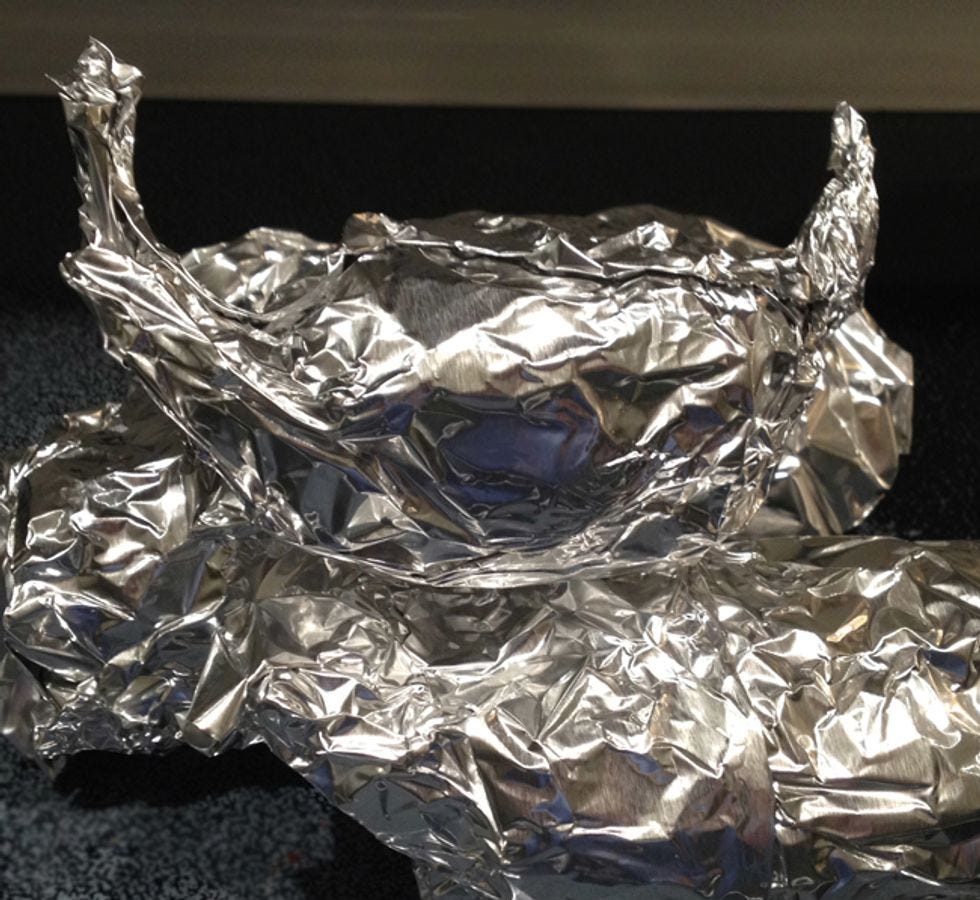 While the potatoes bake, prepare a creamy horseradish sauce. This can be tricky. Find a prepared horseradish with enough heat to rise through the roof of your mouth and out of the top of your head. There is a regional brand I prefer, but it might not be available where you are. If you find a bold horseradish, put on your crash helmet and take it for a ride!
Mild prepared horseradish might come across as too sweet. "Lite" or reduced calorie sour cream is a bit on the sweet side, too. I would rather waddle around the block two extra times and buy normal sour cream.
Creamy Horseradish Sauce
¾ c. sour cream
a pinch of cream cheese, softened
2-4 tbs. prepared grated horseradish, to taste
Dijon, a dash
lemon juice, a few drops
black and white pepper
Whisk the cream cheese into the sour cream, to bump up the richness and improve consistency, then add the remaining ingredients. Mix well, cover, and let it rest for at least an hour while you prepare the mushrooms. Whisk again before serving, to incorporate any bits you might have missed.

Sautéed Mushrooms
Oil and butter for cooking
1 tbs. onion, chopped
1 shallot, chopped
2 garlic cloves, pressed
1 box of Baby Bella mushrooms, sliced
1 handful of oyster mushrooms, sliced
2-3 fresh thyme stems
½ sprig of fresh rosemary, leaves removed
1 small bay leaf
dried marjoram, a whisper
¼ tsp. chicken (or vegetable) soup base
white wine, about 3 glugs
ground pepper
In a medium-sized skillet, heat the oil and butter and sauté the onion. After they begin to release moisture, add minced garlic and cook for another minute.
Add the mushrooms and stir well. Cook until the mushrooms begin to sweat. Add the seasonings, chicken or vegetable base, and wine (I've had great luck cooking this with Sauvignon blanc). Be careful when herbalizing the mushrooms. Too much and everything tastes like a bath product sold at a street fair by a woman wearing dream-catchers for earrings. Love her soap, but not in my mouth.
Let this come to a boil and then reduce the heat to low. This is going to stew and reduce. Stir occasionally, when you remember. You should not need additional salt, because soup base can be very salty. When most of the liquid has evaporated, the shrooms are ready. Remove bay leaf and thyme stems, and discard.
Slice baked potatoes (about) halfway through, lengthwise. Pinch both ends to open the crease (careful, it's hot), and lay on some healthy spoonfuls of creamy horseradish sauce. Stuff with sautéed mushrooms. Finish the top with a small dollop of sauce and have dinner.
Serve with a nice salad, and maybe some of that wine? I probably would too. Enjoy!