Discover more from Wonkette
Wonkette is filthy, hilarious, liberal news. YOU CAN HANDLE THE TRUTH!
Over 18,000 subscribers
Hey, Remember That Card Game We Made? Yeah, We Still Have Hundreds Of Them, Let's Fix That!
Hey guys! Remember way back when, before the world turned upside down, when Presidents did not insult regular folks on the Twitter machine? Yeah, us too. Do you remember how we made you thisdumb  awesome card game about the 2016 Elections? Good times... good times...
The thing is, you did not buy them all, for whatever reason (probably because by the time we finally got them in hand, you were too busy lying and shilling for Killary, and then it was like one week later and we were all depressed and killed ourselves dead). Why do we bring this up? Because of how there are all these boxes of games in our garage, taking up space that we would like to use for the Cuckmobile, so we don't have to dig it out of the snow every morning. Seriously, have you ever tried finding a tiny little Prius buried in the snow? It's HARD!
We've decided that the perfect time to do something about this is right before we leave town for a few weeks! What did we do? We lowered the price! Now only $19.99! WHAT!!!1!!!one!? Yes, that's right, you can now own your very own Wonkette's Game Of US America Elections - The Game , for the same low price as a Sham-Wow!
Nineteen Ninety Nine. Say it. Out loud. Sounds smooth and sexy coming out of your mouth, doesn't it? Say it again. Yeah. Like that. And with FREE SHIPPING WHUT?????? It's not only true, it also comes free USPS PRIORITY.
So now you really don't have any excuse but to buy yourself what will surely become one of the most sought after pieces of 2016 Elections memorabilia . Who knows, it might even be a relic of the last elections ever held inthe United States of AmericaTrumpistan. You could then use the cards to explain to your horribly mutated offspring what "elections" were, right after you return to the sewers from hunting giant rats in the nuclear wasteland.
But for real, guys, it is a fun game, the artwork is just lovely, and the whole package is so uniquely Wonkette, that it is a must-have for any true fan. And it is only $19.99! Also, we now take Amazon Pay at the Bazaar!
 Go buy it now . So we can ship it to you now, instead of in a few weeks after we get home from the 'Naug, where we are going, for you. Here is the Official Wonkette Babby again: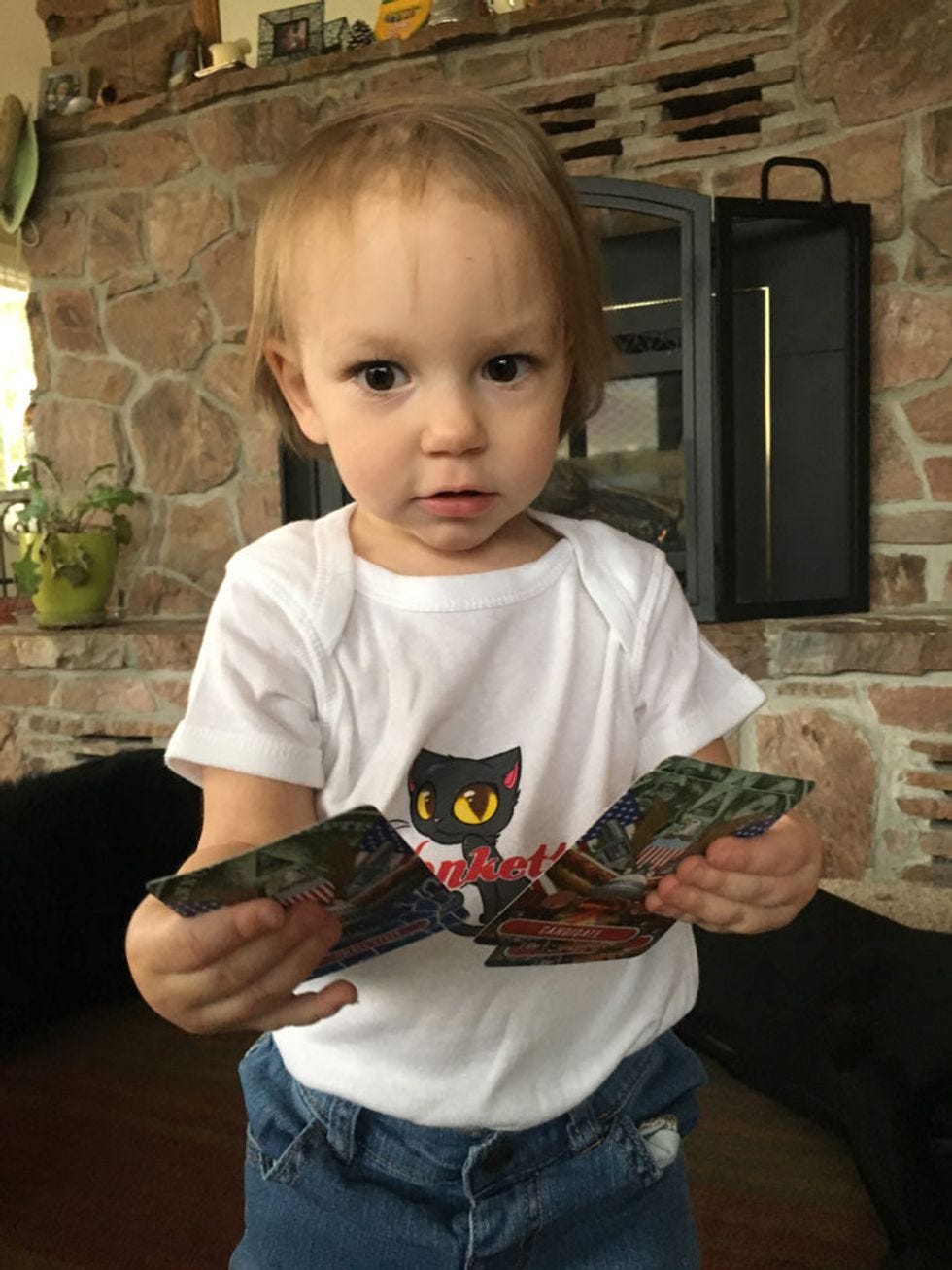 And now, after you've bought that, you may Open Thread!