Discover more from Wonkette
Wonkette is filthy, hilarious, liberal news. YOU CAN HANDLE THE TRUTH!
Over 15,000 subscribers
Homemade Doughnuts at Poste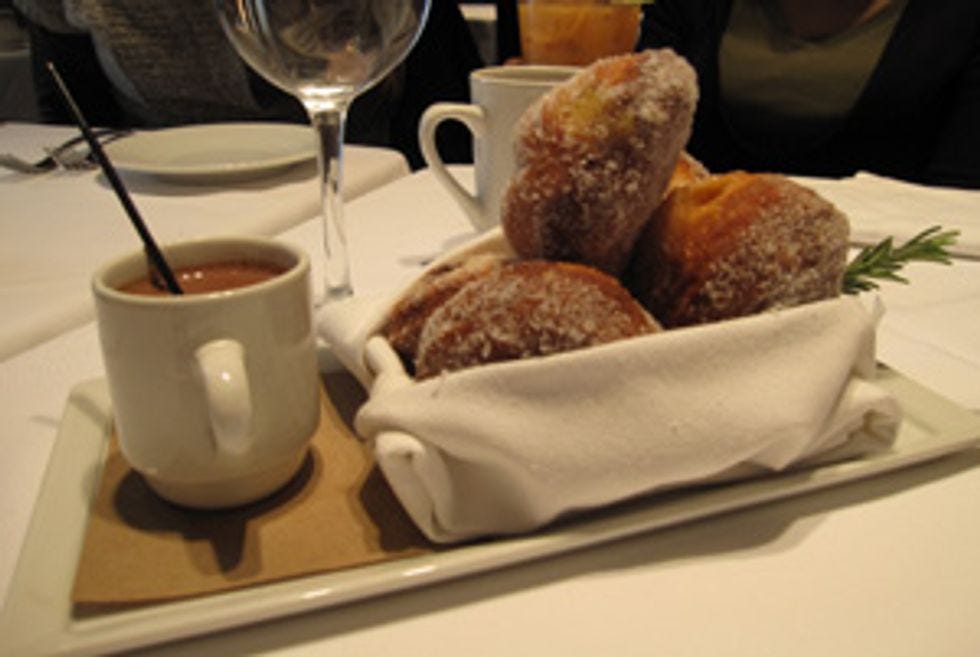 The main thing you do in Washington on weekends is a) have hangovers and b) find a good brunch. So say 'Hi' to our newest Wonkabout contributor, Michael Herman. He's the writer behind the DC Brunch blog and will be bringing a Trove of Brunchian Knowledge & Reviews. Let's start, with a visit to Poste.
Residing in a 19th-century post office building, the aptly named New American brasserie Poste serves up brunch that's inventive but ultimately middling. The pleasant decor features high ceilings, skylights, and simple but elegant tables, contrasted with the exposed exterior walls of the old post office. Like some other upscale brunches in this city such as Brunch DC favorite Tabard Inn, Poste features truly excellent homemade doughnuts. One order features doughnuts filled with the assorted flavors of chocolate ganache, lemon curd, and fig compote, alongside a warm chocolate sauce. The crispy outside is dusted in sugar and gives way to a soft and light interior with decadent flavors. Unlike the brunch at Tabard Inn, however, the rest of the dishes at Poste's do not stack up to its doughnuts.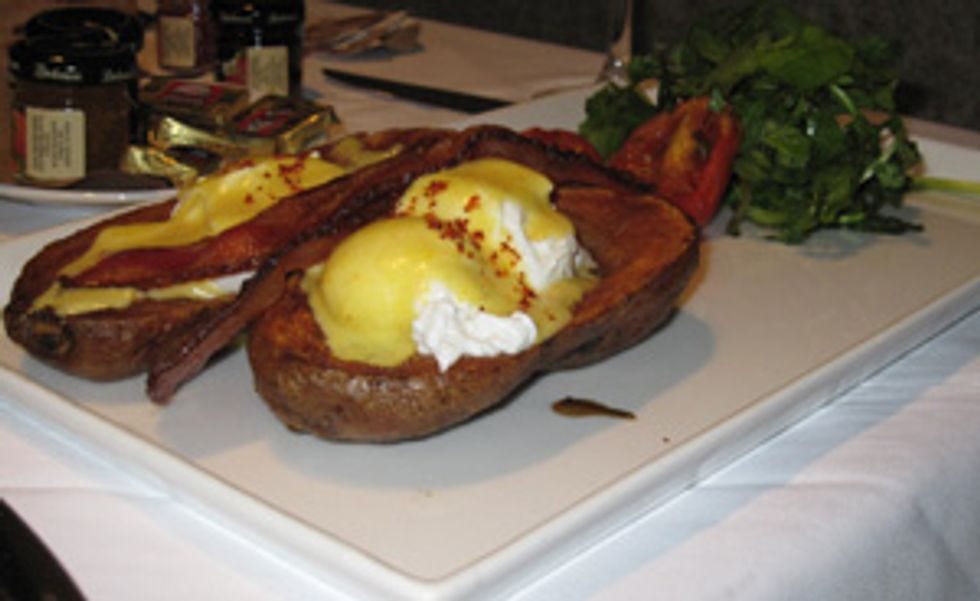 Poste's take on the Eggs Benedict, Eggs Hussarde -- poached eggs in hollowed potatoes with bacon served with merchand de vin sauce (a rich butter/wine sauce) below the eggs and hollandaise above. This was an interesting combination (though not exactly unique, even Emeril makes it). Unfortunately, the eggs were inconsistently prepared -- some were overcooked, despite what should have been an unnecessary request to the waiter that the yolks be runny. Further, the attempted separation of the sauces fails once you attempt to cut into the dish, which results in an odd hollandaise- merchand de vin mix that was rich but not entirely enjoyable.
Another interesting dish was their scrambled eggs with smoked salmon, crëme fraiche, and caviar. The eggs were soft and the salmon was nice and mild. This was a good dish when placed on top of their toasted baguette accompaniments, but by itself it was just a little bit too many soft things together.
If only their entrees were as good as their doughnuts.
 Poste Moderne Brasserie, 555 8th Street NW, Washington DC 20004, (202) 202-783-6060.