Discover more from Wonkette
Wonkette is filthy, hilarious, liberal news. YOU CAN HANDLE THE TRUTH!
Over 18,000 subscribers
Idaho Patriots Won't Let GOP Gov. Trample Sacred Right To Send Your Nana To The ICU
The tree of liberty must by refreshed with the sputum of tyrants and patriots.
Last week, we let you know that Ammon Bundy, the O.G. High Plains Grifter, had taken up the cause of resisting Idaho's stay-at-home order, which he considers unconstitutional because he's an idiot. But in the Gem State, Bundy's not entirely an outlier. Since (Republican) Governor Brad Little issued the lockdown order on March 25, two state legislators, a county sheriff, and an influential wingnut libertarian think tank, the Idaho Freedom Foundation , have all said they believe the order is illegal and urged people to please, if they love liberty, go out and spread disease the way the Founders would have. And if you get sick, treat it as they would, too, perhaps with a good mustard plaster or leeches.
It all got stupid enough that the state attorney general, Lawrence Wasden, explained Friday that yes, Idaho law really really does allow the governor and the state Department of Health and Welfare to take necessary steps to ensure public safety. Then again, while Wasden's FAQ on the stay-at-home order cites numerous sections of Idaho law, it doesn't say where in the US Constitution such measures are allowed, so he's not likely to win any of the loons over. (As we mentioned in our piece on Bundy, the Supreme Court has upheld quarantine orders in the past, as if "Patriots" would accept such decisions, either.)
Let's meet some of the assorted rightwing luminaries saying Little will never take their temperature, let alone their freedom.
State Rep. Tim Remington(R-Couer d'Alene) is both a state legislator and the pastor of The Altar church, where he continued holding in-person services despite Little's order. He explained in a March 29 sermon, "Do you understand that this is a gimmick? It's a test [...] I want to pass the test, so as for me and my house we're going to serve the Lord." Remington did not explain why the Lord would use a gimmick to test his faith, but mysterious ways and all that. Remington also proclaimed that measures meant to prevent spreading a deadly virus had in fact undermined the Bill of Rights, although he seems about as clear on the law as he is on what exactly the disease is that we're talking about:
Many of our rights were just taken out from underneath of us, [...] They have just showed everybody in this nation how because of a flu, OK, they can completely take away all your First Amendment rights.
1: Not the flu. 2: The First Amendment is alive and well, and you're using it right here, dingus. 3: At another point in the sermon, Remington just plain lied, saying no one in Idaho had died of COVID-19, although by the day of the service, five had actually died. Doesn't the Good Book say something about not lying?
After initially saying it would continue holding live services, The Altar last week announced it would be online only from here on in. It is not known whether Rep. Remington nailed a protest to the church door, or whether it was spell-checked.
Bonner County Sheriff Daryl Wheeler  wrote a nice letter to Gov. Little urging him to protect the old folks and people with health problems, but let everyone else go about their business, and urging Little to call a special session of the state lege to discuss the important message in a "letter circulating around the country" written by a Florida Man who frets about globalists who have taken over the World Health Organization and invented a fake pandemic to destroy Donald Trump. Yes, Wheeler also posted that agenda-setting goo on the Bonner County Sheriff's Office Facebook page, because important public business. Big surprise:  Wheeler is a member of the rightwing "Constitutional Sheriffs and Peace Officers Association," the sovereign-citizen-adjacent outfit that's often aligned with anti-government crazies like Bundy.
Idaho Freedom Foundationimmediately protested the order, and since then has been urging resistance, as in this thoughtful blog post stating "The U.S. Constitution and most state constitutions have been suspended," and fretting that "Granting mere mortals unlimited power turns politicians into rulers, and the rest of us into prisoners or slaves." For good measure, that's followed up with "This is not hyperbole."
State Rep Heather Scottis nominally a Republican, but she doesn't play well with other Republicans, especially state party leaders she considers soft on doctrine. (She's also a close ally of Washington state Rep. Matt Shea, and turns up several times in the Washington legislature's report that called Shea a "domestic terrorist" for his involvement with anti-government militias .)
Last week she sent out an official legislative newsletter with the mellifluous title "The Virus that Tried to Kill the Constitution: COVID, The Constitution and Cause for Concern," in which Rep. Scott explains that God made America and the Constitution, warns against tyranny and shit, and then says she can't understand why Brad Little "has followed in the footsteps of, at this point, mostly liberal states" by issuing a stay-at-home order. That's despite similar orders by other Republican governors, though maybe she wrote the piece while more Trump friends were holding back.
Scott rails against the order's call for only essential businesses to stay open, because, as she explains,

every business in Idaho is essential. Buying into, or reiterating this "essential/non-essential" language sidelines the 14th Amendment, the Equal Protection Clause. Government cannot treat people or businesses differently, discriminate against one type of business over another; in other words, "pick winners and losers".
She also explains churches should absolutely stay open because the right to peaceably assemble comes straight from God and cannot be taken away by anyone, although she's cool with people deciding, individually, to stay home, so how dare you call her position extreme? Then, for good measure, she adds her own shoutout to the rightwing notion that sheriffs are really the highest law enforcement around, and suggests that government oppression is just around the corner. What will YOU do when they come for you?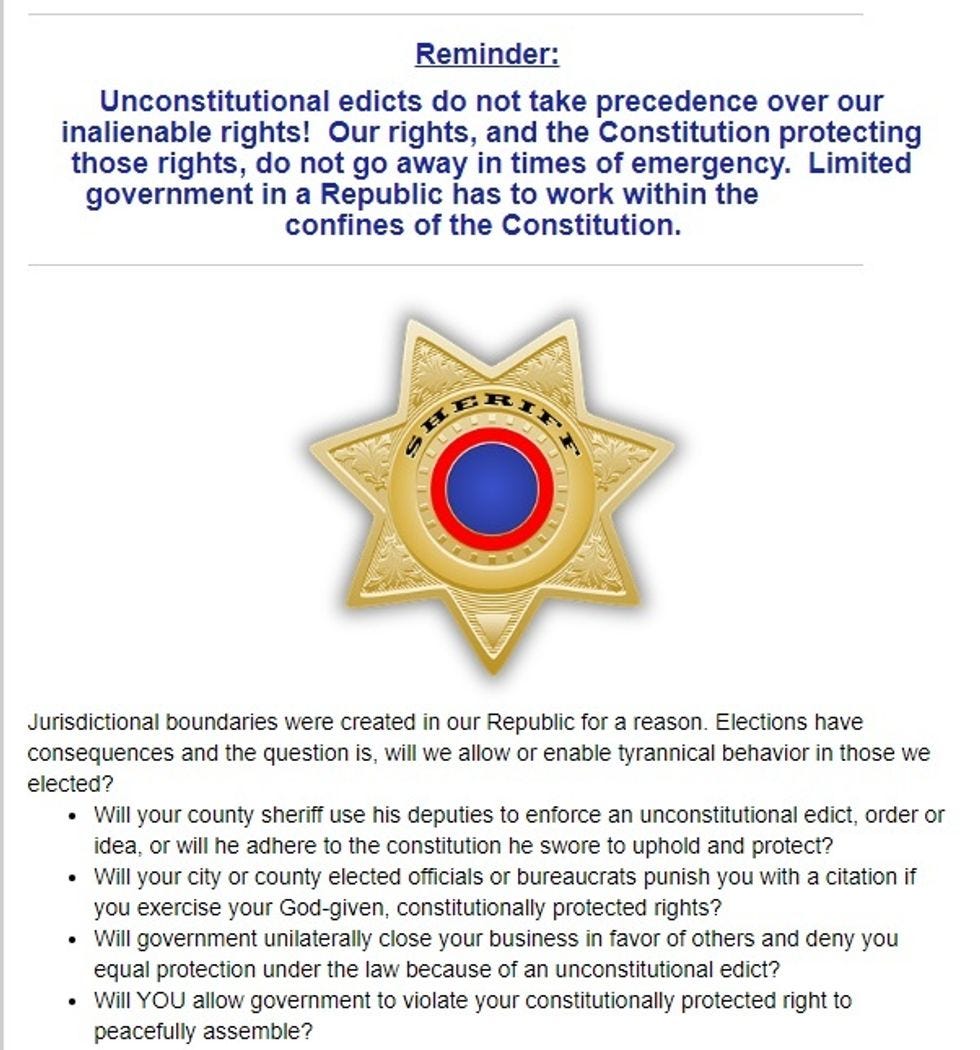 For what it's worth, Little has said he prefers to rely on "peer pressure" instead of law enforcement to keep people inside and healthy, although violations of the order are technically a misdemeanor. But isn't that always how tyrants talk?

Ammon Bundy. Again.You didn't think he'd go away, did you? In a Facebook reply, Bundy explained that he'd actually like to contract COVID-19 so he could help America become immune to the virus, just like how we're no longer dying from smallpox (he sort of leaves out the fact that there's a smallpox vaccine):
Ammon Bundy is trying his damnedest to intentionally steepen the virus curve. https: //t.co/eWII2FVxIv

— JJ MacNab (@JJ MacNab) 1586124143.0 
Bundy also wants to organize a great big mass church service/rally for freedom in Boise on Easter Sunday, if he can just get a venue.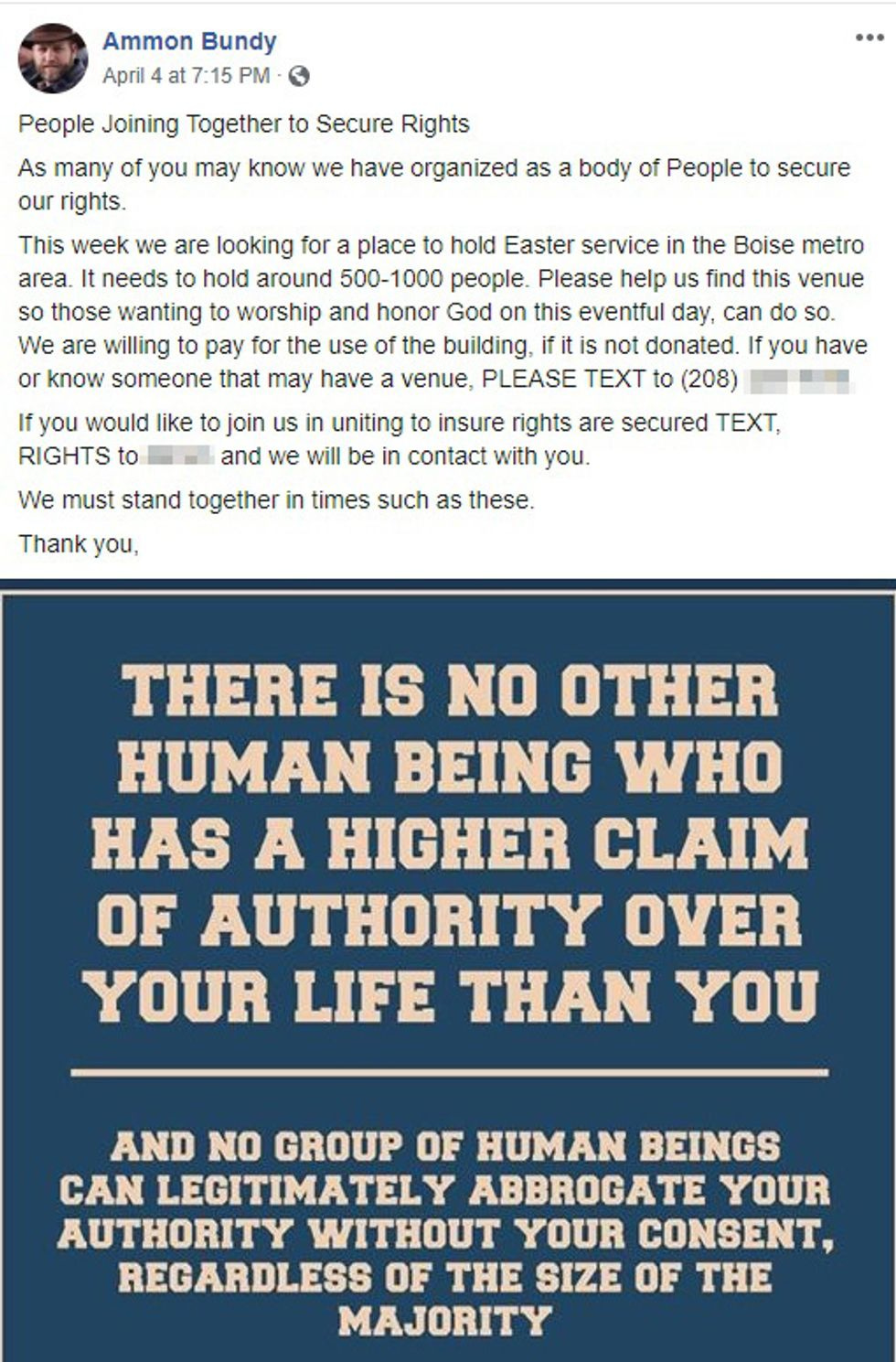 He's also taken to explaining it's perfectly OK if thousands of Americans have died from COVID-19, because we can certainly spare 'em. 

Yr Wonkette will keep you updated on the Big Bundy Boise Easter Bunny Rising, which we suspect won't actually happen, since who would rent to him? But it's Idaho, so who knows? Either way, we're certain armed "Patriots" will make noise about it.
[ Idaho Statesman / Idaho Attorney General FAQ / Spokesman-Review / Boise State Public Radio / Idaho Statesman / SPLC / Rep. Heather Scott ]
Yr Wonkette is supported entirely by reader donations. Help us keep the servers humming and the writers paid. And if you're sheltering in place, here's our Amazon linky , too. Remember to join us sometime this evening at The Slog to talk about Albert Camus's novel  The Plague .