Discover more from Wonkette
Wonkette is filthy, hilarious, liberal news. YOU CAN HANDLE THE TRUTH!
Over 15,000 subscribers
Imagine A Vegan Restaurant Where Ranch Dressing Costs Extra But The Buttholes Are Free

Factcheck this happened in Memphis.
Perhaps you remember the biggest American story of the year 2017, which was called #ButtholeGate. Perhaps you recall a Memphis restaurant called Imagine Vegan Cafe, and the way its owners reacted when a customer left an online review that merely pointed out that it's slightly uncouth for a mom-and-pop vegan restaurant to allow the owners' toddler children to gallivant around the place au naturel , exposing their buttholes. Also, yodeling.
https: //wonkette.substack.com/p/vegan-restaurant-owners-triggered-just-because-diner-didnt-want-to-see-their-kids-butthole
Most business owners would say, "We are extremely sorry about the yodels and the B-holes, please accept this gift certificate as a token of apology." Some customers (not this customer) might say, "Who among us doesn't occasionally have a Butthole McYodeltown type day" and let it go.
But nooooooooooooooooo. The owners lost their everloving shit and started attacking any and all humans who deigned to visit them on social media, and it went viral, and nary a toddler butthole did yodel ever again at Imagine (at least that we know of).
Wonkette can now exclusively report that whatever Teachable Moment might have come out of that situation has officially expired, and it is all for the sake of homemade vegan ranch dressing, which COSTS EXTRA, GODDAMMIT, DO YOU WANT HOMEMADE VEGAN RANCH DRESSING? THEN PLEASE OPEN YOUR WALLET AND PONY UP!
Someone left a comment on their receipt about the upcharge policy, which apparently is posted on the menu but not so prominently that this person saw it. So Imagine Vegan decided it was time to shame the customer across all social media (screengrabs because they deleted it all last time, and will probably do so again):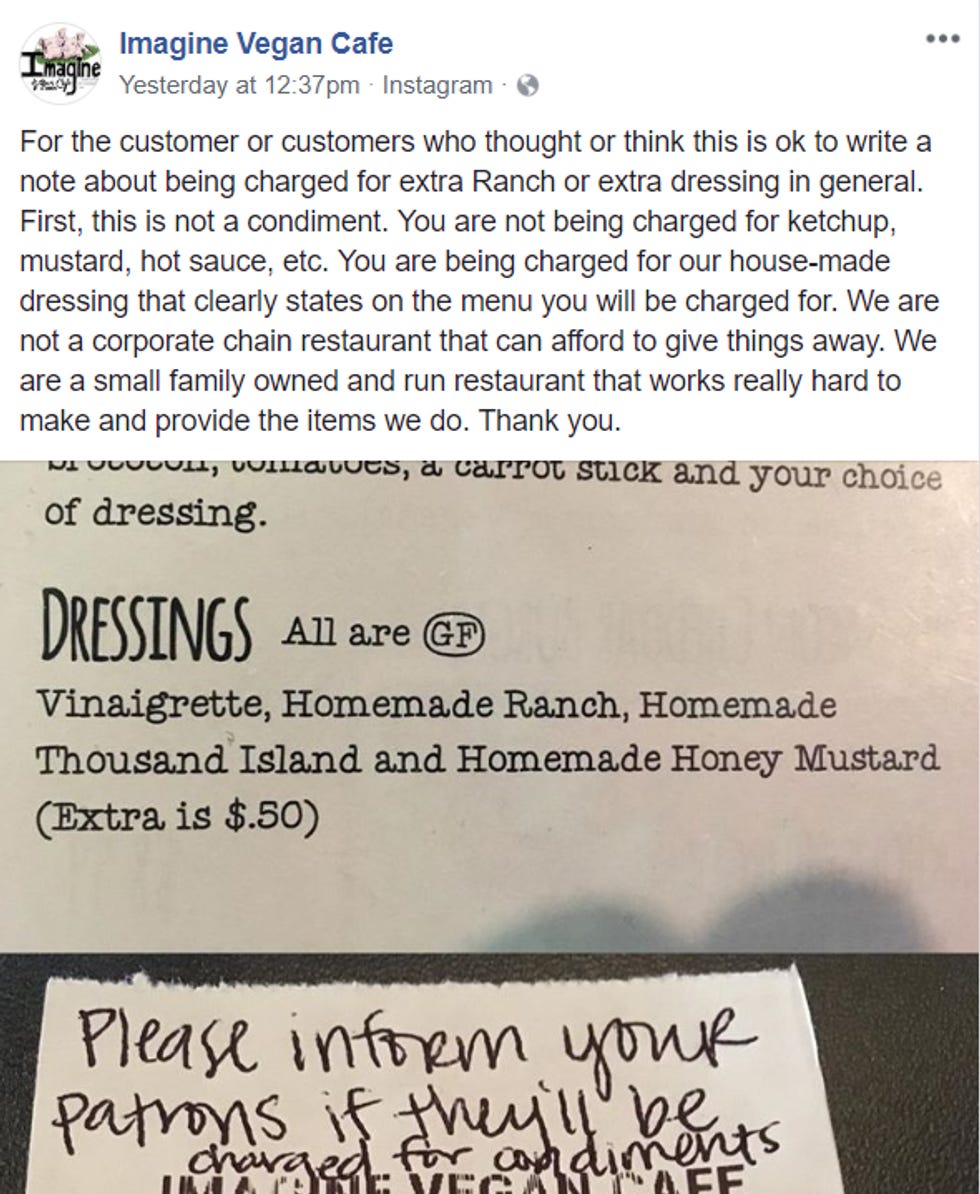 Oh my god, why is this worthy of social media? Why is this worthy of ANYTHING? Does somebody need to chill out a tiny bit ?
But no, because here we are. Homemade vegan ranch dressing is VERY EXPENSIVE and NOT A CONDIMENT, OK? And how dare the customer WRITE A NOTE?
To be clear, Imagination Vegan Emporium For Free Buttholes But Ranch Is Extra has every right to charge for ranch dressing if they want. We are not here to gripe about that. We are here to laugh and laugh because HOLY SHIT THE OWNERS ARE DOING IT AGAIN.
Like when somebody said, "Really? You are putting one of your customers on blast over a really minor situation, especially after you made the national news for #ButtholeGate?" Yes, really, they are:
And then somebody else said, "NO SERIOUSLY, REALLY? WHY IS THIS WORTHY OF FACEBOOK CONTROVERSY?" to which Imagine replied like "IF WE CAN'T CRY OVER SPILLED RANCH DRESSING ON FACEBOOK, WHEREVER WILL WE CRY ABOUT IT?"
FREEDOM! This is about FREEDOM! (To put your 50 cent vegan ranch problems on InstaFace and YELL ABOUT THEM FOR 24 HOURS.)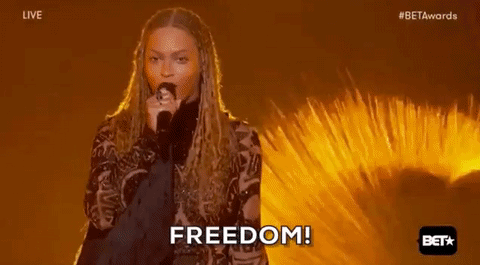 And to be clear, Imagine Vegan Cafe knows about speaking out for what really matters in life, because this is not their first vegan rodeo!
The owners note that this is just like that time they spoke out in support of Black Lives Matter, because Black Lives Matter (an actual good thing!) is the exact same as speaking out against the one-two punch of oppression known as #ButtholeGate and #VeganRanchDressingMatters:
As we noted last time, this restaurant is in our neighborhood. We do not remember them taking flak for supporting Black Lives Matter, which we support wholeheartedly. Indeed, there are Black Lives Matter yard signs ALL OVER THE FUCKING NEIGHBORHOOD. But hey, if they did get shit for that, that's fucked up.
It's also NOT THE FUCKING SAME AS HAVING A MINOR ALTERCATION WITH A CUSTOMER OVER 50 CENTS WORTH OF VEGAN RANCH DRESSING.
This concludes another edition of "Don't pull this shit on social media when you know full well, after the whole Yodeling Butthole situation, that Wonkette is watching."
And LOLing.
OK, Wonkette gotta get back to writing about politics now, please tip your bartenders by clicking the donation buttons below. And if you want extra ranch dressing on top of your Wonkette, we are sorry, that is not on the menu, but anyway, PAY UP, ASSHOLES.
 Follow Evan Hurst on Twitter RIGHT HERE.  
 Don't take for granted that the institutions you love will always be there, like democracy, and Wonkette. Click to save at least one of them! 
[ Imagination Vegan Emporium For Free Buttholes But Expensive Ranch Dressing ]