Discover more from Wonkette
Wonkette is filthy, hilarious, liberal news. YOU CAN HANDLE THE TRUTH!
Over 18,000 subscribers
Turns out that "spa" owner hanging out with Trump at his Mar-a-Lago Super Bowl party got more than a selfie from the president. According to Mother Jones, Li "Cindy" Yang, founder of the "massage parlor" in south Florida where Patriots owner Robert Kraft was busted for solicitation last month, has been running a tidy business selling Chinese nationals access to the president at Mar-a-Lago.
Yang, who goes by Cindy, and her husband, Zubin Gong, started GY US Investments LLC in 2017. The company describes itself on its website, which is mostly in Chinese, as an "international business consulting firm that provides public relations services to assist businesses in America to establish and expand their brand image in the modern Chinese marketplace." But the firm notes that its services also address clients looking to make high-level connections in the United States. On a page displaying a photo of Mar-a-Lago, Yang's company says its "activities for clients" have included providing them "the opportunity to interact with the president, the [American] Minister of Commerce and other political figures." The company boasts it has "arranged taking photos with the President" and suggests it can set up a "White House and Capitol Hill Dinner."
THIS IS WHY CAMP DAVID EXISTS, GODDAMMIT.
Yang and her family had sold most of their "day spas" before Kraft was filmed getting a handjob from a likely trafficked woman, his second visit to Orchids of Asia in twenty-four hours.  The Miami Herald  notes, however, that the strip mall outlets had already "gained a reputation for offering sexual services" before Yang sold her stake in them. But don't worry, you guys, because Mrs. Yang has figured out other ways to make money.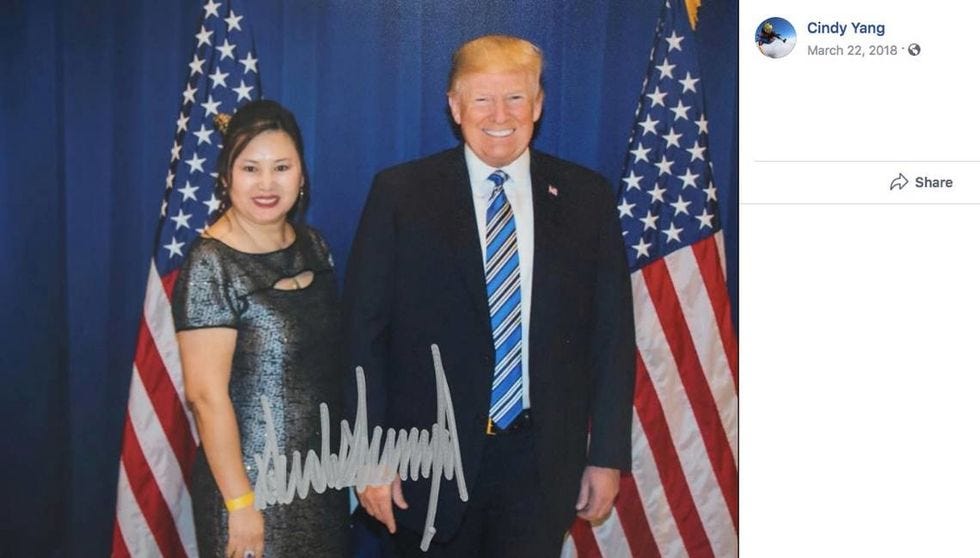 That photo was captured by the Miami Herald before Yang deleted her Insta. Seats and a photo at the March 3, 2018, Trump-Pence campaign fundraiser went for $50,000 per couple.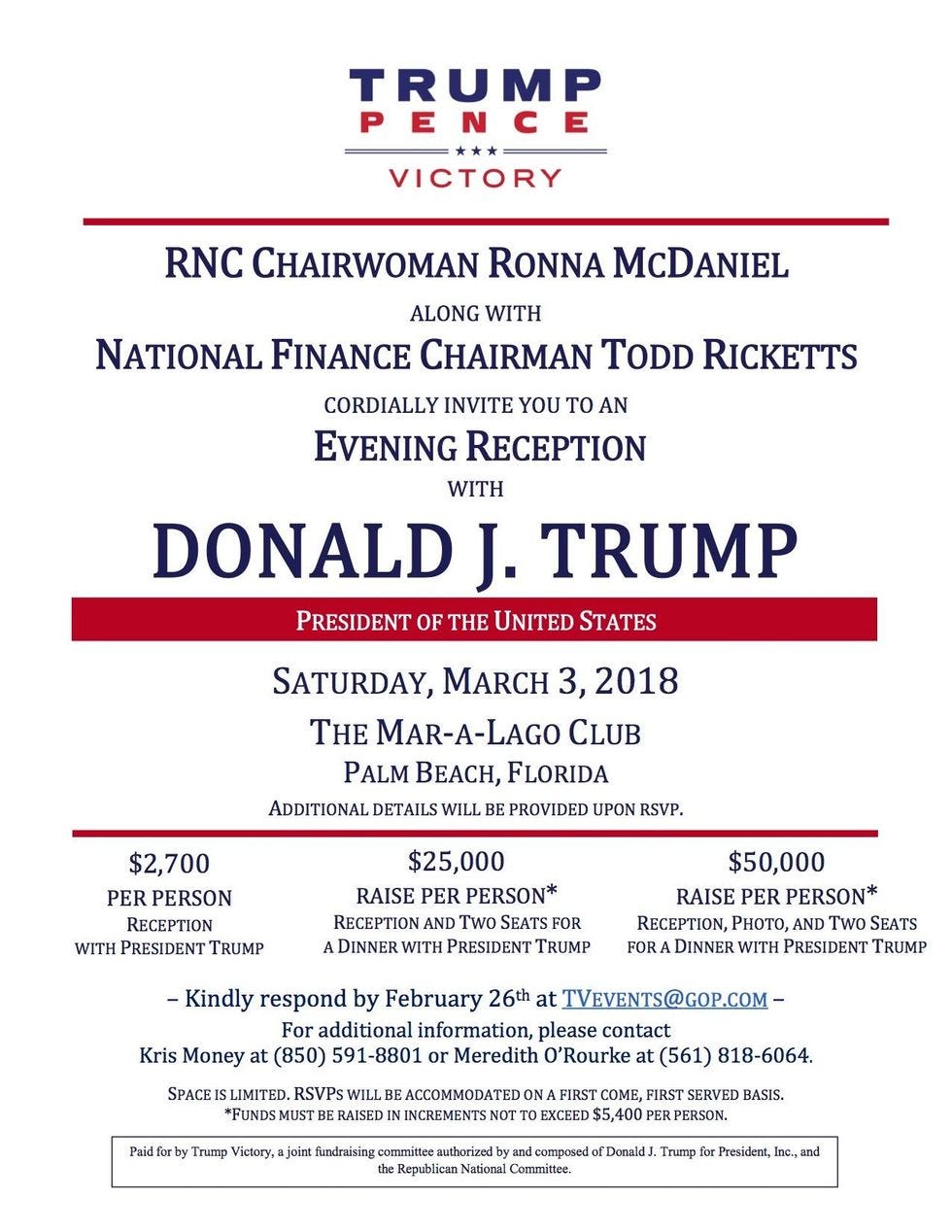 Credit: Peter Schorsch Twitter  
You gotta spend money to make money, though. And Mrs. Yang used that photo to flog her services connecting Chinese business people with Trump and his family. Here's an ad captured by MoJo, before the GY US Investments website disappeared, advertising access to the "International Leaders Elite Forum" on March 30 with Donald Trump's sister Elizabeth Trump Grau.
Duchess Trump-Grau is a popular attraction for the influence peddlers looking to make a connection with America's royal family. Here she is with Yang's client Huachu Tang , a Chinese auto executive who flew 17 hours to join the Mar-a-Lago New Year's Eve festivities.
Unfortunately, Donald Trump was not in attendance at that party, having shut down the government over his bullshit WALL promise, and holed himself up in the White House for a pity party.
I am all alone (poor me) in the White House waiting for the Democrats to come back and make a deal on desperately n… https: //t.co/rJjel91tSs

— Donald J. Trump (@Donald J. Trump) 1545672764.0 
Luckily both Trump brothers were in attendance, and looking dapper as ever.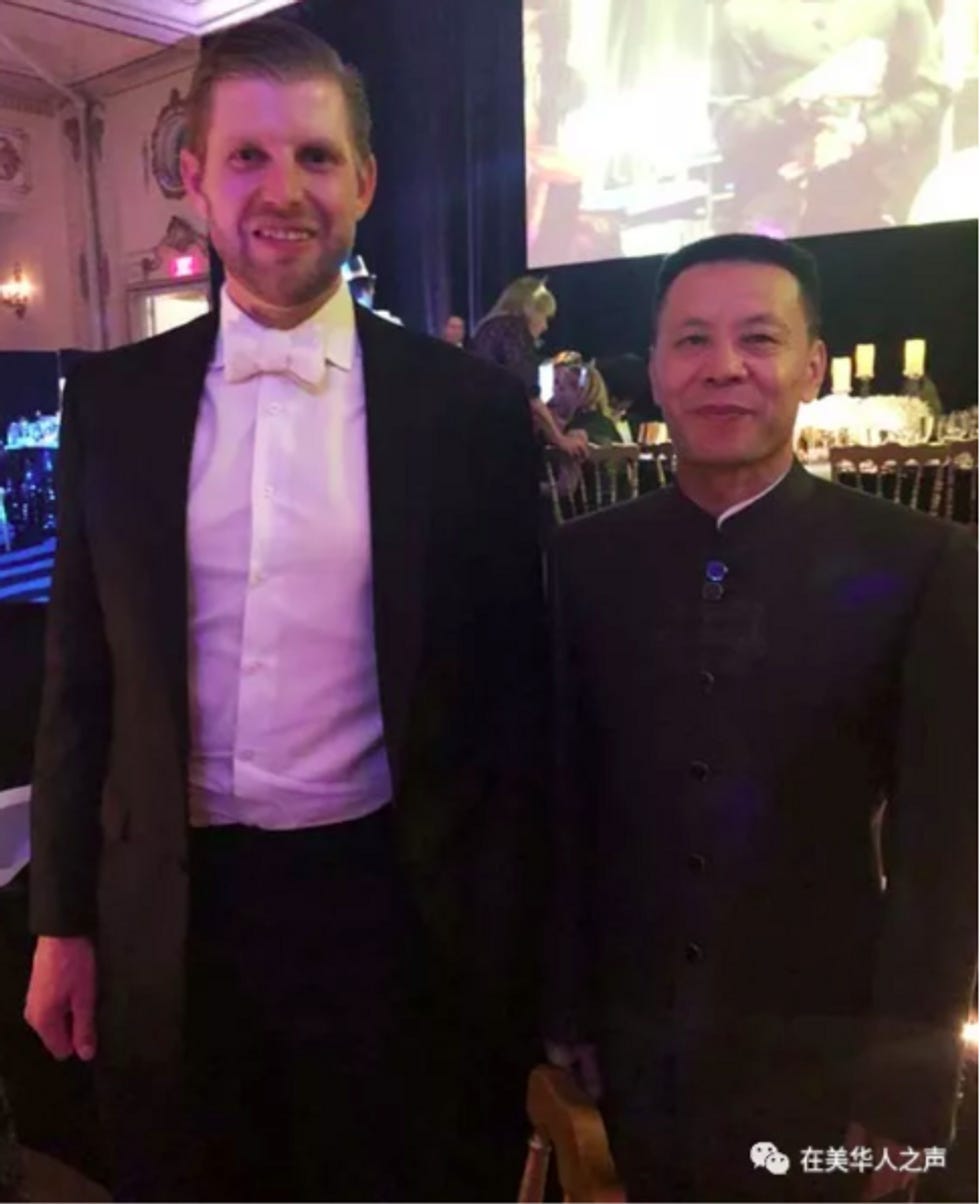 Photos captured by Mother Jones  

Photos captured by Mother Jones 
LOL, how do they both manage to look so bad ? Every man alive looks like James Bond in a tux -- well, almost every man.
But seriously, the fact that Chinese nationals are buying access to President Butt H. Emails, his family, and Cabinet members is a major national security issue.
3/No question this has to become a FBI counterintelligence investigation now. A prostitution ring frequented by p… https: //t.co/Uxp5kc8bNo

— Simon Rosenberg (@Simon Rosenberg) 1552149283.0 
So weird that the CIA and FBI refused to give top secret security clearance to Jared and Vanky, huh?

Mrs. Yang may have relied on the language barrier to shield her influence-peddling from nosy parkers in the US media. And she would have gotten away with it, too, if it hadn't been for those meddlesome young women enslaved and forced to have sex with 1,500 men a year! But how many more side deals are going on where people are smart enough not to post their shit online.
A LOT, we're guessing.
This is a letter that dentist Albert Hazzouri wrote to the prez after they caught up at Mar-a-Lago in 2017, suggest… https: //t.co/ybcEVxk89V

— ProPublica (@ProPublica) 1551894309.0 
But never fear, the gravy train has just pulled into the station. Hear that sound? It's the dinner bell summoning every corrupt bottom feeder in the country to belly up to the trough.
Per pool, Trump has arrived at Trump International Golf Club in West Palm Beach, FL. This is Trump's 172nd day at… https: //t.co/Cd03RZB4FI

— Kyle Griffin (@Kyle Griffin) 1552142433.0 
 Come and git it, all you rapacious influence peddlers! DING DING DING!
[ MoJo / Miami Herald ]
 Follow your FDF on Twitter! 

Please click here to fund your Wonkette, who loves you and comes in on weekends to give you your snark fix!