Discover more from Wonkette
Wonkette is filthy, hilarious, liberal news. YOU CAN HANDLE THE TRUTH!
Over 18,000 subscribers
SAYS WHO
Shocking news this morning, Wonkers. It seems that Donald Trump's fixer Michael Cohen may actually be TERRIBLE AT HIS JOB. In fact, if you listen closely you'll hear the sound of a thousand lawyers typing "LOLOLOL" into their twitterphones as they read over the lawsuit against Donald Trump that Stormy Daniels, aka Stephanie Clifford, filed yesterday in an LA Court.
Here, take a look yourself!
 Filed Complaint by Anonymous JJ6eerL on Scribd
Just Give Me a Sign, Dick ... errr, DAVID!
First of all, is Michael Cohen 14-years-old? Who invents the aliases David Dennison and Peggy Peterson! GET IT? DD and PP? Gross.
Second of all, DONALD TRUMP NEVER SIGNED THE DAMN AGREEMENT. Daniels signed, and Cohen signed as representative of his dummied up LLC "Essential Consultants," but David Dennison's signature is conspicuously absent.
Which raises the question, why would Cohen make Trump a party to the contract in the first place? The entire purposeof the LLC is to keep your client from having to sign a piece of paper that says, "Hey, here's some money. Don't tell nobody I boned in you. Thanks!" Now Clifford is arguing that the contract is null and void because Trump didn't sign it, and shemight well win. Because if Trump can't enforce it, and Cohen has voided his power to enforce it by talking smack about her, then she's free to talk. So whoever paid her the $130,000 will get his money back, and she'll get to sell her story to the tabloids for a gazillion dollars. A+ lawyerin'!
Ethics, Schmethics!
Remember back in January when Cohen got Clifford to sign a statement that said, "Rumors that I have received hush money from Donald Trump are completely false?" Yeah, about that ...
Look, we know you went to Cooley Law School, Michael. But we refuse to believe that your legal ethics professor said, "Coerce people into making false statements, it's cool bro. "
Lordy, I hope there aren't tapes!
If you're trying to get someone to shut up about the time she spanked your bare ass with an issue of Forbes that had a picture of your daughter on the cover ALLEGEDLY, maybe don't use such specific language in the non-disclosure agreement?
Because it makes people think there's photographic proof floating around somewhere.
No, seriously! Are there tapes? 
OH, DICK PICS. (How's that breakfast tasting on the way up?)
EWWWWWWWW!!!
Do you even have to follow campaign finance laws if you're not running for president?
Turns out, YOU DO! So one of two things happened here. Either Cohen cooked up this entire scheme on his own and paid for it out of his own pocket (quit laughing!), in which case he may have made an undisclosed campaign contribution. OR, he coordinated with the campaign and got reimbursed somehow, which looks an awful lot like Trump made an undisclosed contribution to his own campaign and conveniently left it off his signed financial disclosure form.
Either way, you fellas got some splainin' to do!
Did Trump have an undisclosed interest in the company used to pay Stormy Daniels? There needs to be an investigation. https: //t.co/P0ghA1PjAo   pic.twitter.com/dFZKn7nsY4 

— Citizens for Ethics (@CREWcrew) March 2, 2018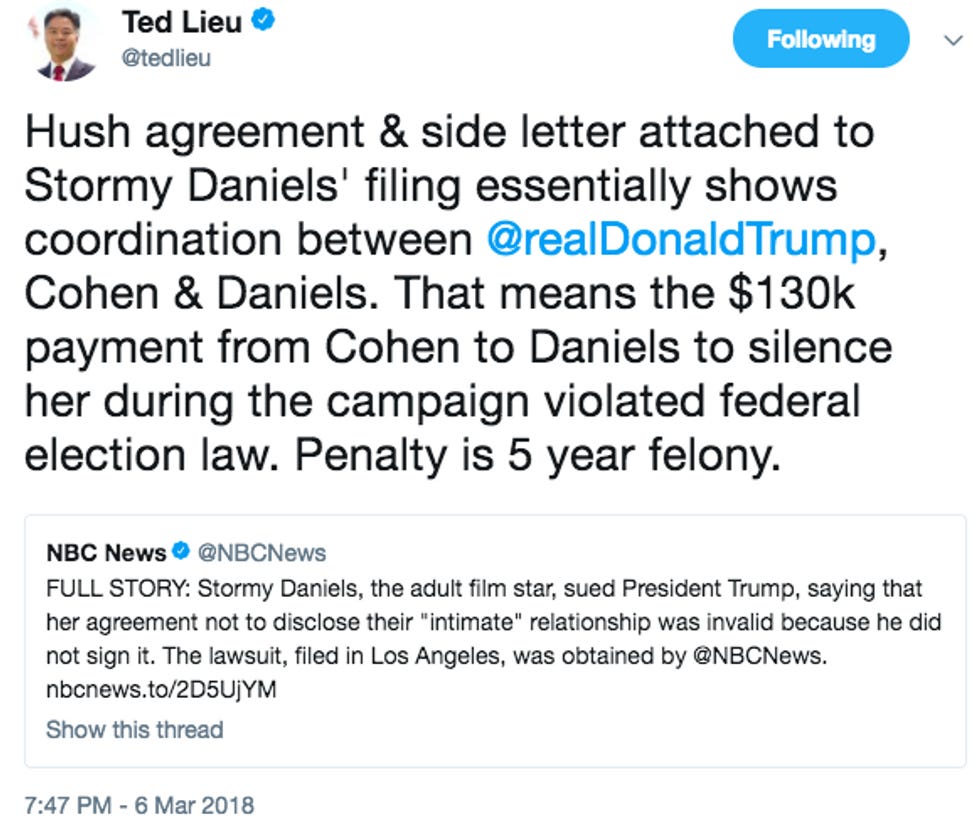 Is that it?
NO! That thing broke legal Twitter. The part where Cohen got Clifford to make a list of all the people who she'd told about her nekkid funtimes with Donald Trump is really ACES. Yes, definitely leave a list of witnesses in the Hush Agreement itself. Reporters will never think to look there!
But we have so much more to say about that idiot Michael Cohen today that we're going to stop now before we pee ourselves laughing. Go ahead and read the complaint yourself!
BUT WAIT! Here's Daniels's lawyer Michael Avenatti on the Today show saying his client is ready to tell the world about her sexxxxy orange funtimes with POTUS.
Watch @savannahguthrie 's full interview with Michael Avenatti, Stormy Daniels' lawyer pic.twitter.com/8koWFXvYh1 

— TODAY (@TODAYshow) March 7, 2018 
She's looking to disclose the truth about what happened. At this point, in light of the amount of misinformation that Mr. Cohen has put out there to the Wall Street Journal, the Washington Post and others, I think it's time for her to tell her story and for the public to decide who's telling the truth.
OH, IT'S ON!
 Follow your FDF on Twitter! 
 Please click here to fund Yr Wonkette, who will never send you photos! All snark, NO ADS!