Discover more from Wonkette
Wonkette is filthy, hilarious, liberal news. YOU CAN HANDLE THE TRUTH!
Over 18,000 subscribers
TAKE IT OFF
DRUDGE SIRENS! No literally, DRUDGE SIRENS! Because there is a video on the internet that purportedly stars Barack Obama and his giant boner. See? Here it is, on Drudge:  
WHOA IF TRUE! Is it true? We dunno. Let's look at the video and grab aimlessly at our computer screens and see if we catch Big O's Big D:
This is pretty gross but here it is folks - 2008, Obama is campaigning, and reporters giggle like school girls and gawk at his erection. pic.twitter.com/7JXvo1kQIH 

— Deplorable Mac ? (@TweetBrettMac) October 11, 2016 
HMMMMM! So the reporter ladies are DYING laughing, and they're all like "Agent, sit down!" Now, Obama's Secret Service code name is "Renegade," not "Agent," so we assume they were referring to the lady who was standing in the aisle, blocking everybody's glorious view of Barack O'Penis, which is the Secret Service code name for Bamz's dick probably. Or maybe it's called the O-BAMMER.
OK so there are several possibilities, all of which we discussed in the Wonket Seekrit Chatcave. Possibility one, proffered by Dok, is "I am not seeing no boner there." Possible! We're dealing with closet case Matt Drudge posting video from some wingnut website that's probably DYING to distract from Donald Trump's pussy-grabbing. We imagine Drudge sees boners pretty much in every video on the internet, because gay Republicans are weird.
A second possibility, proffered by yours truly, is that Nobama's dong hammer is just goddang ENORMOUS, even when it's just relaxing. It was hanging a weird way in his pants, and he was NOT wearing briefs that day. Haw haw, maybe his Secret Service code name should be "Commando" instead of "Renegade"! GET IT? GET IT? PREZNIT AIN'T GOT NO PANTIES ON, IS THE JOKE WE ARE SAYING!
A third possibility, from editrix Rebecca, is that either then Senator Obama had major wood going on, or he has five bananas lined up end to end in his pocket. That is a DISTINCT possibility, because we all know how mean Michelle Obama is about making people eat their fruits and vegetables. Maybe before Barry got on the plane during the 2008 campaign, Michelle would put a hammock full of healthy bananas in her husband's pants, so he wouldn't be forced to eat unhealthy things like Fruit Roll-Ups or something.
Better a bursting banana hammock then a puny little Fruit Roll-Up, that's what Michelle Obama always says, ALLEGEDLY.
The wingnut website what posted the video is pretty sure Bamz is takin' us to the bone zone, and they are SO ANGRY ABOUT IT:
Aboard a campaign flight, then-Senator Obama is talking on a cellphone as he arises from his seat; nearby a female reporter catches a glance of something that makes her uncomfortable, sending her skirmishing to the back of the plane.

Obama, rather than downplay the awkward display, instead plays it up, positioning himself so the gathered reporters have little choice but to take in his chauvinistic performance.

Meanwhile, a female voice can be heard ordering everyone to sit down, ostensibly so they can get a better look. The gathered female reporters laugh at the scene, further encouraging Obama's bawdy behavior.
Damn those lady reporters, for maybe being amused and delighted by the sight of Bamz's Big Boner, if that's what we are actually seeing in this video! Damn them! We bet if it was President Trump, they would all be ejecting themselves from the airplane screaming, because nobody in Heaven or on Earth wants to see Trump's little plaything. Also President Trump probably would have just grabbed them all by the pussy.
Anyway, we get it. It's a DOUBLE STANDERT that people might actually want to see Barry speaking softly and having a big stick (you clicked on this post, remember), but would cry for the rest of their lives if they accidentally caught a glimpse of Little Trump. But oh well, that's just how things are.
Hey remember that time Bamz took this picture with Justin Trudeau?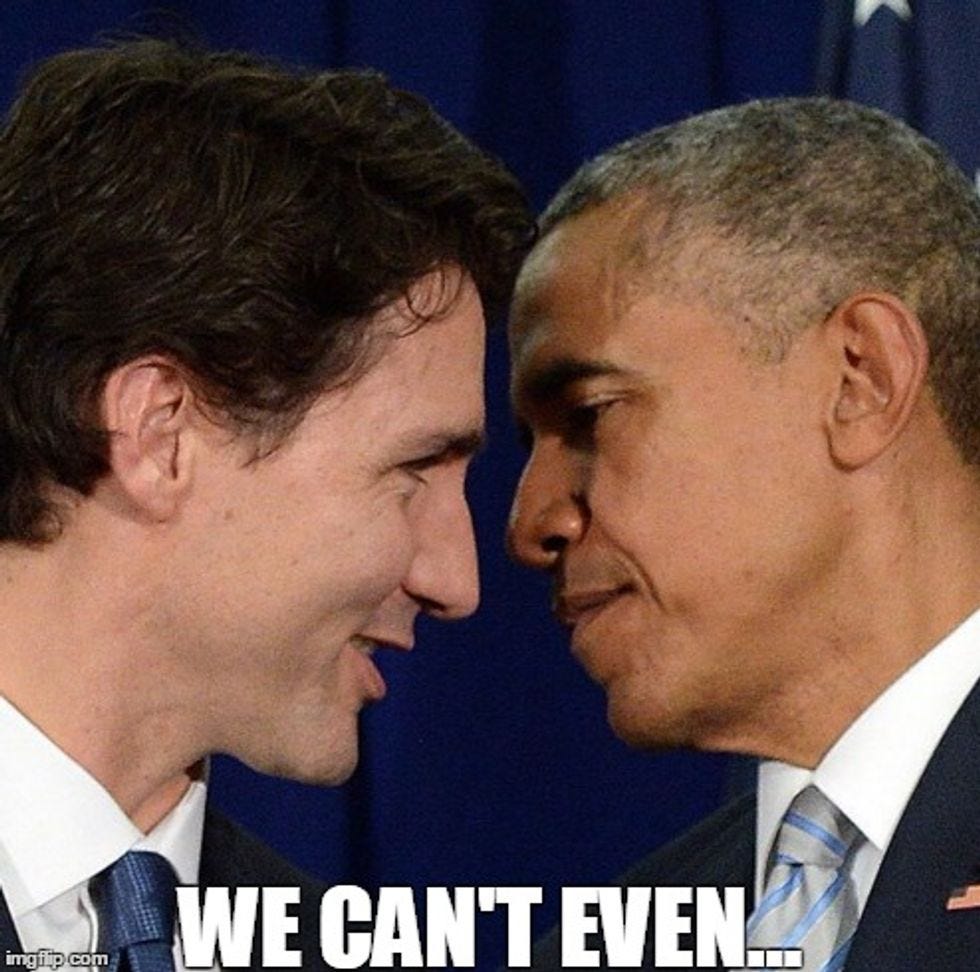 They should go airplane bonering together, that's what we think.
Pics or it didn't happen.
The end.
[ Grabien News ]